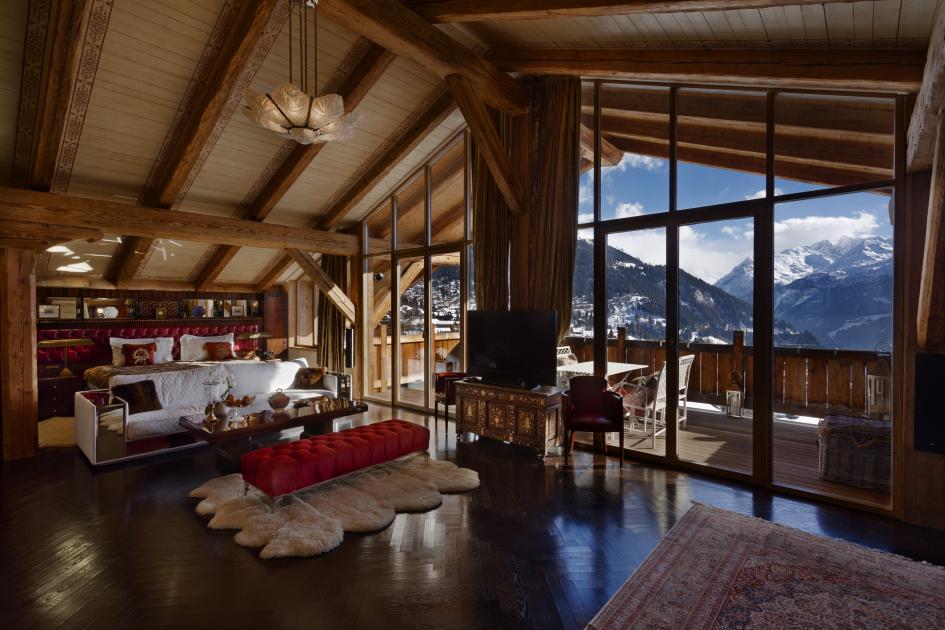 Bedrooms are often a feature that gets ignored when you are choosing a chalet for your next luxury ski holiday. Why is that? A bedroom is often where you will spend the majority of your time whilst in the chalet so we thought it best to highlight a few of the best ones. Elegantly unique and exquisite bedrooms that can be found in Ultimate Luxury Chalets all over the Alps.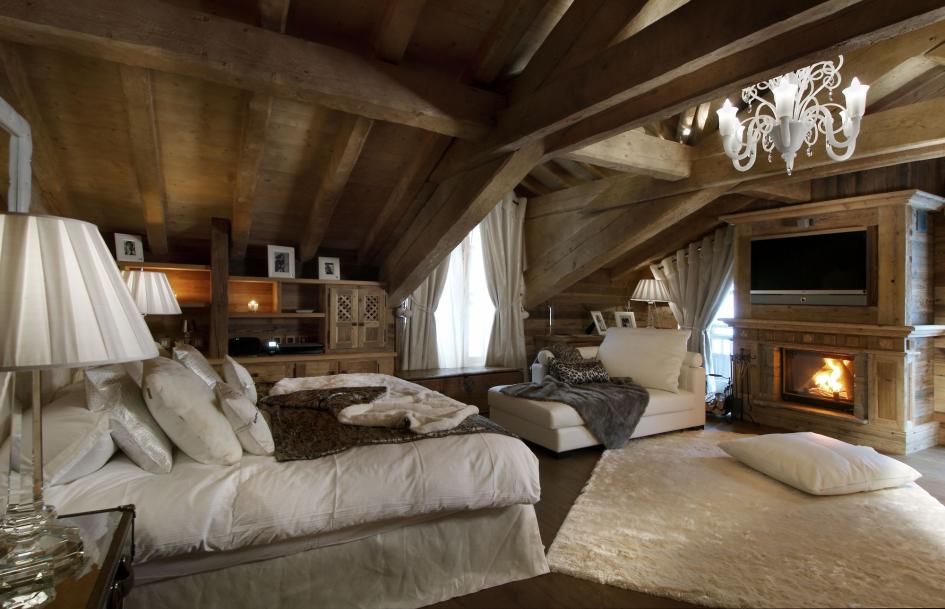 The master bedroom of this chalet located in the exclusive resort of Courchevel 1850 has been elegantly designed with comfort in mind. High ceilings with large windows provide a light and airy feel that is complimented by the central lavish chandelier and the romantic fireplace. Classical elegance, need I say more?
Prices start from €50,000 per week.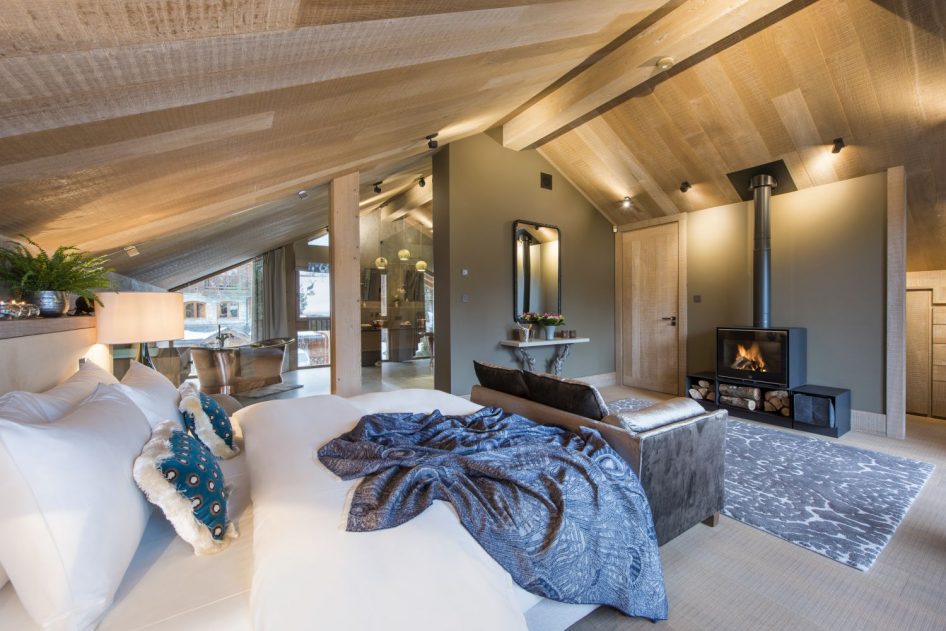 This modern luxury chalet in Meribel has an amazing master bedroom. The vast room is largely open plan with a fireplace adding to the warmth and comfort of the room. The large bedroom flows into the bathroom where a exquisite roll top copper bath offers great views towards the Saulire.
Prices start from €36,500 per week.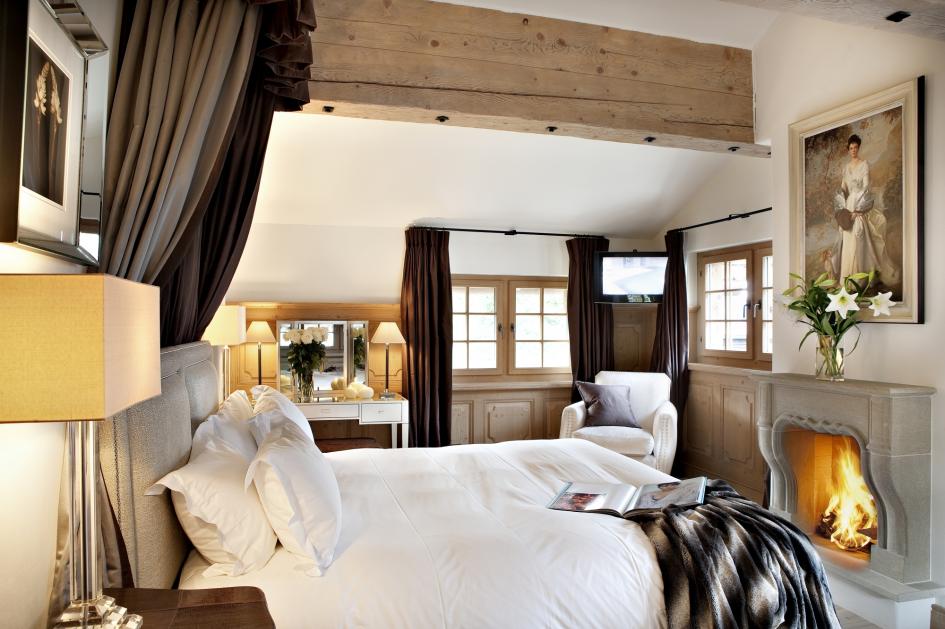 Bedrooms do not really get any more romantic than this bedroom in Tivoli Lodge situated on the slopes of the venue of the World Economic Forum, Davos. Original features meet modern living in this well designed and peaceful bedroom. The fireplace will keep your feet warm and toasty on cold nights, but watch out for the lady in the painting…or will she be watching you? Rumour has it that it's haunted!
Prices start from CHF 56,100 Swiss Francs per week.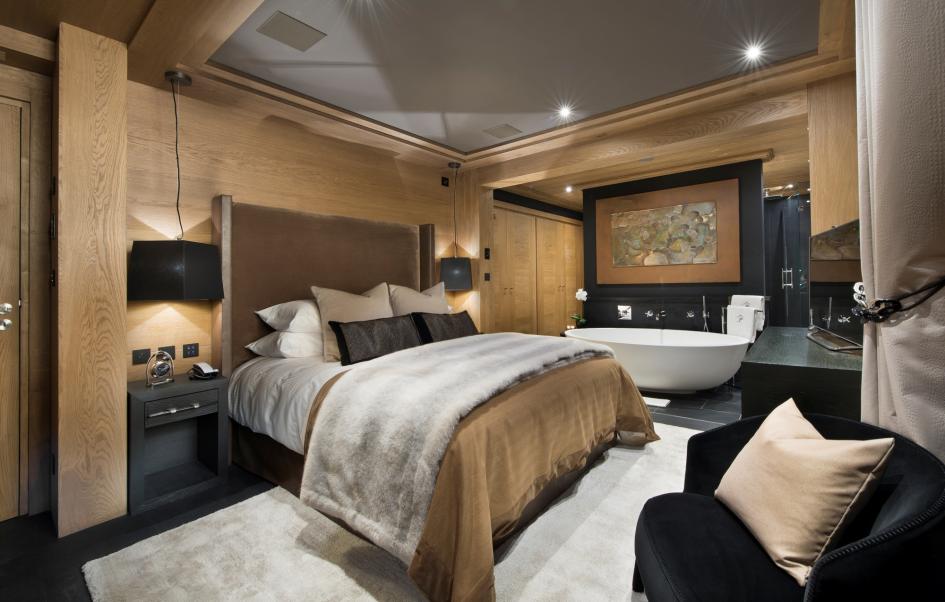 The epitome of open plan living greets you in the stunning master bedroom of Chalet Le Petit Palais located on the famous Bellecote piste of the luxury ski resort of Courchevel 1850. The bedroom adorns the traditional Swiss design (although the chalet is in France) of open plan bedroom and bathroom with a luxurious freestanding bath right next to the Super King Size bed just remember to dry yourself before diving into those Egyptian sheets. Don't worry, the toilet is separated.
Prices start from €80,000 per week.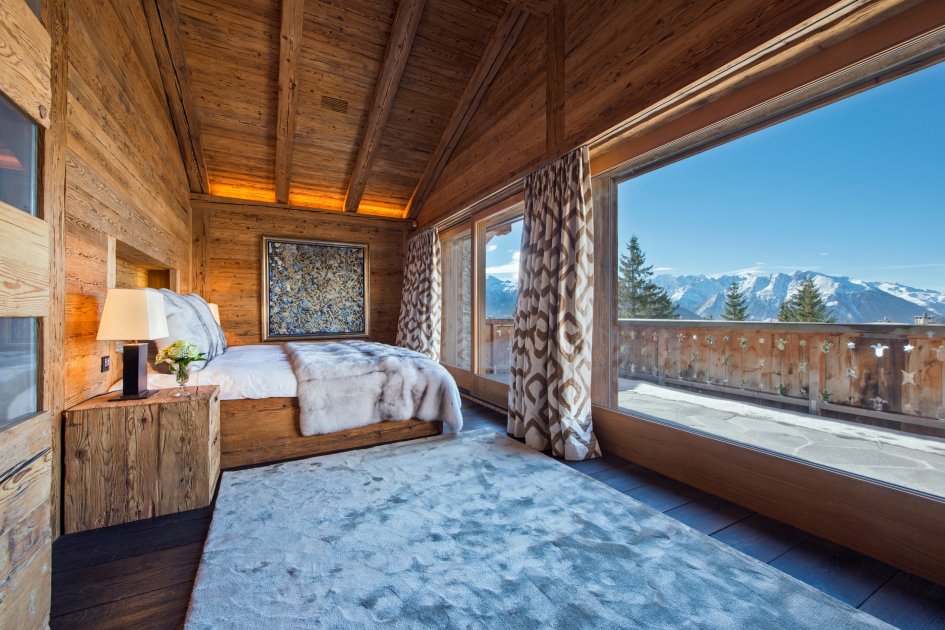 Simple yet so elegantly classy. The master bedroom of Chalet Makini in the opulent resort of Verbier oozes sophistication with it's tasteful decor allowing you to focus on the stunning view from its full length windows. Laden with traditional alpine wood and cosy fur textiles, you can lie in the Super King Bed and relax whilst taking in the jaw dropping scenery.
Prices start from CHF 100,000 Swiss Francs per week.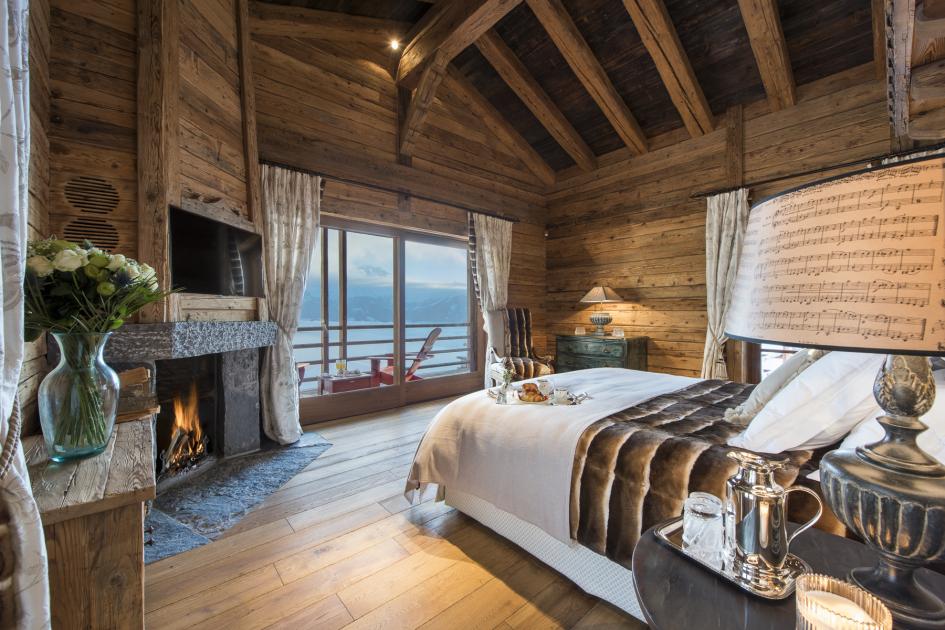 The enchanting master bedroom of Chalet Mon Izba, located on the mountainside of the Sonalon area of Verbier, is deceptively traditional with a hidden wealth of modern technologies. Another stunning bedroom where you can enjoy the beautiful view from the comfort of the luxury bed.
Prices start from CHF 56,800 Swiss Francs per week.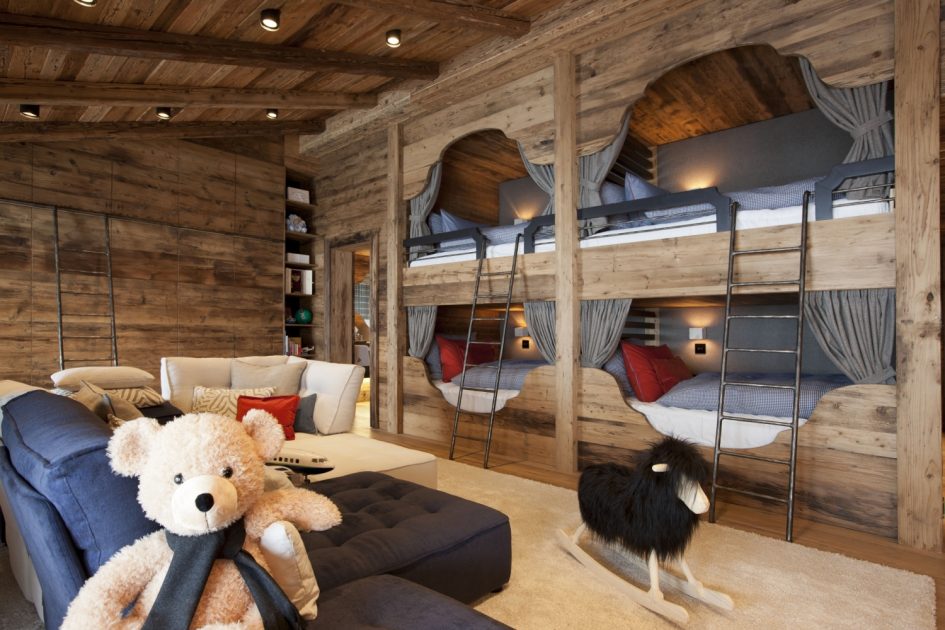 Now it would not be right to present sumptuous bedrooms in Ultimate Luxury Chalets without including at least one children's bedroom. Equipped with everything your little ones could possibly want, this children's bunk room in Chalet N located in Austria's luxury resort of Lech has it's own adjoining room which is perfect for a Nanny.
Prices start from €297,000 per week.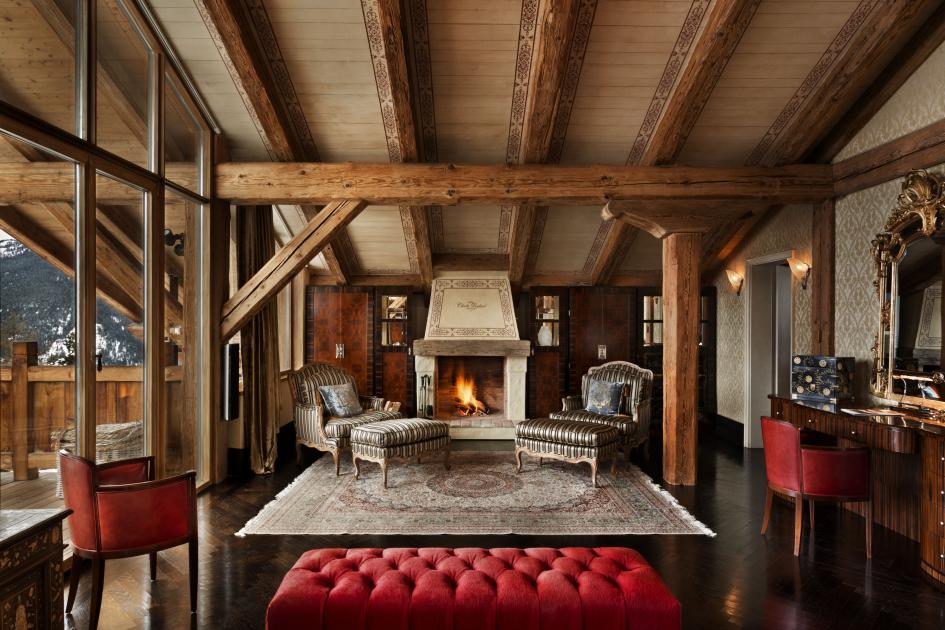 Reverting back to the title photo of this blog, Chalet Truffe Blanche in the luxury ski resort of Verbier has possibly one of the largest Master Bedrooms in any Ultimate Luxury Chalet. Each photo represents the expanse of space alongside its luxuriously opulent decor and vast views looking onto the iconic Grand Combin The bedroom (set up more like a luxury suite) opens up onto it's own private balcony from which you can further enjoy the panoramic vistas.
Prices start from CHF 92,000 Swiss Francs per week.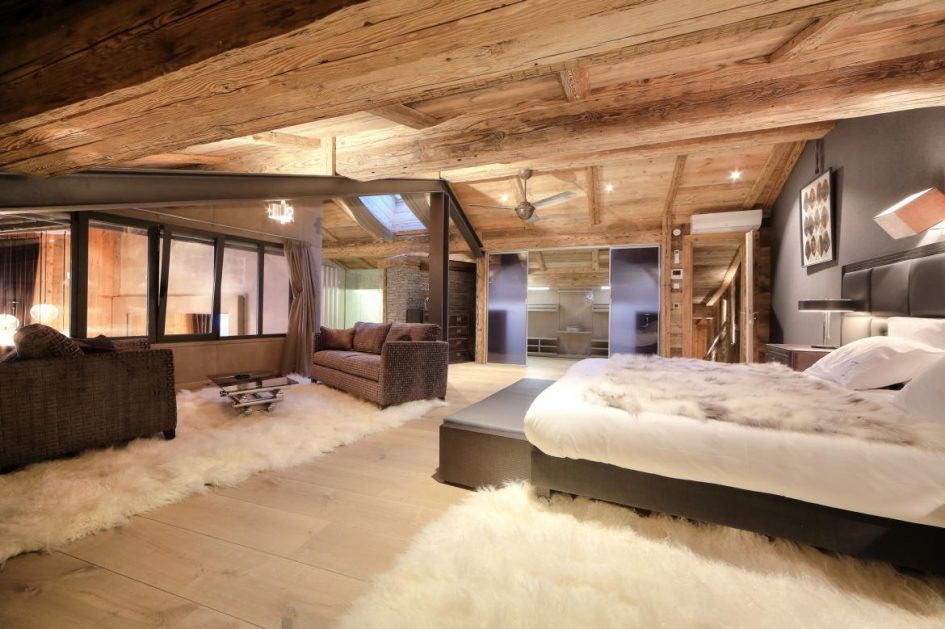 Megeve in France is a resort that is renowned for exclusiveness and luxury and right in the heart of the resort sits Chalet Deer. The master bedroom reflects the resort; exquisite and exclusive. The high wooden beemed ceilings and light soft furnishings invite you to sit back, relax and enjoy! You even have your own seating area and of course a divine en-suite bathroom.
Prices start from €31,300 per week.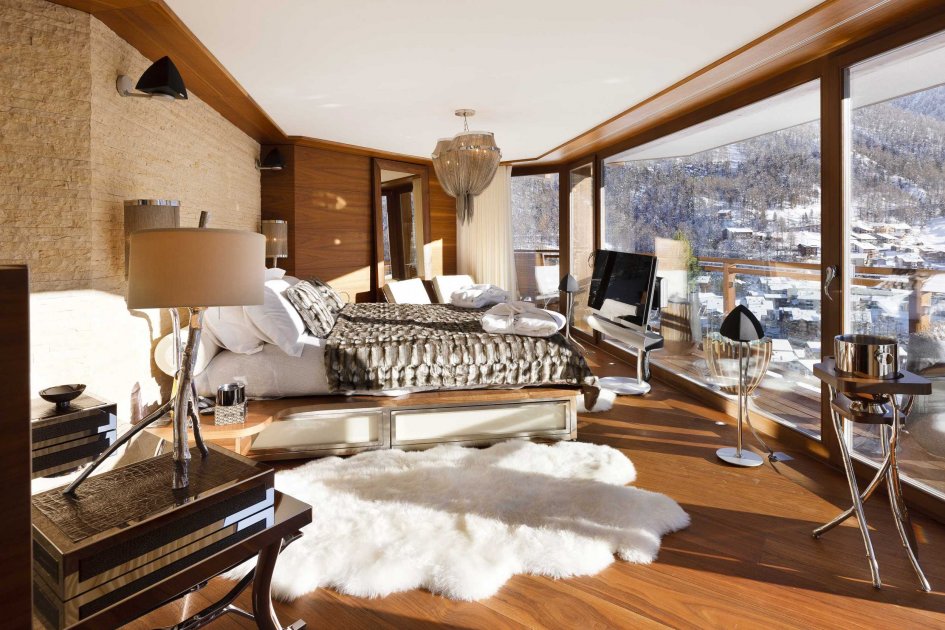 They say you save the best until last, and in my personal opinion, bedrooms do not get any more snoozily sumptuous than the phenomenally beautiful bedroom in Zermatt Peak in, yes you guessed it, Zermatt! With a floor to ceiling wall of glass to enable you to be mesmerised by the panoramic views looking out over Zermatt and the majestic Matterhorn. The bedroom is fully equipped with all the modern technologies and en-suite bathroom.
Prices start from CHF 75,000 Swiss Francs per week.
Is anyone else really wanting their bed right now… just me?
If you would like more information about any of the chalets featured, we love talking about them! So please give us a call in the office on +44 (0)1202 203653 or send us an email.