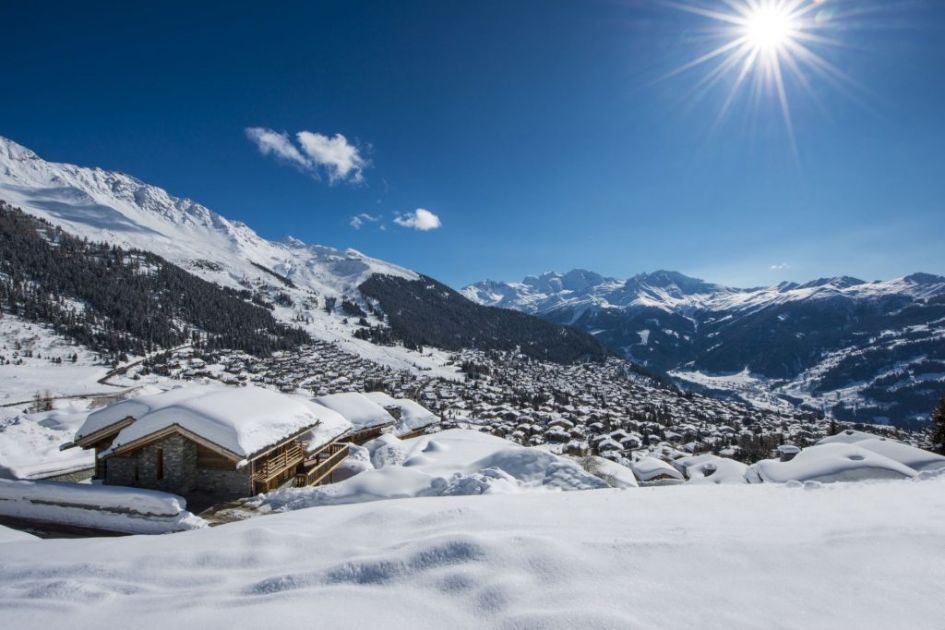 What constitutes a luxury winter retreat? Picture a luxury chalet in a remote or private location with impressive wellness facilities, a choice of entertainment, 5 star catered service and exceptional snowy mountain views. I think we're close? Your imagination may have already taken you there, but let us make it a little more tangible by introducing you to some of the best luxury mountain retreats in the Alps…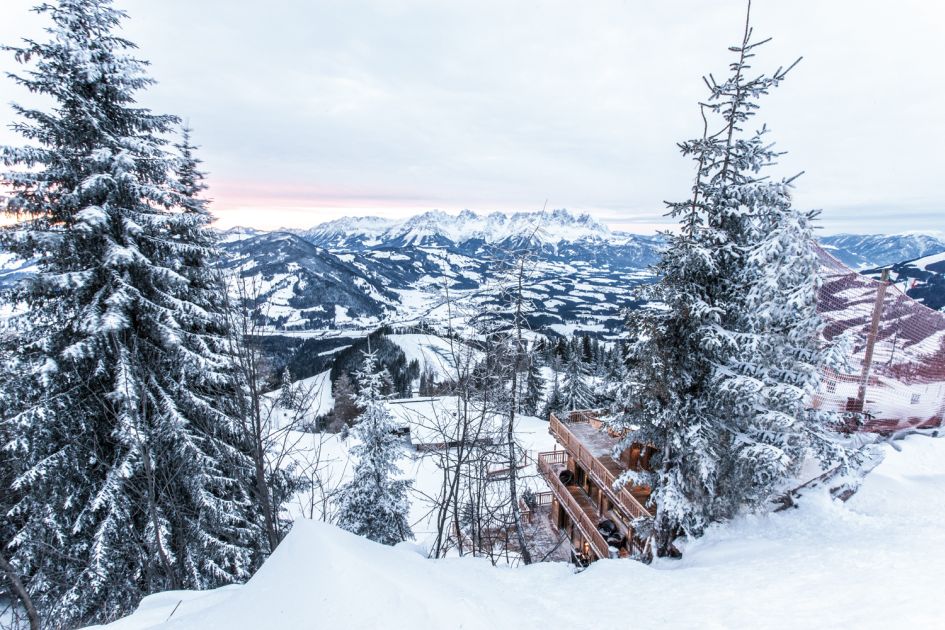 Hahnenkamm Lodge is one of the most private luxury ski chalets in the Alps. This beautiful luxury mountain retreat sits at 1,645m and commands views over Kitzbühel and the far reaching mountain range. Also benefiting from a prime ski-in, ski-out position, you can retreat back to relax and recover in no time. Hahnenkamm Lodge is names for Mount Hahnenkamm, on whose slopes it is situated. You probably already know the name, as this piste is famous for hosting the world renowned downhill race, The Streif.
Aside from its location, Hahnenkamm Lodge is the perfect luxury winter retreat for its sumptuous spa area featuring a steam bath, Finnish pine sauna and relaxation area, as well as its tailored-to-you catering experience. Enjoy the 5 star culinary delights at breakfast and dinner, as well as an open bar inclusive of house Cremant, a generous wine selection and expertly mixed cocktails (best enjoyed on the terrace with your feet toasting by the fire-pit and watching the sunset over the mountains!). This unique experience at Kitzbühel's most private luxury ski chalet will definitely be one to remember.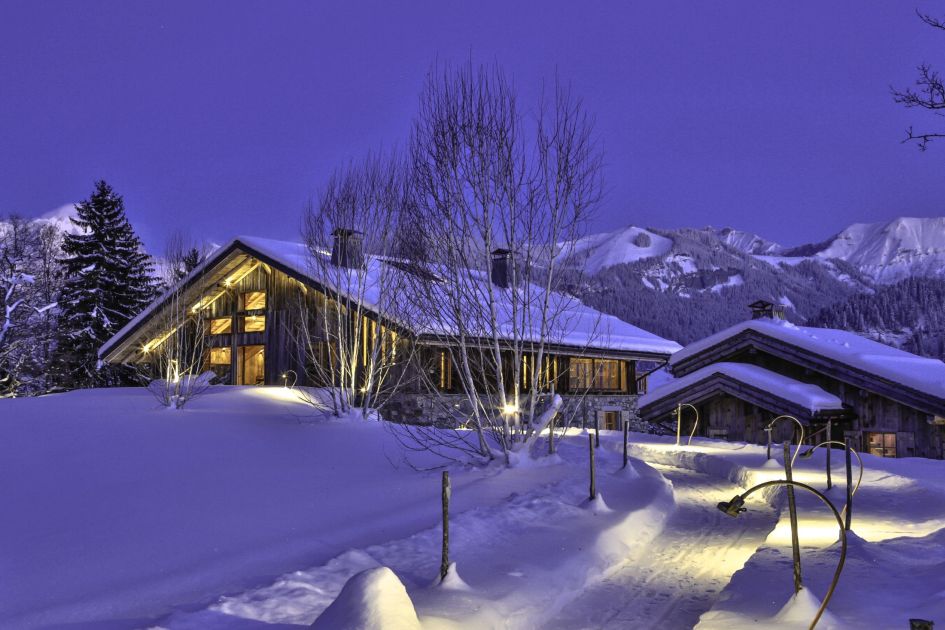 When we think luxury private ski chalet, it is hard to think of anything that fits the bill better than Fermes à la Leonthine. Tucked away in one of the most private locations in the Alps, this beautifully renovated luxury Megeve chalet sits just above the traditional Savoyard village of Praz-sur-Arly and claims some of the best views in Megeve.
Inside, Fermes a la Leonthine oozes contemporary luxury through the soft furnishings and modern facilities. The large windows in the open living spaces expose stunning views and welcome in natural light, creating the perfect setting to unwind. On the subject of unwinding, the chalet's impressive wellness facilities include a swimming pool with counter current, Jacuzzi, sauna and hammam which presents the ideal space to soothe aching muscles and recover from a hard day on the slopes. Enclosing these luxury spaces and features, Fermes à la Leonthine is characterised by its traditional alpine structure, featuring some of the original farmhouse timbers, and giving it a truly genuine mountain feel. It's privacy, authenticity, top quality services and excellent facilities, make Fermes à la Leonthine one of the best luxury winter retreats in the Alps.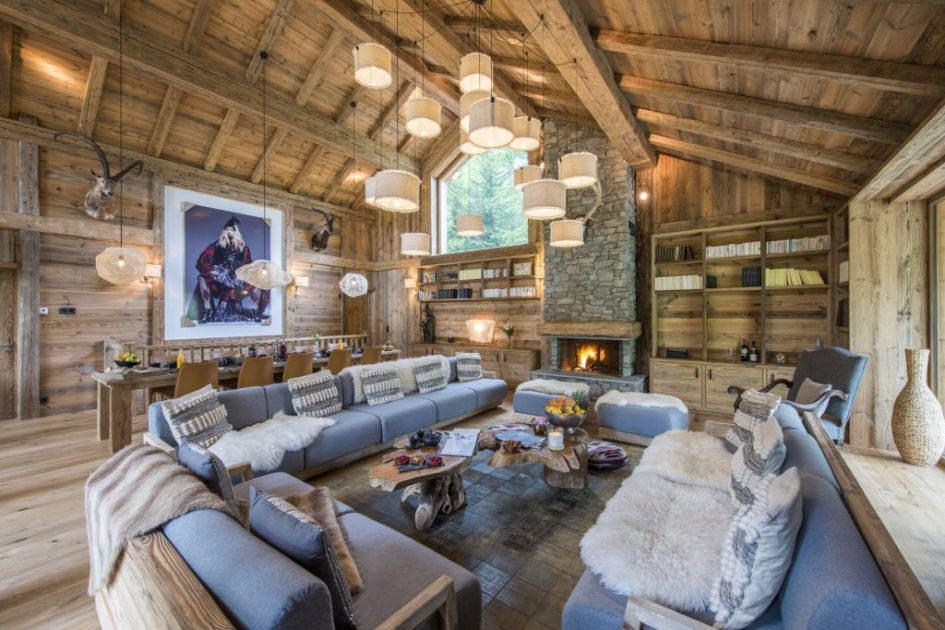 Chalet Inoko is essentially as close as you'll get to a magical treehouse in the mountains. Positioned amongst the canopy of the mountain forest, and tucked away down a quiet, peaceful road, this beautiful luxury alpine retreat will offer you a completely unique luxury experience.
Chalet Inoko is characterised by its traditional Val d'Isere architecture combined with a style designed to bring the outdoors in. It will make you feel connected with nature and disconnected from the real world. It is one of the most private and remote luxury chalets in Val d'Isere, which ensures it's reputation as one of the best luxury winter retreats in the French Alps. Staying here, you will experience a traditional retreat thanks to the understated features and authentic design, yet with all of the luxurious facilities and services you'd expect from only the finest ski chalets. After a day on the slopes you can curl up and thaw out by the roaring wood-burning fireplace, get comfy in the TV snug with your favourite movie, slide into the indoor swimming pool, enjoy south-facing views from the outdoor hot tub or relax with a massage in the spa area. There are so many options that you'll never want to leave!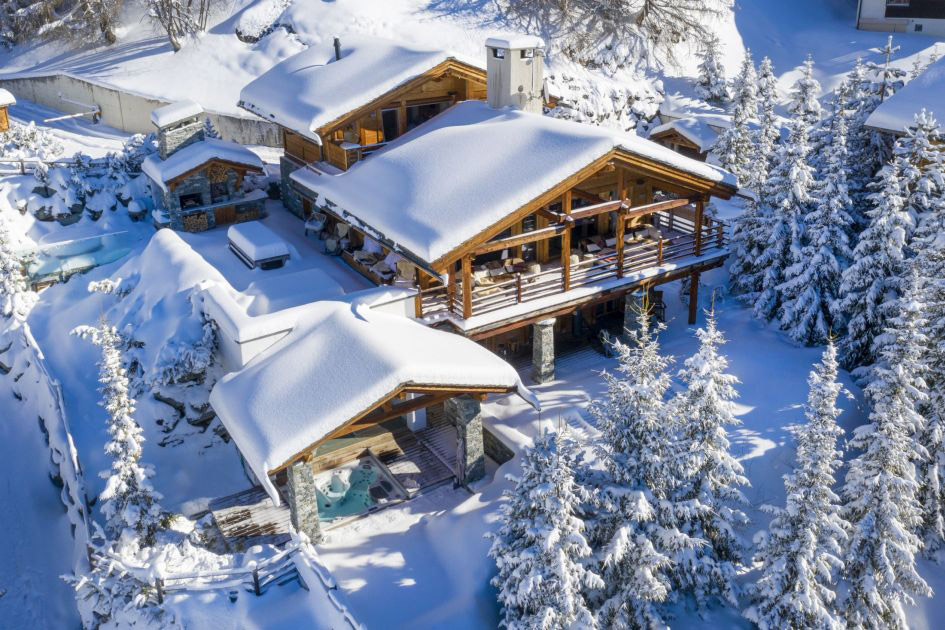 Chalet Spa is a luxury mountain retreat like no other. With wellness at its heart, you will come away feeling refreshed and revitalised after spending time enjoying the many spa facilities throughout your stay.
A typical day at Chalet Spa will consist of drawing back the curtains to reveal a spectacular morning view of Verbier, fuelling up with delicious breakfast and heading out to spend the day exploring the immense 4 Vallees ski region. On your return to the chalet, you'll be greeted with afternoon tea (best enjoyed on the sunny terrace with breathtaking vistas), and have the opportunity to enter full relaxation mode whilst you head to the infinity pool, Jacuzzi, hammam, sauna or outdoor cedar wood hot tub. For those with more energy, you can challenge your fitness levels at the home gym or get competitive in the games room! By now you'll have worked up an appetite in time for your evening meal, prepared by your highly experienced private chef. The rest of the evening is yours as you please, head back to the wellness, enjoy a few drinks at the bar or simply head to luxuriously appointed bedroom for a good night's sleep, ready to do it all over again tomorrow!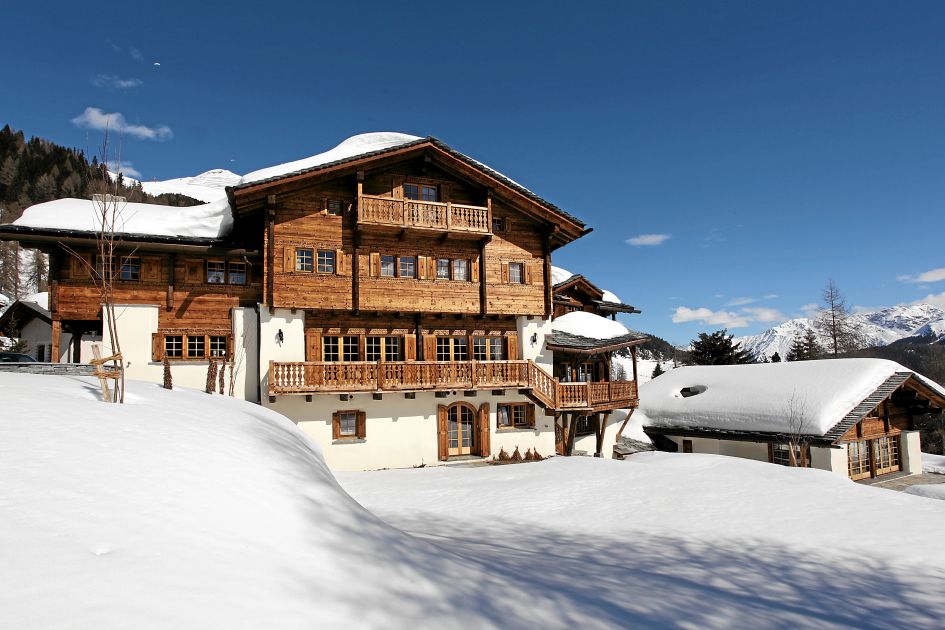 Tivoli Lodge is arguably the best luxury ski chalet in Davos. It's an idyllic luxury winter retreat with its private location yet convenient ski-in, ski-out position and desirable proximity to the centre of the village.
Stepping inside, it becomes even more obvious why this Swiss mountain retreat holds a position on our list. With 700sqm of alpine luxury living space, including multiple lounge areas, a dining room, study, library and unique children's playroom, Tivoli Lodge can comfortably entertain 12 adults and 6 children. Not to forget the tranquil spa zone, or better known to the children as the 'splash zone' with inflatables and games – guess it depends on who gets there first!?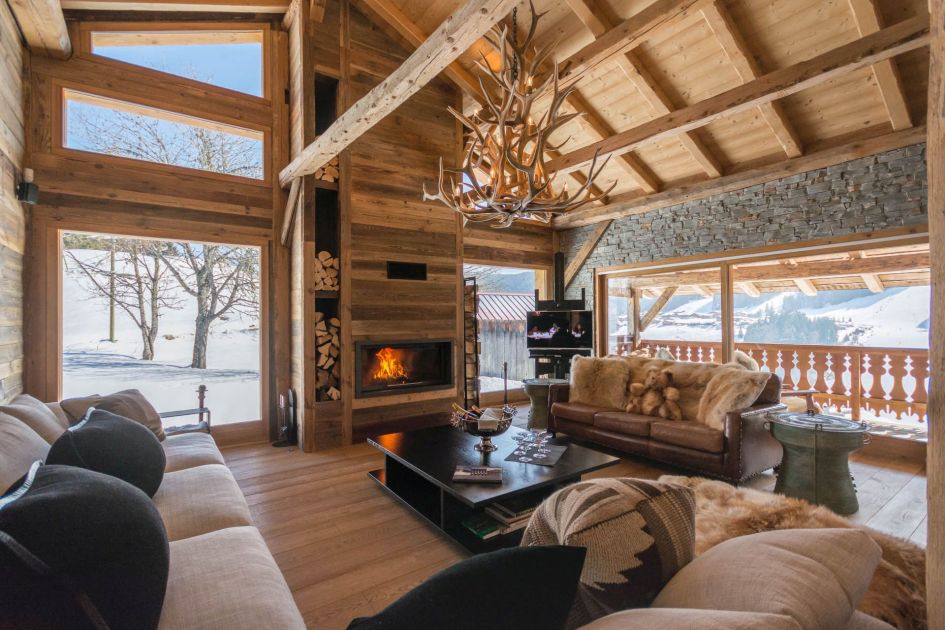 This outstanding renovated farmhouse effortlessly fits the mould for an amazing luxury winter retreat. Positioned in a remote and peaceful location with stunning views of the valley, Ferme de la Corderie is the perfect destination to reset and take a break from life back home.
After exploring the vast Portes du Soleil, it doesn't get much better than returning to your luxury chalet and jumping straight in the outdoor hot tub, with a glass of Champagne or a cocktail. The hot tub at Ferme de la Corderie is positioned on the sunny terrace, where you can admire the views of the stunning mountain peaks and the ski area – you may even be able to spot the hardcore skiers of your group, catching the last run of the day! The terrace also benefits from an outdoor firepit so you can enjoy watching the stars come out with warmth.
The chalet's interiors are the perfect combination of stylish and contemporary whilst holding that special alpine charm, fulfilling the escapism fantasy. Also inside you will find facilities to keep the whole group entertained, including a sauna, TV snug, bar area and billiards table. The facilities, location and exquisite service make Ferme de la Corderie one of the best luxury winter retreats in the Alps.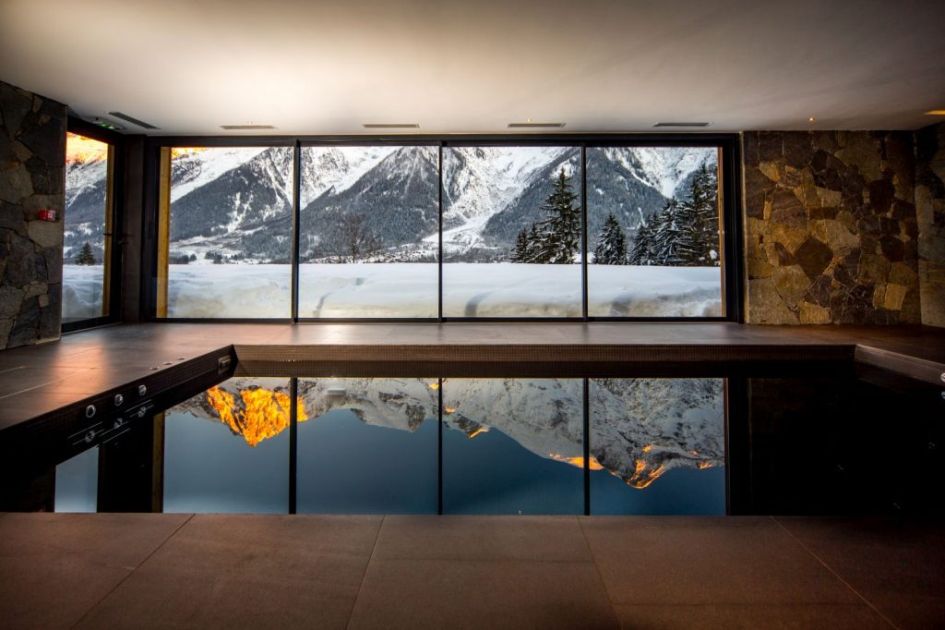 If by 'luxury winter retreat' you think small, chocolate box chalet in a remote location, let's change your perceptions and take a look at Le Chalet Mont Blanc. This stunning Chamonix chalet bends the rules of that traditional luxury winter retreat. It's modern contemporary style and large size of 1,000sqm in a hectare of land, are totally unique to Chamonix. However, Le Chalet Mont Blanc maintains ultimate privacy in the exclusive enclave of Coupeau, nestled in woodland but commanding uninterrupted south facing views of the valley. It's desirable position also benefits from having the longest hours of sun in valley!
Every bedroom has a balcony and faces the famous peak of Mont Blanc. Now if that isn't enough to wake up to, the dedicated chalet team can bring you your favourite breakfast in bed! Bliss! Continuing with the luxury winter retreat theme, you will find it hard to keep away from the impressive spa facilities at Le Chalet Mont Blanc. Choose to unwind in the indoor pool with jets or the sauna, whilst never missing out on capturing stunning mountain views.
Other luxurious features at Le Chalet Mont Blanc include a library, wine cellar, home cinema, games room, gym and even a helipad! There is everything you could wish for and more – you could even consider a season-long luxury winter retreat!
Grande Corniche is more than a luxury mountain getaway, it's a lifestyle. Take yourself away to this stunning luxury winter retreat in the heart of the Portes du Soleil where you will experience the finer things in both the chalet and the surroundings. Perched on the mountainside, the uninterrupted, unrivalled views from the wellness suite, living room, bedrooms and large wrap-around balconies, will be sure to take your breath away and encourage a genuine reset. After all, that's the main reason for a luxury mountain retreat right?
You'll be sure to come away from Grande Corniche feeling refreshed, as one of the highlights of this Les Gets chalet is the impressive outdoor infinity swimming pool, where you can relax and unwind with the Les Gets mountain range and Mont Blanc in clear view. To complete the wellness facilities, essential of a luxury chalet escape, you will find an outdoor hot tub, glass sauna, gym and relaxation room.
Now if that's not enough to take your mind off the real world, then the in-chalet entertainment facilities might just do the trick. Starting on the 4th floor you will find a bar, which naturally presents itself as the perfect social space for the adults; or shall we say 'big kids' as there is a slide that takes you from the bar down to the wine cellar and snooker room – because coasting down a slide puts a smile on anyone's face right!? For the more relaxed approach, you can enjoy socialising in the lounge with the group's musician playing the grand piano, or simply putting your feet up in the two-tiered cinema room with popcorn and your favourite movie.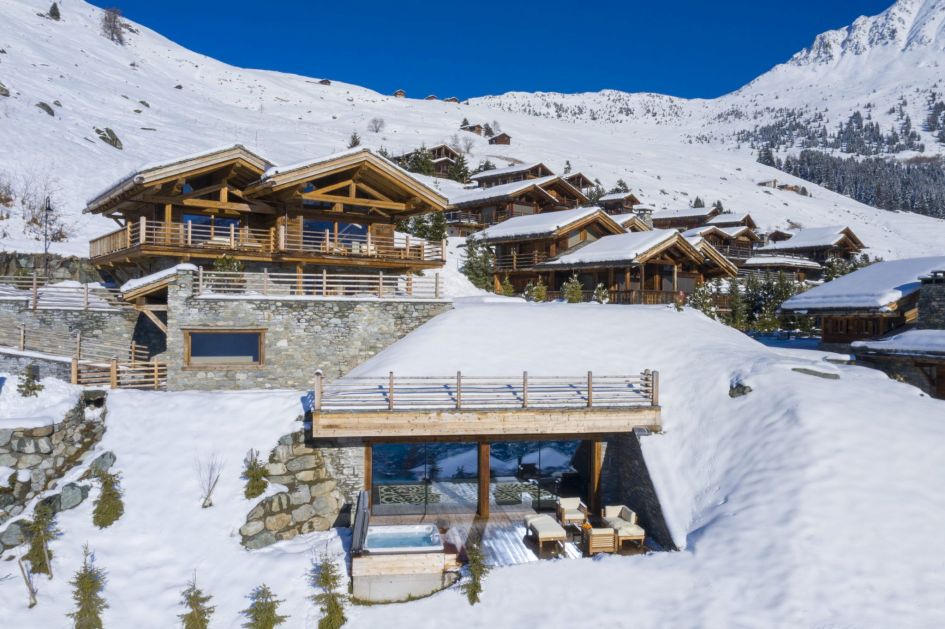 South-facing terrace, indoor pool, two hot tubs, spa area, cinema room and stunning views; Chalet Calima undoubtedly ticks many luxury winter retreat boxes. It's perched up and away from the bustling centre of Verbier, and benefits from unrivalled vistas whilst ensuring total privacy during your stay.
For a chalet sleeping just 8 guests, the wellness facilities are truly impressive. Hosting one of the best swimming pool views in the Alps, and being one of the best chalets with hot tubs, you can while away the hours, soothing aching muscles and soaking up stunning scenery (glass of Champagne in hand of course!). The chalet's elegance, sophistication and size, along with it's top quality service and facilities, will ensure you enjoy an intimate and luxurious alpine retreat that you so very much deserve.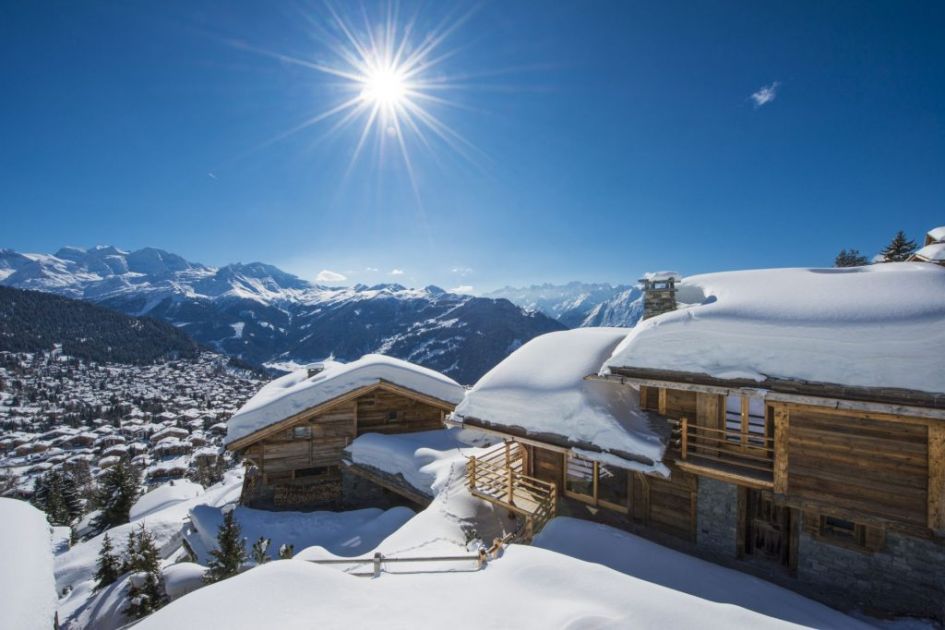 Here we have the epitome of when a picture speaks a thousand words. With stunning mountains views like this, it is not hard to see why The Alpine Estate has made it to our list of the best luxury winter retreats in the Alps. Accommodating a grand total of 20+2 guests across 2 interlinked chalets (Chalet Norte and Chalet Sirocco), this impressive luxury property in Verbier hosts a wealth of facilities to encourage a thorough unwind and reset. With it being a double chalet complex spread across 1,500sqm, in many cases you benefit from double facilities; such as 2 indoor swimming pools, 2 hot tubs, 2 saunas, 2 hammams and 2 massage treatment rooms – there is more than enough room for everyone to have their quiet relaxation time.
The high quality service offered at The Alpine Estate is second to none. Expect an experienced hospitality team delivering a refined standard of service tailored to your personal requirements and desires, ensuring your luxury mountain retreat in Verbier is one to remember. The professional chef will be on hand to cater for your every dining need. And your private chauffeur will be at your service from 8:30am, ready for a 5 minute journey to catch the first lift at Medran, through to a 2am pick up from Verbier's vibrant nightlife to save a cold stumble home.
It was difficult to choose just 10 chalets for our list of luxury winter retreats so we thought we'd treat you to a bonus chalet…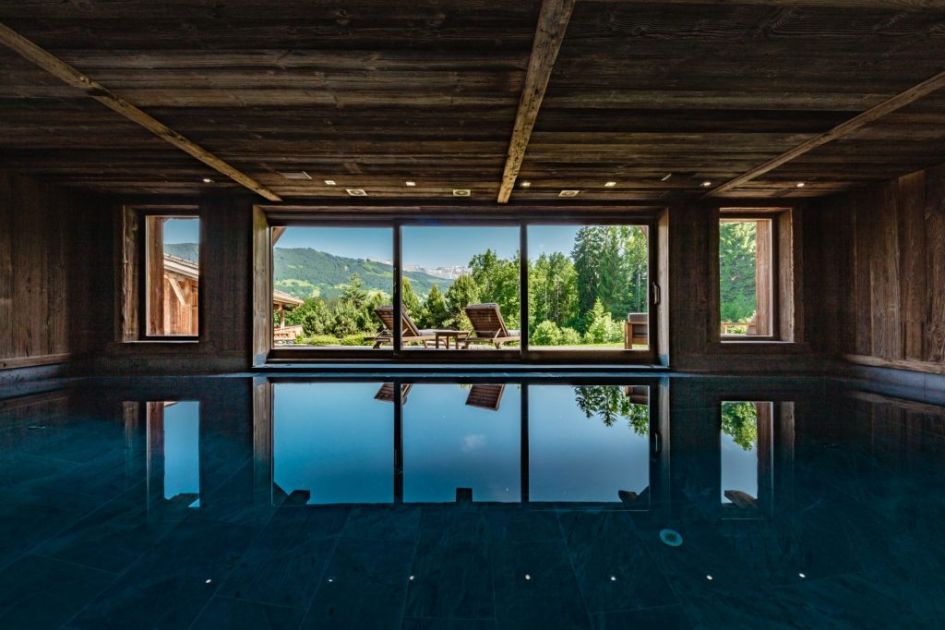 If you are looking for discrete luxury, look no further than Ultima Megeve. Arrive by private helicopter and experience the epitome of door-to-door service as you disembark at the chalet's private helipad. The luxury and convenience doesn't stop there as a 24/7 chauffeur service is available at your call for trips into Megeve or to the ski lifts. You also have a team of professional, dedicated staff to look after you during your stay, including a highly trained private chef to prepare and cook your meals, and a team of hosts to answer to your day to day requests and desires. You won't have to lift a finger.
Alongside the top quality service, you will find a wealth of facilities which further endorse Ultima Megeve's place on our list of the best luxury winter retreats. Soon to be a host of two swimming pools (winter 21/22), the current indoor swimming pool takes advantage of the idyllic positioning of this beautiful Megeve chalet, as you swim and unwind with a stunning mountain backdrop. Other ways to unwind could include putting your feet up to a movie in the home cinema, having a massage (or even a haircut!) or simply enjoying some of the finest selection of wines from the wine cellar. Be warned, it could escalate! Ultima Megeve has it's very own nightclub which could see you partying into the night until your heart's content.

There is an impressive mix of luxury winter retreats on this list, with all chalets featuring wonderful wellness, superior service and stunning scenery. They each present their own unique features from helipads and 2-storey playrooms, to hair salons and nightclubs, it's safe to say you're in for a real (re)treat!
If you can visualise yourself enjoying a luxury winter retreat or would like some further advice on any of the luxury chalets above, then please do get in touch. We would love to help you plan your next luxury alpine retreat – just send us an email or give us a call on +44 (0)1202 203653.