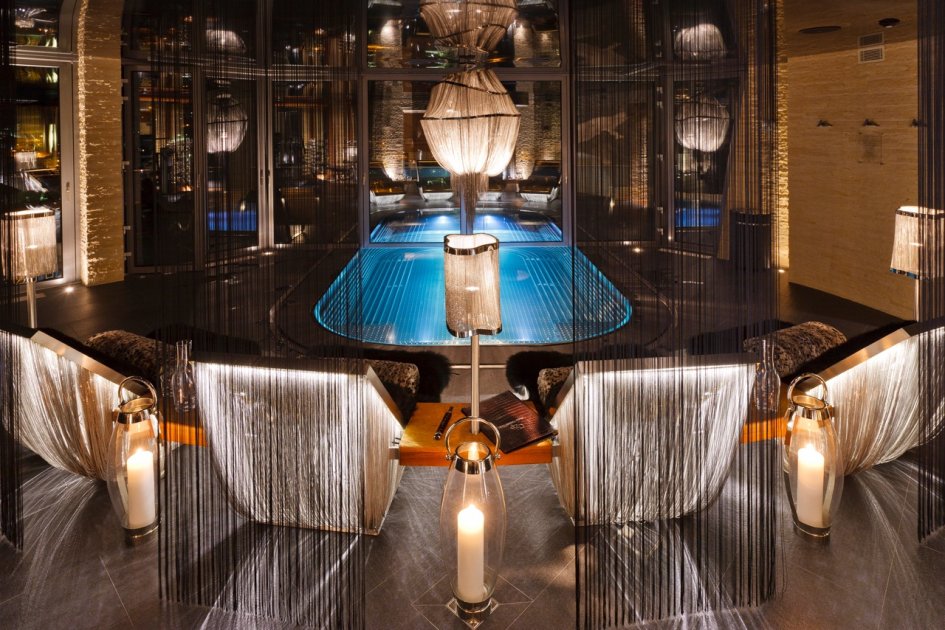 The most common request from our clients when looking to book their luxury ski holiday is that the chalet must have a hot tub. What's not to love about a luxury hot tub? Relax after a long day on the slopes in the warm bubbling water, whilst drinking a glass of the bubbly (champagne not the hot tub water) and admiring the stunning scenery.
Now there are hot tubs and then there are ultimate luxury hot tubs. We have carefully selected our top 10 luxury ski chalets with a hot tub that are guaranteed to make you say WOW. Let the countdown commence…

10. Chalet Trois Ours, Meribel
Built into the outdoor terrace of the beautiful Chalet Trois Ours in Meribel, this luxurious 8 person hot tub overlooks the piste. There is a mountain stream trickling alongside the chalet which adds to the ambiance of this relaxing hot tub. Tilt your head back, close your eyes and relax…
Chalet Trois Ours can be rented through out the ski season. Prices start from €22,000 per week for up to 10 guests on a fully catered basis.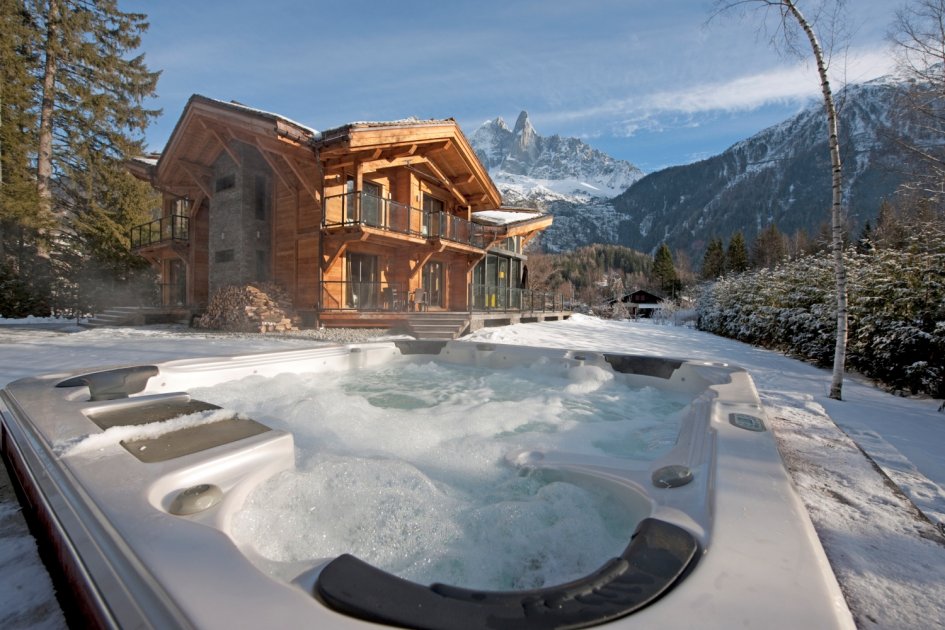 9. Chalet Cragganmore, Chamonix
With breathtaking views of the Dru, Grandes Jorasses AND Mont Blanc this stunning luxury hot tub takes the meaning of 'panoramic' to a whole other level. You can also look back at the gorgeous Chalet Cragganmore whilst sipping on a glass (or two) of champers.
Chalet Cragganmore, located in Chamonix, is available for both summer and winter bookings. Prices start from £9,999 for one week during the ski season for up to 12 guests.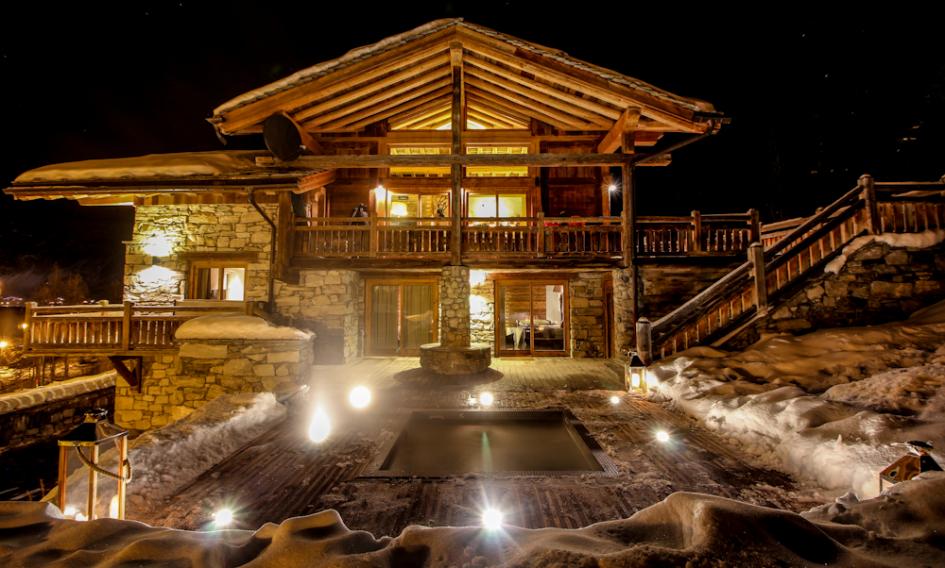 8. Chalet La Tene, Val d'Isere
Sunken into the private decking of the elegant chalet La Tene, you'll find this enticing hot tub, surrounded by LED lighting and with an undisturbed view of the stars you might find yourself not wanting to get out.
The ski in ski out chalet La Tene is located on the Santons Piste in Val d'Isere and can be booked from €15,000 per week for up to 12 guests and includes full chalet catering.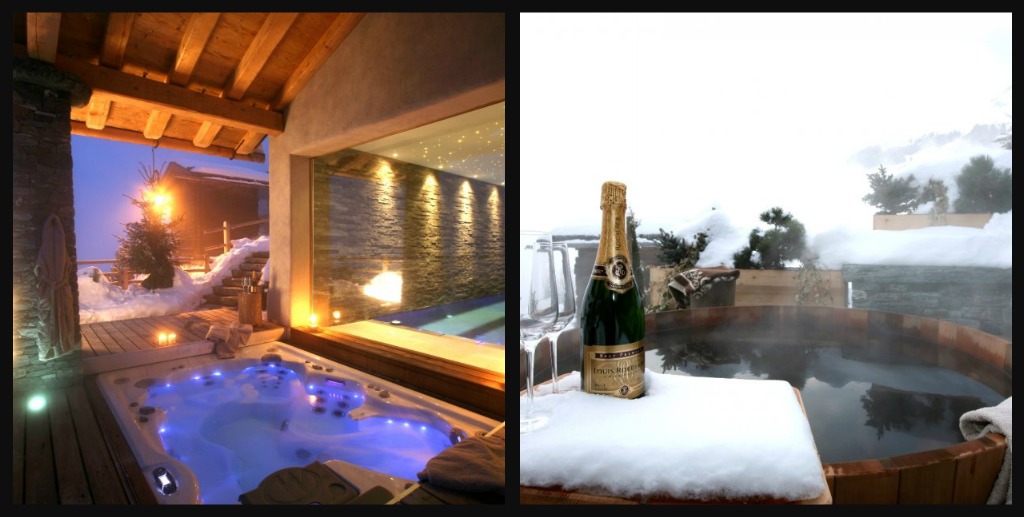 With not one, but two luxury hot tubs, Chalet Spa in Verbier had to be included in our top 10. Two very different hot tubs both oozing luxury. The 7 person Jacuzzi, carefully hidden in the oak clad terrace features it's very own TV, whilst the barrel hot tub offers an intimately romantic setting with 360 degree views.
This luxury chalet with Jacuzzi and hot tub can be yours for a week during the ski season from just CHF 45,000 Swiss Francs – That's approximately £30,000 per week for up to 10 guests.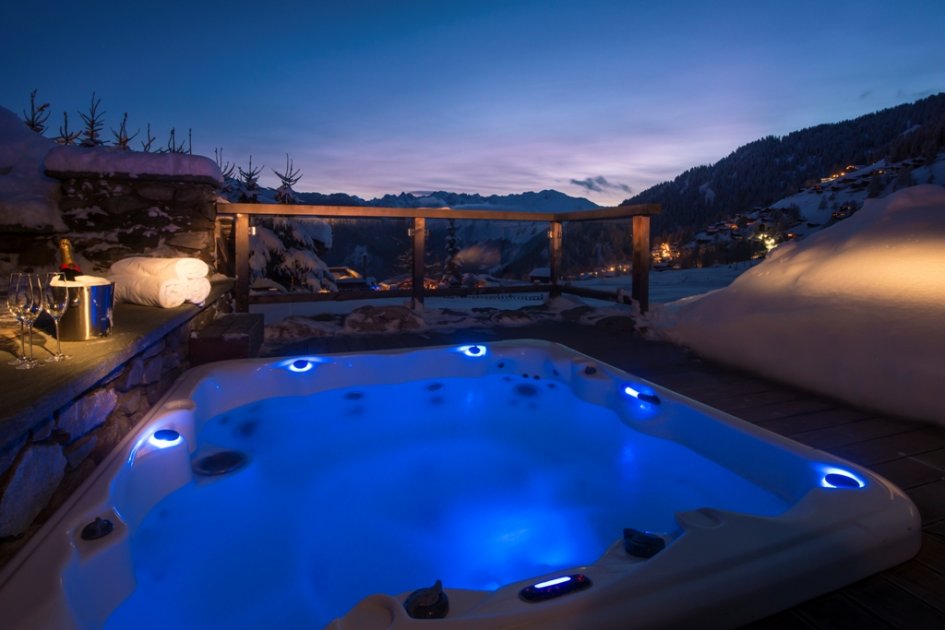 6. Chalet Pierre Avoi, Verbier
Possibly one of the most romantic luxury hot tubs you will come across is the sunken, outdoor hot tub of Chalet Pierre Avoi. This luxury chalet is nestled away in the secluded Plan-Praz area of Verbier. The hot tub offers the perfect sanctuary to relax and unwind after a day on the slopes, allowing you to absorb the breathtaking views of Combins and the Mont Blanc massif.
The chalet is available from £18,900 per week for up to 16 guests.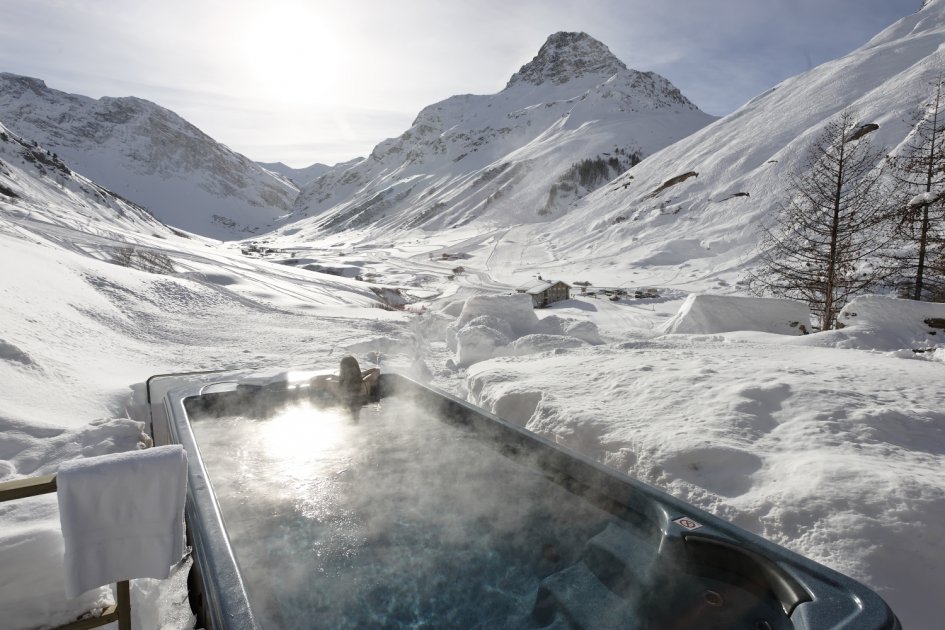 I think this picture says it all! Just look at that stunning view over the Espace Killy Ski Region, Manchet Valley and Vanoise National Park. Situated in the exclusive La Gittaz region of Val d'Isere, Chalet Le Chardon proudly boasts this phenomenal 18ft luxury swim spa and an additional 2 private hot tubs!
Prices start from £19,900 per week for up to 20 guests and includes full chalet catering. Where do I sign up?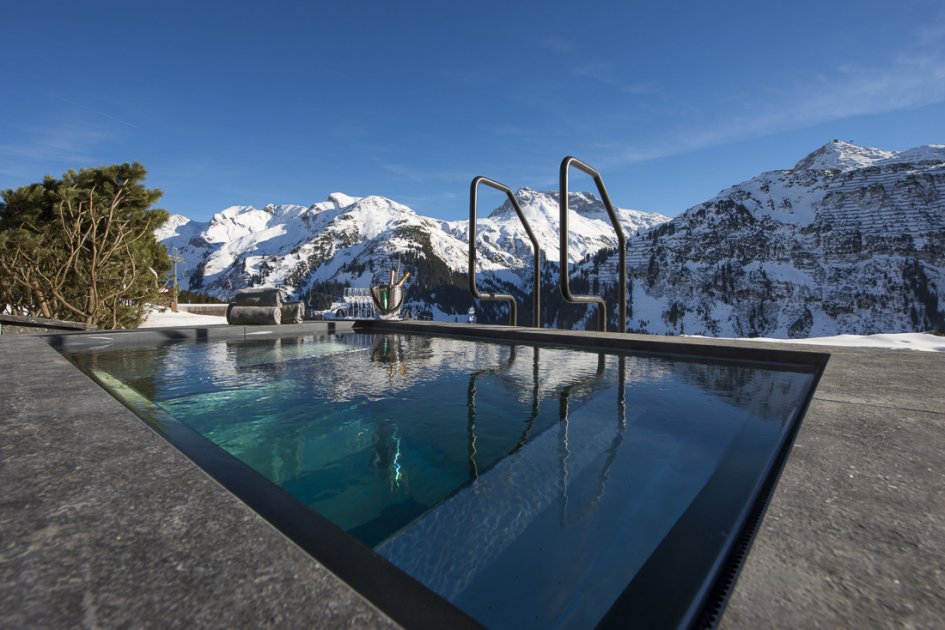 Nestled in the exclusive area of Oberlech with breath-taking views of the surrounding peaks, this ski-in and ski-out chalet is one of Lech's most prestigious luxury properties. Directly on the terrace sits the stunning glass bottom hot tub, looking out over the mountains and the piste. Submerge yourself, relax and watch the world ski by.
Chalet Uberhaus is available from €42,700 per week, sleeping up to 10 adults and 6 children.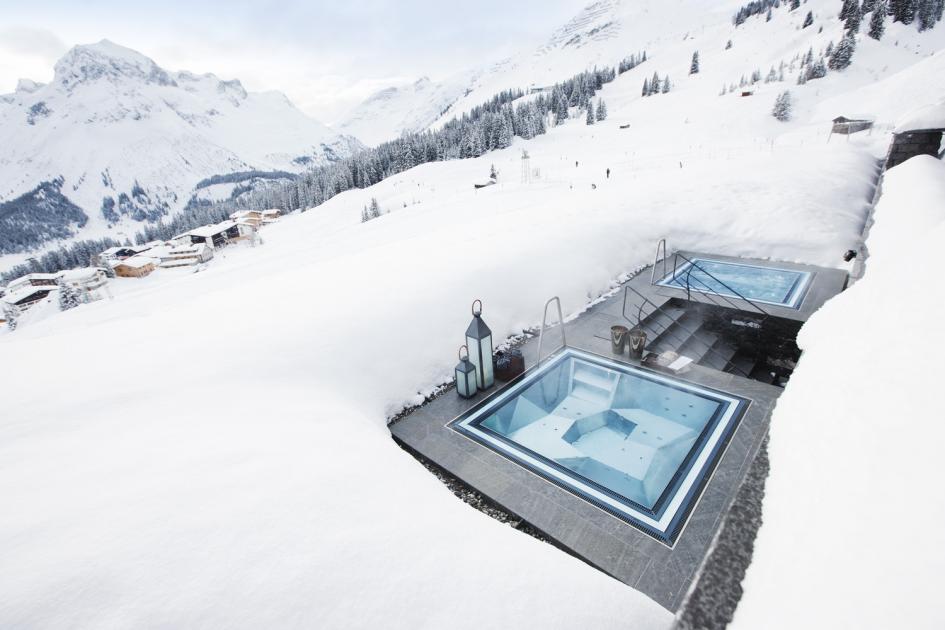 Staying in Lech for number 4 on the list, this luxurious chalet features dual outdoor hot tubs. Modern and stylish they take pride of place outside this luxury chalet allowing guests to enjoy the stunning views whilst enjoying a beverage of their choice – champagne for me please!
Ultimate Luxury Chalet N is available from €210,000 per week, accommodating up to 22 guests.

No, your eyes are not deceiving you! Rub them again and look closely… it's an elevating hot tub! Designed by the artist/designer Heinz Julen, Luxus Chalet is like no other. The 6 person hot tub can be hydraulically lifted through the two storey chalet and out onto the rooftop providing unrivaled views of the Matterhorn.
Luxus chalet sleeps up to 11 guests and it is available to book from CHF 31,000 Swiss Francs per week – that's about £21,000.
Our feature image and our number 1 ultimate luxury chalet hot tub belongs to the stunning Zermatt Peak. The hot tub is the focal piece of the chalets wellness suite and stretches from inside the property out onto the external terrace. The view from the hot tub expands over Zermatt and the Matterhorn. The night time photo definitely resembles something out of the Great Gatsby….. All it's missing is Leonardo DiCaprio himself, does anyone have his phone number?
As if that wasn't enough, the master suite also features its own private Jacuzzi!
Zermatt Peak can be booked for CHF 55,000 Swiss Francs per week (approximately £37,000) and accommodates a maximum of 13 guests.
For more information on any of the luxury chalets with hot tub featured we would love to hear from you. You can contact the Ultimate luxury Chalets office on +44 (0)1202 203653 or send us an e-mail.