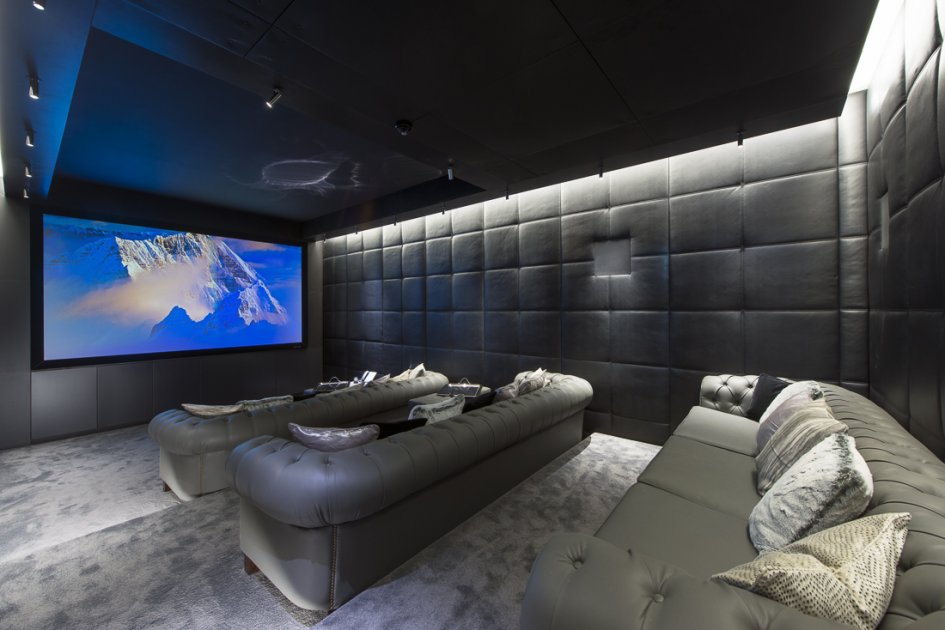 This year's Oscars will be held on Sunday 28th February at the Dolby Theatre in glamorous Hollywood, California. The 88th Academy Awards ceremony celebrates the finest movies to grace our cinema screens in the past 12 months and what better way to watch them than in one of our luxury ski chalets' cinema rooms?!
Our opening shot is of Chalet Uberhaus, a luxury catered chalet in the exclusive enclave of Oberlech with breath-taking views of the surrounding peaks. This ski in/ski out chalet is one of Lech's most prestigious luxury properties and not only does it have a large games room with bar and TV area, but it's own dedicated cinema room as featured above. Sound proofed for maximum impact, this room features a drop down projector screen, sumptuous silver carpets and cosy chesterfield sofas. What better way to unwind after a day on the slopes than in this cinema room, let the film commence…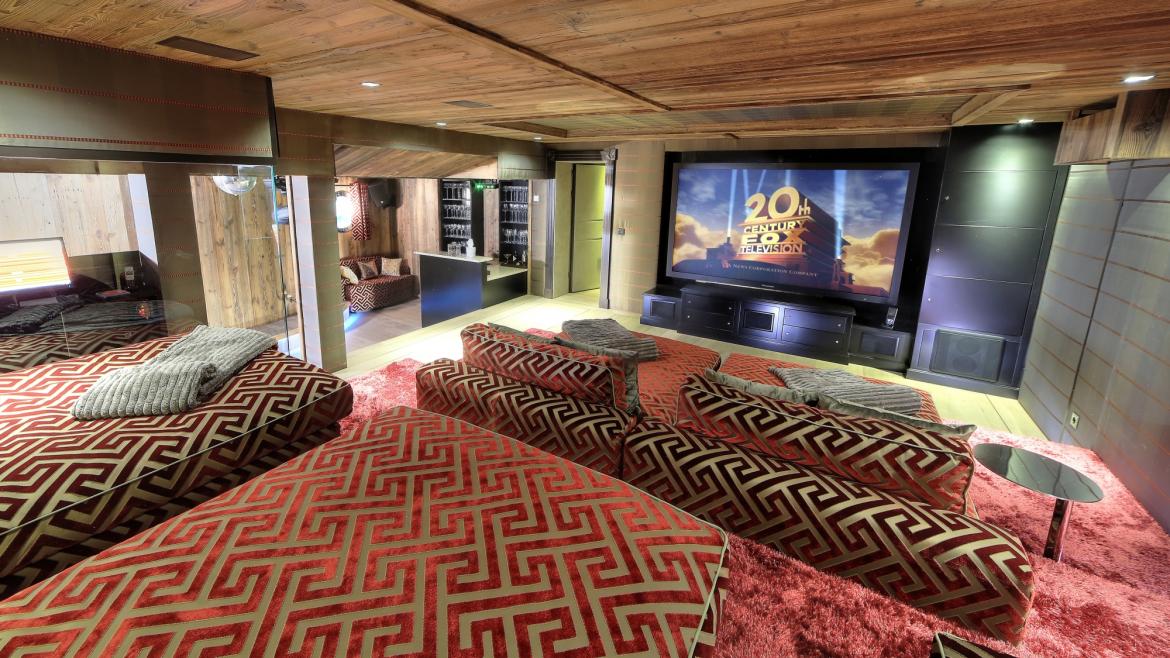 On the edge of the golf course and ski slopes of Megeve, Chalet Opulence needs no explanation as the name speaks for itself. This luxury residence includes an indulgent spa floor with infinity pool, jacuzzi, steam room/hammam plus a wine cellar and cigar room. Although the chalet also features it's own hair salon, we believe the true crowning glory of this chalet has to be the multifunctioning entertainment room which can be used either as a nightclub complete with DJ booth and dance floor or an indulgent chalet cinema room with chaise lounge style seating for ultimate relaxation.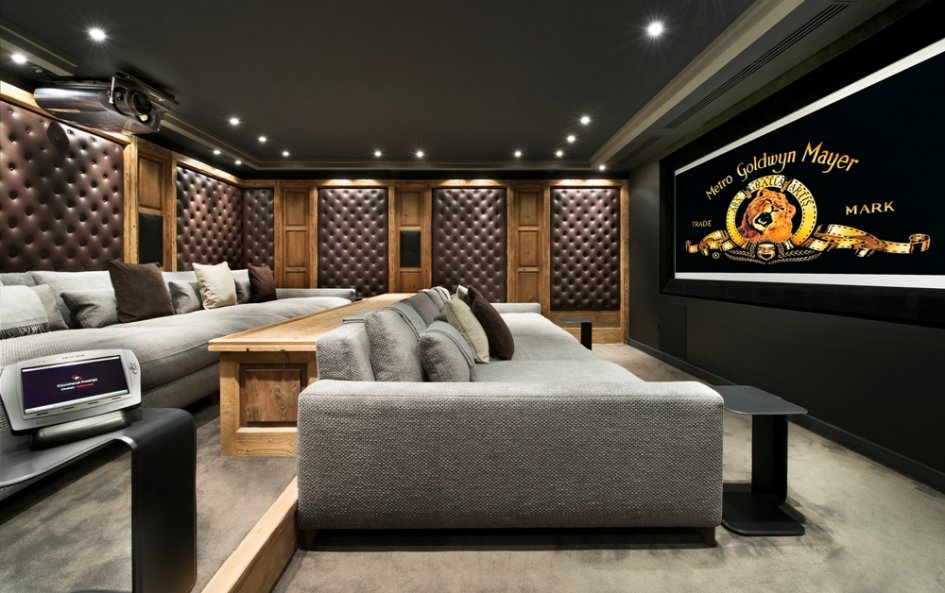 At the pinnacle of luxury ski chalets proudly stands Chalet Edelweiss. With over 3000m² of living space, of course Courchevel 1850 would have to throw down the gauntlet for Europe's largest ski chalet! If guests finish appreciating the vast amounts of original artwork and antique's proudly displayed across all seven floors of this chalet, and manage to find their way to the dedicated theatre room, they can be entertained even further in this classically designed and beautifully ambient space. We would not be surprised if the Oscar nominated stars themselves have watched films in this very cinema room over the years!
The largest and most exclusive luxury ski chalet with a home cinema in Oberlech, we welcome you to the stunning Chalet N. This luxury retreat definitely sets the benchmark for true Alpine over-indulgence. Undoubtedly one of the most impressive properties in the ski chalet rental market worldwide, it is a vast chalet that still somehow manages to keep its homely ambience, at the same time being opulent yet still understated.
The video above is Oscar worthy showcasing Chalet N's extensive facilities, more often associated with a top end luxury hotels rather than a stand-alone chalet!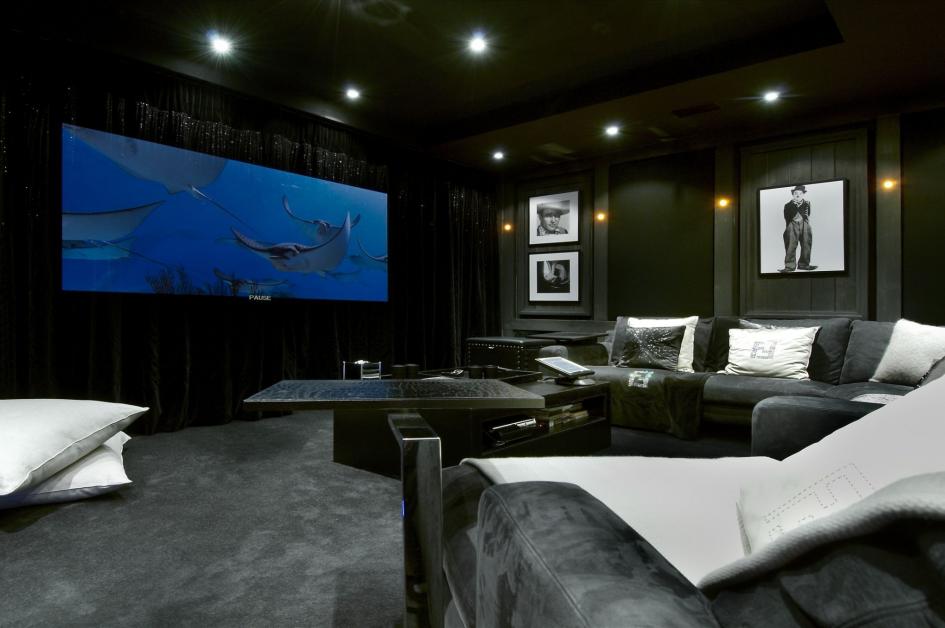 Chalet La Grand Roche's dedicated Cinema room boasts a full HD 103″ Plasma display, the largest in Courchevel. With a 7.2 digital surround sound system providing the highest possible standard of home cinema experience. There are a host of movie options available including DVD, Blu-Ray, satellite and local television.
A Crestron Control System sits at the front end of the Audio Visual Systems to provide user friendly and intuitive control via wireless handheld/in-wall touchscreens and distinctive Hardkey wall points. In addition to the Audio Visual Systems the Crestron Interface also offers control of the chalet lighting control system; allowing scene settings and individual control of the truly unique and inspiring lighting configuration.
Flat screen TV's are fitted throughout the chalet, including a waterproof 42″ Plasma in the pool room!
Talking of chalets with swimming pools and projector screen, an Ultimate Luxury Chalet's blog just wouldn't be complete without Chalet Marco Polo! Bringing you 1000m² of Alpine chic, Marco Polo situated in popular Val d'Isere, was voted "France's Best Ski Chalet" two years in a row.
The spacious pool is covered in gold leaf with jet streams, mood lighting and a drop down projector screen for watching home movies or music videos. The adjoining relaxation area with bar and fireplace comes complete with lasers, smoke machines and an entertainment system providing everything needed for a party!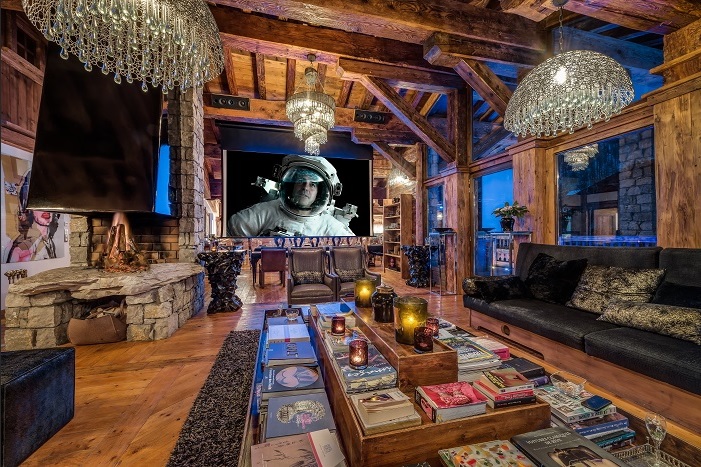 If a projector screen in the wellness area isn't enough for the group, why not head back up to the main living space of the chalet? A second drop down projector screen falls flawlessly between the lounge and dining area!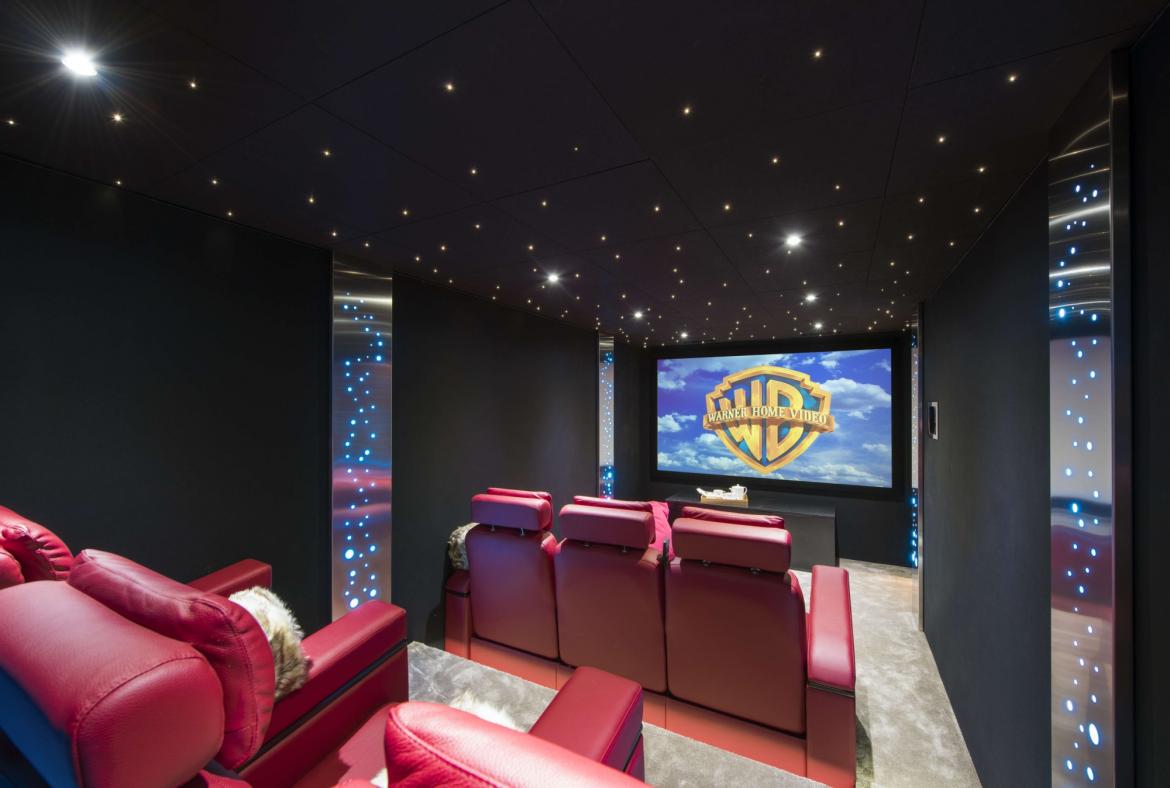 Verbier has recently welcomed Chalet Chouqui to the acclaimed list of luxury residences in resort, and of course no expense has been spared! With a state-of-the-art soundproofed theatre featuring reclining red leather seats, LED starlit ceiling and swanky silver speakers on either side of the room, settling down in this ski chalet home cinema feels more like a futuristic rocket launch!
If you are impressed with any of our luxury ski chalets featuring a cinema room and would like to find out more about booking your own holiday, please just contact us via email on ask@ultimateluxurychalets.com or telephone +44(0) 1202 203653.