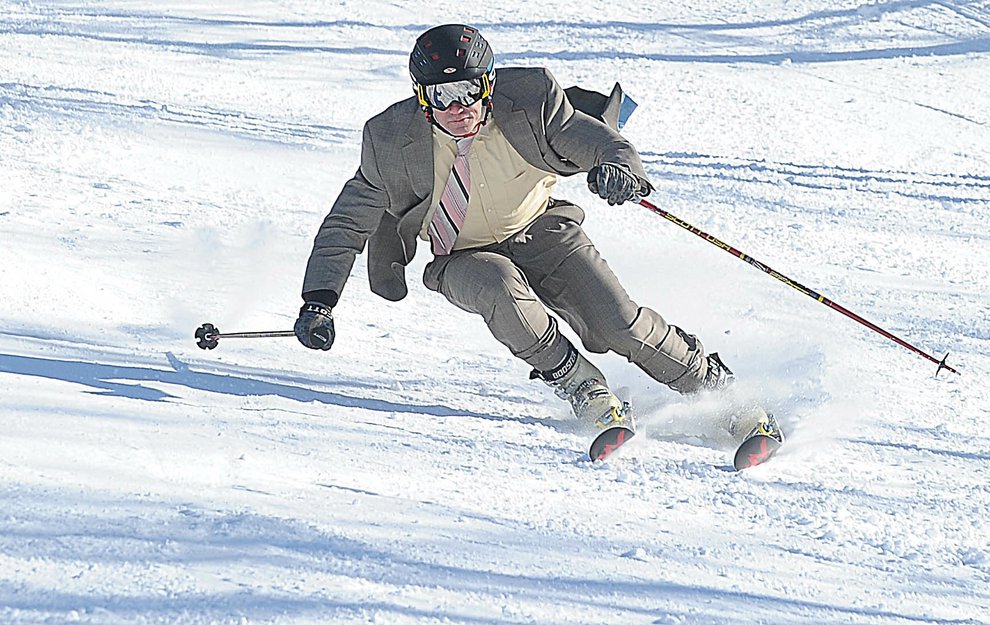 You wake up, grab that much needed Monday morning coffee and make your way to work. Whilst trawling through your emails you notice one from the big boss and after reading it twice you can't quite believe your eyes. Your incredible, generous and much loved boss has booked a luxury corporate ski trip for you and all your colleagues.

So, now that you have had time to calm down from all the excitement, continue on with me to take a look at my selection of 8 of our best corporate ski chalets, which could give you inspiration for your luxury work incentive ski trip!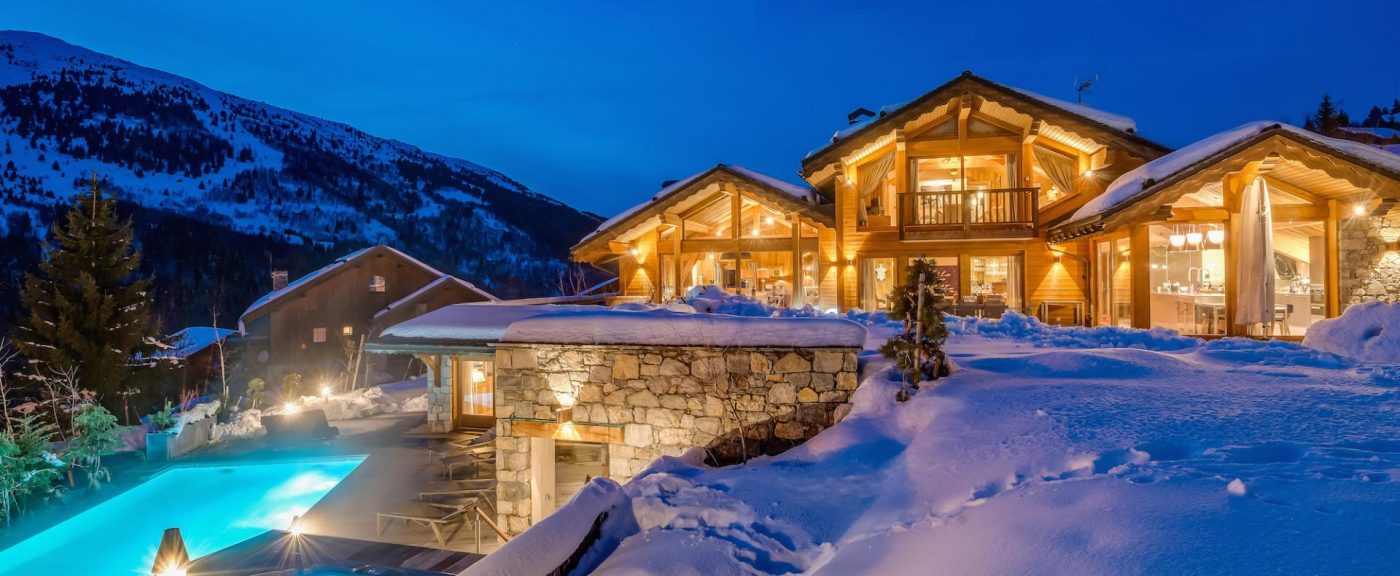 This stunning chalet is a perfect place to start, offering an idyllic haven for the normally heavily stressed corporate group. It oozes style and comfort, situated in its own private grounds in Meribel and offers 12 guests an ultimate luxury retreat.
We will begin in the office room which we hope you won't be using on your luxury holiday, but if needs must you will be very pleased to hear it even comes with an Apple Mac for those who can't fully break away from the demands of the office.
My favourite area however is downstairs where a whole floor has been dedicated to a fun and games space, including a large cinema, a pool table or if you would rather some table football to share a bit of light banter and competition with your esteemed corporate colleagues. Or if that all sounds like a bit too much excitement for you, how about a drink at the bar to watch all the fun and antics unfold?
If wellness is your thing, why not enjoy a dip in the heated infinity pool before relaxing in the hot tub with a glass of bubbles? To top off that perfect day and to make your ultimate experience complete, head to the massage room before retiring to your luxury bedroom each with their own feature fireplace.
This first of eight stunning corporate friendly chalets is a fantastic place to start, with a glorious living area accompanied by a open fireplace along with stunning views of the mountains. What with a dedicated and professional team to be on hand to make this corporate trip faultless, with full catered gourmet cuisine and an in-resort driver, your expectations will truly be exceeded in every possible way.
Eden Rock is a new and highly impressive chalet blending traditional with contemporary perfectly and benefits from three large apartments all under one roof. As soon as you enter this majestic luxury chalet you will be wowed and incredibly grateful to your boss. A stunning log fire and bar immediately welcomes you into the warmth of this marvellous chalet along with a wonderfully arranged dining area, allowing all 20 guests to relish the luxuries of this chalet and enjoy the stunning gourmet food along with a much loved open bar.
A real highlight of the chalet are the extremely large en-suite bedrooms, with the average size being 22m² plus another 10m² for the bathrooms. Making sure you actually make it out of your room for the team bonding sessions is going to be the only tough part.
The lower part of the building is taken over by the deluxe wellness area, where a swimming pool with whirpool and a counter current, steam room, sauna, gym are all at your disposal.
If you manage to make it out of this delightful chalet then the in-resort driver will whisk you around St Anton. Head to St Antoner Hof bar for some sophisitication before popping to the Platz'l or Kandahar for some further apres-ski fun.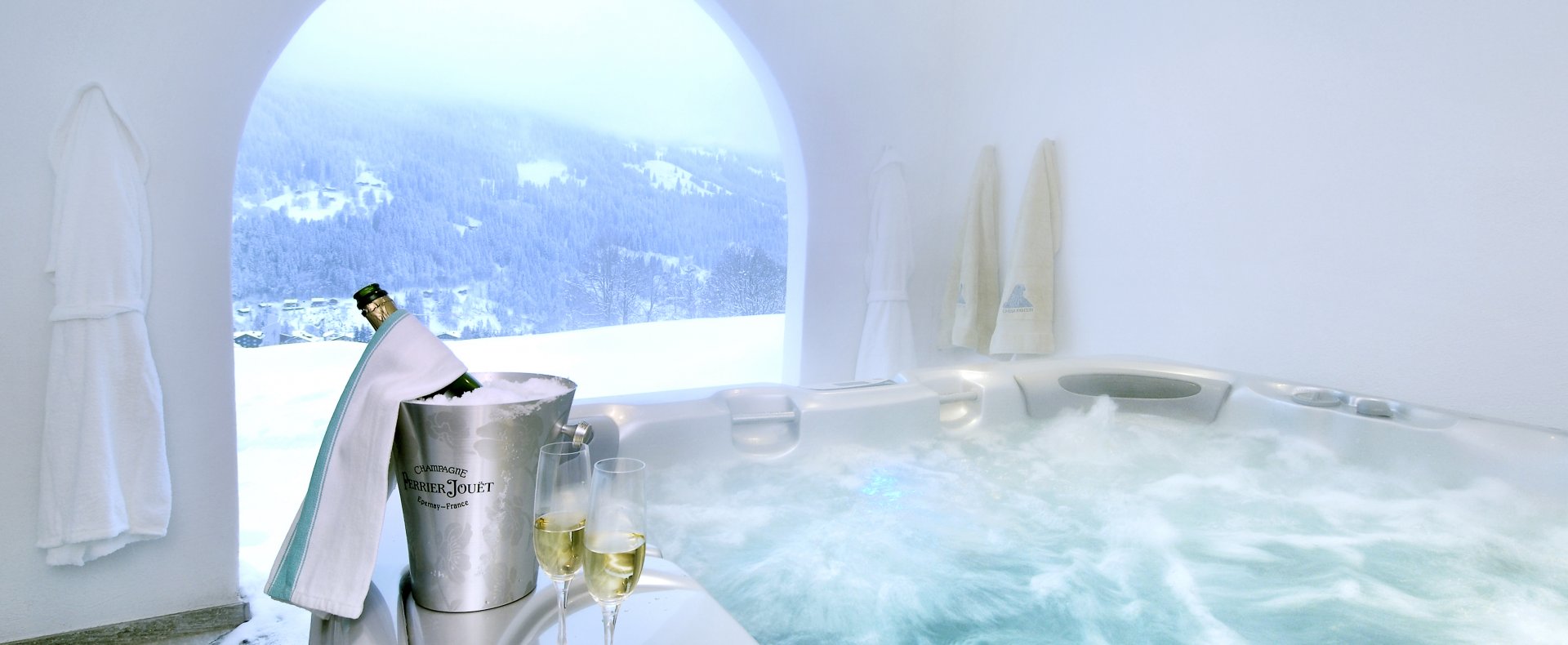 An equally stunning corporate chalet is the majestic Chesa Falcun, set over 4 floors with six en-suite bedrooms. Set in an ideal location with an untouched snowfield beautifully placed right in front of the chalet, perfect for a team bonding snowball fight….just remember to go easy on the boss as he was the one to pay for your treat!
With a grand fireplace in the drawing room to warm you up after your outdoor fun along with gourmet cuisine prepared by your very own personal chef and exemplary service to boot, you will wish you could stay forever. Not forgetting the extra luxuries of a sauna, an outdoor hot tub to relax in, and a steam shower and massage room, as well as a TV room. Oh and there might be a study but we won't talk about that as you are on a corporate luxury holiday after all, with luxury and holiday being the most vital and significant words.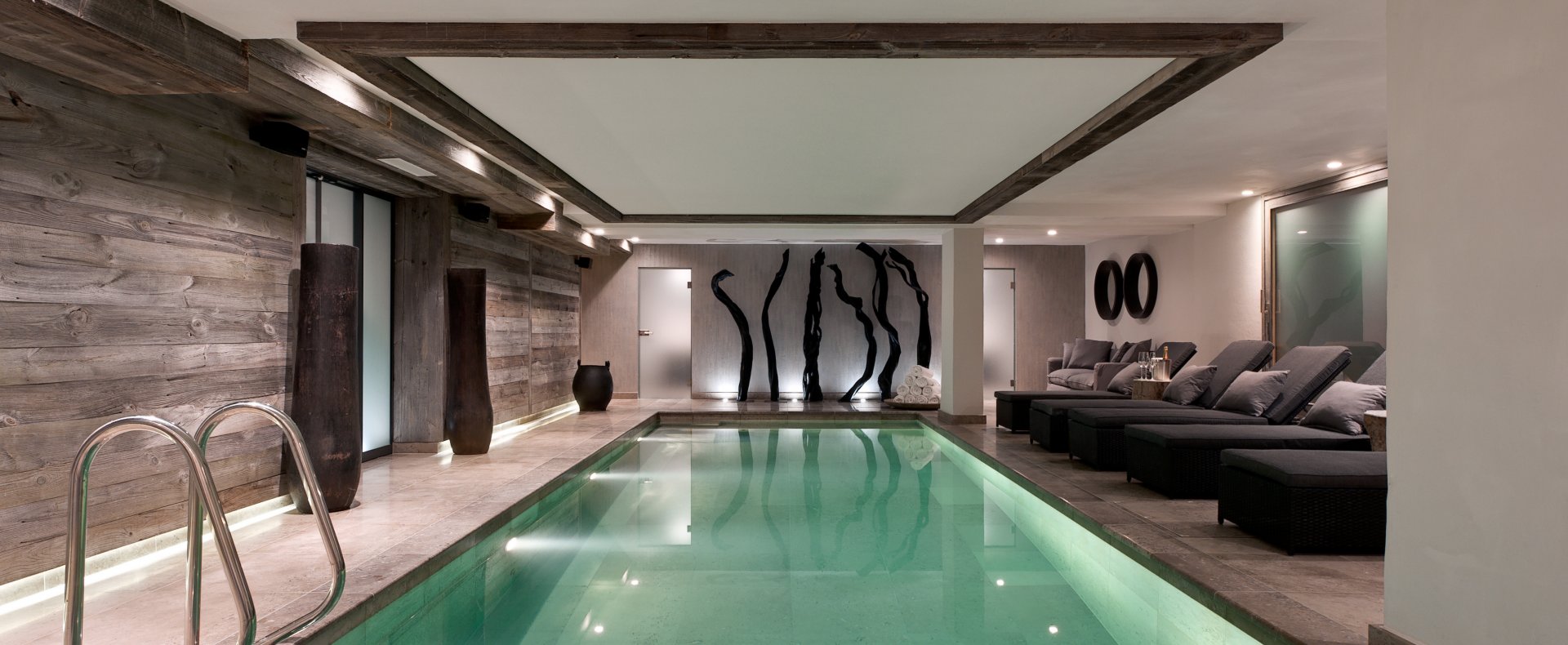 Wow! So your boss has said that he is taking all 26 of you to the prestigious resort of Verbier for a corporate trip. That alone would be incredible, but not only that, he is taking you all to stay at the beautiful chalet known as No. 14. A stunning, unique and large chalet offering a haven of alpine chic for a week of luxury, where mouth watering gourmet cuisine will be served up beautifully and a 24 hour on call driver will whisk you into town or back from the nightclubs in your stupor on request.
Head outside to the expansive terrace to soak up those beautiful mountain views either from a deluxe sun lounger or how about that fabulous cedar hot tub? Afterwards you can enjoy the many highlights this exquisite chalet has to offer, including a 10m pool, steam room, plunge pool, a Jacuzzi and of course that much needed room of oasis where a massage and beauty treatment is a must. Go on, go and be pampered and indulged. You deserve it!
To help tempt you away from your luxury chalet, as apres ski is legendary and a must in Verbier, make sure you head to Le Farinet for some live music and then onto the renowned Farm Club.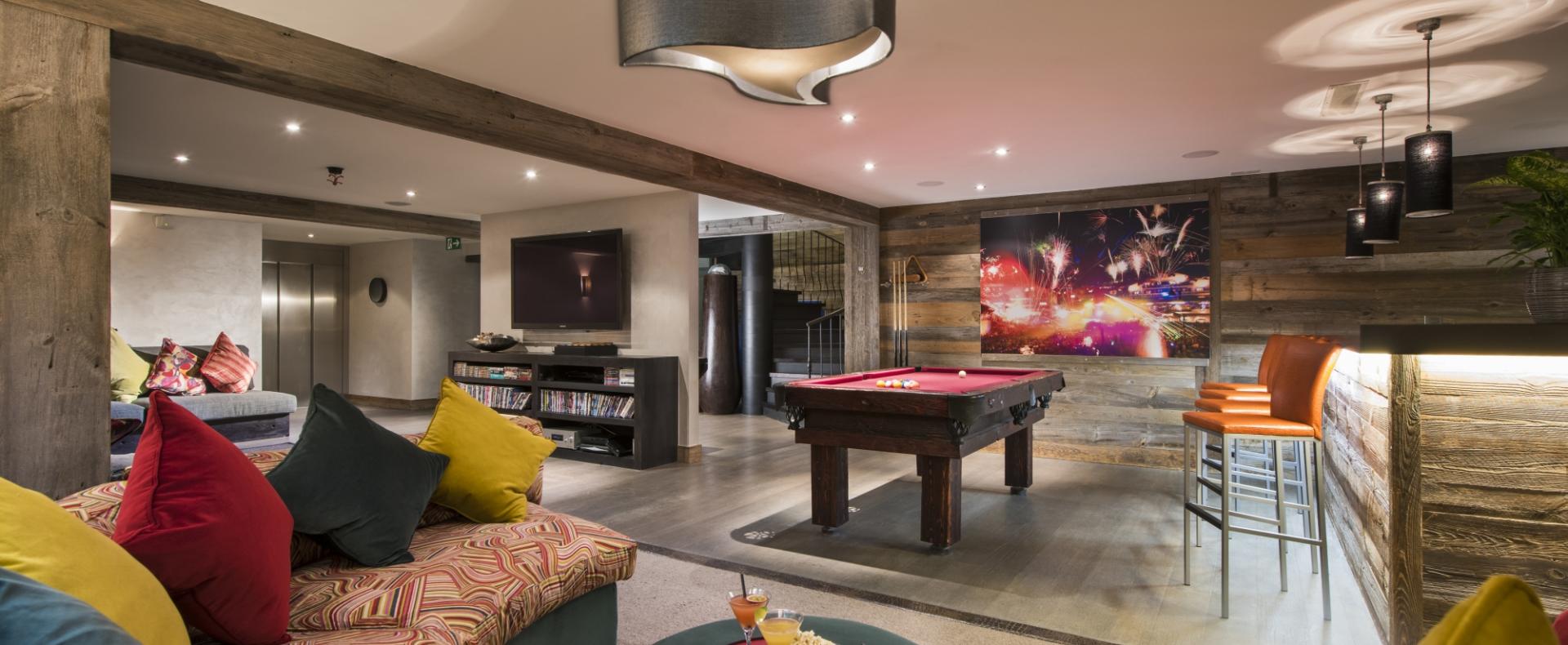 So, your boss wants to feel like Richard Branson for a week. Well to be honest I don't blame him because who wouldn't? Maybe just staying in his luxurious chalet for your corporate trip will be enough to inspire your team to greatness.
A truly incredible chalet in a perfect location for the ski slopes with 9 bedrooms to choose from. This will most definitely be a week of not having to think about lifting a finger, with a dedicated General Manager along with 14 professional staff to ensure you have an ultimate week of luxury.
Where to begin in this sensational chalet is going to be your only worry, with an indoor swimming pool, indoor or outdoor Jacuzzi, steam room, a treatment or massage in the Virgin Touch Spa, a few glasses of wine from the wine cellar, a movie on the large plasma screen in the lounge area. There really are endless opportunities on offer at this luxurious corporate chalet. You can even work up a sweat in the gym if you really want.
If being only 5 minutes walk from Verbier, with the opportunity to ski straight back to The Lodge after a day on the slopes, with a perfectly mixed gin and tonic waiting for you sounds ideal, then this exquisite chalet is perfect for your corporate ski trip.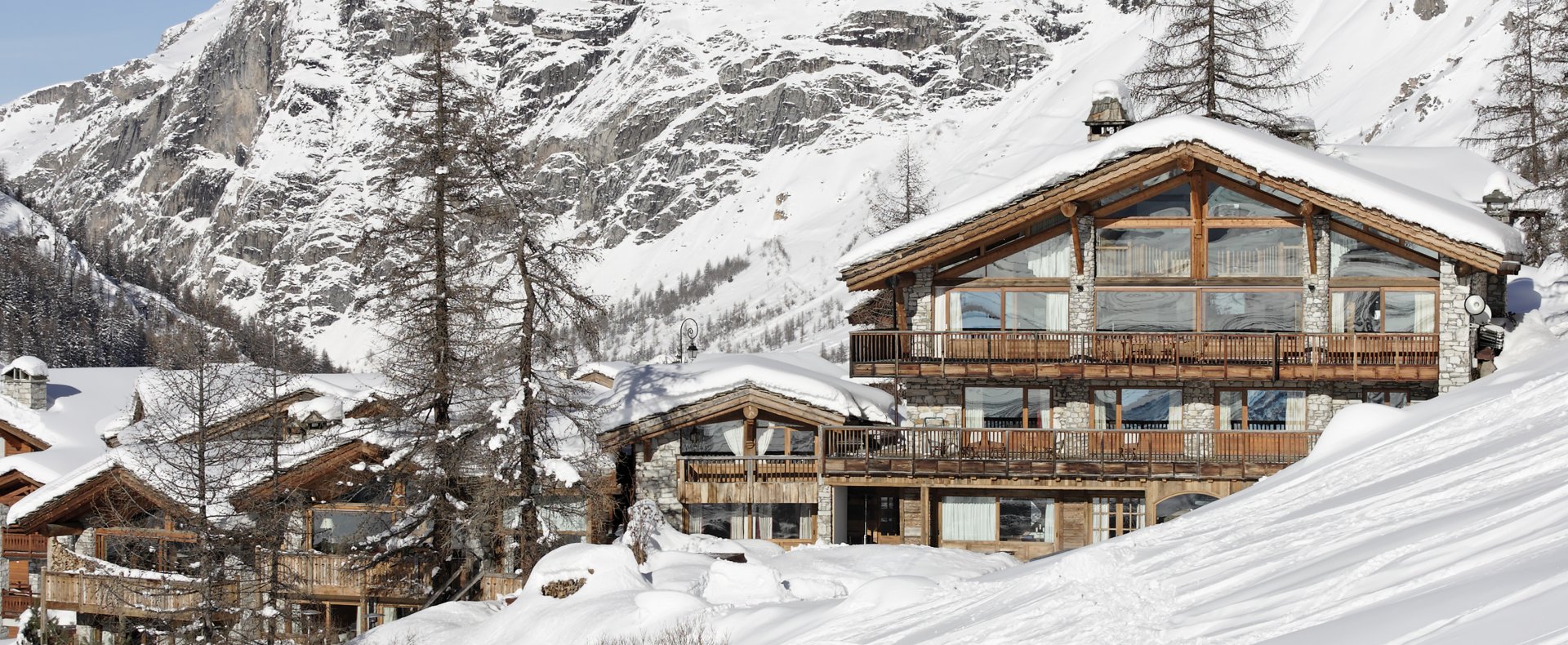 Situated on the side of the Solaise Moutain, Le Chardon offers 10 luxurious en-suite bedrooms, two separate living areas, a large TV room, dining room and the room we wish not to name but will quietly – a study. Not forgetting the fact that this perfect alpine retreat offers ski-in ski-out.
To kick off the ultimate team building experience for your corporate trip head out to the large private terrace for a barbecue and then to the impressive hand crafted snow bar to enjoy some bubbles.
Once again another ultimate luxury chalet which offers incredible facilities which include an outdoor swim spa, two hot tubs, sauna, massage and treatment rooms. Then after all that luxury why don't you all head to the living room to warm up around the open fire, before enjoying a five course culinary experience.
I know it will be quite easy to forget where you are whilst staying in this ultimate and magical chalet but to add to the unforgettable experience make sure you and the rest of your corporate team head to the Folie Douce to let your hair down and really get to know your colleagues a wee bit better.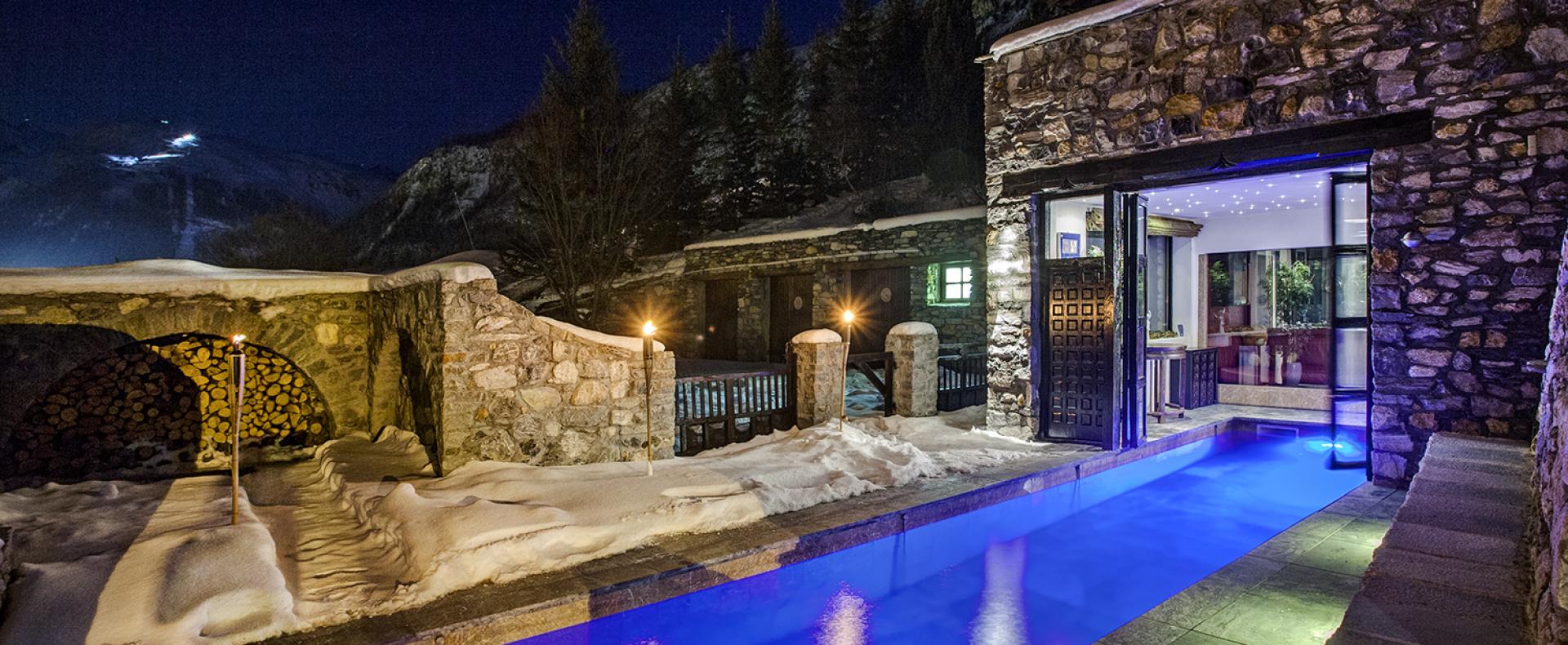 Another spectacular option for your corporate trip is Domaine Toit du Monde, which offers not only one but two exquisite chalets. In an idyllic position offering ski-in swim-out with the famous 'Coupe du Monde Ok' ski slope on one side and the 'Verte' on the other. If you really want to start this corporate trip off on the right foot, wanting to wow your employees from the get go and win best boss of the year award, then how about flying your staff in by helicopter where there is a heli-landing pad waiting for you less than a minutes' drive away from the luxurious chalet.
To continue the corporate trip of a lifetime step inside the chalets Himalaya and Toit du Monde where a total of 8 bedrooms, all with sleeping and relaxation areas, are on offer for your team. With a heated floor around the bath, impressive baths each with a rain shower which converts into a steam room, you most definitely won't want to leave.
What makes this chalet an ideal option for the corporate trip is the fact that there is double of everything, including two indoor/outdoor swimming pools, two Jacuzzi's, two massage rooms, two saunas and two extensive wine cellars. Not only that but a Hammam along with a cigar room are also on offer. The highlights though have to be the invisible swimming pools, which magically appear between the dining areas and the outdoor terraces, as well as the inflatable igloo situated outside in the snow.
You have to see this ultimate chalet to believe it!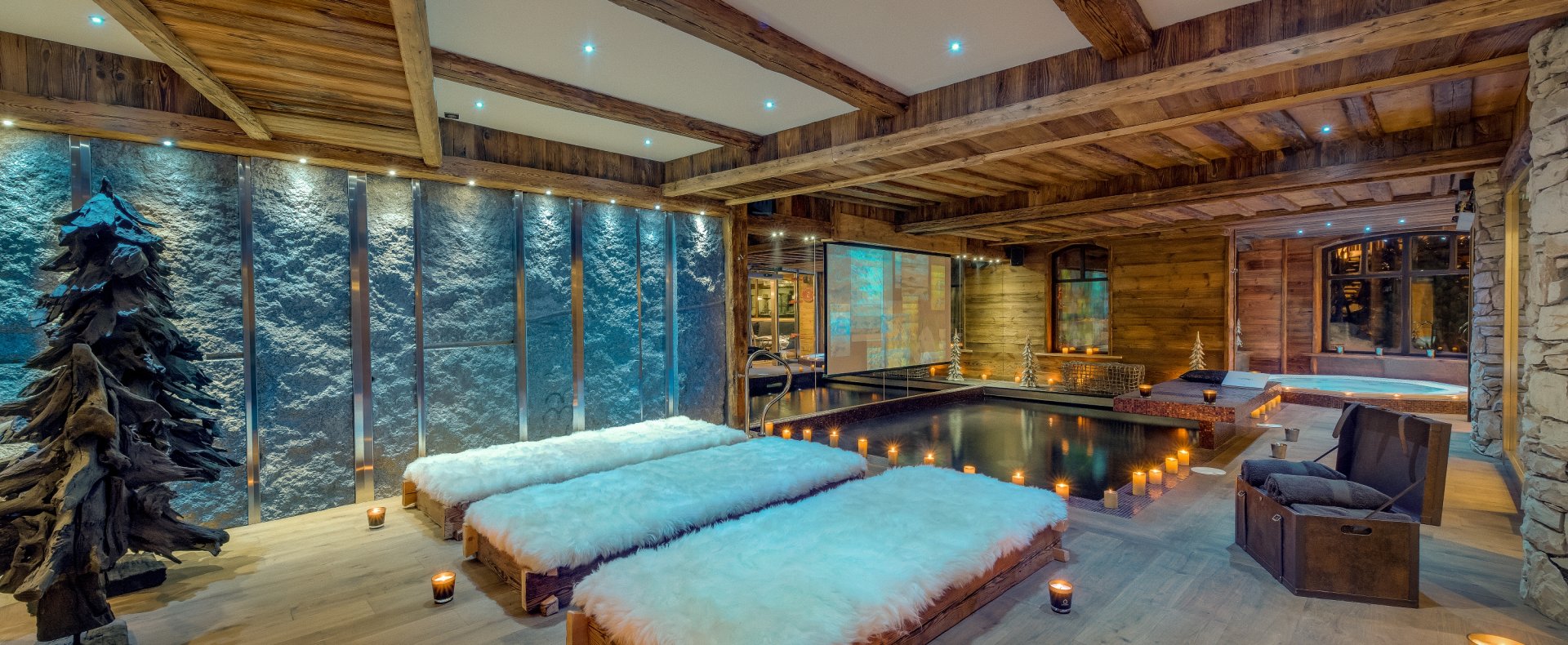 To finish the selection of my top 8 luxury corporate chalets is the delectable Chalet L'Hotse, where you can enjoy stunning views of the infamous La Face piste.
On your arrival head to the stunning open plan living area where you will find your very own bar…..after all, it's a quite lengthy transfer to Val d'Isere! Prepare yourself to be blown away by the large indoor swimming pool where, once you have finished your lengths, at the touch of a button you can enjoy a spot of TV on a state of the art projector screen. Not only that but this idyllic corporate chalet offers an outdoor hot tub, massage room, sauna, Hammam, gym, Solarium and even a grand piano to show off your musical abilities to your impressed colleagues. Nothing like a bit of karaoke to kick off some quality team building!
Just make sure that you are one of the 12 to be invited on this corporate trip of a lifetime, where you will enjoy a full gourmet catering service, along with an open bar and an in-resort driver to whisk you off to Val d'Isere town centre to continue the team building experience.
I believe I might just have got you all excited again at the mere prospect of staying in one of the above stunning luxury corporate chalets. Do you have a favourite out of the 8?
A corporate ski break is such great opportunity to bring a team together and often leads to increased levels of production and dedication and of course is a great opportunity for team bonding. These exceptional corporate chalets have been picked out of our Ultimate Luxury Chalet collection to give you a taster of what your next corporate trip could encompass, but are no means all that we have to offer. So, go and have some fun sifting through all the luxurious chalets on our Ultimate Luxury Chalet website or if you would rather come to us for some expert help and guidance or even just to share your excitement with us then call the Ultimate Luxury Chalet team on +44 1202 203 653 or feel free to drop us an email.