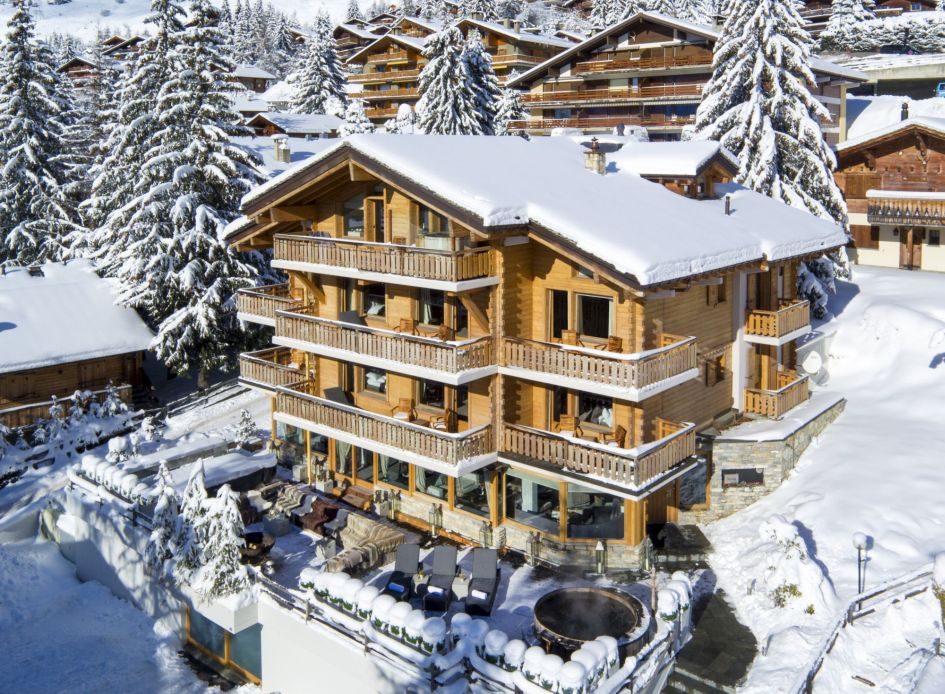 So you have been tasked with the daunting challenge of finding a large ski chalet in the Alps for your group ski holiday… Where do you start?
It can be difficult to find the best group ski chalets, especially when everyone has something different in mind. You want to ensure that there is plenty of space for everyone to relax and enjoy themselves without being on top of each other, whilst making sure there is good ski access and a lively town close by.
I have had a look through our Ultimate portfolio and found the very best chalets for large groups of family, friends, corporate groups or for those that just like to have ample space to lounge in!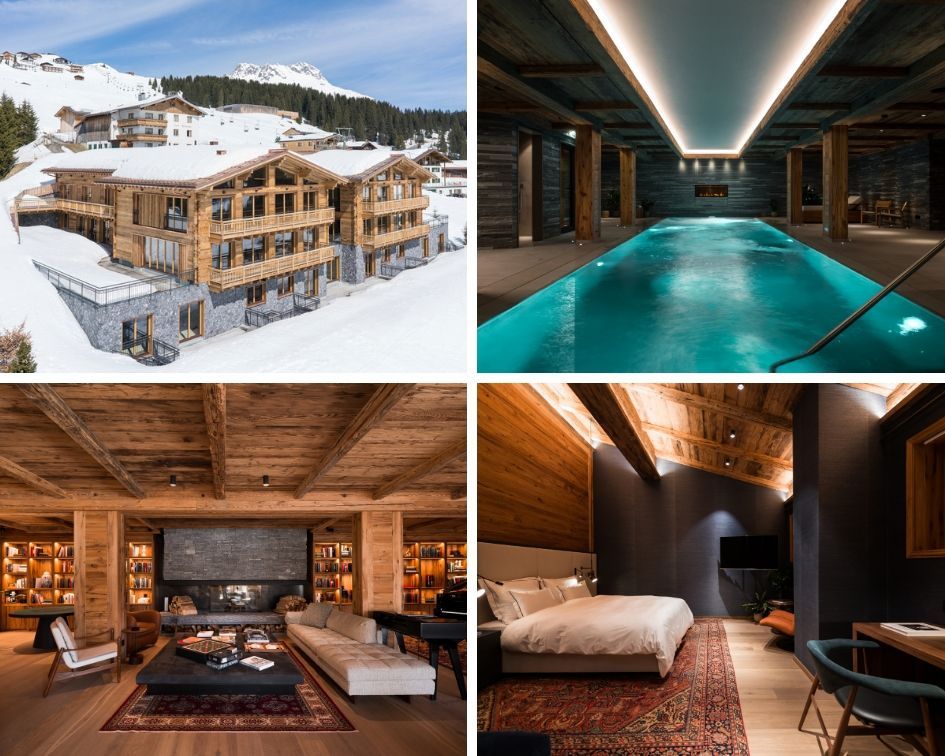 Arula Chalets sit in Oberlech and offer stunning views of the valley below. Combining two impressive chalets, Arula Chalet 1 and Arula Chalet 2, which when rented together can sleep up to 29 guests, they are ideal for a luxury group ski holiday.
You can expect double the facilities of your usual luxury chalet in the Alps, with 2 swimming pools, 2 saunas, 2 steam baths and treatment rooms. There is also an outdoor ice rink at Arula 2 which is sure to keep the kids entertained and provide a unique experience to your ski holiday. These are the perfect chalets for large groups who are all looking to enjoy a fantastic luxury ski holiday to Lech!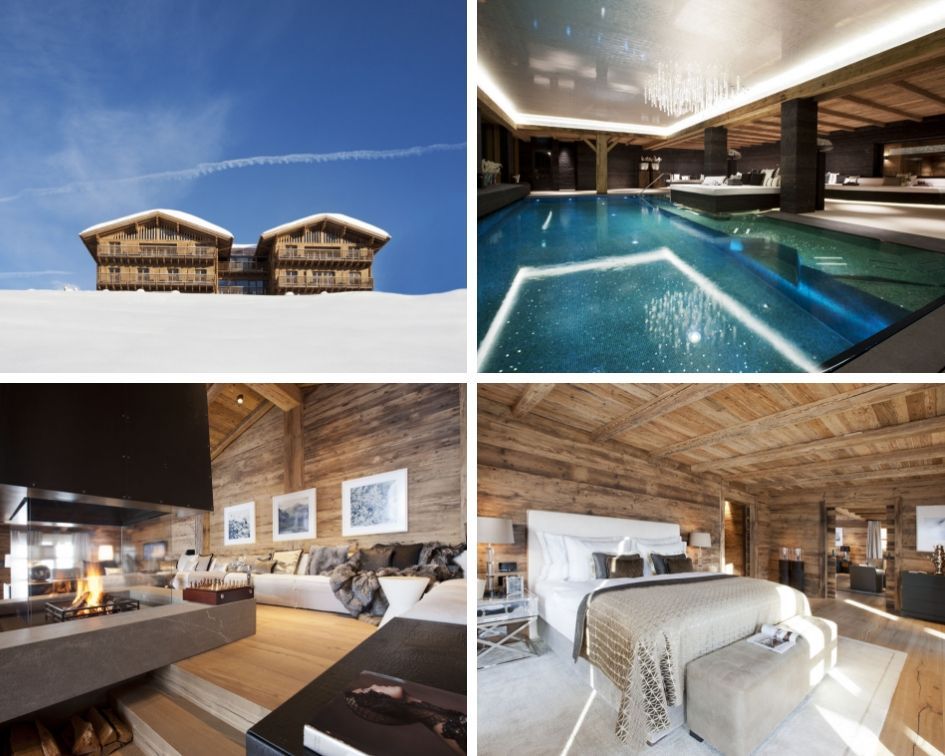 This is the ultimate luxury group ski chalet that sets the benchmark for luxury chalets in Lech, Chalet N. Sleeping up to 22 guests, this chalet is without a doubt, one of the most luxurious and impressive chalets on the rental market. Chalet N comes with everything you could wish for in terms of relaxation and pampering; a cosmetic area, double treatment room, fully equipped gym, private hair stylist, large swimming pool, steam showers, ice fountain, dual outdoor hot tubs… the list goes on and on. If you are looking for the best of the best chalets for a group ski trip, Chalet N is a perfect choice.
If you are after a large luxury chalet in a resort that has world famous apres ski on offer, Eden Rock is the perfect chalet for your group ski holiday to Austria, ideally situated in the Nasserein area of St Anton. Nasserein itself is tranquil and quiet but you are just moments away from the buzzing apres capital of Austria.
This group ski chalet sleeps up to 20 guests, which can be split into 3 different apartments, Ariane, Kanzi and Zari, and rented separately if desired.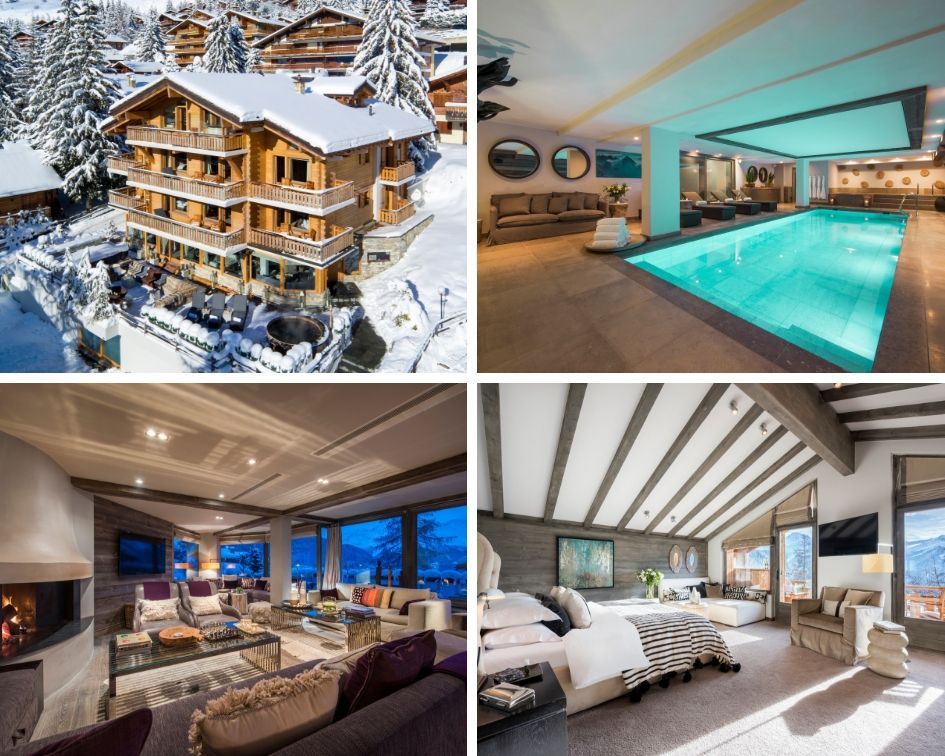 The largest group catered chalet in Verbier, Chalet No 14 is the epitome of modern, alpine luxury. With full wellness facilities, ample living space, an extremely comfortable cinema room and 13 full bedrooms, this impressive chalet can sleep up to 26 guests comfortably. No 14 is ideal if you are looking for corporate ski chalets for large groups as all of the bedrooms can be configured as twins.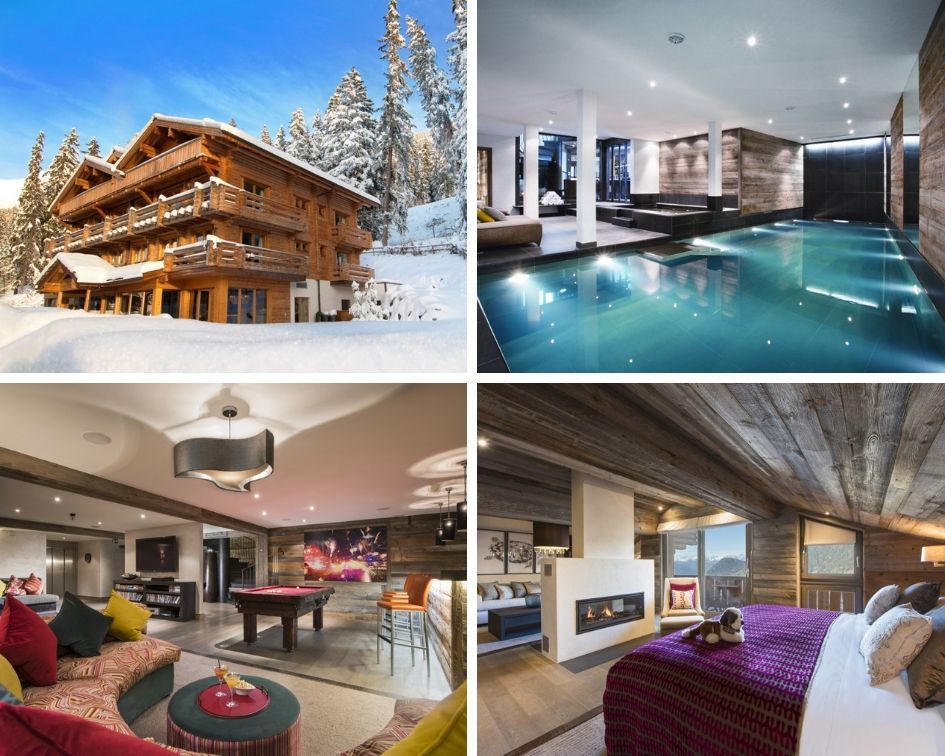 Sir Richard Branson's stunning alpine chalet is next on our list of the best chalets for large group ski holidays. If it is good enough for Sir Richard himself, it is surely good enough for us all! The Lodge provides a true home from home experience and the staff will ensure you do not need to lift a finger the whole time you are staying there.
This beautiful chalet for groups can sleep up to 18 adults and a further 6 children in a children's bunk room.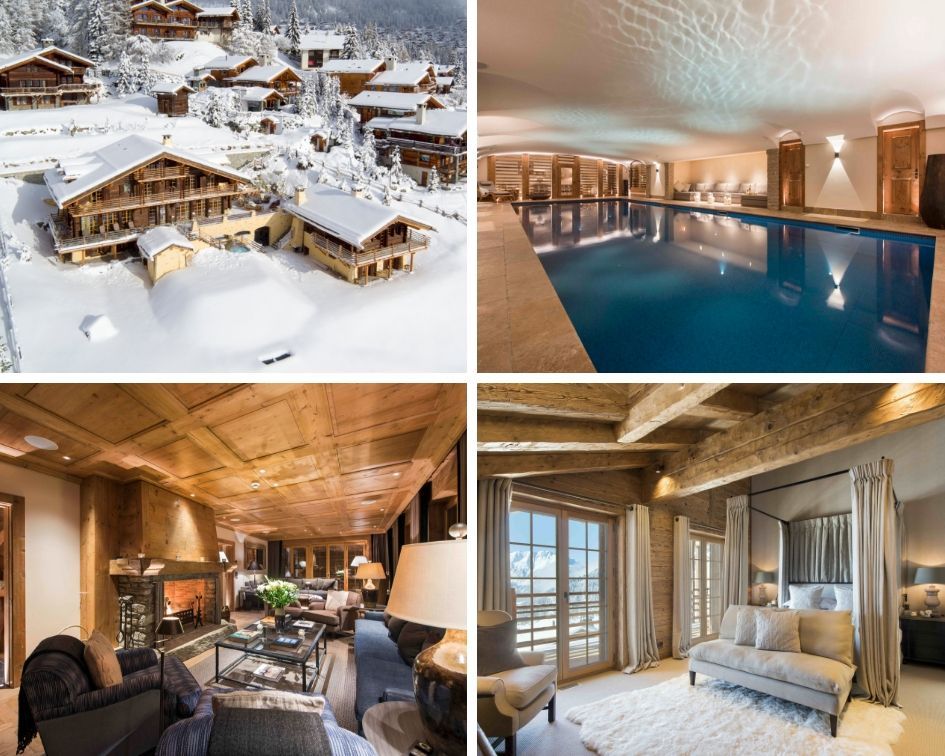 Located on the Chemin de la Bergerie, Chalet Chouqui can accommodate 16 – 20 guests in total across a master, 7 twin/double bedrooms and a quad bunk room, best suited to children, so is great for a family ski holiday.
With a large sun-drenched terrace with comfortable seating and fur throws, outdoor hot tub with some of the best views in the Alps and one of the largest private swimming pools in Verbier, can you think of any reasons not to stay in Chalet Chouqui?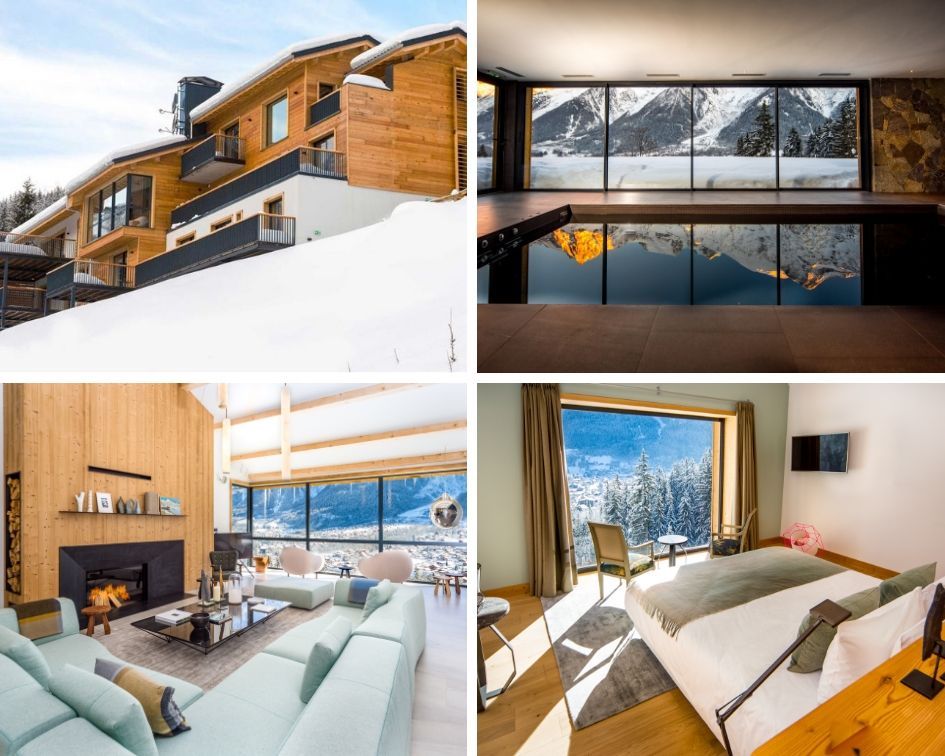 Bringing a new level to the luxury chalets in Chamonix, Le Chalet Mont Blanc can sleep an impressive 26 guests and has an extravagant 1,000m2 of space.
The perfect chalet for large group ski trips or for corporate groups, there are 3 separate lounges/meeting rooms, a full wellness area with swimming pool, sauna, massage room and a gym. You will also find a library, TV snug and an extensive wine cellar with a champagne station by Ruinart. If you are looking for the best group ski chalets in France, look no further than Le Chalet Mont Blanc.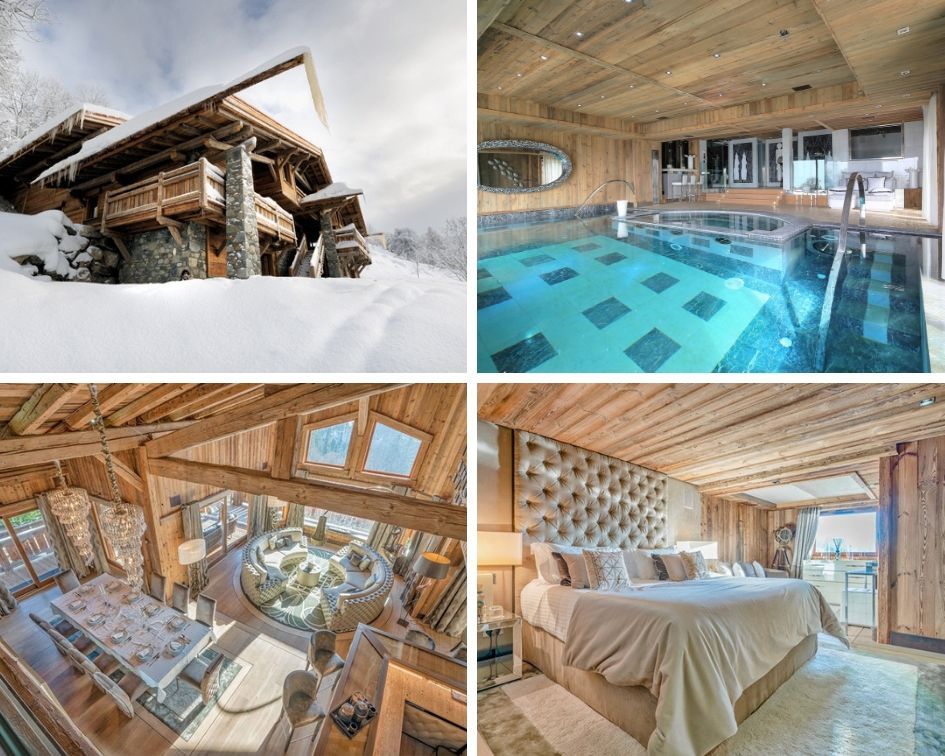 Undoubtedly one of the most exclusive and luxurious ski chalets in Megeve, Chalet Sun Arbois spans 4 floors and can sleep up to 26 people.
The spa area features an infinity pool, Jacuzzi, sauna and hammam, as well as a bar area, massage room and a hair salon. The indoor pool can be seen from your very own nightclub on the lower ground floor, perfect for holding a private party to celebrate a special occasion!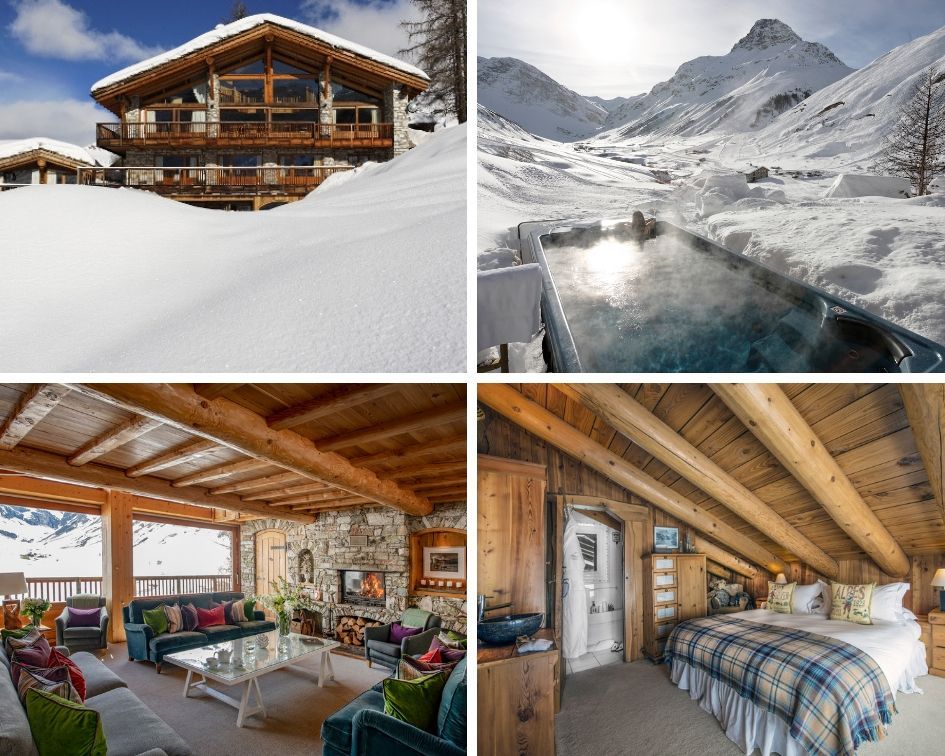 If you are looking for a luxury group catered ski chalet in Val d'Isere, Chalet Le Chardon is undeniably one of the best. Situated in Legattaz, you have easy access to the piste, just 50 metres from the chalet, which leads down to the Bellevarde and Solaise.
Complete with an 18ft outdoor swim spa, 2 hot tubs and all the other wellness facilities you would expect from a luxury chalet of this standard, Chalet Le Chardon sleeps up to 20 guests across 10 spacious and comfortable bedrooms.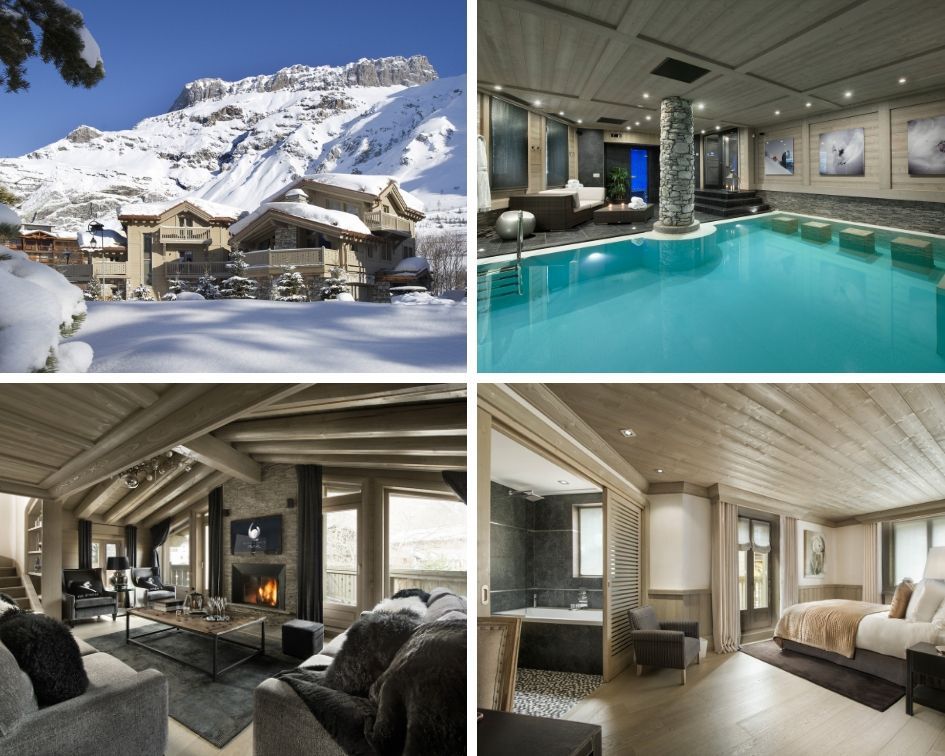 When looking for a luxury group ski holiday, have you ever considered looking at combination chalets that work just as well? We have a large selection of chalets that are side by side or interconnecting that work fantastically for large groups of family and friends alike who want to be close by, but not in each other's pockets!
Chalet Black and White Pearl are two pristine chalets located between Val d'Isere and La Daille and are almost identical, with some subtle differences in furnishings. Each of the 10 large en-suite bedrooms are beautifully designed and can be arranged as a double or a twin, sleeping up to 20 guests!
Have you been tasked with planning your next group ski trip to Europe and need help in finding the perfect group ski chalet? If so, give one of our team a call and we will do the leg work for you and let you have all the credit! You can call us on +44 1202 203653 or if easier, send us an email.