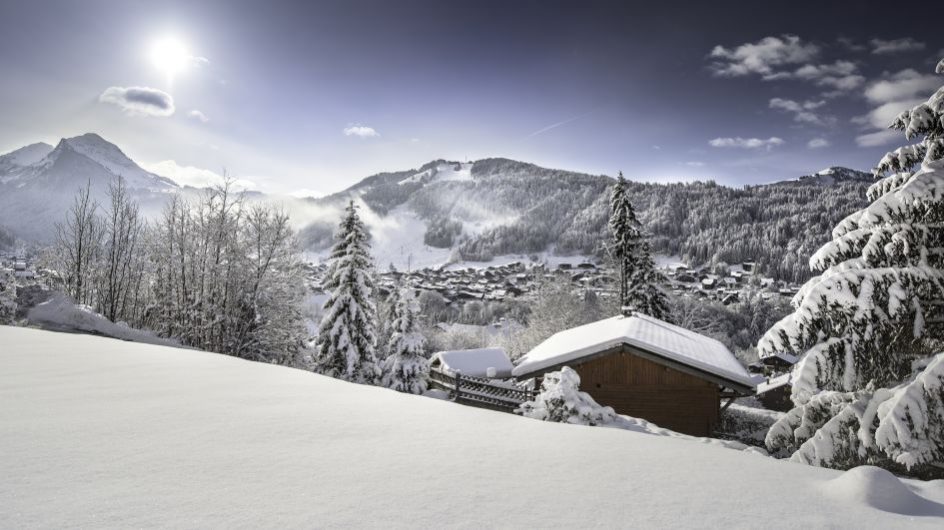 If you are looking for the most picturesque ski resort in the Alps or the ski area with the best views then search no further. In this blog we feature 5 of our favourite ski resorts for beautiful scenery, authentic alpine charm and breathtaking mountain peaks. These are some of the most pretty ski resorts in the Alps and will be the ideal destination for a winter wonderland ski holiday this year.
We have also picked out some of the best chalets with mountain views to accompany your ski plans. From luxury chalets with swimming pools to the ultimate ski in ski out chalets, a stay in one of these stunning properties will peak your expectations. Be warned though, you may feel so at home here that you won't want to leave at the end of your stay!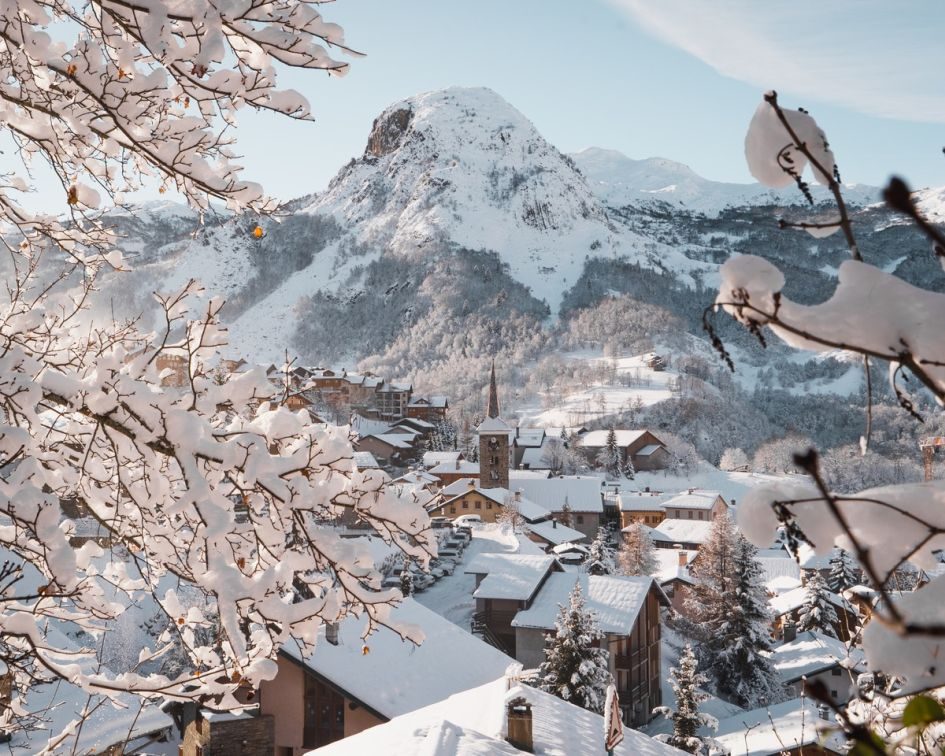 Located within the Valley des Belleville at 1450m, St Martin de Belleville is a hidden gem within the vast Three Valleys ski area. Nestled between the snowy hills, this authentic Savoyard village is true getaway spot. With narrow streets, stone and wood clad farms, and the prominent clock tower you are sure to feel the French charm in this resort.
The gentle home blue run, fantastic fondue stops and village feel of this resort makes it a firm favourite for family ski groups. Whilst the resort maintains a very traditional feel, there are some fabulous new build chalets tucked away in the centre of town which offer groups a luxury holiday experience and great access to skiing. In fact, we feature 3 in our top 100 chalets collection- Pure Black Crystal, Pure White Crystal and Chez Bugi.


If you're looking for a resort that has a real mountain feel with dramatic panorama, then Chamonix is the place for you. The Chamonix Mont Blanc valley stretches approximately 15km from Les Houches to Argentiere and features scenes of hair-raising peaks from one end to the other. The most prominent of peaks is the Mont Blanc, Europe's tallest mountain, which is an impressive 4,810m tall and can be seen from many spots within this sought after ski area. The sharp ridges and glaciers of the Massif Du Mont Blanc are just as breathtaking, with highlights being, the Aiguille du Midi and the Mer du Glace which non-skiers can visit and enjoy alike.
With a myriad of picturesque scenes, skiing for all abilities and endless non-skiing activities and attractions on offer, this is a perfect mountain holiday destination for the whole family. You can even bring the whole family too when you stay at the amazing Le Chalet Mont Blanc as there are 12 en-suite bedrooms accommodating up to 26 guests. On the south facing side of the valley, this chalet boasts long hours of winter sun, uninterrupted views of the mountain chain and some of the closet views of the Mont Blanc from any chalet!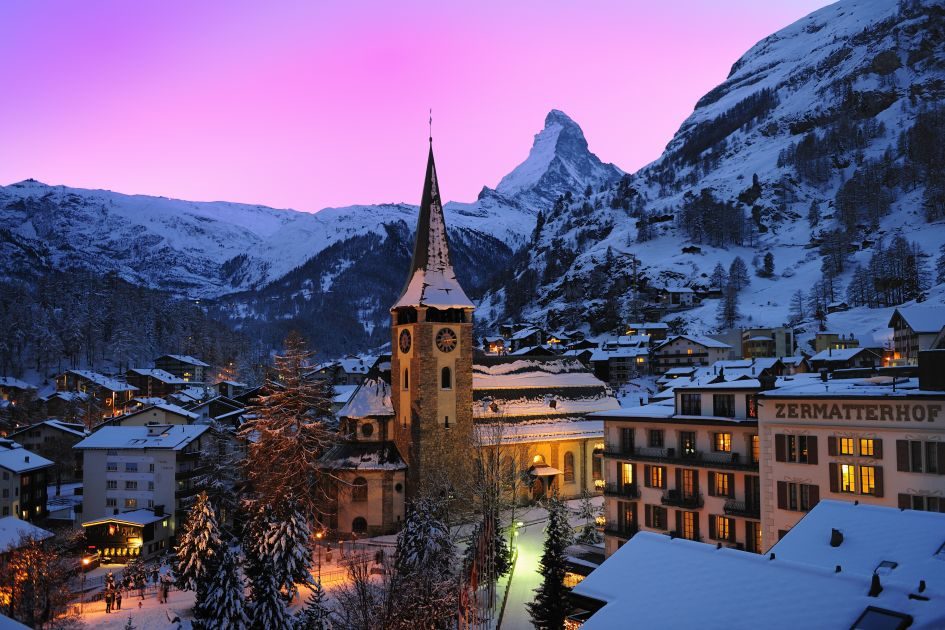 When looking at the most picturesque ski resorts in the Alps, your list wouldn't be complete without the stunning Swiss resort of Zermatt. One of the most popular ski resorts in the Swiss Alps, Zermatt offers an abundance of picturesque scenes. From an attractive town centre with stylish boutiques, top end restaurants and classy accommodation to views of high mountain peaks and glaciers, Zermatt truly has it all! This even goes without mentioning the Matterhorn which is arguably one of the most iconic and photographed peaks in the whole world.
For groups who may have never been to the Alps before or for groups who wish to have that full alpine experience, there won't be anywhere better to head on your luxury ski holiday to the Alps! Not only are the views of the Matterhorn to die for, but there are many other unique experiences here too. Enjoy the classic mountain train ride up to resort with fabulous snowy scenery, ski over to Italy for an authentic Italian pasta dish or explore the Swiss boutiques around town.
All of this can be enjoyed while staying in one of our incredible luxury chalets with views of the Matterhorn for that ultimate holiday snap. We have some fantastic chalets in Zermatt with Matterhorn views. Take your pick between, Chalet Grace, Backstage Chalet or Chalet Elbrus.


With perfect blue bird skiing conditions, Lech is a true winter sport paradise. With tree lined pistes, a wide open valley and stunning surrounding peaks, Lech allows you to witness nature at its best. The ski season here is long, running November – April, and with 305 kilometres of pistes, there is plenty to get your teeth into.
With flat groomed pistes for beginners, steep slopes for the experienced and plentiful amounts of high alpine powder runs for ski touring, this really is a ski resort for all abilities. For anyone looking to get lots of hours on the slopes, this is the place to be. Why not make it even easier by staying in one of our ski in ski out chalets for the ultimate start to your day, such as Chalet 1551, Chalet Uberhaus or the Arula Chalets.


Unlike many of the ski resorts featuring in the blog, Megeve has a mountain panorama that is much more gentle to the eye. Around the resort, the softer rolling hills and tree lined pistes give this beautiful town an idyllic backdrop. Look beyond the sleepy hills and the peaks and ridges can be seen in the distance including the Mont Blanc.
However, being one of the most picturesque resorts in the Alps doesn't just rely on stunning views but also being a photo worthy town too – Megeve is just that! Picture cobbled streets, Christmas trees as tall houses and heavily adorned in decoration, as well as horses with carriages and jovial passengers in tail. It is a place to be enjoyed by the whole group; skiers or non-skiers, young or old, it will be sure to feel like a winter paradise.
To make the most of it, why not stay in one of our chalets in the heart and centre of town itself such as Chalet Blackstone or Chalet Du Renne. Both chalets are just a stone's throw from the shops bars and restaurants and just a few minutes walk to the Chamois ski lift.

It's always difficult to pick a top five destinations in the Alps for anything but I think this may have been the most difficult one I have done to date! We love the Alps and every alpine resort offers something different, and its own unique panorama to go with it! If you love a good photo of the Alps then please take a look and follow us on our Instagram account, below is just a sneak preview.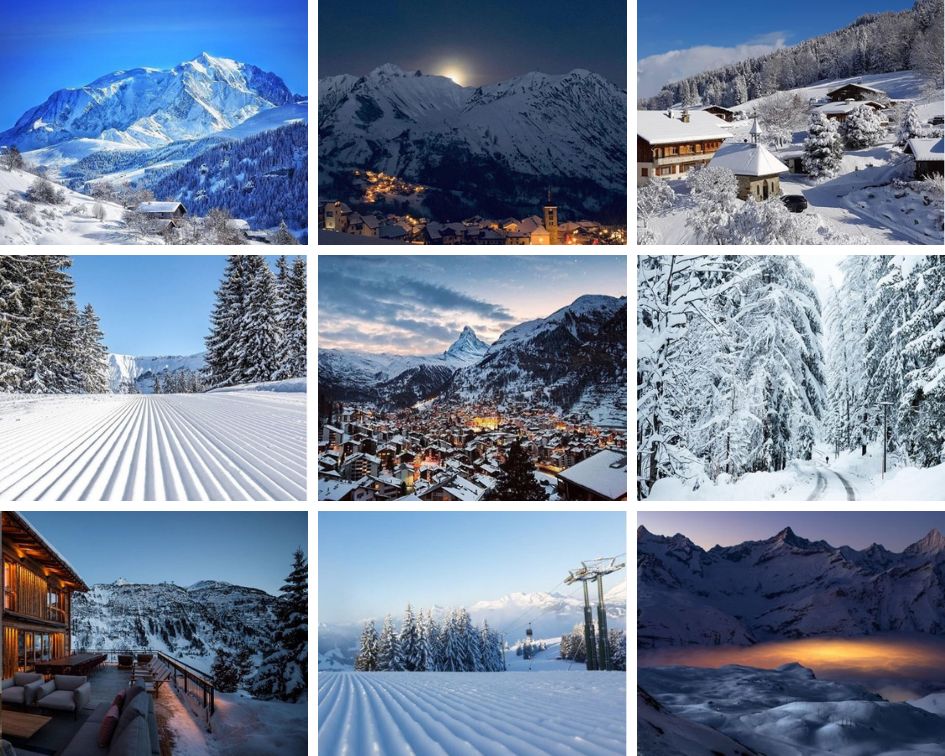 Are you dreaming of a luxury holiday in one of these fabulous ski resorts? You can get in touch with our friendly team of ski specialists and they will help you find the perfect chalet for your next luxury ski holiday in one of the most picturesque resorts in the alps. Please drop us an email or call us on +44 1202 203653