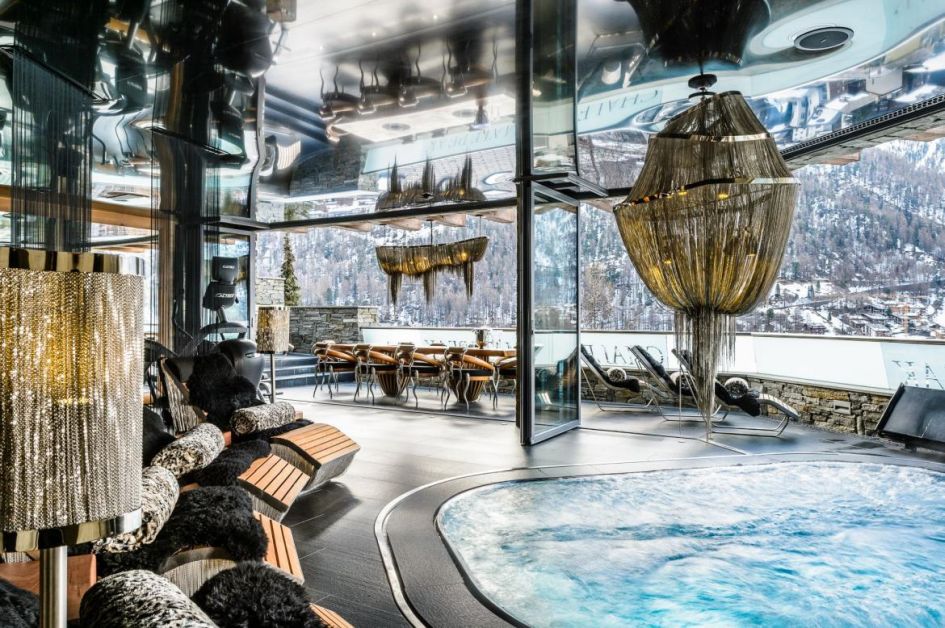 In April I was lucky enough to be invited out to stay in one of Switzerland's premium ski resorts, Zermatt. It is a place I have always wanted to go for many reasons; the standard of unique design chalets in Zermatt is extremely high, the amazing ski area is legendary and of course, the infamous Matterhorn views are a must-see for any mountain enthusiast!
Unfortunately for me, the weather had other plans and I was told by the locals that it was the first time all season that the lifts had to shut and the Matterhorn was hidden under a blanket of clouds… Luckily, every snow cloud brings a silver lining and I was able to see all of the fantastic luxury chalets in Zermatt that we have on offer.
One of the main things that struck me about the chalets in Zermatt was how beautifully designed and unique each of them were. If you are looking at catered ski chalets in Zermatt with personality, you will not be disappointed. I have had a look at the diversity that the chalets offer and put together my list of the 5 best interior design chalets in Zermatt. Unique chalets that are sure to tick the boxes covering every taste and style preference.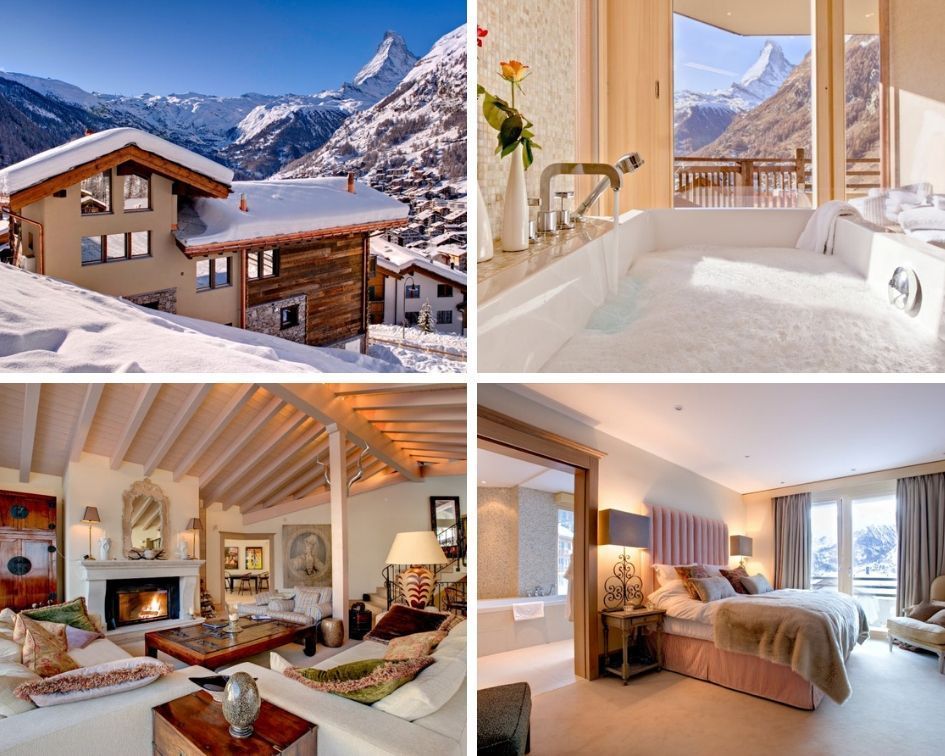 Not to be biased, but starting off with my favourite luxury chalet in the Alps and my home for my trip to Zermatt, the beautiful Chalet Grace. With luscious, deep carpets and rugs, and soft, feminine furnishings, you cannot help but unwind immediately as you step foot in the front door.
With Matterhorn views from 3 of the 5 luxurious bedrooms and also the best view from a bath tub you could ask for, this chalet is perfectly located to admire the surrounding scenery.
You can expect soft pastel colours, beautiful views, comfortable and homely furniture and of course, only the best service. After a stay at Chalet Grace I guarantee that you, like me, will be desperately searching for a reason to return.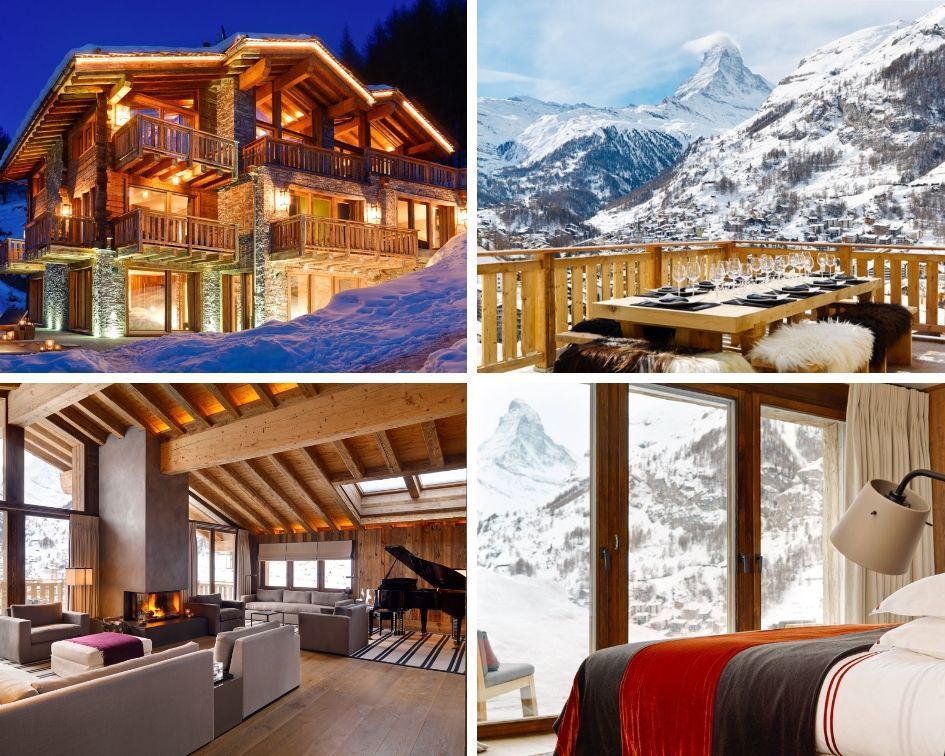 Voted the 'World's Best Ski Chalet' for the past two years at the World Ski Awards, Chalet Les Anges had a big reputation to live up to when I went to see it. I must say, it is one of the few chalets I have seen where the photographs quite simply cannot do it justice. Designed by the renowned interior designer, Magali de Tscharner, and considered to be the 'masculine brother of Chalet Grace', Chalet Les Anges combines traditional reclaimed wood and contemporary, clean-cut furnishings and is more than worthy of its impressive title.
Sleeping up to 14 guests across 7 spacious bedrooms, 6 of which offer a Matterhorn view, this 700m2 chalet has plenty of space for your whole group to relax and be pampered. Whether you wish to head to the wellness area for a post-ski massage, or relax in the open plan living area with your favourite tipple with a pianist playing, from the moment you step in Les Anges, your every need will be catered for.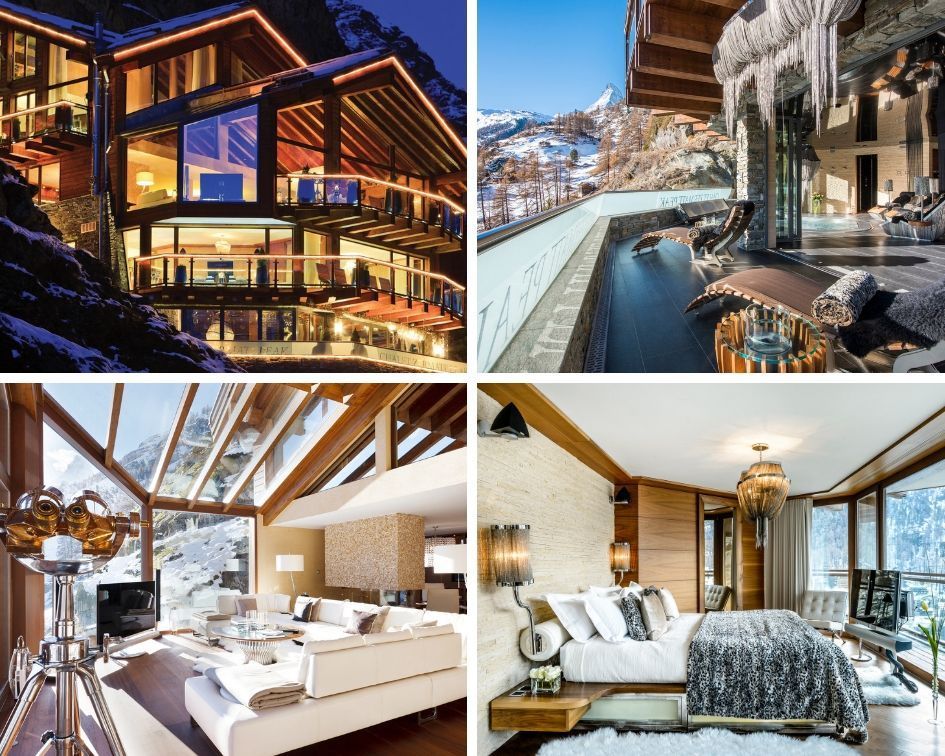 Considered to be one of the most luxurious designer chalets in Switzerland, Chalet Zermatt Peak is set above the town in a private and exclusive area. The chalet was originally not built or designed for the rental market as it was meant to be a kept as a private residence. However, due to a number of reasons this luxury Zermatt chalet ended up being a rental property, and we are so pleased that it is!
Zermatt Peak delivers optimum privacy and exclusivity. Access is via The Omnia lift from the centre of town and then a short walk through a private tunnel. Don't worry, the bags will be taken separately for you! It is worth the slight walk, as when you are in the chalet, there are no other chalets overlooking you and it is built into the mountainside, with spectacular views of the resort and valley below.
The spa area is a stand out feature with floor to ceiling windows and a large sun terrace offering Matterhorn views. This chalet really does deliver on standard and service. If you are looking for a chalet that oozes elegance and class, Zermatt Peak design chalet is the obvious choice.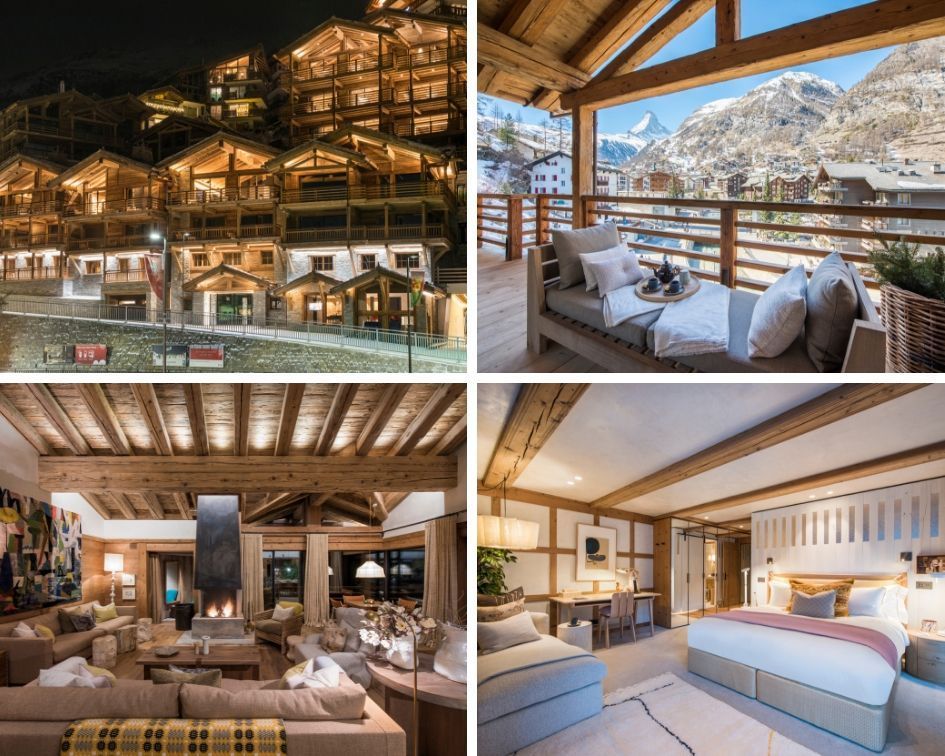 The latest luxury chalet to be added to the exclusive and incredible '7 Heavens' complex in Zermatt, Chalet Denali combines understated elegance and exceptional attention to detail. The chalet shares an entrance hall and lobby area as well as a central living room with a bar and fireplace. There is also a fully equipped gym which is available for guest use.
Chalet Denali was designed by a famous South African interior designer and this really comes across in the use of the stone and wood compositions and the feng shui chalet design. If you are seeking an understated luxury chalet without having to compromise on character, warmth or service, Chalet Denali is for you.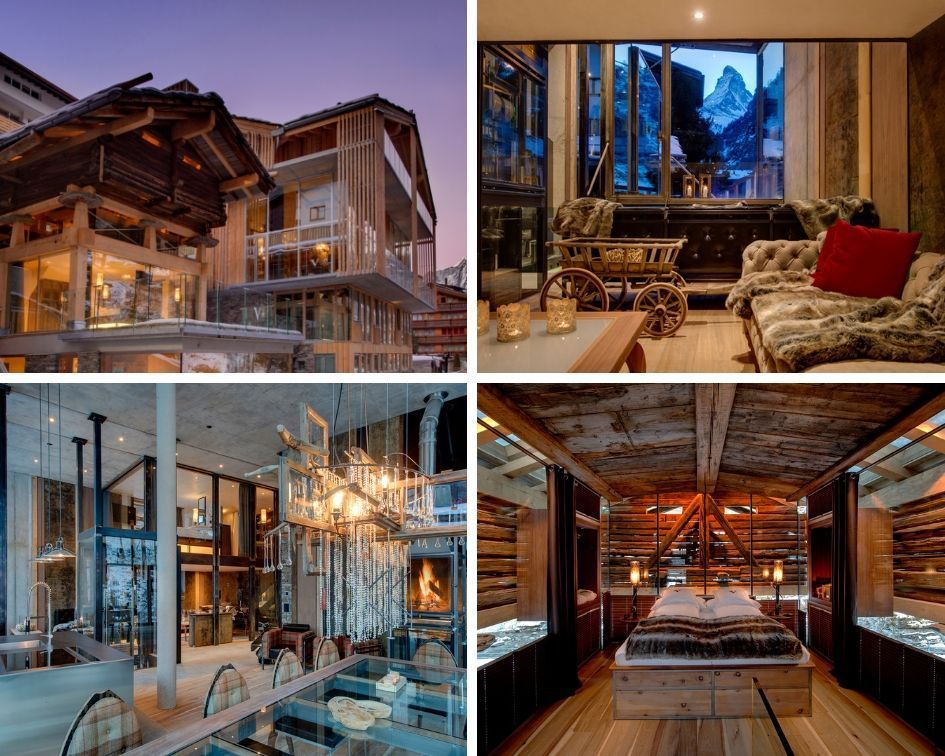 One of the many properties in Zermatt that was designed by the famous architect Heinz Julen, the Backstage Loft is a truly unique design chalet in Zermatt. Located right on the river which flows through the centre of Zermatt, this 600m2 chalet can sleep up to 10 guests across 5 spacious bedrooms. The chalet creates the feeling of a large, open space by the use of glass walls and panelling and the funky furnishings are like no other chalet around.
The two standout features for me have got to be the dining table, which at the push of a button can be lifted up to the ceiling to create more floor space, and the hot tub which has a floor to ceiling swinging door that brings the outside in. The hot tub is perfect for anyone, like me, who may prefer an outdoor hot tub but still want to be protected from the elements.
Take a look at the rest of the Heinz Julen collection and explore his other Zermatt chalets.
Do any of the above unique Zermatt chalets take your fancy? Whether you are looking for contemporary chic, modern funky artwork or a comfortable home from home, designer Zermatt luxury chalets have something to suit every taste.
For your next luxury ski holiday to Zermatt get in touch with one of our ski specialists who will be happy to help! You can call us on +44 1202 203653 or you can send us an email.