If you had a limitless budget, what would you wish for? Let us guess: a private jet to the Alps, helicopter straight to the slopes, incredible skiing with guaranteed snow, five star luxury ski chalet, Champagne on tap, exquisite gourmet dining, and the ultimate ski holiday experience only dreams are made of? I think we're close. A luxury ski holiday is the ultimate way to sate your inevitable wanderlust after months stuck at home. Let us give you a preview of what you can expect from a luxury ski holiday this winter; the sky's the limit when it comes to the fabulous and memorable experiences available…
Ready. Jet. Go!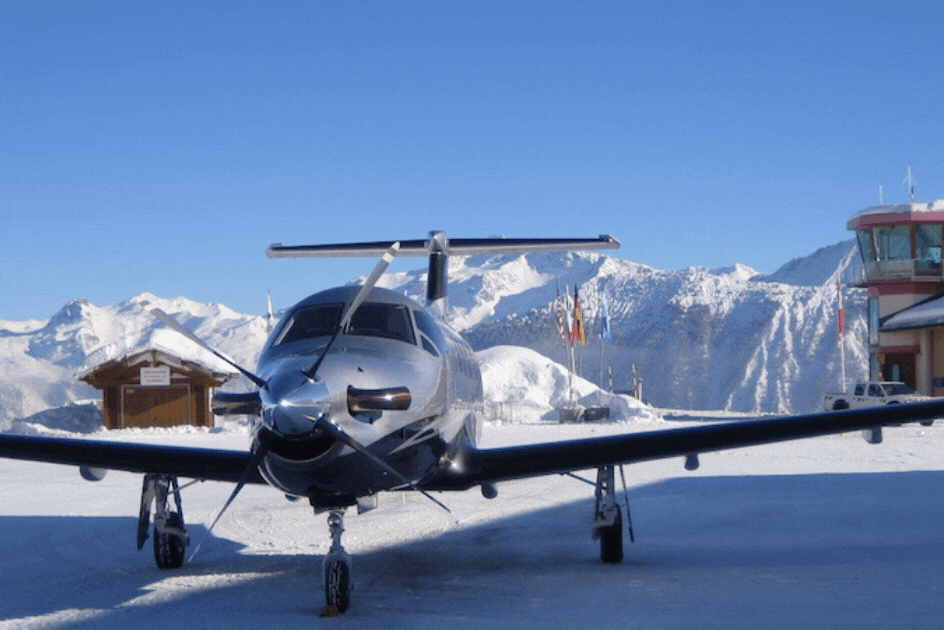 Waste no time, and refuse to compromise, by jumping on a private jet from your most convenient airport. Soar through the skies straight into Annecy, Geneva or Sion, where your helicopter transfer will be waiting for you. Alternatively, if Courchevel is your choice of luxury ski destination, skip out the final leg of the journey and land straight into Courchevel Altiport in your Pilatus PC12 private jet – it's one of the few ski resorts with a runway.
A helicopter transfer to resort is more than just a quick and convenient way to reach your destination. Enjoy stunning scenic views above the mountain peaks and before you know it, you'll have landed on the helipad next the slopes, skis at the ready, and be flying down the pistes with your ski concierge or private guide. If gastronomy is more your thing, head directly to one of the top mountainside restaurants, pre-booked by your luxury chalet concierge of course. Enjoy the best table in the house, or pick a spot on the terrace under the glorious alpine sun. Your luggage will be taken care of and ready for your arrival at one of the best luxury ski chalets in the Alps. What a way to begin an ultimate ski holiday in the Alps – from home to the slopes in a few seamless hours. This all of course depends on what time you reach resort. You may choose to head straight to your fabulous accommodation, having been picked up from the heliport or even having landed on your luxury chalet's private helipad.
The warmest of welcomes
At the end of the ski day, your ski guide will escort you to your home away from home for check in. Here a roaring fire and expert team of staff are waiting for you. Greeted by a Champagne reception and canapes, take a full tour of the chalet and everything it has to offer before being shown your rooms. Fully embrace your down-time with some well-deserved relaxation in the chalet's spectacular spa and wellness area. In the meantime, chef creates and prepares a taster menu to delight everyone's palettes on the first night.
After indulging in the culinary delights and finest vintages from the wine cave, retire to the living area or cigar lounge with your favourite cocktail or digestif. If you fancy some in-house entertainment the concierge can prepare this for you in advance. The team will ensure nights to remember with entertainment such as a live band, DJ, magician, comedian or maybe even a firework display. Perhaps you're celebrating a special occasion? They will be sure to pull out all the stops for you to ensure it's an event full of memories (or not, depending on your penchant for espresso martinis!). Some of the chalets in our portfolio boast private nightclubs, for a truly exclusive night on the tiles, whilst the card sharks amongst you can test your best poker face in the games room. When you decide to retire for the night, know you're in for an excellent night's sleep in an exquisite bedroom, often composed by one of the world's most respected design teams.
Rise and Shine
Opening the curtains to a magical mountain view is one of the best starts to the day – you may feel like you are still dreaming! You'll get first sight of any fresh snowfall and weather conditions so you can be prepared for the day ahead on the slopes. Once you're ready, head to the dining room where your dedicated chef will have prepared breakfast to set you up for the day ahead. Freshly baked pastries, lobster omelettes, perfectly poached eggs and beluga caviar your favourite? Not a problem. Let the concierge and chef know of your meal preferences and dietary requirements in advance, so they can design everything to your taste and source the finest produce tailored to you.
To the mountain
Your ski guide will be ready when you are to whisk you up the mountain for a morning of skiing and exploring. The guide will be there for instruction and ski tips if you need it, or simply to show you the hidden gems in and around resort. Whether it's off-piste skiing or cruising the reds and blues, your mountain guide will be sure to tailor it to your preferences and ensure you enjoy the best skiing possible. When lunch calls, you'll be guided to one of the resort's finest mountain restaurants for a bite to eat and a glass (or two) of Krug. Whether you have a favourite place in mind, or go by recommendation, the luxury chalet concierge will do their upmost to make sure you sit at the best table in the house.
Home From home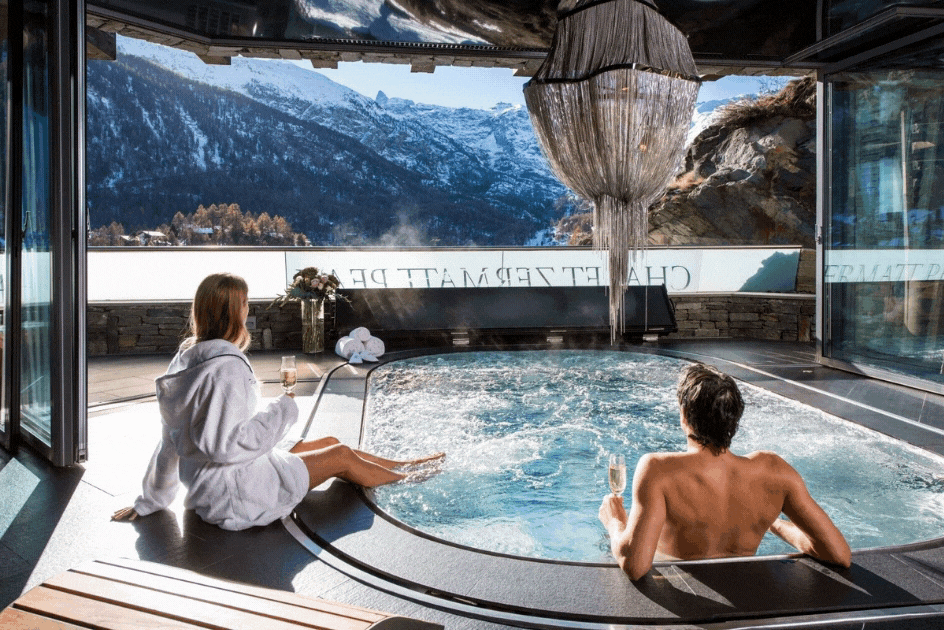 Whether you ski until the very last lift, or head back a little earlier, you will no doubt be heading straight for the spa of your luxury alpine home. If your chalet is not on the slopes, request a lift from the chalet's driver who will be ready and waiting for you. Back at the chalet, a few gentle lengths in the swimming pool, followed by some time spent in hot tub, sauna and/or steam room will fully reset the body.
Once in full relaxation mode, reconvene in the elegant living area for some quality time over Champagne and canapes. Another inspiring dinner awaits in the dining room, where a convivial evening with your nearest and dearest is also on the menu. Excellent service from experienced professionals is both unobtrusive and friendly ensuring your guests feel pampered throughout. Soon the evening will have passed by in the midst of good company, good food, and good wine – what could be a more perfect way to end the day?
Perhaps there is another night of entertainment to enjoy; the in-house movie theatre, a a game of pool, or even bowling? The rest of the evening is yours as you wish, until you lay your head to rest, ready to make the most of a fresh day tomorrow!
Bucket List Mountain Activities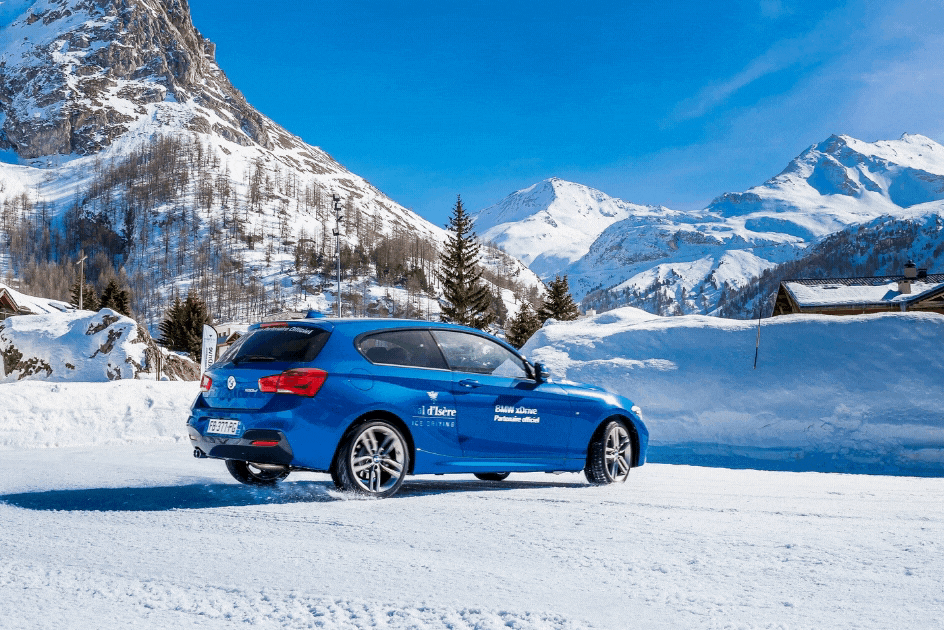 On your luxury ski holiday you want to ensure you make the most of the mountain. As well as skiing, the Alps lends itself to a multitude of wild and wonderful activities. If you fancy trying something new or want to tick an item off the bucket list, then speak with the chalet concierge and they can make it possible.
For the petrol heads, select your car of choice and take a spin round an ice track or whizz up the mountain on a sunset skidoo ride. How about a spot of ice diving? Explore below the frozen surface in a dry suit for a truely out-of-this-world experience. If heading into the unknown and untouched is your thing, then ascend above the peaks for a scenic helicopter flight and drop down into fresh glistening powder for a magical mountain experience on your skis or snowboard.
If adventures with culinary delights will tickle your taste buds, there are many unique dining experiences in the Alps. Wander through pristine alpine forests and snowshoe under the stars to a candlelit fondue in a mountain hut, or request a mountainside snow table be set up with those perfect alpine views for an unforgettable alfresco dining experience in a secret location. For a fully immersive evening in the mountains, enjoy an igloo experience with dinner and an overnight stay.
Now, the ultimate ski holiday would not be complete without an ultimate luxury chalet right? Whether you are seeking a private luxury chalet in the Alps, the most expensive or a chalet with a little 'je ne sais quoi', the Ultimate Luxury Chalets portfolio is sure to to deliver.
So what makes a luxury ski chalet the creme de la creme? There are many factors that contribute to defining an 'ultimate' luxury chalet such as price, location, service and facilities. Combine each factor for the perfect alpine home for your luxury ski holiday. Below we have featured the exclusive luxury chalets that truly tick all the boxes, the best of the best…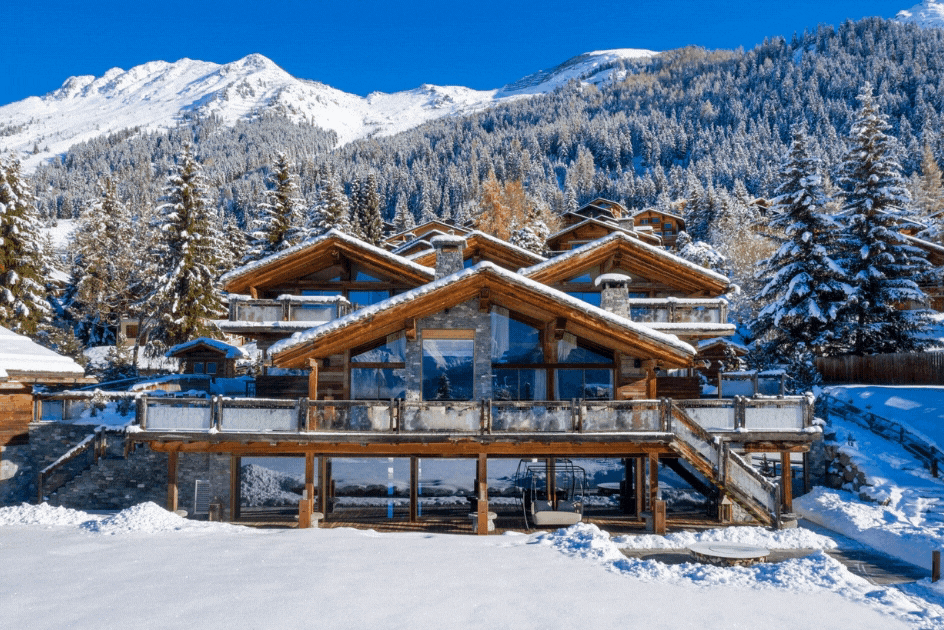 Nominated for the World's Best New Ski Chalet 2020, Chalet Marmottiere raises the bar in super luxury ski chalets in the Alps. Featured as one of the most expensive luxury ski chalets in Europe, it is a chalet without compromise in all its capacity – there really is little this ultimate luxury ski chalet in Verbier doesn't have. You could self-indulge in your own private spa day with use of the 17m indoor swimming pool, outdoor hot tub with mountain views, sauna, steam room and gym – the luxury chalet concierge and also arrange spa treatments for full perfection. On top of its outstanding wellness facilities, there is plenty of evening entertainment for the whole party to enjoy. From a bowling alley and cinema room, games room and billiards table, it truly is just like having a private club all to yourself. Not to mention the bar and wine cave to keep the thirst at bay.
Located on the Bellecote piste, Chalet Edelweiss stands elegantly in a sought after ski-in, ski-out position. As one of the best luxury chalets in the French Alps, Edelweiss will not disappoint on your ultimate ski holiday. Upon entry you will be greeted by the entertainment floor where endless hours can be enjoyed at the bar, in the library, in the games room or even throwing some shapes on the dance floor. On the floor below you will be treated to an area for all the self-care you could dream of. Fully rejuvenate in the indoor swimming pool, Jacuzzi, hammam, sauna and fitness room – those skiing aches and pains will have eased in no time.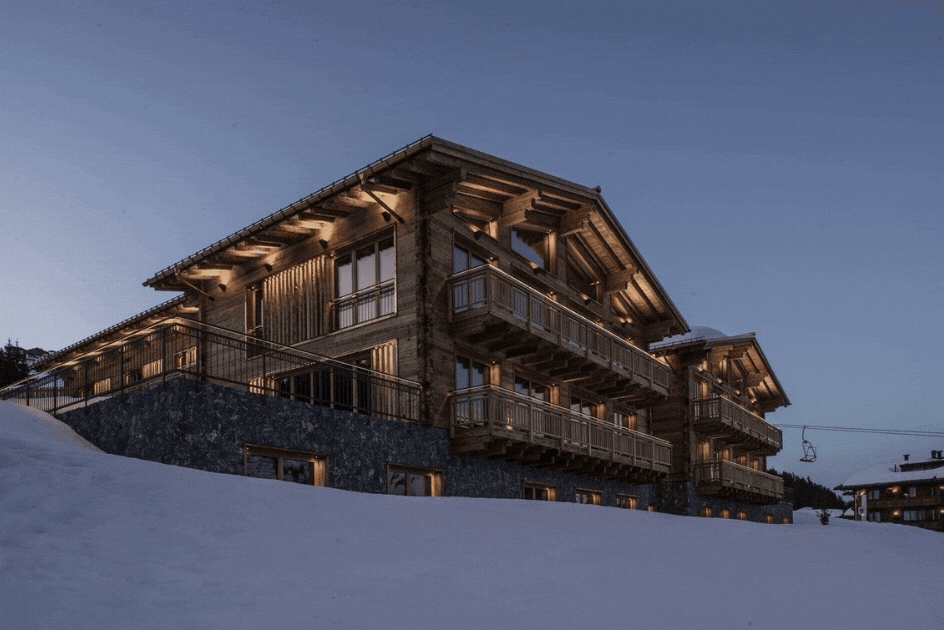 Overlooking the beautiful Austrian town of Lech, steeped in history and infused with opulence, the Arula Chalets raise the bar in this exclusive resort. Perched on the blue Schlosskopf piste, this super luxury property is easily accessible for a range of skier abilities. Despite its size, there remains a cosiness to the chalet that will instantly make you feel at home. Following a day exploring the Arlberg, you can retreat back to the chalet with the knowledge you can put your feet up and be well looked after. Make use of the many spa and wellness facilities which include two swimming pools, two saunas, two infrared cabins and outdoor Jacuzzis. In terms of alternative entertainment, practice your best Torvill and Dean moves on the private ice rink, enjoy chords composed by the self-playing Steinway piano whilst sipping a cocktail or enjoy some altogether more competitive pursuits in the party rooms with poker and pool. What's more, the views from the large terraces at Arula Chalets are more than enough to take your breath away.

They say money can't by you happiness – but it can buy you an ultimate luxury ski holiday and that is close enough right? To discuss the above or find out more about the ultimate ski holiday, do get in touch by sending an email or giving us a call on +44 1202 203653. Our Ski Specialists would love to help you create the perfect ski holiday.