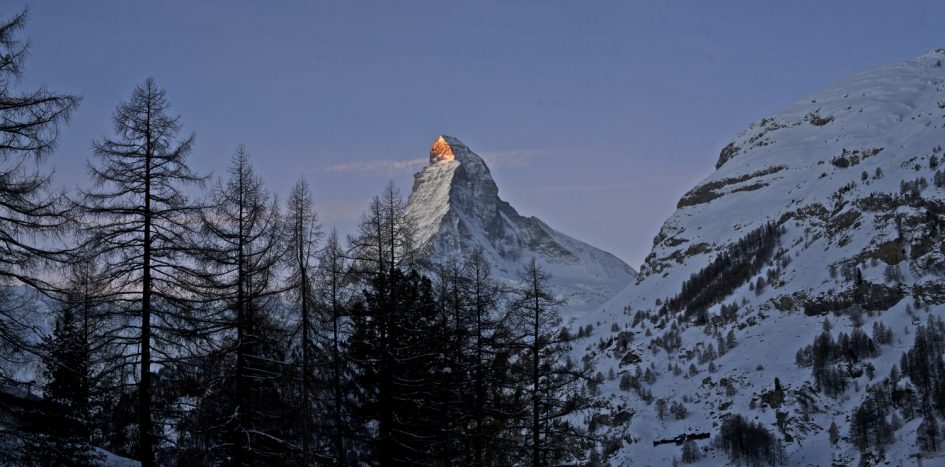 There are many different kinds of luxury catered chalets available to rent in the Alps, and with such a large amount, I wanted to shine the spotlight on some of the very best available and specifically in the resort of Zermatt.
Zermatt has a large array of private ski chalets to rent, making it a European hot spot for luxury ski holidays. I wanted to explain to our readers first hand what you can expect from a typical stay in some of the very best luxury catered chalets in Zermatt. This is just to make sure you are as in the know as possible when it comes to booking a luxury catered chalet holiday…..as they say "preparation prevents poor performance".
When you get the chance to have time with family and friends, you want to ensure that you are as relaxed as possible during your luxury catered chalet holiday. If you are getting away with a slightly larger group than usual, then look no further than the luxury Chalet Les Anges in Zermatt. This property is the perfect catered chalet for large groups wanting to ensure that their stay in this historic alpine resort is one to remember.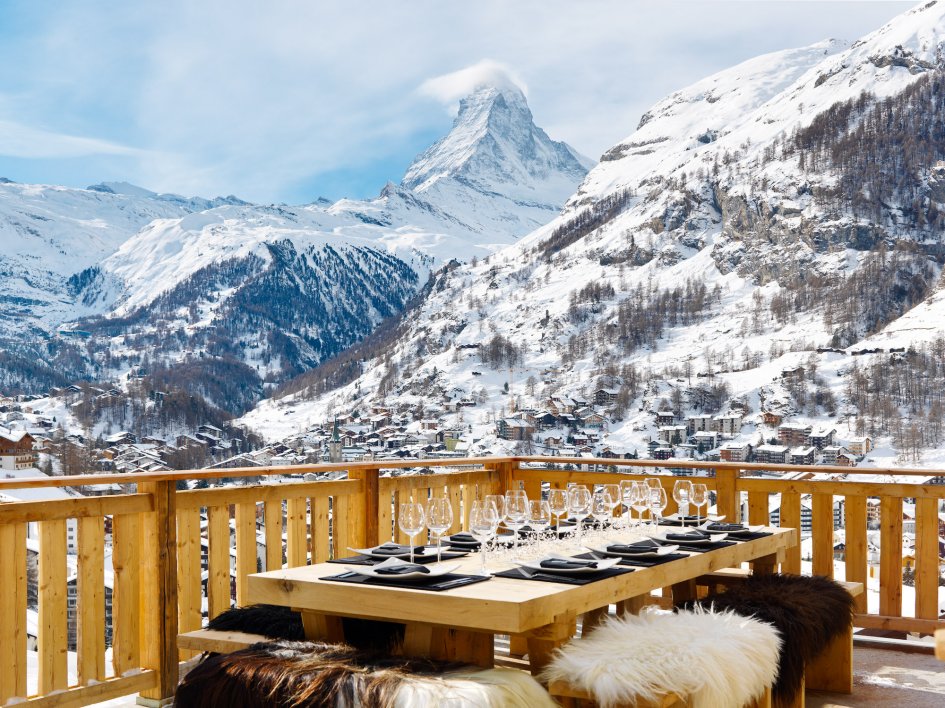 The Luxury Chalet Les Anges has some of the best panoramic vistas of the Matterhorn of all the chalets in Zermatt. The terrace pictured above is perfect for those special culinary moments where the combination of your surroundings, accompanied by gourmet gastronomy, creates lasting memories that will leave you wanting to return for more. This luxury catered chalet extends to 700m2 across three stylish floors. The philosophy here is simple, the food is high quality and locally sourced as much as possible, whilst being prepared by Michelin star trained chefs who provide complete flexibility in what they serve.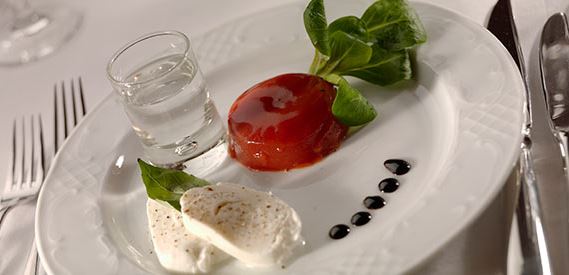 From 7 course gourmet dinners, to hearty cuisine that is served in the living room accompanied with a fine glass of wine, it will ensure your taste-buds are delighted. The chalet has a range of suppliers across Europe, ensuring any request is not too much whilst providing you the finest and freshest quality gourmet catering possible. This property is one that needs to be ticked off your luxury catered chalet check list!

Chalet Mckinley, part of a brand new development in Zermatt, aptly named the Seven Heavens. Being in an envious location in close proximity to the Sunnegga lift station and the centre of town, this property will needed to be experienced to believe it. The sophisticated wellness area above will ensure that you are left feeling completely stress free after a busy day on the slopes.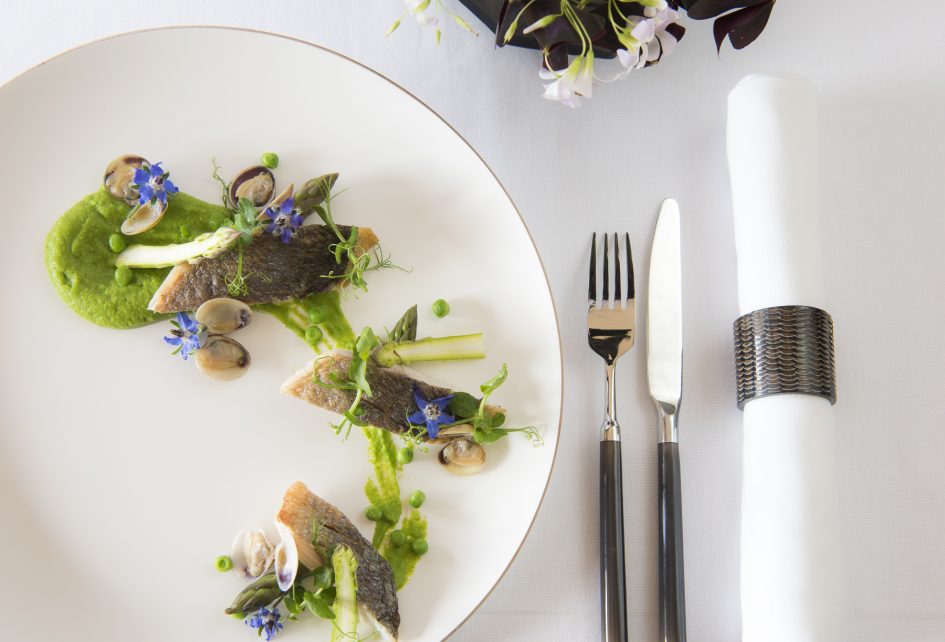 When looking for a culinary experience that stands out from the rest, you will want something that excites you, whilst surpassing all expectations. Having been in the industry for 12 years now, the operator of
Chalet Mckinley
knows how to meet the expectations of clients at the elite level of luxury. That is why they want you to decide what you would like to have during your stay, be it a 7 course gourmet meal or just something that is delicious and healthy. No ask is too much, ensuring that when you desire the finest fish, wine, steak or whatever your palate fancies, it is delivered and cooked to your specifications. This really is a service that is focused on the guest needs and offers complete flexibility to what you are looking to get out of your luxury catered chalet holiday. We are really excited to have this property as a new addition to the portfolio and know that if a client wants an experience that stands out, you will be in safe hands at
Chalet Mckinley.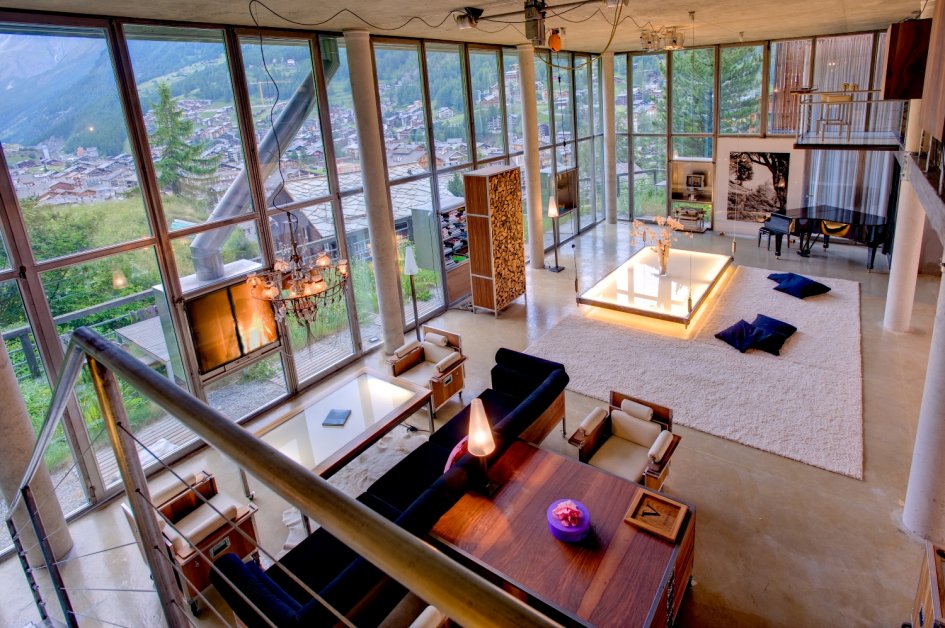 Luxury catered chalets in Zermatt don't get more unique than Heinz Julen Loft. Truly one of the most contemporary properties we have on our portfolio, this luxury catered chalet ticks all the right boxes for a unique stay in Zermatt. The staff at the property are not only well trained, but to them, it is their passion.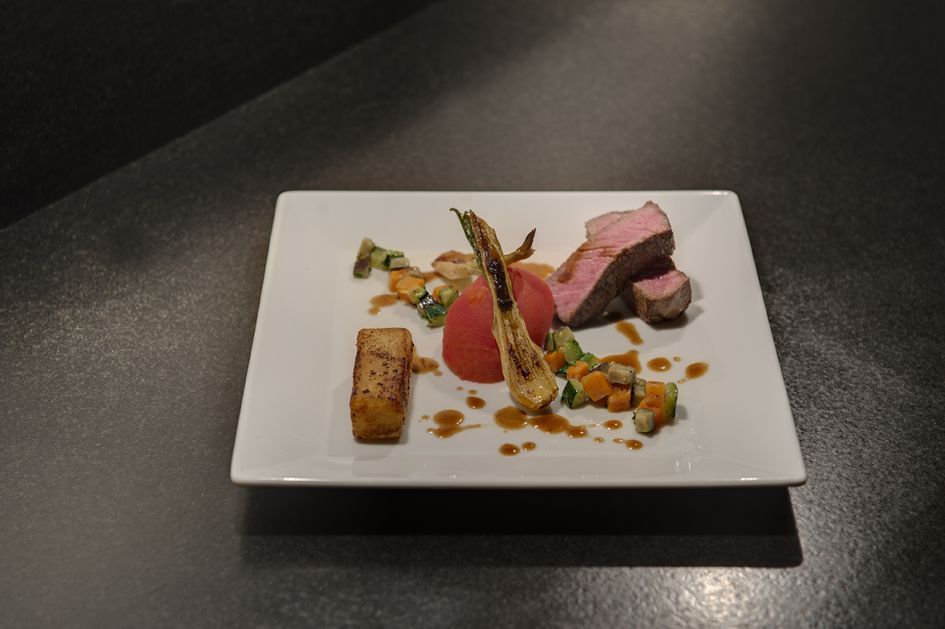 The menus for guests are not only inventive but inspiring providing international cuisine to tailor to different clients needs. Couple this up with some of the finest red/white wines in Switzerland and you have a stylish and relaxed 5* atmosphere that will ensure you have a stay like no other. The real show stopper in this property is the atmospheric lighting and adjustable height table that can be raised or lowered to suit the needs of the guests.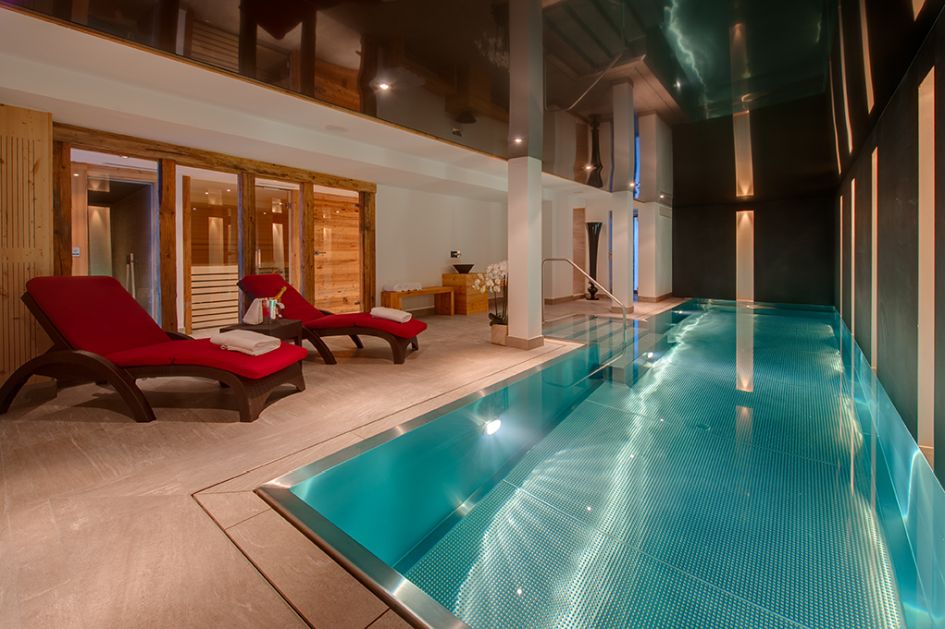 Having worked alongside this property for numerous years now, we know our guests will be in safe hands when visiting Chalet White Pearl in Zermatt. Being a family run company guests can expect attention to detail with a truly bespoke service that caters to the needs of the client. Having over 25 years of experience in the luxury catered chalet market in Zermatt, we can rest easy when proposing this beautiful chalet to our clients.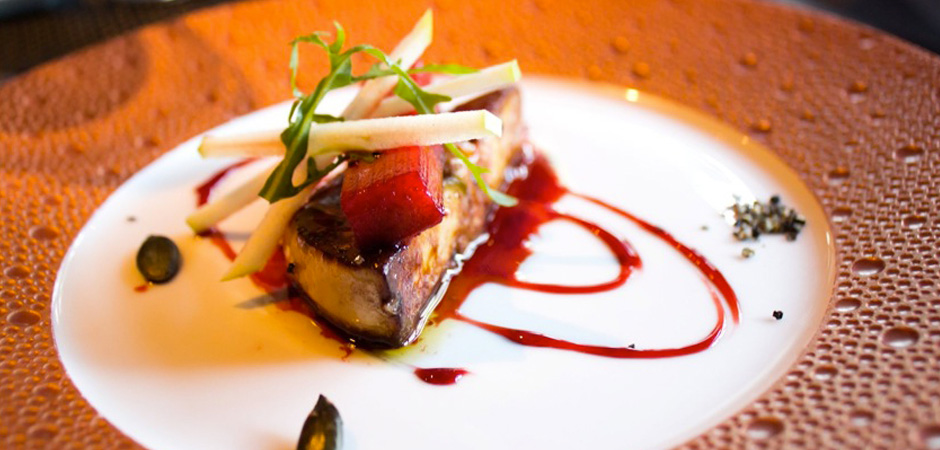 With internationally acclaimed chefs ensuring that all the food hits the highest standards of gourmet catering, we can't recommend this dining experience enough. Couple this up with one of the flagship properties in Zermatt including the wellness facilities of a swimming pool and a ski in and out location in the Winkelmatten area of resort and you have the ingredients for a holiday that is something very special.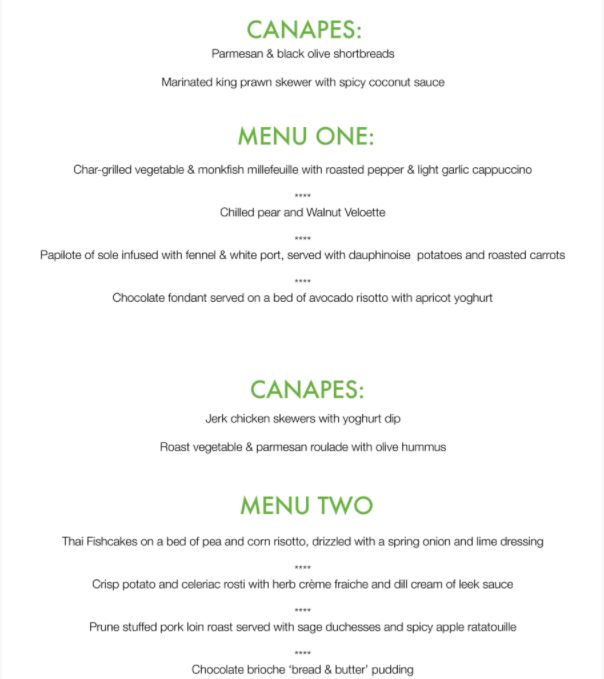 Last but by no means least, the beautiful, contemporary Chalet Zermatt Peak. Offering some of the finest dining experiences in resort, fused with a spectacular setting with some incredible panorama's of Zermatt. This property is a must on your luxury catered chalet bucket list.
Chalet Zermatt Peak boasts some of the most talented and varied Chefs who work throughout the year to provide guests with fresh, seasonal culinary experiences of unrivalled quality.
During the winter season, Chef Alfonso Crescenzo, one of Italy's top up and coming new Chefs, works exclusively for Chalet Zermatt Peak and has been recognised in the Michelin Guide 2017 with his first Michelin-star. This makes Chalet Zermatt Peak the only chalet in Europe to boast this accolade. Alfonso's cuisine is heavily influenced by his Southern Italian upbringing on the beautiful Amalfi Coast but he has experience working in Michelin-starred restaurants worldwide. His Michelin pedigree includes Head Chef in a number of one and two Michelin-star restaurants including Quattro Passi in London and a stint as a personal chef on luxury yachts.
Every Chalet Peak guest can choose their own bespoke menu for their stay and so Alfonso's creations vary week by week; his Tiramisu however has been a favourite of countless guests, along with his Aubergine Parmigiana and Taglione with Prawns and White Truffle. The quality of his food can be confirmed by the staff at Chalet Peak, who end the winter many kilograms heavier than when they started!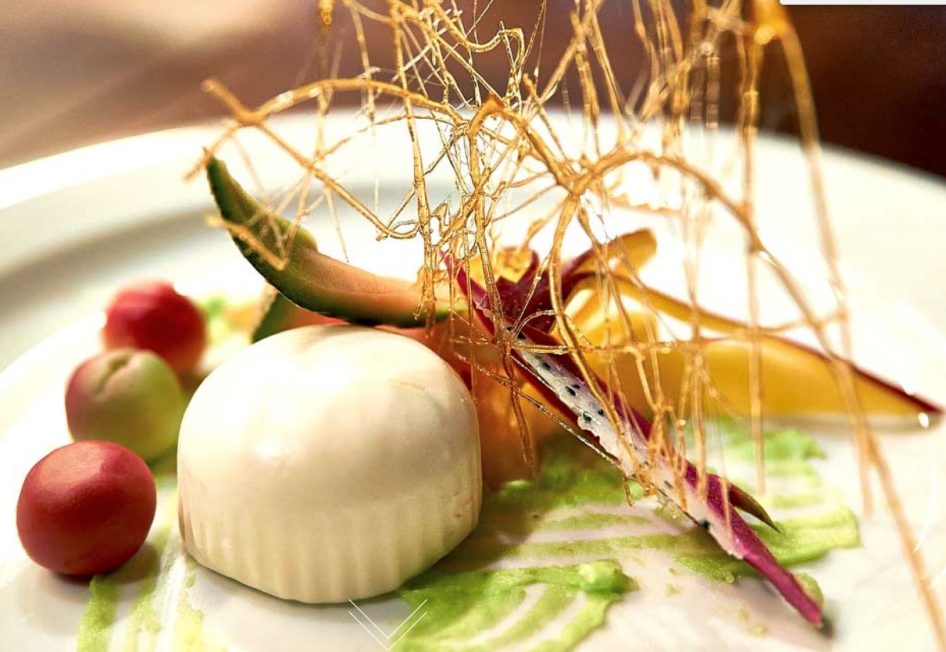 The freelance Chef is Mike Huynh, a highly experienced Chef of Vietnamese and Swiss heritage whose Vietnamese background results in the most artistic, flamboyant and delicious creations! Mike's speciality is working with Liquid Nitrogen to produce home-made instant ice cream at the table to provide a theatrical end to an evening! Providing some of the finest dining experiences of any chalet in the Alps due to the calibre of the chefs and the use of only the finest, freshest and highest quality ingredients. With menus personally tailored for each stay, guests can enjoy an unrivalled culinary adventure and it is this, along with the superlative service and stunning setting that keeps guests returning to Chalet Zermatt Peak year upon year.
We hope this adequately prepares you for your next luxury catered chalet holiday in Zermatt. Let us know your thoughts by sending us an email or calling the office on +44 1202 203 653.
We look forward to hearing from you and advising on your next alpine adventure.
The Ultimate Luxury Chalets Team.