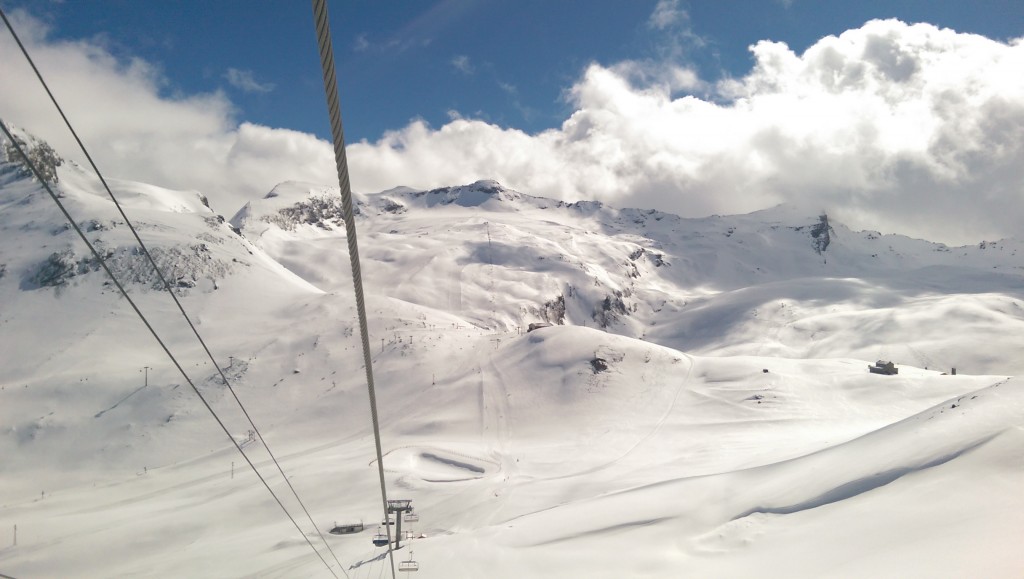 It had quite simply been too long since my last visit to the luxury ski resort of Val d'Isere. When the invite came for me to head back to the resort where I learnt to ski 15 years ago for an end of season wind down, how could I possibly resist?
Fran and I tried desperately to get the grandparents on board to take the kids off our hands for a few days so that we could have a proper wind down but unfortunately their very selfishly arranged diary didn't allow. So, we opted to head out to resort with our two girls Beatrice and Sienna, aged 1 and 2 ½, and gain a first-hand experience of the childcare in Val d'Isere through Jelly and Ice Cream, an extremely reputable nanny agency who we have been recommending the services of to our clients for many years. It was time for them to truly be put to the test with our little monkeys.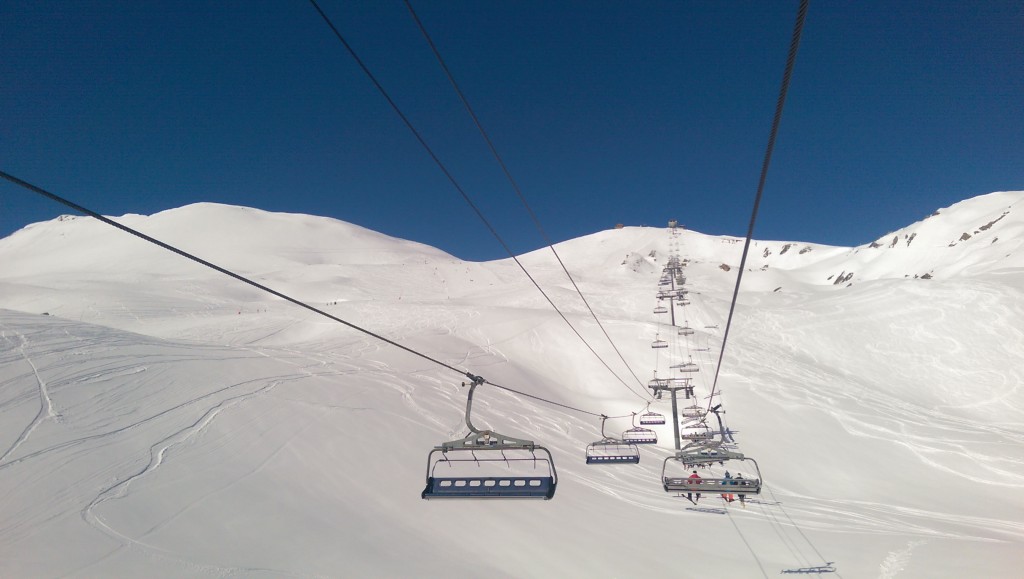 Day One
We departed Heathrow on the 17th April and I was buzzing with excitement, having been scrupulously checking the snow and sun forecast for the past week. It was due to snow on the day of arrival and then switch to blue skies for the rest of the week.
The little Castle's were exceptionally well behaved on the flight out, which aided our attempts to de-stress after a busy season, and we were then met at Geneva by our chauffeur who was fully equipped with a Pol Roger Champagne picnic for the adults and some tasty treats to keep the kids occupied on the transfer.
The transfer went surprisingly quickly, and before we knew it, (minus one child sickness stop) we were rolling up to the door of the very beautiful Chalet Mistral. A chalet affording exceptional views across the Le Manchet valley, two hot tubs, sauna, 7 en-suite bedrooms, providing guests with an incredibly cosy yet sumptuous living space. Guess what, the weather forecast was spot on too! It was dumping down with snow…. Amazing!!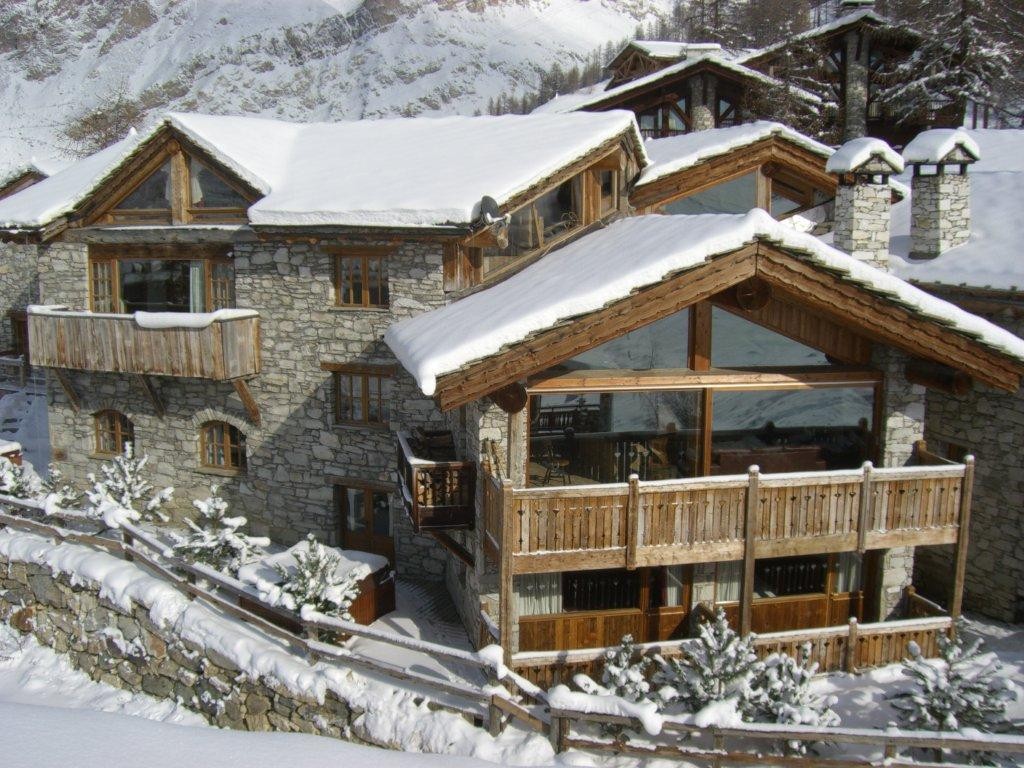 A warm welcome ensued, and within minutes there was another glass of bubbles in hand to ensure that we get the holiday off to the right start. How do these chalet staff know that Champagne is the key to unlocking one's heart?
We met the rest of the guests who were staying in the chalet, including one couple who I had personally booked into the chalet too. This could have been interesting – but luckily they loved it and were more than happy with two little people joining in with the fun and games! Everyone instantly got on and we knew we were in for a great week with plenty of southern/northern banter coming into play.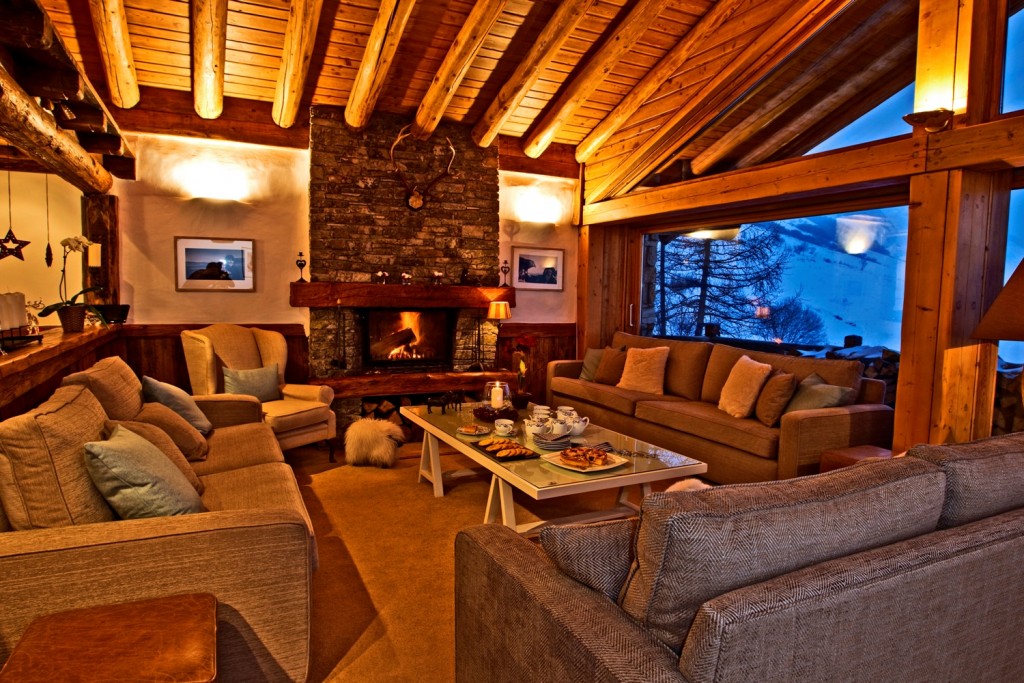 Our nanny, Jamie, came to the chalet that afternoon for a quick meet and to say hello to the kids and they immediately warmed to her. Jamie told the girls all of the fun things they would be doing in the next few days, with trips to the farm, rides on the bus, playing in the park and doing some sledging. We knew that they were in good hands, which meant Fran and I could then get excited to get kitted up and straight into the fresh snow the following morning.
Day Two
When I woke up I was like a small child on Christmas morning. I jumped out of bed, drew back the curtains and looked out to beautiful blue skies and a good few inches of fresh powder. It was time!
We had pre-arranged our ski and boot hire in Val d'Isere through Oxygene. A great provider in resort who have a fantastic reputation amongst our chalet operators, and offer a vast range of equipment for all levels. They also run a ski and snowboard school and can help to arrange any number of fun and/or crazy activities – including ice driving and moonlight skiing.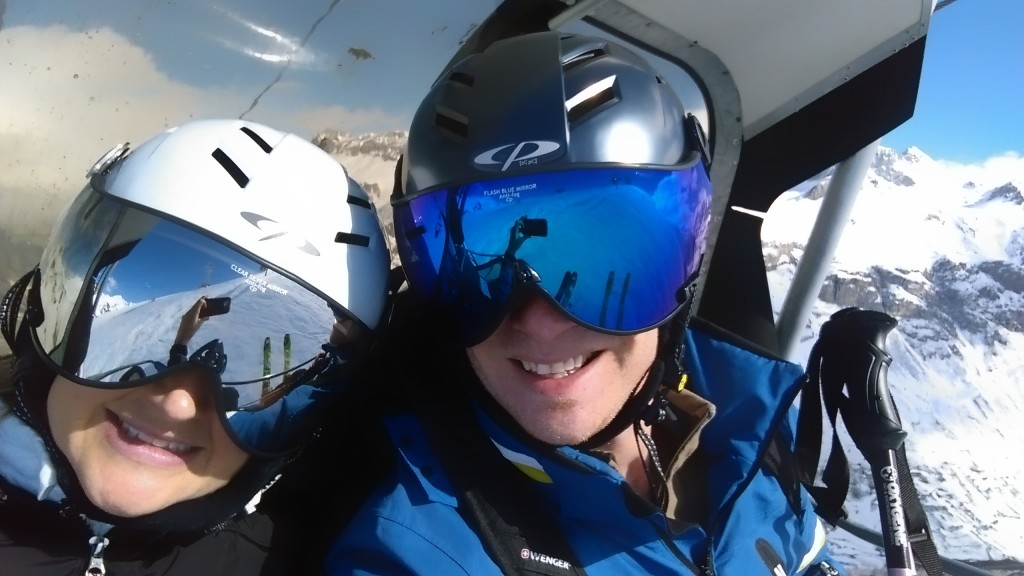 We headed up the Solaise Express sporting our brand new CP Ski Helmets with a visor that even Robocop would be proud of, and got stuck in. Beautiful conditions and hard to believe that it was late in April. We took the quite scary Leissieres chairlift over from Solaise to the Col de l'Iseran and enjoyed the empty pistes sitting above Le Fornet. Unfortunately, the day was cut short as we had only taken a half day childcare on the first day so that we could ensure the girls were nicely settled. Tomorrow's forecast was looking even better anyway, with another dusting of powder due overnight!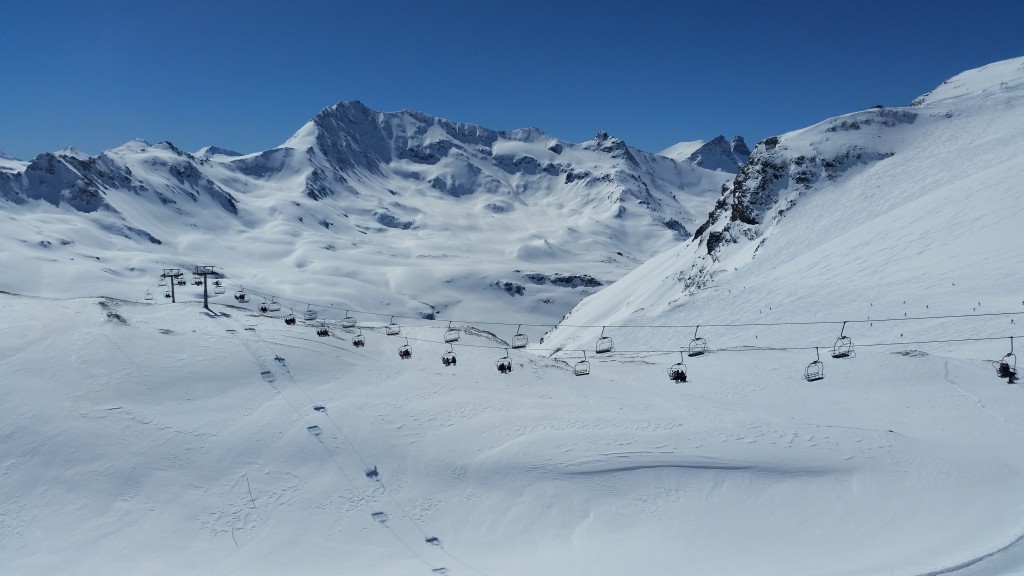 Time seemed to fly, and before we knew it the kids had been served their mini-gastro dinner, were full and with big smiles on their faces. They had obviously had a fun first morning with Jamie, and Beatrice in particular was very happy when told that she would be returning the following day to play some more. Not quite as happy as daddy, as he had a full day on the slopes lined up!
Once the kids were in bed, it was time for canapes, and yes you guessed it….. Champagne. It is a tough life doing this extensive research for you guys. Dinner was once again delicious and the conversation and wine both flowed freely. However, Fran and I refrained from a crazy one as again we were desperate to get out early in the morning with a clear mind ready for the day ahead.
Day Three
Tuesday was Tignes day. And oh what a stunning day it was! We jumped on the Olympique to the top of Rocher de Bellevarde and rode the long blue Diebold down to the Tommeuses chair that then enabled us to drop down into Tignes Val Claret. We went straight to the Funicular Grande Motte and headed for the higher climbs, in order to make the most of the conditions. Stunning views, perfect pistes, and beautiful sunshine. This set the tone for our day.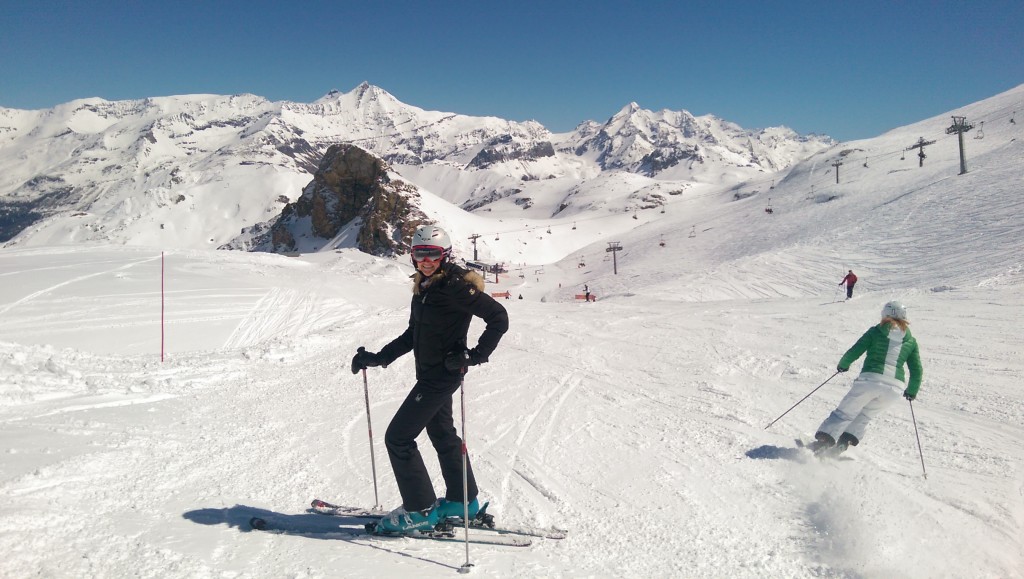 We skied to a restaurant above Tignes Le Lac and spotted my absolute favourite animal on the planet, the mountain marmotte. They came out in abundance and we decided that was our calling, it was time to stop and flop on a deckchair in the sunshine and get a pint of well-deserved Erdinger – while we sat and watched the marmottes playing. That pint obviously turned into two – it is incredibly hard to get out of a deckchair once you are comfy and sun drenched. Plus, this was some quality husband and wife time, something that we had not had time for in the past number of months due to the crazy season and demands of the children.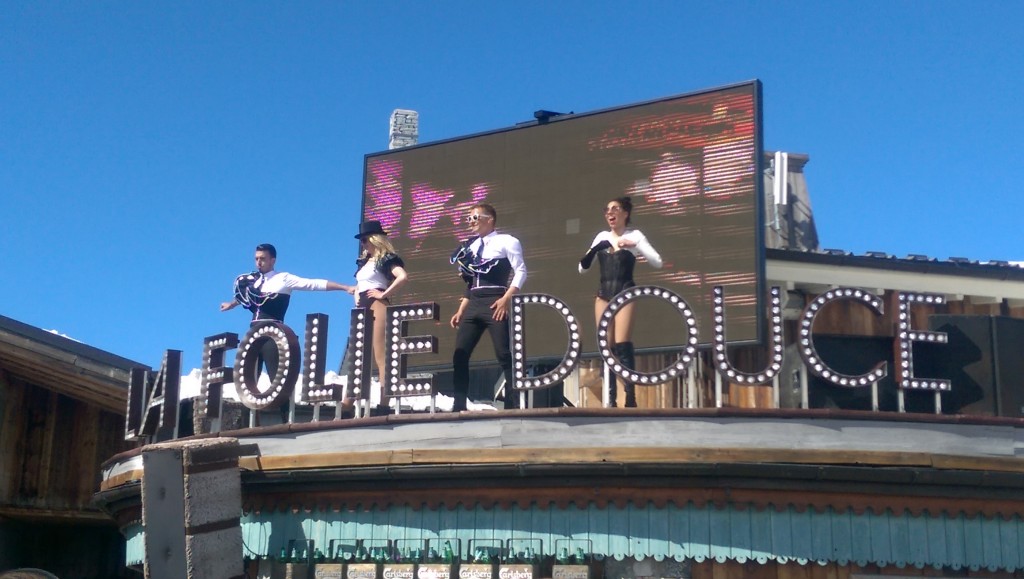 We eventually managed to pull ourselves up and clip the skis back on. It was "Folie time" so we skied into Le Lac and took the Toviere gondola back up before dropping down on the La Daille side to ski into the renowned La Folie Douce. It was 3pm and the party was only just beginning, but before we knew it the tables were getting bounced upon and Champagne was in the air, quite literally. Unfortunately, we had to cut the party short and head back to change over responsibility with the nanny and get the kids ready for bed after another inevitably busy day.
The ski down, although on the Verte green run, proved a tad challenging after soaking up a few beers throughout the day and with the fact the sun had turned the majority of the piste into lumpy mush, but luckily we remained unscathed and our chauffeur was waiting at the bottom ready to load our skis into the van and escort us back to the chalet.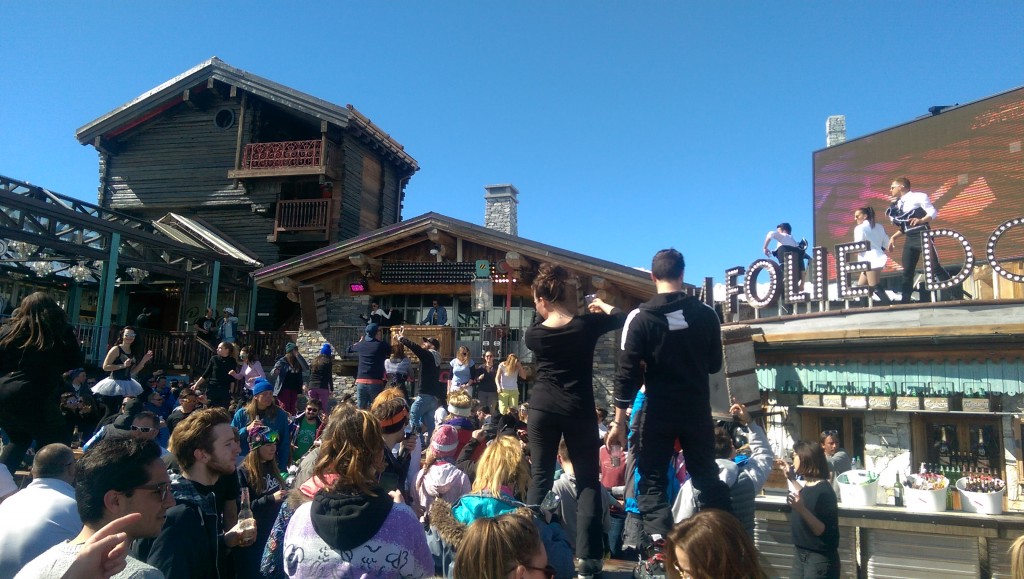 You guessed it, more canapes, Champagne and yet another lovely meal. The day had worn us out and it was time to make excuses for another early night as another "busy" day to be had on Wednesday.
Day Four
We were out early again but this time to head to a new development at the Hotel and Village La Mourra. A collection of four stunning, traditionally styled luxury chalets sleeping 11 – 16 people with swimming pools, wellness facilities, cinema rooms, and private chef service. They are connected to the boutique Hotel La Mourra, with just 9 suites and in-house spa and wellness. We are very excited to be adding the luxury chalets in Val d'Isere to our Ski In Luxury portfolio for the 2016/17 season.
After the viewing we again took the Solaise Express and headed over to the Le Fornet side to continue our ski exploration that was so rudely cut short by the demands of children on Monday. One of the favourite runs being the very short but incredibly fun Vallon blue, a run that could well double as a half pipe and can become a little concerning if you build up too much speed between turns! Again, conditions were perfect and we had an amazing morning. I received a phone call from one of our favourite luxury chalet operators Ben, who runs the Chalet La Tene in Val d'Isere. He advised that he had booked us a table at Le Signal for lunch and we were to head there and speak with Brigitte who would know who we were. What an exciting surprise!!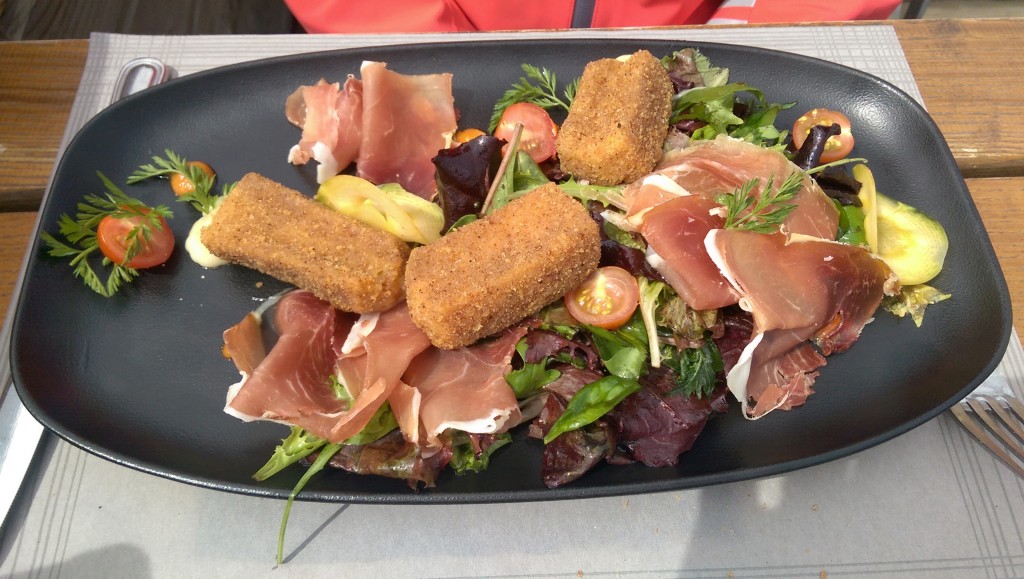 We sat in the sunshine and enjoyed a glass (or two) of the local white wine before our l'escargot starter turned up and then we realised why Ben was so keen for us to eat here. Delicious! Fran went for a "healthy salad" which was contradicted by the mass of deep fried reblochon that topped the green, and I opted for the burger. We were both as happy as a pig in the preverbial. More hubby and wife time, and more time to reflect on the highs of the 2015/16 ski season.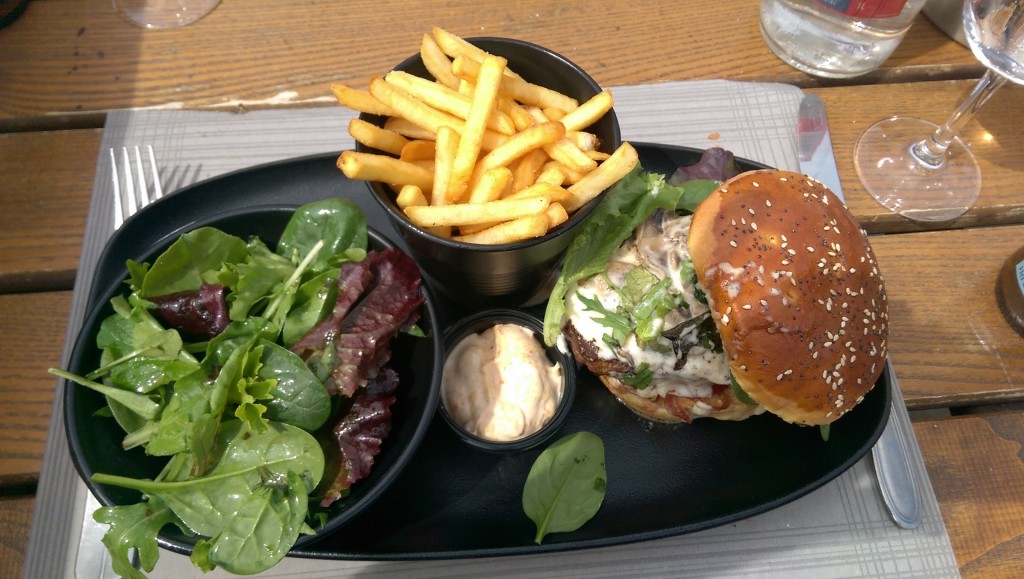 After lunch we skied down to Le Fornet via the blue Magnard. Conditions were incredible all the way to the base station. The run brought back many memories of when Fran and I were skiing the area when we were first dating and working for another ski holiday agency. Another reason why I love Val d'Isere and should return much more often!!
We were met at the lifts and headed back to the chalet for a quick change of clothes before it was time for chalet viewings. We met with Ben and finally after years of dealing with the chalet and sending numerous clients his way, we took a tour of the stunning Chalet La Tene.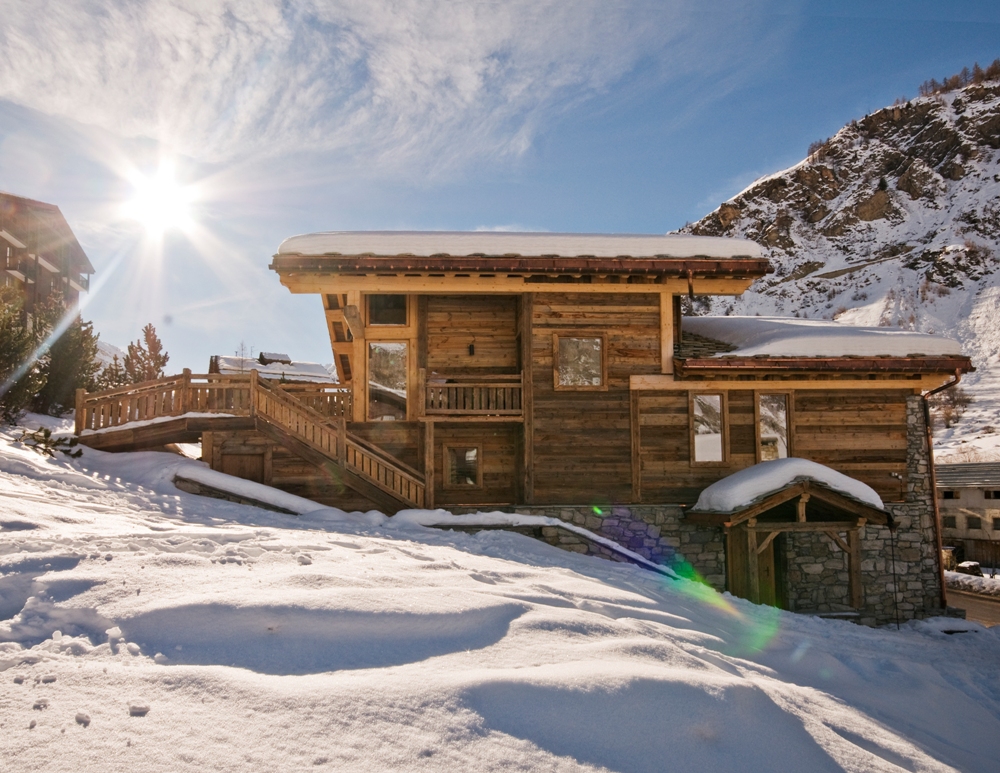 The chalet has an idyllic location beside the Legettaz blue that runs straight into the Bellevarde/Solaise lift hub. True ski in and out chalets in Val d'Isere are a rare find but this chalet definitely ticks that box. The bedrooms are all of a similar and good size, with well-equipped bathrooms. The chalet is equipped with hot tub, steam room, sauna, and one of the most impressive wine cellars that I have ever seen… definitely a chalet that any connoisseur or wannabe would enjoy!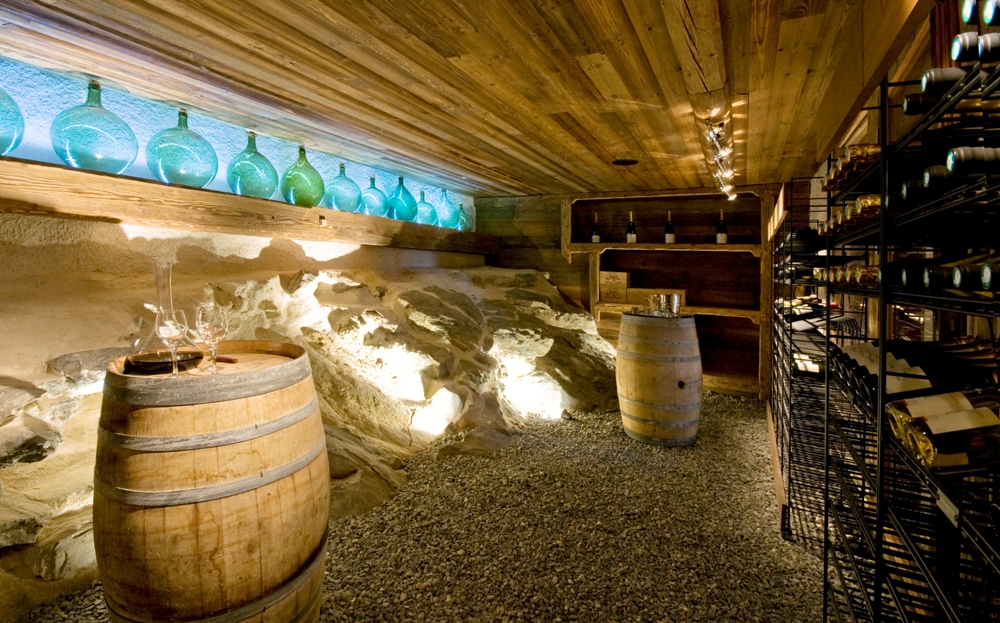 Day Five
Thursday was work day. We met with the new couple who are in charge of the very unique Chalets Rock n Love and Quezac in Tignes Les Brevieres for the 2016/17 season. They are incredibly excited about the journey that they are on, and without doubt they are experienced in providing exceptional levels of service in their past roles, and so I am positive that any of our guests staying in these luxury chalets next season will be treated impeccably.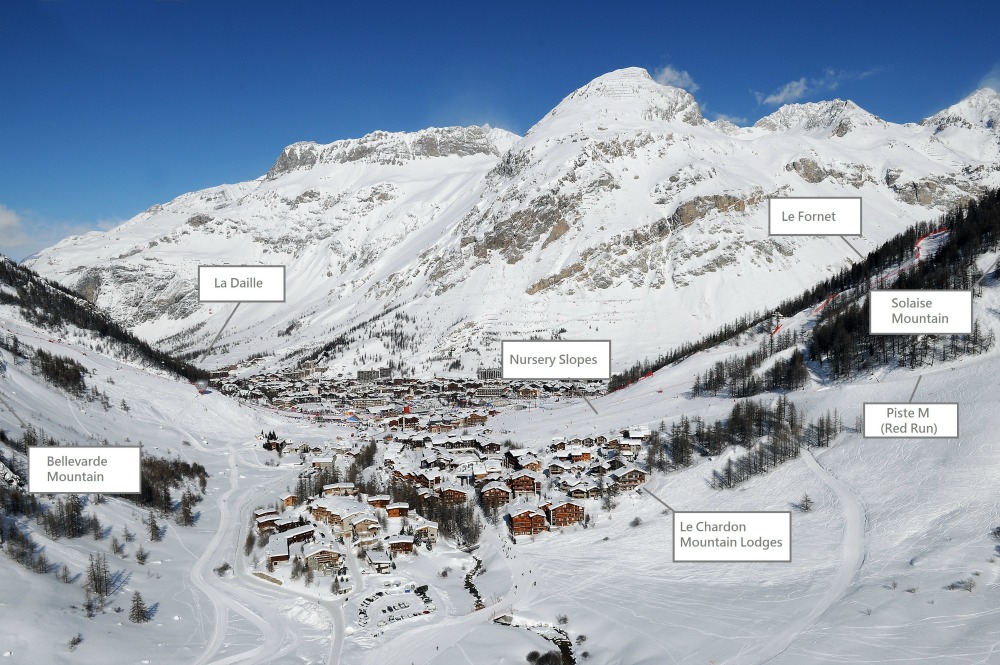 It was then time to meet with the tourist office for a quick rundown on the latest news, before heading off to complete our viewing schedule with a tour of the other chalets run alongside of our Chalet Mistral; we toured the vast 20 person Chalet Le Chardon, alongside its smaller sisters Lafitenia and La Bergerie. All of a similar ilk and style to Mistral. Undeniably though my favourite being the Chalet Le Kilimanjaro which is the most recent development of the owner. The new master bedroom is absolutely beautiful and the views from the chalet incredible. It's a jaw dropper.
We did however then manage to find time in the afternoon to get Beatrice back onto skis for the second time of the season following her first turns in Cortina between Fran's legs. She seems to get as much of a buzz clipping on the skis as daddy, so I'm sure that it's only a matter of years before she is overtaking us and shouting over her shoulder for us to keep up! Sienna managed to keep herself occupied and maintain a suitable smile being pulled around on the sledge by Fran.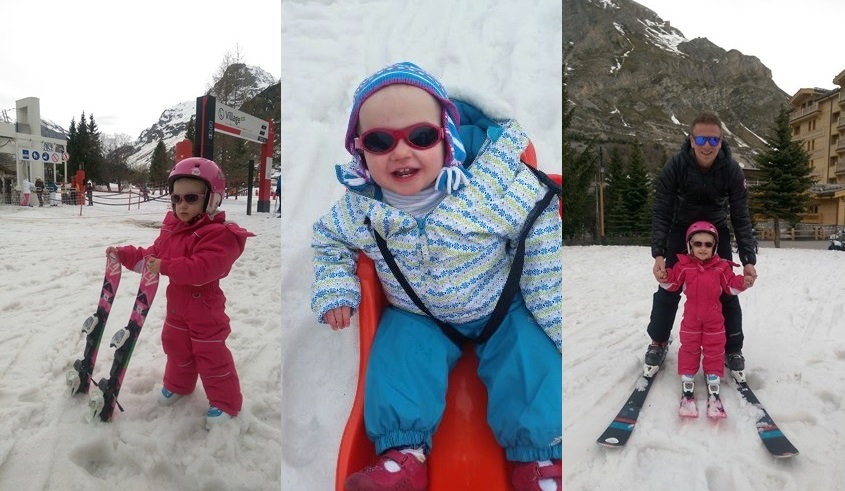 Inevitably, a trip to the Alps at the end of the season isn't going to go down without an end of season closing party in one of the resorts' night spots. Lewis and Claire who we deal with for the bookings in the Chalet Mistral group have been friends for many years now and they too were in resort. It would have been rude not to join them for an evening of festivities. Fran very kindly offering to head to bed and taking the monitor and child patrol.
It was the "Club 21" night at the nightclub Doudoune, in memory of the legendary club that used to be one of the most established nightspots in Val d'Isere. I had advised Fran that I would return by midnight but I must have lost my watch during the course of the night as 3am all too quickly came around. It was then time to rise and shine at 7am and get ready for the transfer back to the airport with the children to entertain on a 3-hour journey. Ouch.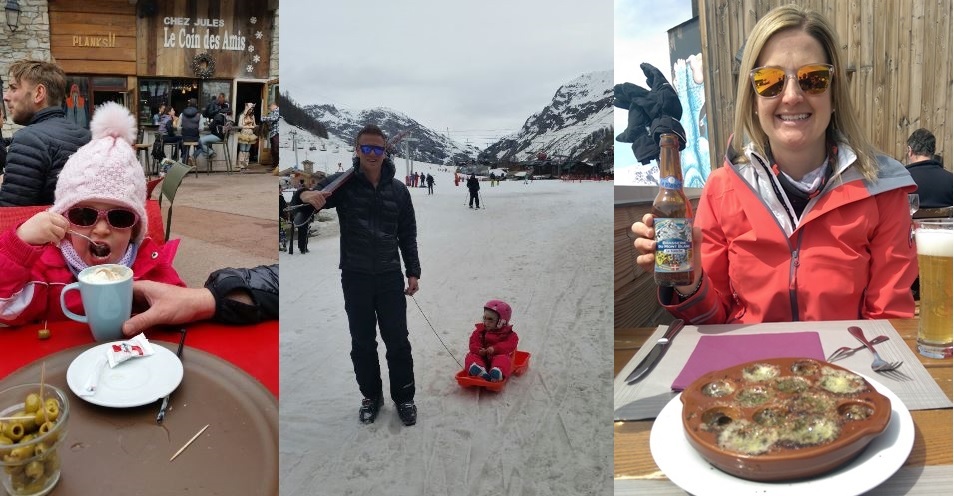 Val d'Isere, I love you. Such an incredible ski area, beautiful chalets, a charming and ambient village, and an incredible experience yet again for me – but this time with all my girls enjoying it with me.
Thank you to all that helped make it a magical 5 days with special thanks to the team at Le Chardon who accommodated us, Jelly and Ice Cream for looking after the girls so amazingly well, Oxygene for the ski hire, and Ben at Chalet La Tene for a lovely lunch and arranging transfers! I suppose thanks too to my two little ski bunnies and wonderful wife Fran for making it another holiday to remember!
To discuss with us any of our luxury chalet holidays in Val d'Isere, please do not hesitate to contact us by email or on +44 1202 203653.