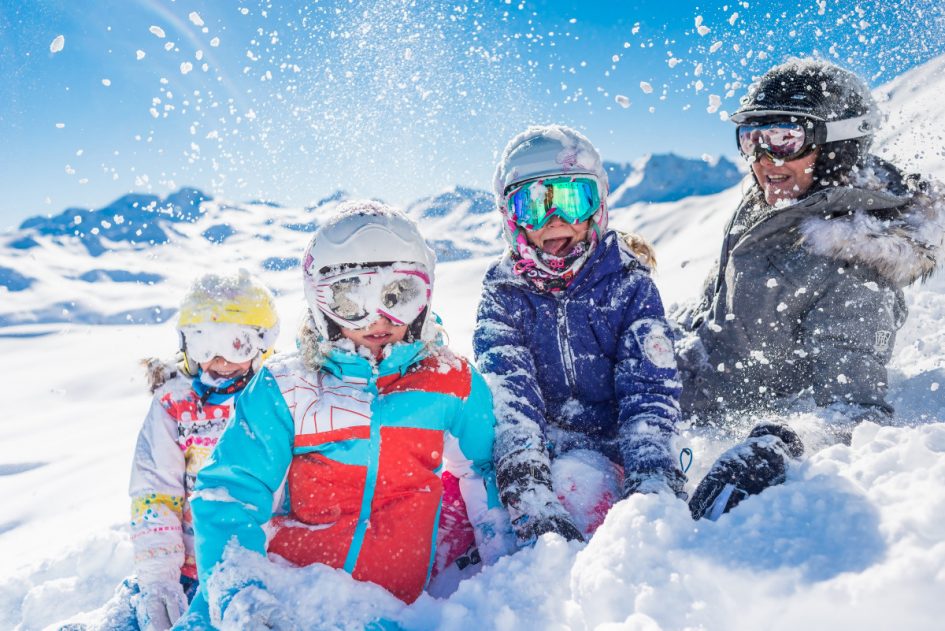 Val d'Isere is a super family friendly ski resort, so why not make it your new favourite skiing destination in the Alps for you and your kids? We offer some of the best luxury family ski chalets in Val d'Isere to make your ski holiday a fun filled experience for the children whilst offering the parents that much needed downtime and relaxation.
Dine in style, dive into a gorgeous pool or discover new skills and passions. A family ski holiday is all about getting your children out there, facing new challenges and making magnificent memories. This is why we work hard to help you find the superior ski chalets that can offer just that. Read on to take a look at our top 3!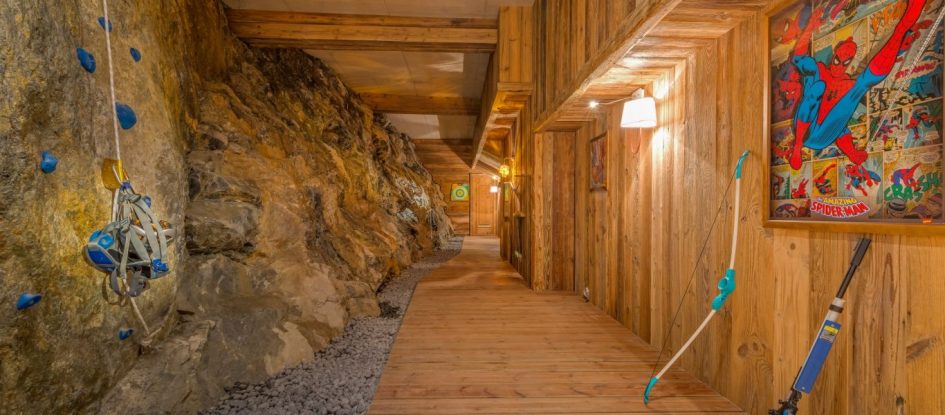 The beautifully luxurious, Chalet Husky combines sophistication and family fun facilities to make it one of the most ultimate chalets in the Alps. This chalet can accommodate up to 14 guests, and so would be ideal for a family get together or a trip away with family friends.
For the kids, you can find endless entertainment from an epic swimming pool, to an archery range and climbing wall. If they are still full of life after testing their abilities on the pistes they can keep going for hours here, whilst you sit back and relax with an evening drink.
Family Highlights
WOW Children's Features – Games room with indoor climbing, archery & rifle shooting. The 32m² pool with rainbow changing lights.
Parent Perfection – Wellness area with Jacuzzi, sauna, Hammam & massage rooms. The Wine Cellar and Bar.
What's Included- Full gourmet catering, complimentary drinks, a private in resort driver service & airport transfers.
Childcare? – You have the choice to book a place for your children in the amazing chalet Kids Club in Val d'Isere or alternatively you can have a specialist in-house nanny service. * Offered at a supplement.
The childcare service provided here is a completely unique and amazing opportunity for your family holiday. We recommend the kids club service as it provides your kids with the chance to meet and mingle with other fellow snow enthusiasts and with a nanny service to pick them up and drop them off or to bring them to meet you on the slopes, it couldn't be a more dedicated service. Read all about it in our Directors' family experience blog from when they took their young girls to Val d'Isere!
Looking for something to try when staying in Chalet Husky? Nothing is more appropriate than taking the family to meet with Evolution2 to have a go at husky dog sledding for a real winter alpine experience.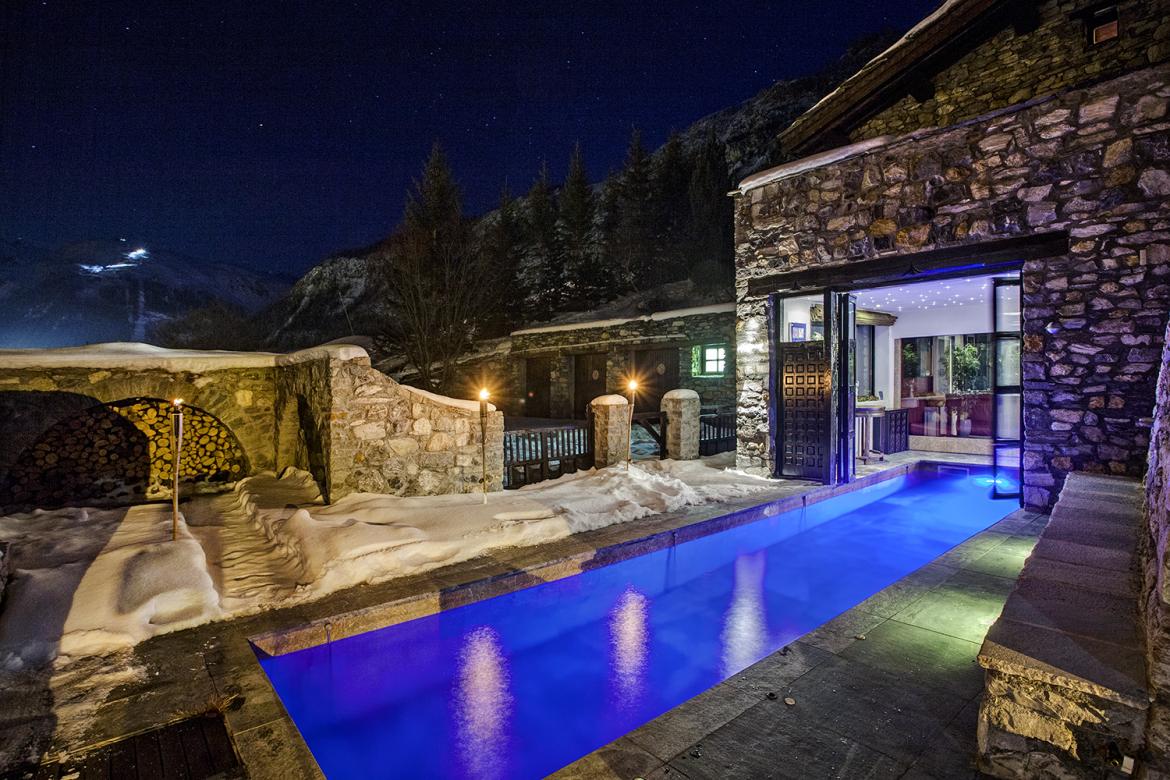 Perhaps the perfect option for a family chalet in Val d'Isere. Domaine Toit Du Monde is one of the very few truly ski-in ski-out chalets in Val d'Isere and combines the luxury chalet of Himalaya and Toit du Monde. This unique chalet can sleep up to 16 guests in 8 beautiful en-suite bedrooms.
Being two amazing chalets, joined, means that both parents and children can enjoy their own areas for entertaining, this even includes two amazing swimming pools. The chalet is full of jaw dropping facilities that are sure to amaze your kids, take the depth adjustable pools that one minute are there and then the next completely hidden, as if by magic. The kids can also have the inflatable outdoor igloo as their own private den or choose to watch a film on one of the drop-down movie screens in the chalet.
Family Highlights
WOW Children's Features – Inflatable outdoor igloo den, TWO depth adjustable pools with jets and magic appearing movie screens in the chalet. A holiday in a fortress.
Parent Perfection – 17th century former monastery, fireplaces in each bedroom, cigar room, sauna, steam room and massage room.
What's Included- Full gourmet catering, open bar and resort chauffeur service.
Childcare? – You can include in chalet childcare by a licensed nanny. *Offered at a supplement.
For all guests, young or old, expert skier or beginner, you will love the enviable location of Domaine Toit du Monde. This family chalet sits with the famous World Cup downhill 'Coupe du Monde OK' on one side for the advanced skier and the popular 'Verte' green slope on the other for all looking for an easy ride home.
If you fancy taking the little ones out for some more winter fun, why not take one of the chauffeured 4×4 down to the local outdoor ice-rink in the centre of Val d'Isere. The kids would love to have a giggle at their dad looking like Bambi on ice, that's for sure.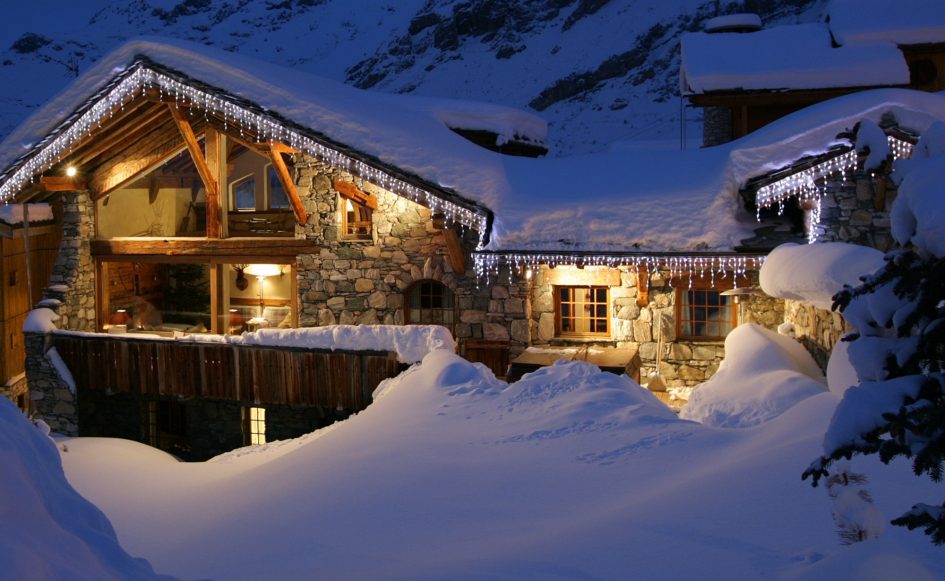 Family run, family fun, family chalet. Chalet La Bergerie is a superb chalet that sleeps up to 15 guests and is a great option for any luxury family ski holiday to Val d'Isere. This beautifully traditional and homely chalet is just the place to cosy up in after a long day out in the cold.
Everything about this chalet offers you and your kids the perfect place to base your ski holiday. Being an original alpine shepherd hut, you feel completely transported into the alpine world, and although super traditional, you will find added luxuries of hot tubs, a games console and delicious dinners.
Family Highlights
WOW Children's Features – Snug room/ movie room for the kids with Nintendo Wii, 2 amazing hot tubs, toys, games and sledges and only 50 metres from the piste – great for sledging in the evening.
Parent Perfection – A private massage room for your ultimate relaxation, a fantastic south facing terrace to watch the sun set over the Rocher du Charvet, open fireplace and open bar.
What's Included – Full gourmet catering, open bar and in-resort chauffeur service.
Childcare? – They can arrange highly qualified nannies to either look after the children in the comfort of your family chalet or take them for more snow fun. *Subject to availability.
The chalet team really make each holiday individual to every group who stays here. If you are looking for a stress free holiday then Chalet La Bergerie can offer just that. The team are on hand to provide scrummy dinners catered to your kids preferences so that you can be at ease in the evening knowing that the kids are well looked after. The staff are so attentive to children and love having them around, you may find them taking the kids sledging or building them surprise snow aliens on the terrace! Your children will love having people to tell all about their day skiing or to have a snowball fight with in the evening.
If you are having a hard day when your children don't want to face a snowy blizzard, then why not head to the amazing Centre Aquasportif for races down the river currents, splashing in the waterfall or playing with the cater cannons.
Val d'Isere recently shared a video that really sums up the fun in resort for kids. So I thought it would be great to share with you in this blog.
Are you looking for luxury chalets during the school holidays? We can offer both Half term Chalets and Easter Chalets as well as Christmas ski chalets for a festive holiday away.
If this has got you thinking about you next family ski holiday to Val d'Isere please get in touch to discuss your requirements with us and we will gladly point you in the right direction for some amazing family ski chalets. You can either send an email or give us a call on +44 1202 203653, we look forward to hearing from you.