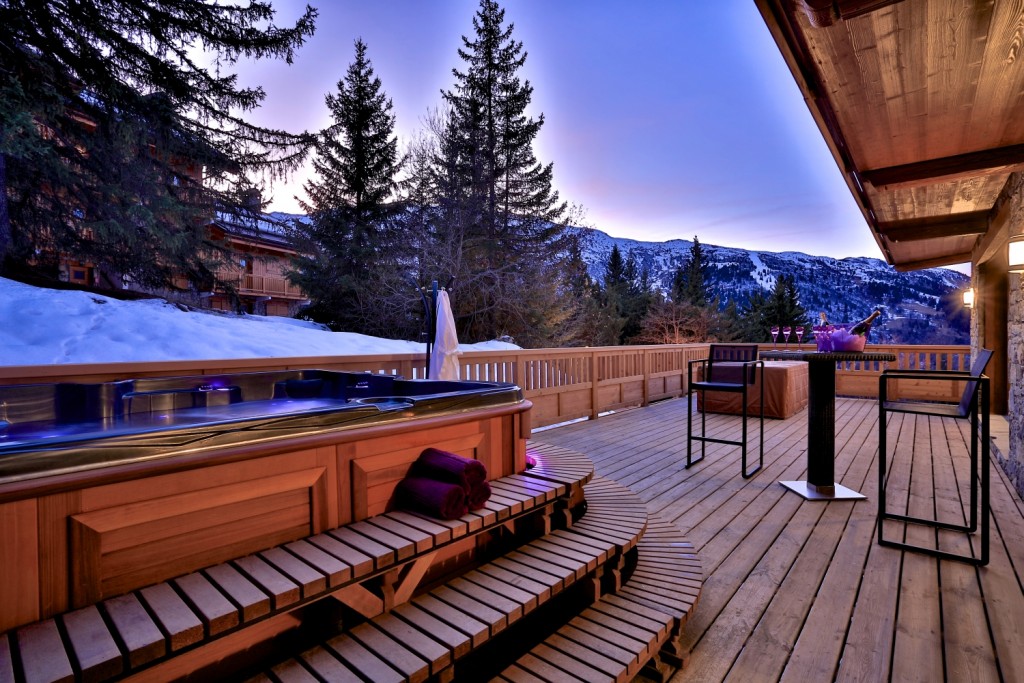 For powder hunters and luxury ski travel agents alike, landing at Geneva Airport to snow-capped mountains in the distance is always a great feeling – especially at Easter time. After the usual delays caused by French Air Traffic Control (which are now seemingly more common than the snow-capped mountains themselves) I was on my way to the popular Three Valleys resort of Méribel!
Filled with luxury ski chalets, Méribel is known as 'the heart of the Les 3 Vallées' with a lively village centre, plenty of après and of course access to a huge amount of World-Class skiing. For this reason it is one of France's most attractive and popular ski resorts, especially with the British and French locals themselves.
If you are not familiar with the resort it can prove difficult to get your bearings at first as it is made up of several areas between 1,400m – 1,750m in altitude including Méribel Les Allues (the original Village), Méribel Village, Musillon, Le Raffort and Mottaret. That being said the resort spans up the mountain along a one way road, so it is hard to get lost! Méribel Centre is the hub of the resort where you will find the Meribel Tourist Office and a good selection of shops and bars.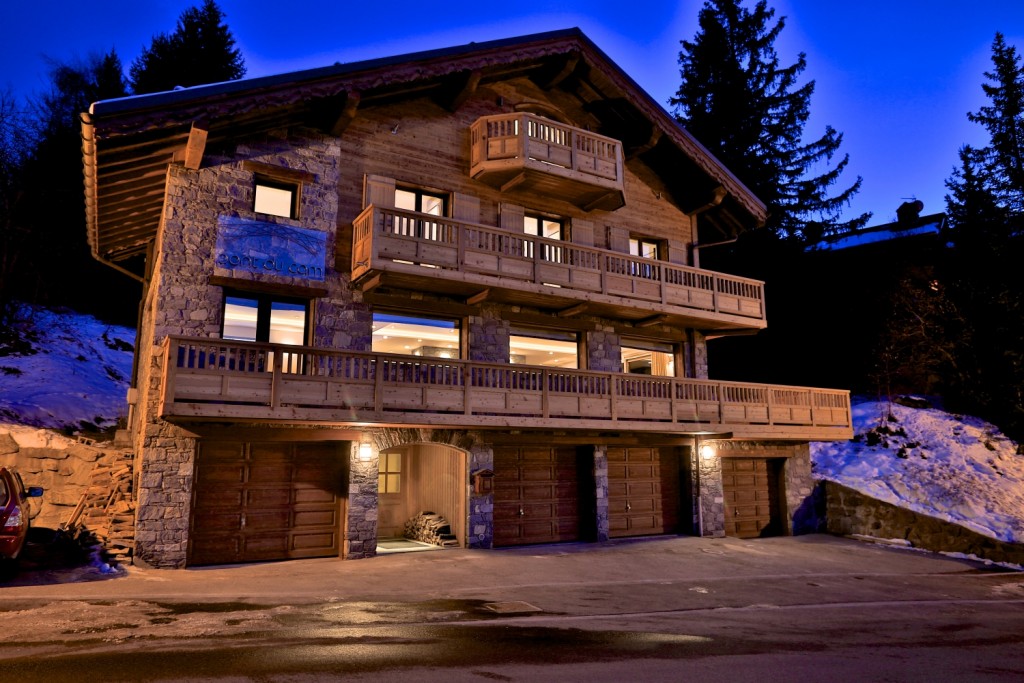 I was fortunate enough to spend two days in the luxury Chalet Pont du Cam. Located in Méribel 1600 on the Route l'Altiport, it is only a short walk or drive to the slopes and looks out over the sunny terrace of local Restaurant Aux Petits Oignon, which by the way serves possibly the best Croc Monsieur I have experienced in a ski resort!
Owned by a lovely British couple, Pont du Cam follows a Cambridge theme with beautiful artwork of local landmarks including the old market square and River Cam during Winter. This theme continues upstairs with each of the 7 en-suite bedrooms named after Cambridge University colleges.
I was greeted warmly at the bar area with a glass of bubbly and invited to afternoon tea, which was greatly appreciated after the long journey from the UK. Kerry from Sports1600 met us in the ski room downstairs for our in-house ski and boot fitting service. Having provided my shoe size and general skiing ability beforehand, Kerry simply checked the equipment she had chosen for me which was of a high quality and fitted perfectly. The whole process was over with in under 10 minutes which was a very special touch and one that I would highly recommend as there is no need to wait in queues at the ski hire shop which can be especially stressful during peak weeks!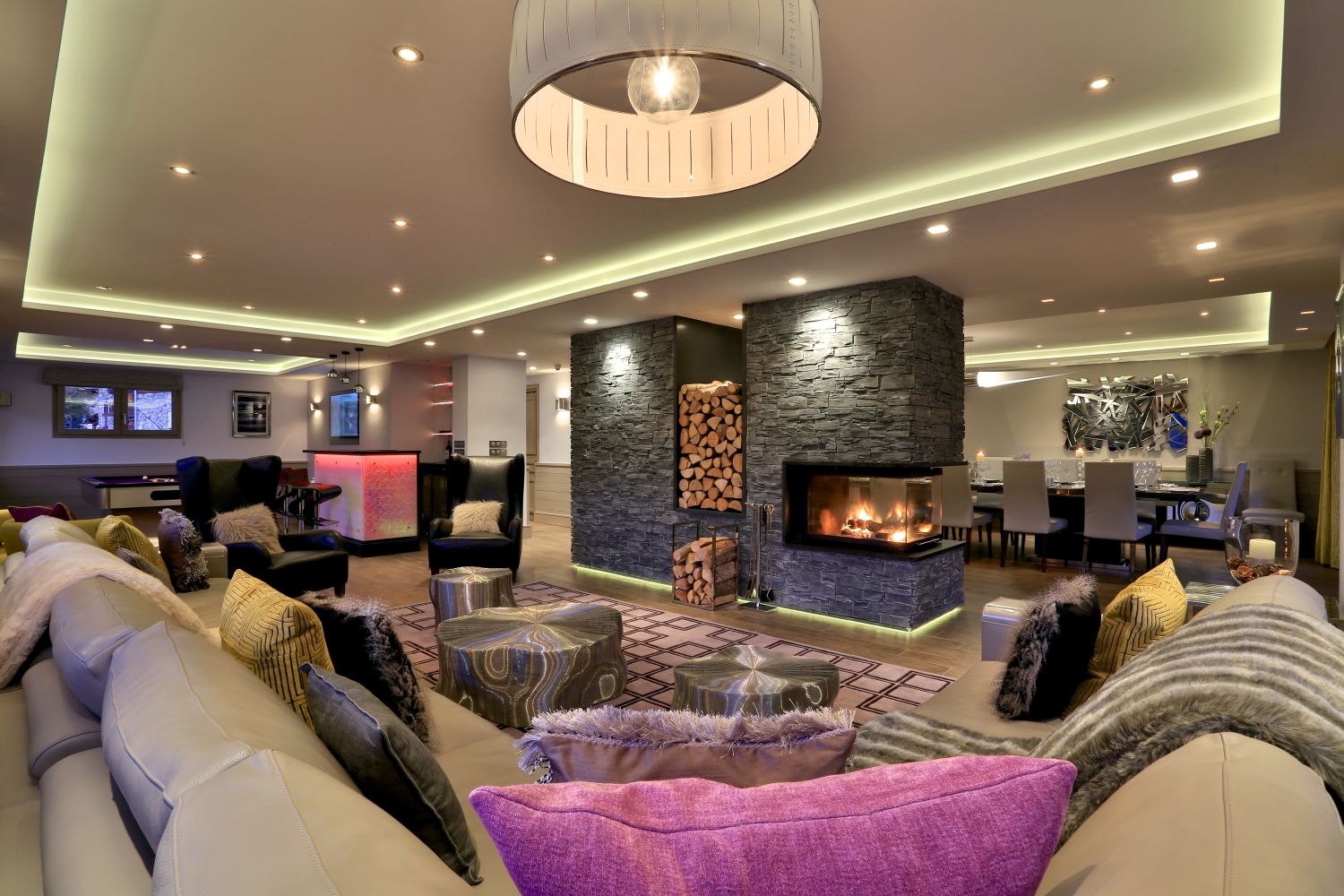 Although vast and seemingly open, Pont du Cam uses lighting and soft furnishings cleverly, inviting guests to socialise and enjoy each space individually. There is a modern entertainment area with pool table, bar and plasma TV which is great for families with children or groups wanting to continue après after the slopes.
For a more relaxed affair there is a large comfy sofa and feature fireplace, where adults can watch over younger family members in the entertainment area whilst still relaxing in a serene environment. Although part of the same room, the dining area has been well placed for intimacy and privacy with no sign of the kitchen or staff – unless they are pouring the wine of course!
Being a luxury catered chalet, we were treated to some exceptional cuisine during our time in Chalet Pont du Cam. Each meal was thoughtfully announced by the chef and beautifully presented, accompanied with Prosecco, Champagne, local Wines and/or any other alcoholic or soft drink you could wish for. The company over dinner on both evenings was great and the conversation flowed as freely as the wine!
Chalet Pont du Cam
Confit Boneless Chicken Wings, Black Pudding fritter, Apple Potato Salad,
Balsamic Reduction and Pancetta Crisp
Pan Roast Rack of Lamb, Pea Mint Puree, Parsley Mash Potato,
Roast Sweet Potato and Red Wine Jus
Blackcurrant Delice, Gin Mascerated Berries, Winter Fruit Compote,
Berry Coulis and Cider Sorbet
———-
Duo of Quail – Pan Roast Breast, Crispy Roast leg -Honey & Rosemary Roast Beetroot, Pumpkin Puree, Garlic Spinach and Quail Jus
Pan Fried Sea Bream, Herb Crushed Potatoes, Crispy Leeks,
Sauteed Fine Beans and Spiced Tomato Dressing
Bitter Chocolate Tart, Hazelnut and Walnut Praline, Pistachio Crumb
and Malted Ice Cream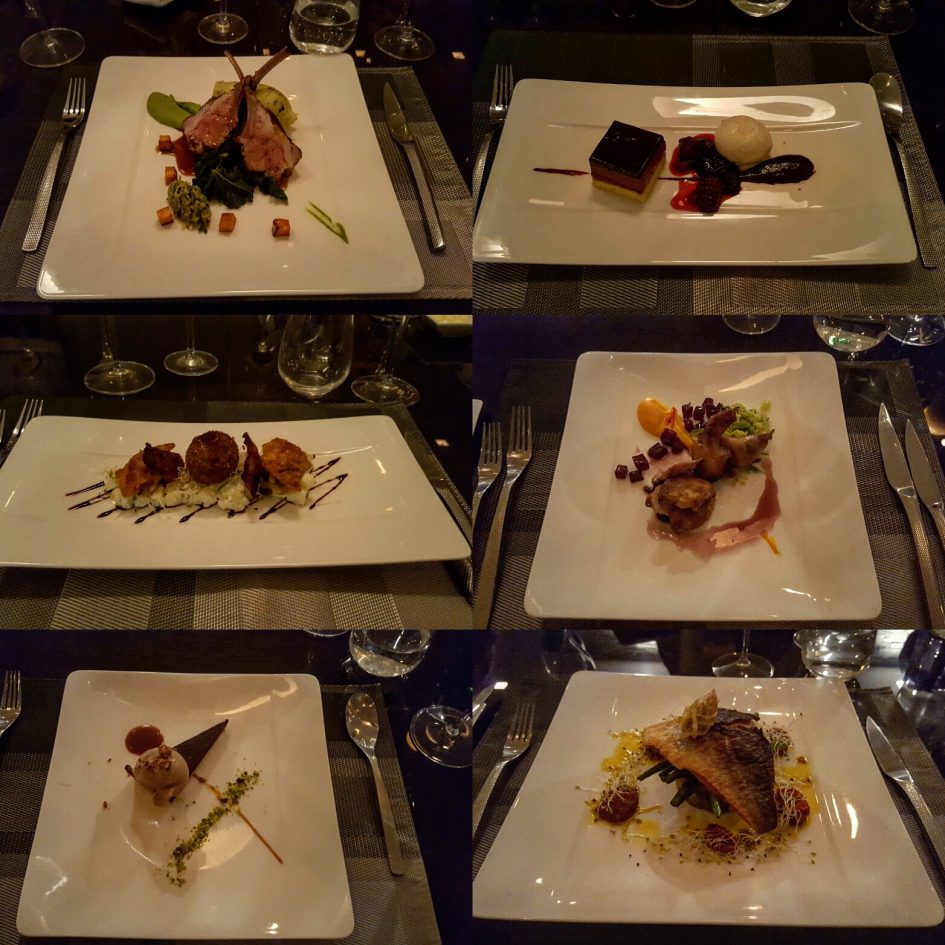 During my time in Meribel I was able to get a few hours of skiing squeezed in, although typically my day of meetings beforehand was accompanied by glorious sunshine that Meribel is known for and on my ski morning, well I wasn't so lucky….
Now I am very much a fair weather skier and would usually take one look outside at the conditions I was faced with that morning and make the decision to relax in the chalets luxury hot tub or cinema room. However I was desperate to get out on the mountain and although the sign at the bottom of the Saulire Express 2 read "Visibility 0%" I am ever the optimist and thought maybe it would clear above 2000m. How wrong we were! It was one of the most challenging few hours I have faced on the slopes, however on a positive note at least I got to wear my new goggles and practice how to navigate down the mountain if weather conditions changed rapidly for future reference! Always a good learning experience…
The time came to vacate Chalet Pont du Cam after such a pleasant two days. I would highly recommend the chalet to a variety of guests as it's key selling point would be it's diversity. Perfectly suited to families with children or teenagers, large groups of friends or corporate groups, it has plenty of luxury facilities to keep everyone entertained! The fact it is so well located in Meribél itself and on the doorstep of some of the best skiing and après you will find in France, is also a huge bonus!
Pont du Cam is available to rent throughout the ski season for as little as £15,000 GBP for up to 14 people and including full gourmet catering, open spirit bar and a dedicated in resort chauffeur service.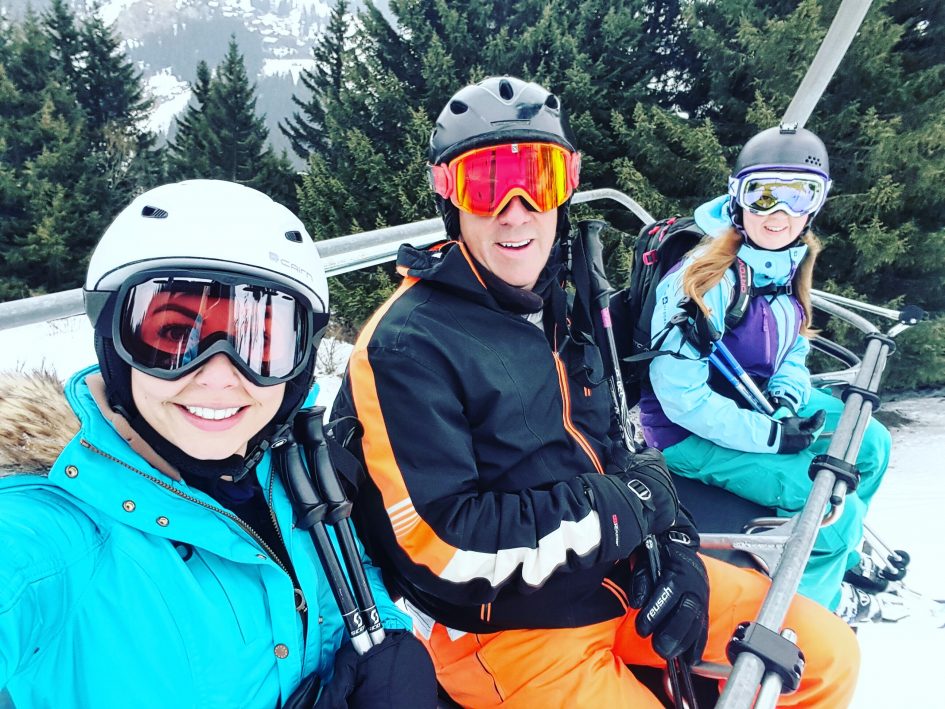 Chalet Rock n Love, Tignes Les Brevieres
The next stop on my trip was to Tignes Les Brevieres in the l'Espace Killy region of France and approximately 1h 15mins drive from Meribel. Positioned at 1,550m in altitude, "Les Brev" as it is commonly referred to, is a small traditional resort and has a very different vibe to it's controversially "less pretty" neighbour, Tignes Le Lac.
The exterior of Chalet Rock n Love is is in keeping with it's tranquil surroundings. "Nothing to see here" as the Policeman would say, but I can assure you once you step inside the front door it is instantly apparent that this is not a normal chalet!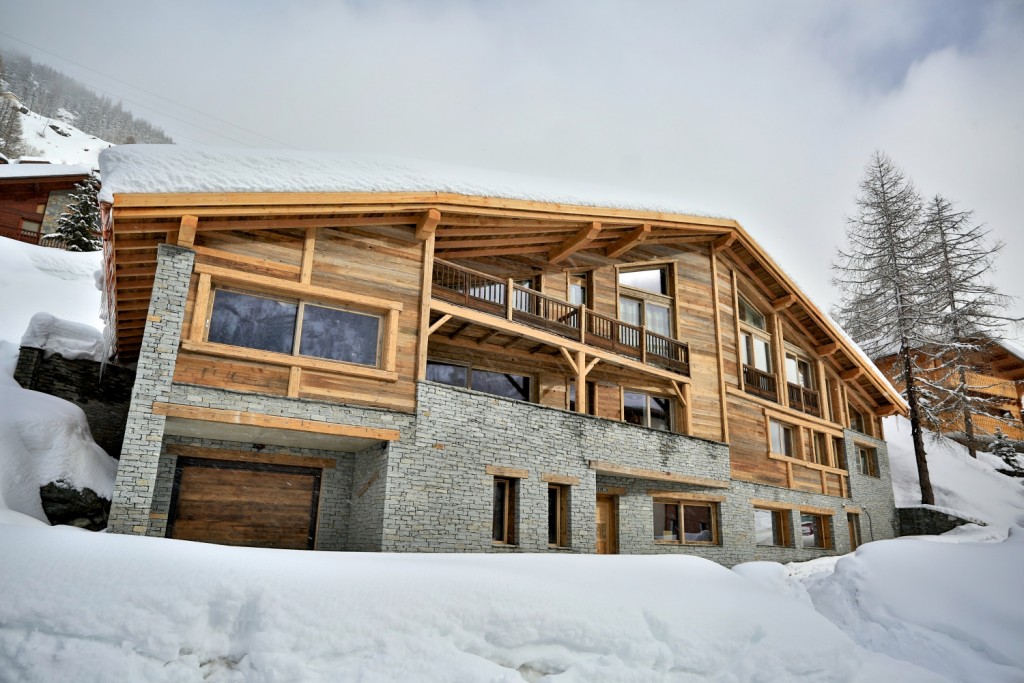 Rock n Love has a funky 70's theme throughout offering an extensive living space with lots of grown up 'toys'. Facilities include a funky bar area and unique mini car pool table (open the boot to collect the balls), Wurlitzer style juke box loaded with 100 albums, and an original Marshall Amp and speaker with guitar.
There is an indoor swimming pool, outdoor hot tub, hammam/steam room, gym and a very impressive hydrotherapy massage bed. The top floor has had two vintage VW campers and a Jeep craned in before the roof of the chalet was completed and spray painted clashing colours to create the perfect Children's bedroom.
There are so many quirky features in addition to the luxury facilities already mentioned, that it really is a chalet that has to be seen to be believed! The fun theme flows expertly throughout the chalet from the customised skulls hidden in hippy carpets, vintage records as table place mats, giant superheroes and 70's style appliances. Each room is colour co-ordinated with matching bespoke bathtubs and individual quotes on the floors.
Quite simply it is the ultimate party pad for a group or the quickest way to becoming the worlds coolest parents if you are bringing the family!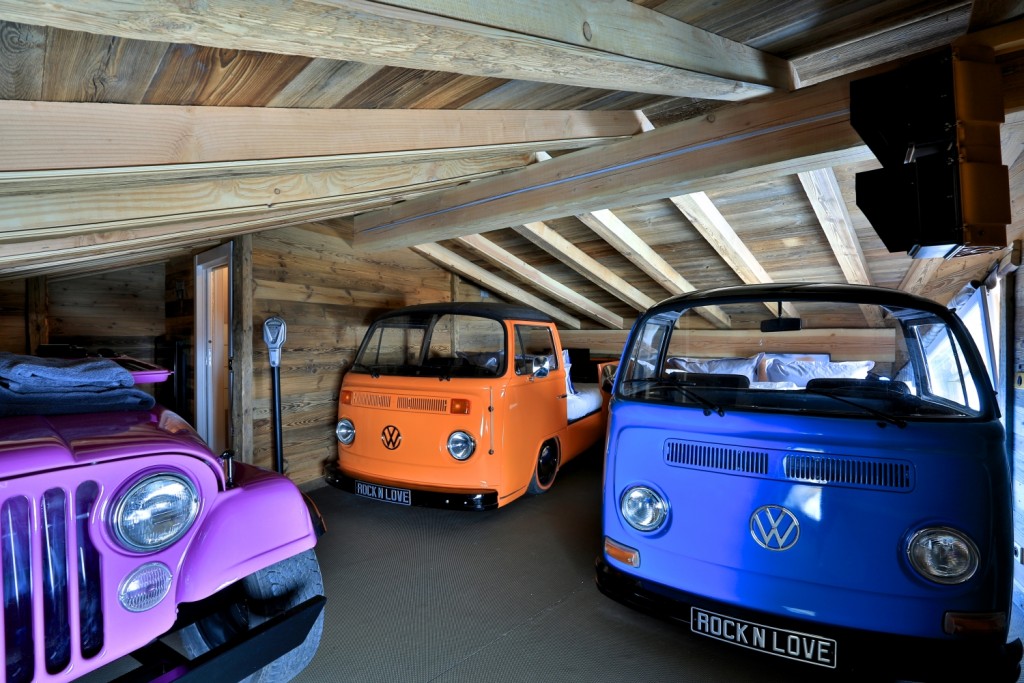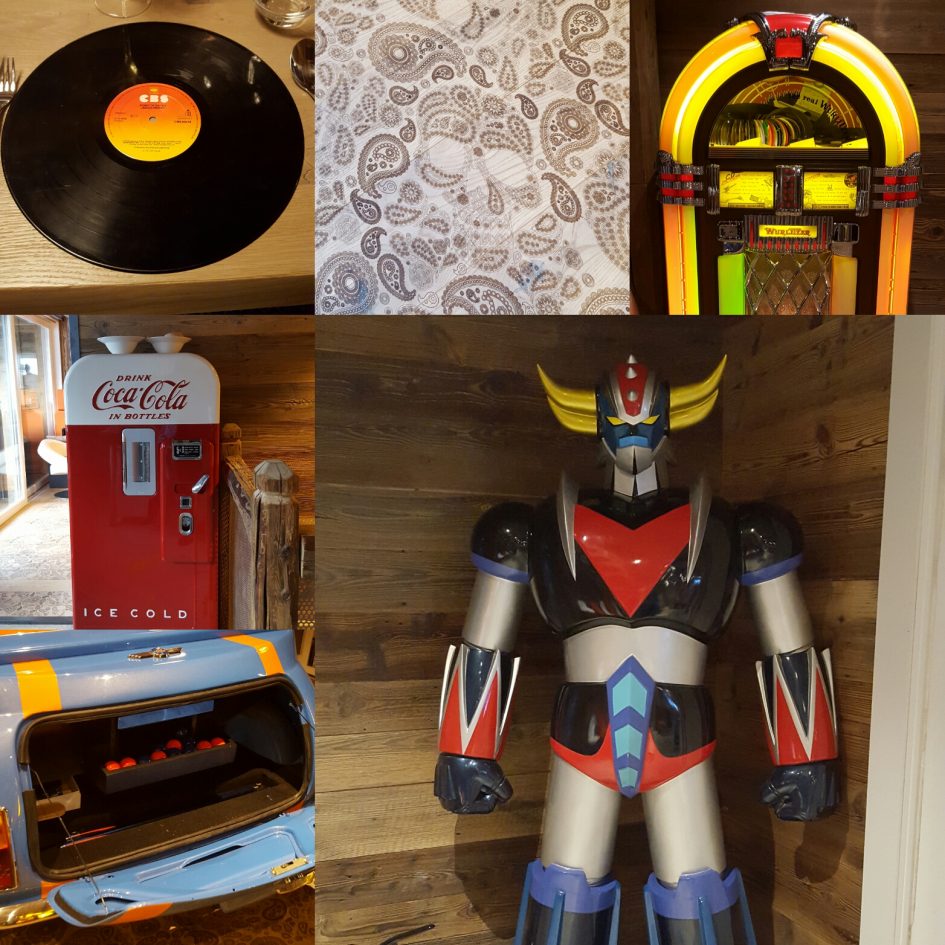 The chalet manager Claire was absolutely lovely and made us feel instantly welcome. Nothing was too much trouble and she went above and beyond throughout our stay which really made an inprint on me and is something I think guests will remember. We received the same attentive service with in-chalet ski and boot fitting and then it was time to sit down for another sociable evening meal. We chose our table places by vinyl record which was a very quirky touch!
The chalet chef Ollie has spent time working under Chalet Quesac's well respected chef and I can honestly say the food was some of the best I have ever experienced in resort on work trips, and believe me I have dined at a lot of chalet tables. Attention to detail in plate presentation and the flavour combinations were divine and with a Vegan amongst the group, Ollie even created a completely gluten free 'deconstructed Eaton mess' made from the brine of chick peas. We were all beyond impressed!
Chalet Rock n Love
Asparagus wrapped in streaky bacon with a deep fried poached egg
Pan fried duck breast with vegetable terrine, sautéed potatoes, plum chutney, lime cured mange tout and red wine sauce. Parmesan crisp and balsamic glazed cherry tomatoes
Chocolate brownie with salted caramel popcorn, honeycomb, blood orange granita and chocolate sauce
———-
Scallops three ways, tempura battered scallop, pan fried scallop and scallop ceviche
with lemon and garlic aioli and pea puree
Pressed pork belly with sweet potato fondant, braised shallots, crackling
and sweet mustard sauce
Vegan Eton mess
(strawberries, raspberries, blueberries and raspberry coulis)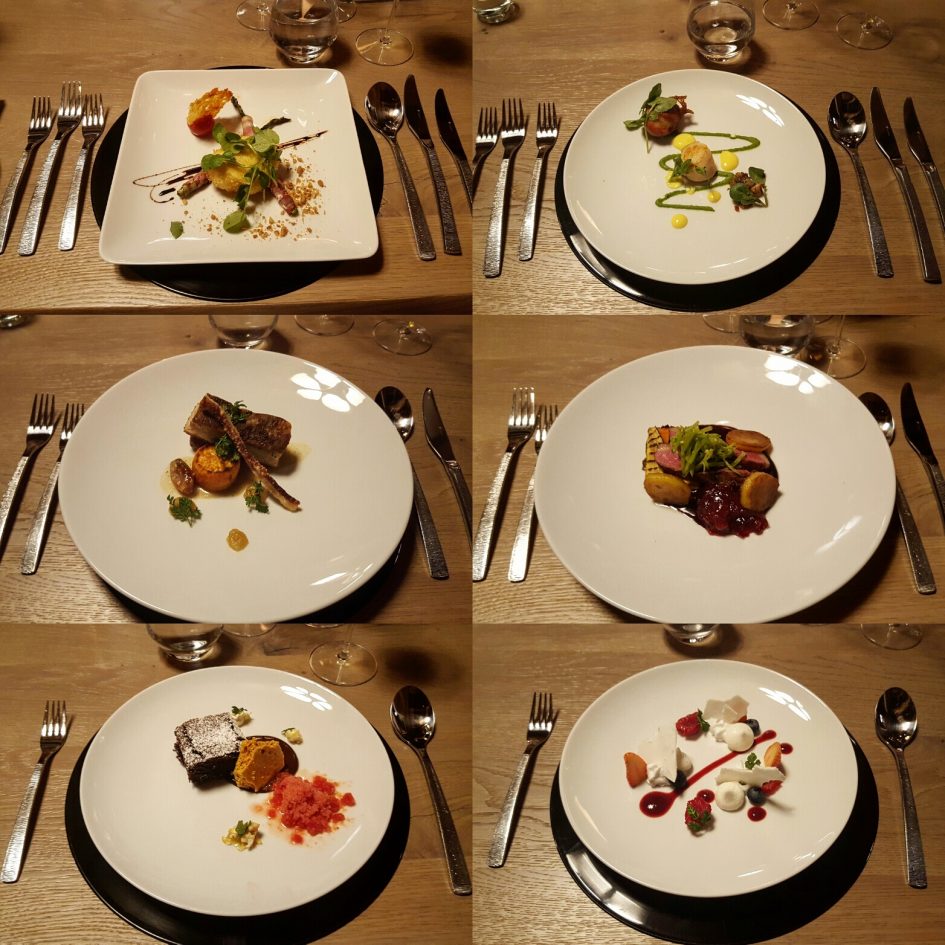 Taking full advantage of the chalet facilities until approximately 4.30am, I awoke rather jaded after the previous nights antics. I grabbed breakfast, including tasting one of Ollie's home-made croissants which was spot on, and managed to head out skiing on my final day from Tignes over to Val d'Isere and back again. What a gloriously sunny day it was and with ski conditions still great for Easter, I even managed to ski right back into Tignes Les Brevieres via the blue 'Myrtilles' run.
Arriving back, the sun was shining and the Tignes Les Brevieres market lined the small streets at the bottom of the Sache lift station. There was a buzz of locals and visitors sunbathing and socialising on the terraces of local restaurants and the resort had a truly magical feel to it. In keeping with the style of Chalet Rock n Love, we were collected in a terrain quad biker style buggy, much to the locals curiosity!
For owner Guerlain Chicherit, his first property in resort named Chalet Quezac set the bar high for innovative interior chalet design and went down an absolute storm last season. It certainly got the sleepy town of Tignes Les Brevieres talking and Chalet Rock n Love doesn't dissapoint, living up to his outlandish reputation. What else would you expect from a four times Freeriding World Champion, French Rally driver and lover of all things extreme!
A huge thank you to Nicky for organising such a great familiarisation trip. We will be sure to forward on our knowledge and experience of both chalets to our guests.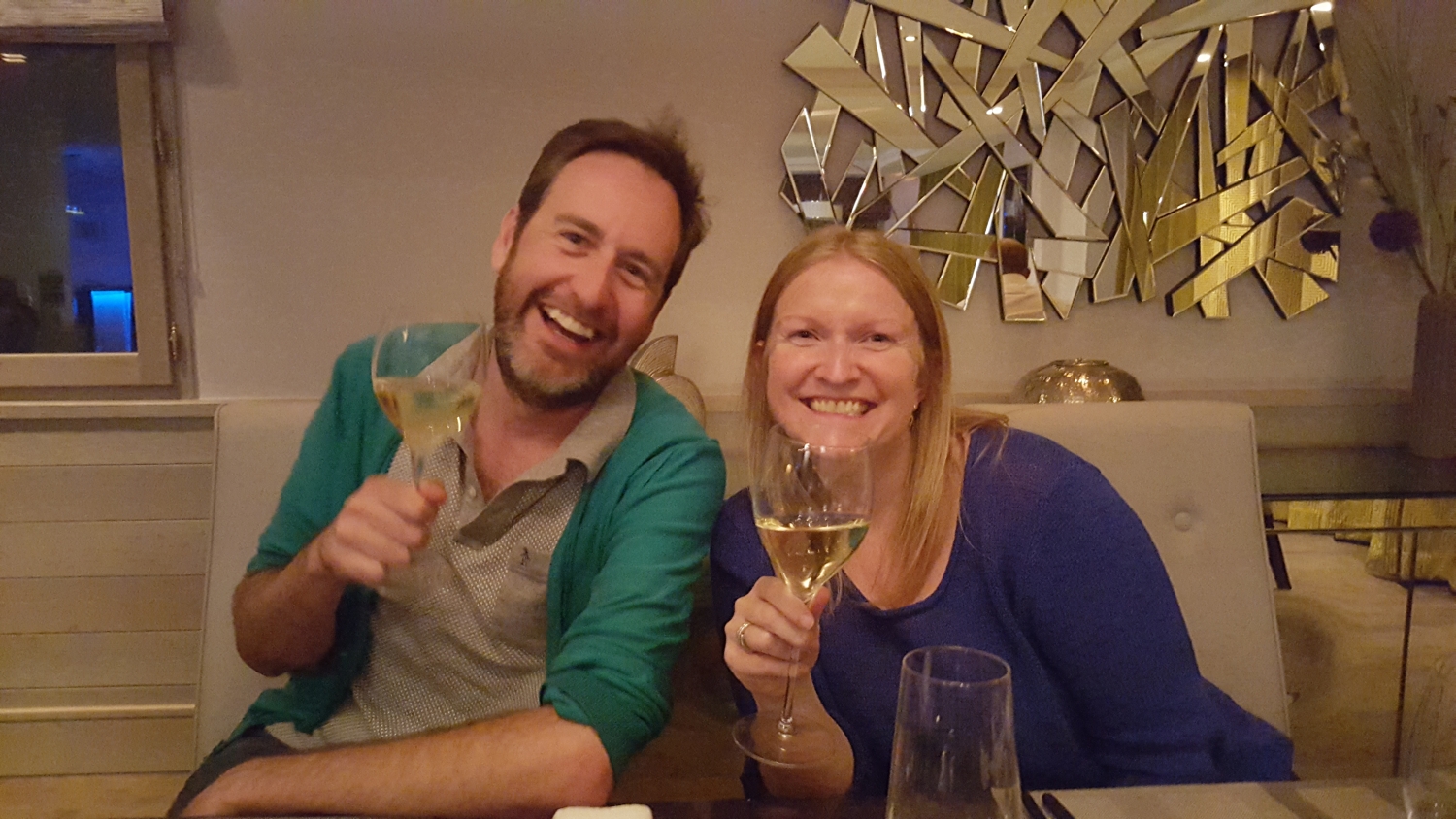 If you would like to find out more about how you can book chalet Chalet Pont du Cam or Rock n Love for your next luxury ski trip or simply have a question on the resorts and ski areas, please get in touch via email on ask@ultimateluxurychalets.com or telephone the team on +44(0)1202 203 653. We look forward to hearing from you!