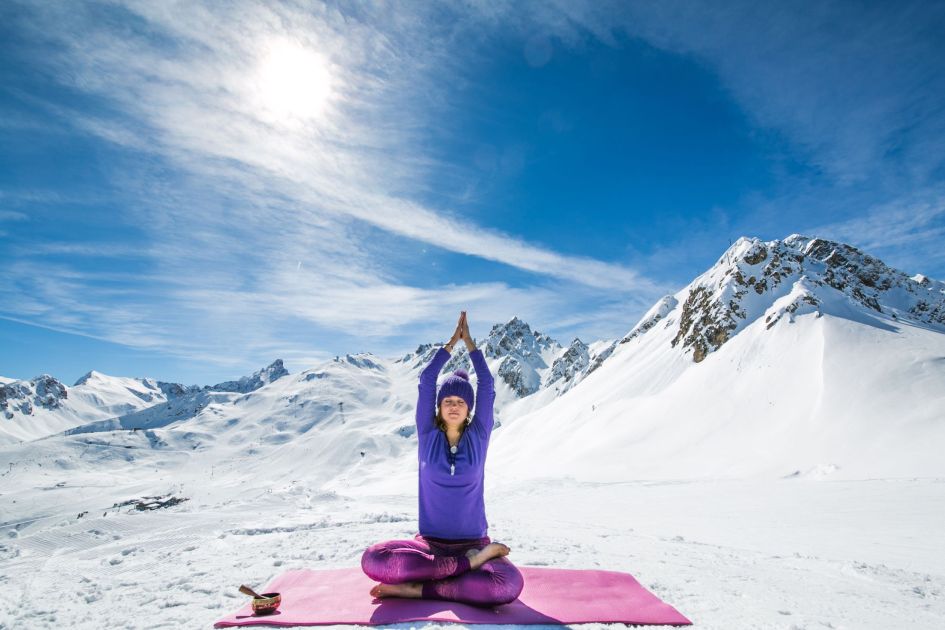 To be totally ski fit, takes some dedication.There are many ways you can prepare yourself for your ski holiday physically and mentally. Practising yoga throughout the year in preparation for your ski holiday helps with many aspects of your ski ability including strengthening your core, improving your balance, developing your coordination and increasing your flexibility. However, it's not just the preparation that is important, but taking some time for yoga and mindfulness on your ski holiday has many benefits too.
Being mindful during a yoga session can help with having a focused mind on the mountain paired with certain ski yoga poses to stretch out specific ski and snowboard muscles and help to relieve that otherwise inevitable muscle stiffness.
We have taken some time to chat with the professionals, Henrietta Holderness and Victoria Geddes to find out more about the benefits of yoga in the Alps.
A Few Questions with Henrietta Holderness
Henrietta is based in the Alps and covers a few resorts with her yoga classes. The classes are varied and target specific areas of your body with the aim to show you how to re-energise and look after yourself on your ski holiday.

Where are you based for the winter and where do your yoga sessions take place?
Henrietta: I'm based in a little village called Les Coches, nestled in between La Plagne and Les Arcs. It's a hidden gem in the middle of the enormous Paradiski area, I love retreating back to this little oasis of calm after a busy day on the slopes.
I offer 1-2-1 yoga sessions and private classes to fit around my clients holidays. I come to their chalet, apartment or hotel and bring all the equipment for the class, so their yoga sessions fit seamlessly into their schedule and they can make the most of their stay in the mountains.
Being in Les Coches, I'm within easy reach of all the villages within the Paradiski (La Plagne and Les Arcs) area, as well as La Rosiere, Sainte Foy, Tignes and Val d'Isere – and other areas on request.
What style of yoga do you offer, and can you talk us through a typical session with Henrietta Holderness?
Henrietta: Whilst in the mountains, my classes centre around yoga for skiing. Yoga and skiing are two completely different disciplines which perfectly balance each other. Where skiing is fast-paced and often intense, yoga forces the body to slow down, centre itself and stretch out our muscles we use on the slopes. The balance, concentration and increased flexibility of yoga, compliments our skiing and snowboarding, and most importantly, reduces the risk of injury on the slopes (whilst also helping to offset the vin chauds).
Before the class, I take note of what the client wants to achieve, and work around that. Be it injuries, sticky spots from using new muscles when on the slopes, help with balance, or a nice stretch to re-energise post-piste.
I offer a vinyasa flow style of yoga which focuses on marrying movement with breath. It's an energising, fast-moving class with a wide array of poses (asanas) that promises you keep your attention. Due to it's pace, it's fantastic for fitness fanatics and feels like you've had an amazing work out and stretch at the same time.
I also offer a slow flow which is a more restorative practice, here we really take our time and move through stretches and poses to open up the body and release the tension held in our muscles. It's a lovely grounding practice which feels amazing after a day flying down the mountain!
No one class is the same, but I love to start with breathing exercises to focus and prepare for the next hour or so. A nice warm up to get the body used to moving and then upping the energy, culminating in a few 'peak' poses that challenge the students and finally, finishing with a long savasana (final relaxation) to seal in the practice. I love seeing my clients joy in achieving a stretch or a pose they didn't think possible.
What are the benefits of yoga for skiers or alpine adventurers alike?
Henrietta: For everyone in the mountains, be it skiing, snowboarding, hiking or ski touring, chances are we are using different muscles than we do in everyday life and the extreme gradients take a toll on our calves, hamstrings and other muscles we use a lot less back at home.
Taking time for yoga on your ski holiday to give these areas a little bit of love can make a world of difference during your time in the mountains and counteract that horrible stiff feeling at the end of a day on the slopes, as well as protecting against new injuries and helping old injuries not to resurface.
Yoga on your ski holiday is also fantastic for working on the balance we need to keep whilst skiing. The combination of being 2000/3000m above sea level and moving at high speeds really tests our equilibrium. I love working on asanas that play with my clients balance and it's amazing the difference a little bit of dedication to this makes whilst on the slopes.
Also, unless you're lucky enough to live in the mountains full time, most of us aren't used to the high altitude climate and how it effects our body. Everything from our sleeping, digestion and even our dreams can be thrown off balance. I find that yoga helps to recenter us and get used to the new environment, and many of the asanas help to regulate digestion and reduce bloating (be it from altitude or fondues!).

What kit do you recommend bringing on your ski holiday in order to practice yoga?
Henrietta: Anything comfortable goes! I normally practice in my base-layers and have launched a base-layer brand, HHolderness with this in mind. The idea being you can transition from the slopes to the chalet in the same beautiful base-layers, one multi-functional outfit for all day on the slopes.
It's always nice to have a mat to practice your ski yoga but space is a premium whilst packing for ski holidays! A towel is a good alternative or even a travel mat. I provide my clients with the right equipment during my classes so they don't have to worry about squeezing anything extra into their suitcase.
This one by Jade Yoga is my go-to, it folds up nice and snugly without sacrificing amazing grip so you're not sliding around on your mat.
Other than that, all you need is time! Holidays in the Alps can be so jam packed, it's hard to take a moment for yourself to practice ski yoga, but when you do you'll be so happy you carved the time out (and so will your sore muscles).

Are there any yoga events in the Alps you would recommend?
Henrietta: Les Arcs Feel Good Village: Towards the end of each winter season, Les Arcs host a wellness event at the top of the Aiguille Rouge which is over 3000m above sea level. It's an amazing outdoor yoga event with incredible views of the Mont Blanc.
Folie Douce: The famous collection of mountain restaurants and après bars often have apres ski yoga sessions (Snowga) throughout the winter, they've yet to be announced this year, but keep your eyes peeled.
Yoyosno: If you're looking to really dive into yoga for skiing, why not take the leap and try a full week yoga retreat in the Alps? Yoyosno host 2 throughout the winter in the beautiful Morzine, which have daily yoga and skiing classes.
A Few Questions with Victoria Geddes
Victoria Geddes is based in Val d'Isere and offers a range of different types of yoga and mediation to help strengthen your ski ability whilst offering deep relaxation techniques after a hard day on the slopes.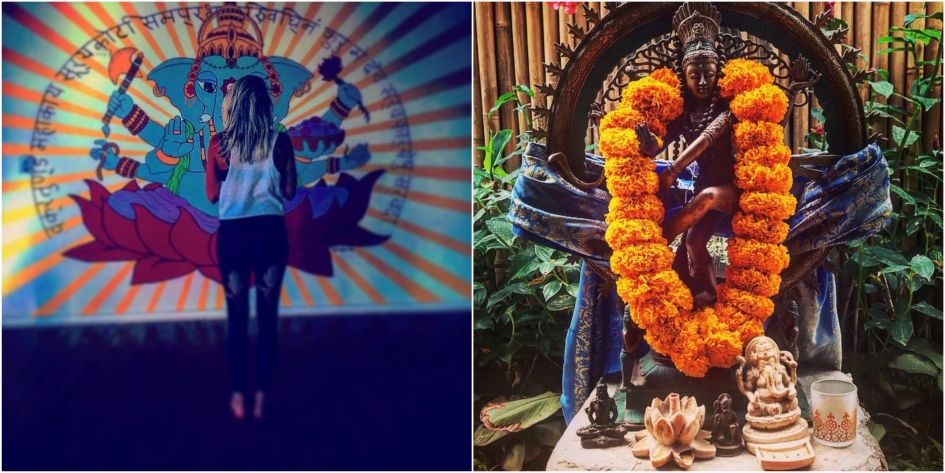 What types of mindfulness and yoga classes do you offer and who are they best suited to?
Victoria: I teach traditional Hatha Yoga. A medicine for the modern mind, a deep challenging and nourishing asana practice. Creating stability and calm for both the body and mind. Guiding your awareness inwards, allowing you to reside in a pure stillness, your most auspicious self.
I also offer a Restorative Hatha Practice. A much slower practice to reset the body and focus on the deeper muscles and fascia. Restorative in nature it also aligns our subtle and energetic body.
Finally I offer Yoga Nidra, a practice that dates back to the ancient ages. It is a practice focusing on deep rest, which allows the physical body to slumber while the mind is guided to experience the depth of who you are and the vastness of possibilities that are innately yours.
Yoga is an opportunity to better understand ourselves and our true Dharma 'Life Purpose' To live mindfully with compassion and love, both on and off the mat. Yoga is a transformative practice, yoga is suited to all.
Where do your yoga sessions take place?
Victoria: I am based in the wonderful resort of Val d'Isere, in the French Alps. I offer private yoga sessions to guests, in the comfort of their own private luxury ski chalets. I will provide the very high standard Jade and Manduka mats, along with any further props you may need for the session.
I hope this will grow into a larger ski yoga community in Val d'Isere where I will be able to offer public classes in the right warm and welcoming space, offering community events such as Kirtan.

Can you talk us through a typical yoga session with Victoria Geddes?
Victoria: The class starts by creating a safe space where you can connect to your inner weather, your internal landscape. How are you feeling, how are you breathing, in this moment? Taking the first few moments to centre and relax into the practice.
The session is built around the tradition of my yoga lineage, following my teachers knowledge of Vinyasa Krama which means 'wise progression'. The practice touches on the physical, energetics, mental and spiritual, evolving throughout the class, so we can be guided towards a universal consciousness and living our most auspicious life.
Its important to understand Asana is not Yoga. It's an aspect of yoga. However the point of yoga is not to do the biggest backbend, but to live all aspects of yoga and to live it well. Feeling good for the duration of the class is great but to take that feeling and knowledge into your day to day life is the intention. Asana of course has its benefits but my sessions will also include Pranayama, the shaping of the breath and finish with a short Meditation.
Finishing with an optional Ayurvedic tea to seal the practice, offering an opportunity to answer any questions guests may have or just to connect with a like minded soul!
Does mindfulness and yoga help your skiing ability?
Victoria: There is readily available research now which shows the benefits of ski yoga and a meditation practice.
Thinking about just the physical body, ski yoga benefits the strengthening of the muscles and the relaxing of the fascia.Yoga allows us to cultivate more stability in our body and body awareness as we move through Asanas. This of course can help with ski ability in all its physical aspects. Understanding better your alignment during skiing gives way to an optimal skiing position and better execution of skills. If you hold chair pose everyday, you will be well prepared for a day on the slopes! Legs are important but yoga opens the whole body, core is key also, supporting balance on skis.
Just as Asana can build strength and can create a strong physical body for skiing, it can also offer the opportunity for a deep relaxation. A restorative class after a day on the slopes can relax the fascia and aid in muscle recovery. A lot of our tension and stress arises in the hips, and a restorative flow can help us release this tension and give us a wider range of mobility on our skis.

What training and experience have you had to become to teach yoga and mindfulness in the Alps and why did you choose Val d'Isere?
Victoria: Val d'Isere has been my home for the last 4 years. I travel with my family between France and Australia, to the ski town of Thredbo. In Australia I found my connection to yoga. I'm very fortunate and grateful to be able to travel to the 'Island of Gods' Bali, either side of our seasons. Here Traditional Hatha Yoga found me and I found my wonderful inspiring teachers.
I completed my yoga teacher training at The Practice, Canggu, Bali. My study continued there and I complete a further 100hr training in Ayurveda and yoga. My passion for self study draws me to pre-natal and post-natal yoga in the impending future.
I have been teaching in Australia, at the Jindabyne Yoga Shala and continue to share my passion here in Val d'Isere this winter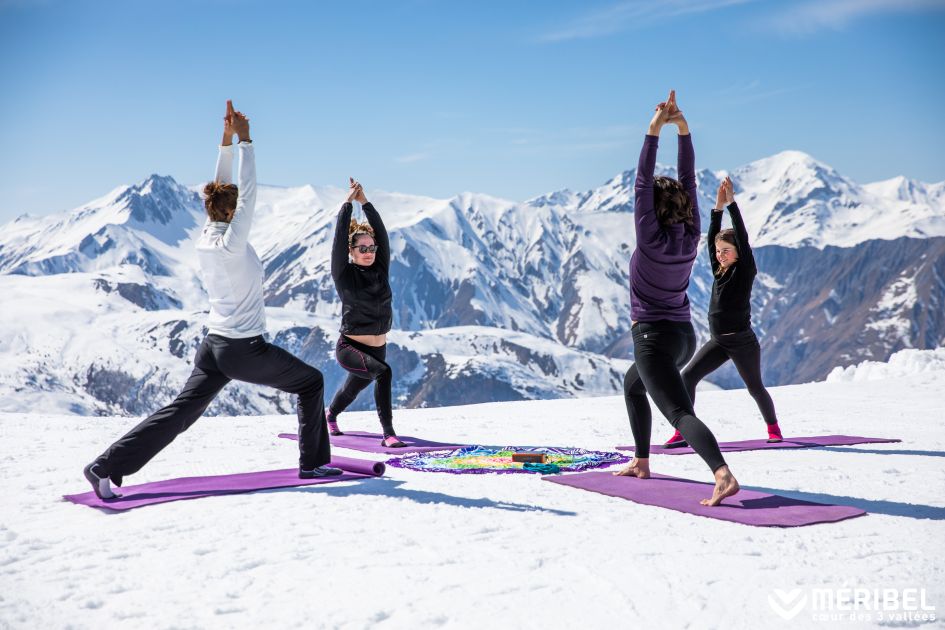 If you are interested in booking in some yoga sessions on your luxury ski holiday then please do get in touch with Henrietta Holderness or Victoria Geddes and they will be happy to help you to keep yourself in tact.
For more information on how to prepare yourself for pre-ski holiday yoga, then take a look at our sister brand, Ski In Luxury's collaboration with Champney's on 'Getting your Body Ready for the Ski Season'.

Alternatively, if you are looking for more than to align yourself with better ski and yoga practices, but to find somewhere you can practice yoga and mindfulness in the comfort of your alpine home, then please do get in touch with the sales team here at Ultimate Luxury Chalets: +44 1202 203653 or send us an email. We would love to help you to align yourself with the perfect luxury ski chalet.