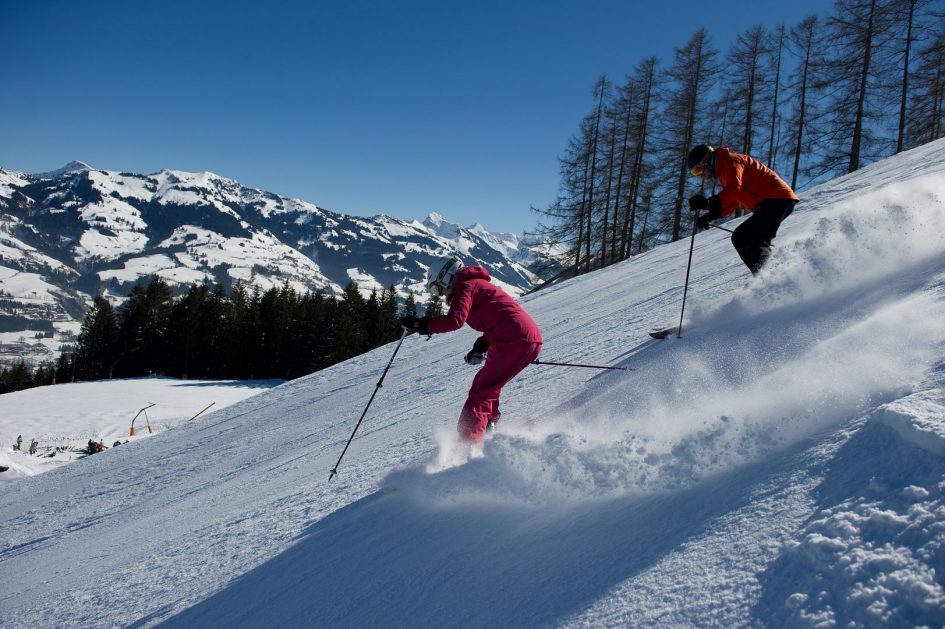 In my honest opinion, I think every run in the Alps can offer something to the different range of skiers on it. However, if you are an advanced skier looking for new thrills, bigger challenges and something to brag about at the end of your holiday, you may need to take a look at some of the best ski runs offered across the Alps. From former World Cup pistes to some of the world's hardest black runs, the slopes in this blog have to be added to your bucket list of runs!
If you're after ultimate runs in ultimate resorts then you will obviously need an ultimate luxury chalet to stay in. Combining these three things into your holiday plans will make a truly memorable skiing experience for you and your family. Although, you will be certain to remember these runs for one reason or another, we just hope it's not for an epic wipe out! Either way, there is a glass of your favourite tipple to celebrate your achievement upon returning to your luxury ski chalet, that's for sure!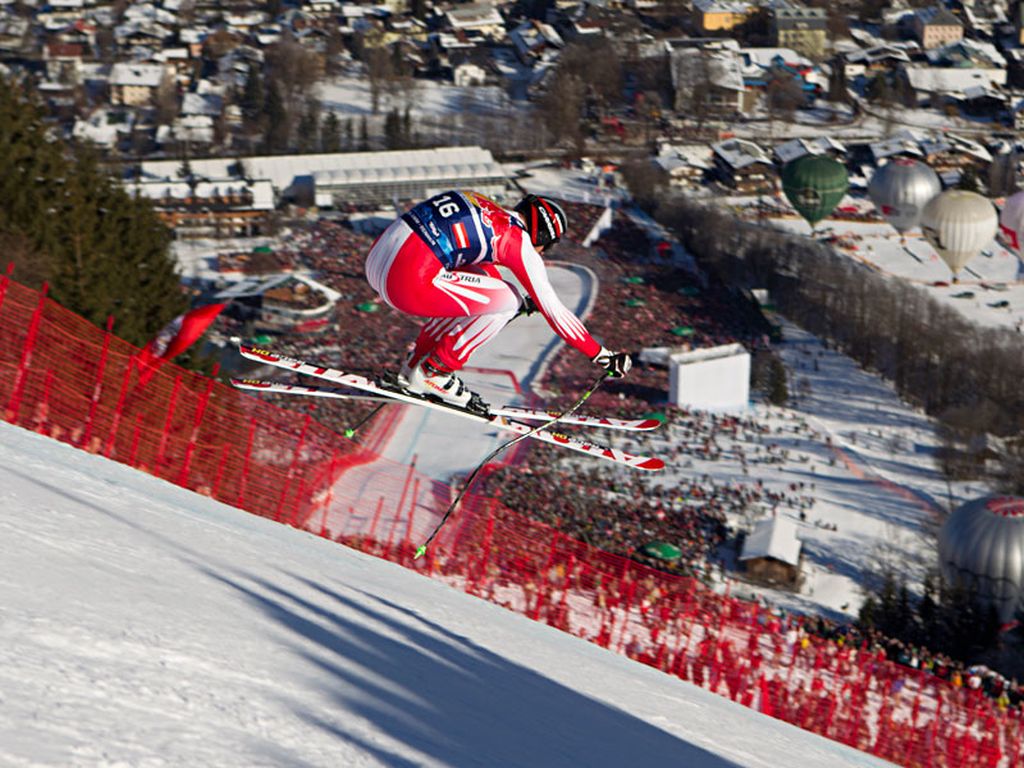 Perhaps the perfect option for testing your speed! The Streif is the official piste name for The Hahnenkamm Race, one of the most challenging downhill competition slopes in the world. Races have been taking place here since 1931 but out of competition season anyone can give the run a go.
For the expert skiers you can start at the summit station opposite the Hahnenkamm cable car and challenge the steep icy terrain of the famous Mausefall, Steilhang and Hausbergkante sections. However, if the kids want to say they have done it too, they can complete the Family Streif which avoids the extreme sections and follows the "Red 21 piste".
Fast Facts
Elevation Drop – Start Elevation of 1,665m (5,463ft) End Elevation of 805m (2,641ft).
Steepest Gradient – Maximum gradient of 85%
Distance Covered- 3.312km (2.06m)
Average Speed – Competitors average speed of 103kmh
Streif Champion – With 5 wins Didier Cuche (Switzerland)
Record Time – Fritz 'The Cat' Strobl on January 25th 1997 with a time of 1m 51.58s.
Kitzbuhel ski resort is an ideal destination for the avid skier, having 179km of pistes ranging for all abilities and amazing freeride possibilities. The village sits at the foot of the impressive Hahnenkamm mountain from which the famous event takes its name.
What better place to stay in Kitzbuhel than Hahnenkamm Lodge? The ski in ski out chalet sits on the Streif run itself, what better way to experience the Streif than using it to ski to your door! The chalet accommodates up to 12 people and offers a fantastic fitness area and wellness zone giving any expert skier the best preparation and recuperation facilities for their adrenaline holiday… not forgetting there is also a bar! This is a great place to grab a drink and then go and sit in front of the roaring fire pit on the large terrace which enjoys panoramic views of The Streif and resort below.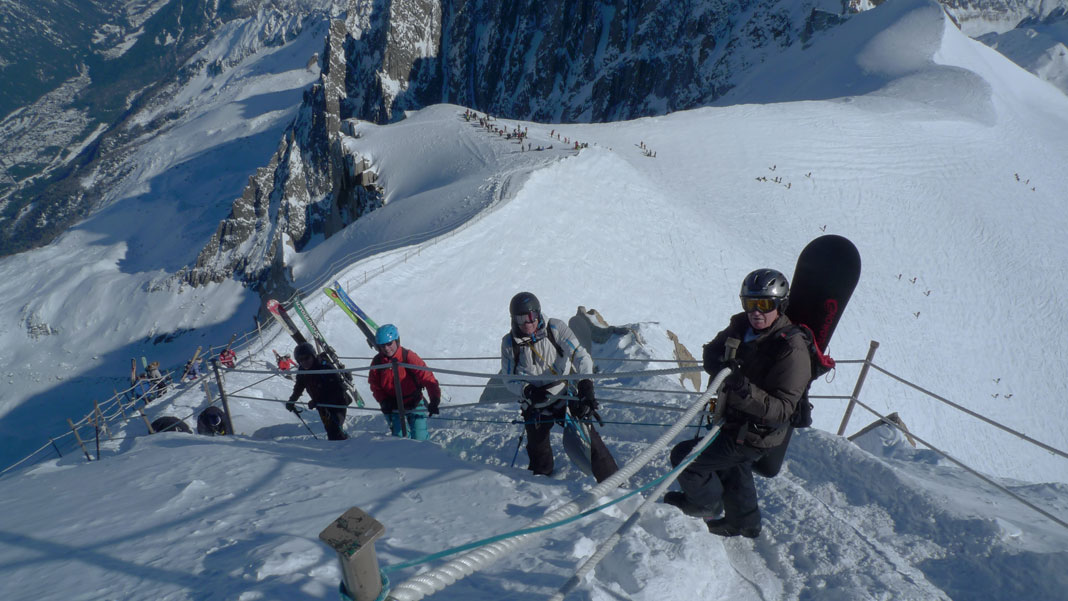 Are you looking for a great off piste trail? Why not choose the Vallée Blanche in Chamonix? This trail from the top of the Aiguille du Midi is one of the most popular off piste runs in the world and for very obvious reasons. The Vallée Blanche is one of the most famous ski runs in Chamonix and it is one of the most scenic pistes in the Alps.
Although having to hang onto a fixed rope to get to the start of the run, the run itself is quite a gentle affair- a good run for any confident intermediate skiers. The piste includes ungroomed snow, narrow crevasses, glacier skiing and of course moguls. It's the perfect place to test your collection of skills.
Fast Facts
Elevation Drop – Start Elevation of 3,840m. End Elevation of 1050m in Chamonix.
Distance Covered – 20km (12.75miles)
Descent Time – Full descent can take 4-5 hours.
Busy and Quiet times – Busy- Weekends in Feb. & March where up to 2500 people do it per day. Quiet- Early and mid-week Jan. & April.
Patrolled? – Unsecured piste, unmarked and unpatrolled
A place to stop? – Grab a quick bite at the Requin Hut (2,516m)
With four large ski areas, the Chamonix valley welcomes ski enthusiasts from all over the world. With such a range in terrain the valley is the perfect place to come and test your skiing abilities and have an exciting and intense skiing holiday.
The ultimate ski chalet in Chamonix to stay in for your adrenaline packed ski holiday would be the brilliant Chalet Dalmore. Chalet Dalmore's great location in the centre of the Chamonix Valley means you can take your pick of the different ski areas. Don't worry, after a long day you won't have to walk into town to find a good meal or drink as this luxury chalet includes full gourmet catering and and an complimentary drinks. Why not take a dip in the lovely outdoor pool afterwards? Perfection.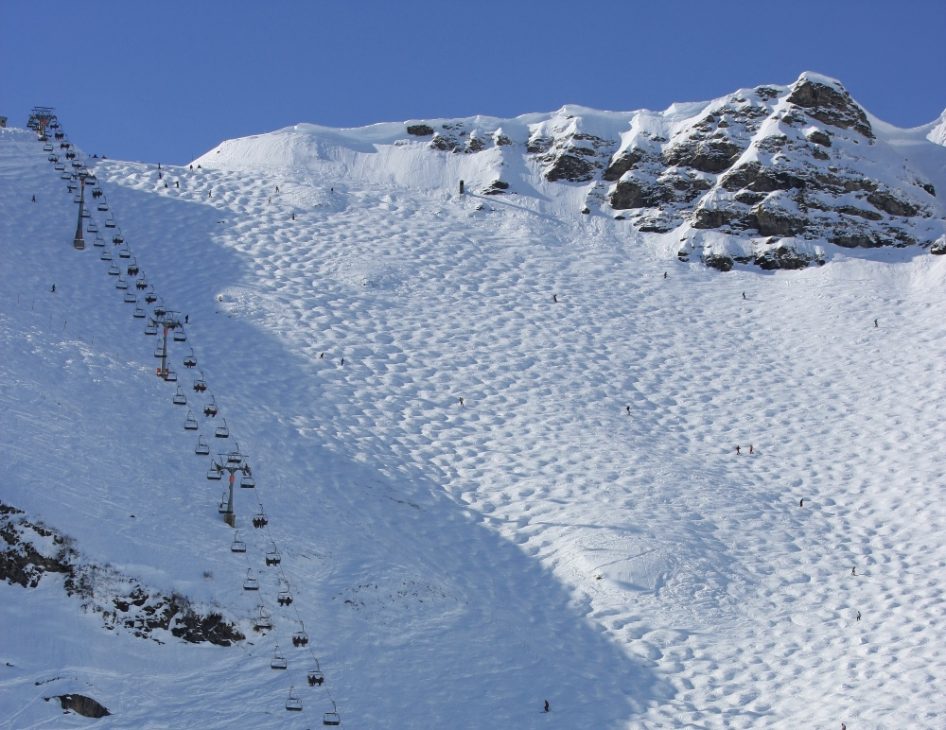 Have a go at one of the world's most difficult pistes in the world. La Pas de Chavanette, better know as "The Swiss Wall" is a particularly steep and difficult black run on the border of France and Switzerland in the Portes du Soleil region. In fact, the slope has been classified as orange in the Swiss/French difficulty rating as it is said to be too difficult to fit in the standard classification.
Skiers will be faced with a maze of moguls the size of Mini Coopers, a steep inclination of 40 degrees and some very narrow sections. The treacherous "Wall" will be a challenge for even the very experienced skier.
Fast Facts
Elevation Drop – Start Elevation of 2,151m End Elevation of 1, 818m.
Gradient – 84% or 40 degrees
Distance Covered – 1km
Fear Factor – The top of the run is so steep that you can't see the face of the slope when standing at the top.
Too easy? – If this isn't enough of a challenge then spend a day on the circuit covering most of the Swiss and some of the French resorts in the Portes du Soleil and includes the infamous "wall"
If you are looking to stay in the Portes du Soleil, then you won't go far wrong with the fabulous resort of Morzine. You can get full access to the whole ski area which covers both areas in France and Switzerland offering 650km of pisted skiing making it the biggest international ski area in the world!
Look no further for a luxury chalet in Morzine than Chalet Twenty26. As a beautiful ski chalet with a swimming pool, cinema room and outdoor hot tub, there is lots of fun to be had here after a long day on the slopes.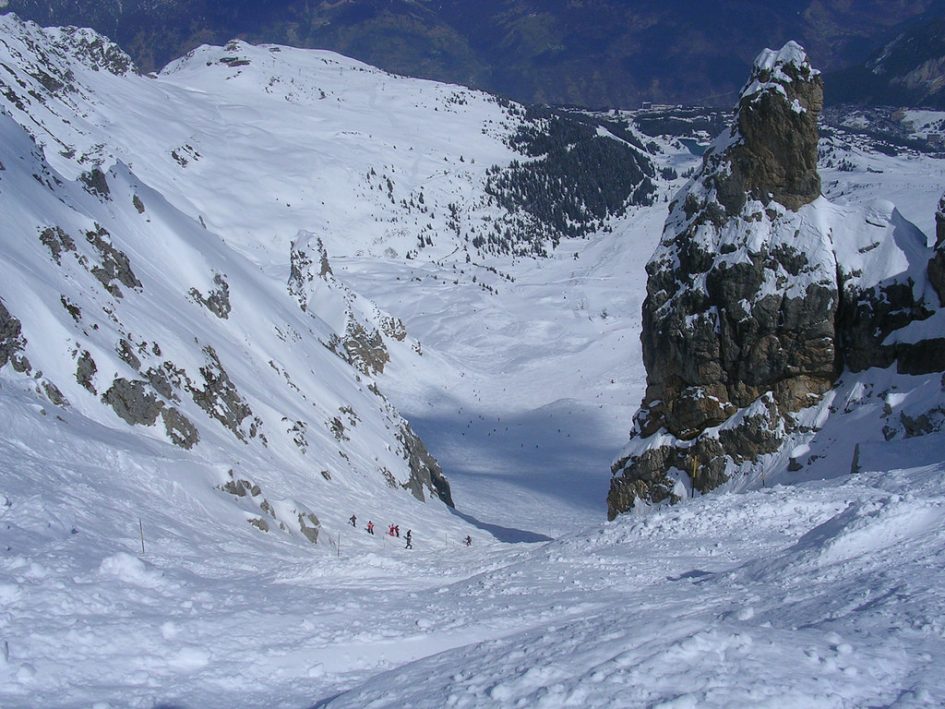 Time to go test your new gear out on one of the three Couloirs that sit proudly above the Courchevel bowl. The Grand Couloir is perhaps the easiest of the three but unless you want to brave some extreme off piste terrain, this Couloir is your best bet.
Arguably one of the best black runs in the 3 Vallées, the Grand Couloir commences with a really narrow path to test your nerves, followed by a leap of faith into shallow bowl with enormous bumps. If there has been a low snowfall before you attempt it, be prepared for an even harder descent.
Fast Facts
Elevation Drop – Start Elevation of 2,700m End Elevation of 2, 350m.
Altitude Change – 350m
Slope Gradient – 85% Max
Distance Covered – 900m
Fear Features – Narrow path to get onto it, massive moguls and difficult snow conditions.
Courchevel is internationally renowned for being an ultimate ski resort and it certainly offers ultimate skiing. The Three Valleys is the biggest interconnected ski area in the world, covering an area of 600km and with more than 85% of the ski area situated above 1,800m there is a good chance that you will get great snow conditions too.
Why not choose to stay in the fabulous chalet that is La Grande Roche? This luxury chalet in Courchevel 1850 offers amazing facilities for you to enjoy after hitting the hills hard in the day. The swing over the indoor swimming pool is my personal highlight.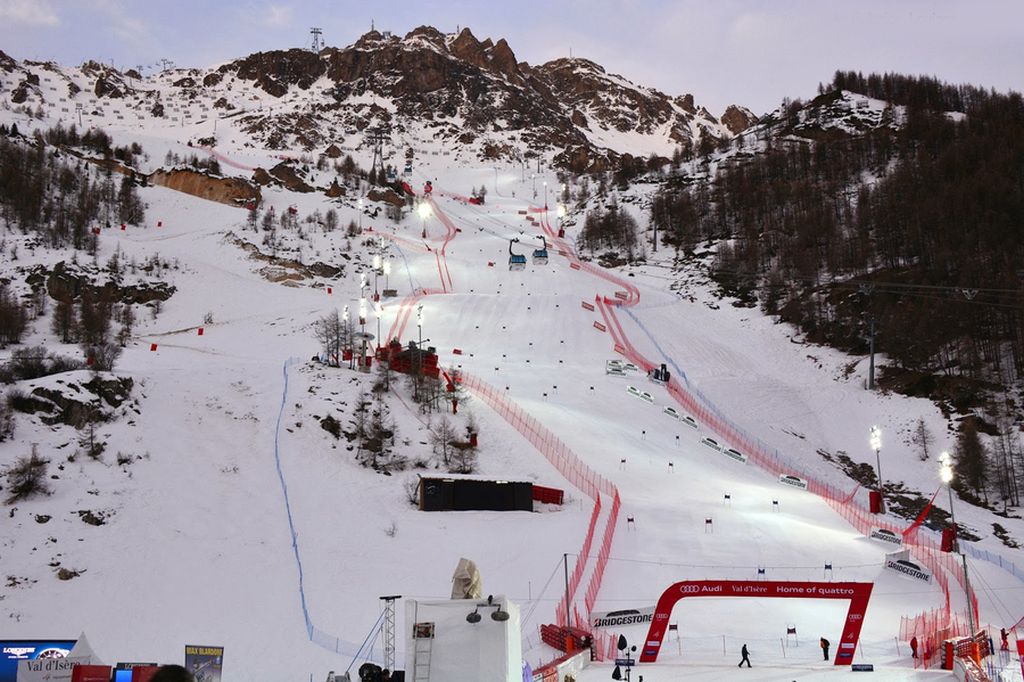 Ski in the footsteps of many world skiing champions on La Face de Bellevarde. La Face, for short, is one of the most iconic black pistes in the Alps hosting the Alpine World Cup every year, Le Criterium, the World Championship in 2009 and the Men's downhill in the 1992 Albertville Winter Olympics.
This run covers some steep terrain but without moguls and ice, La Face can be attempted by even the intermediate skier. However, when conditions are against you, being one of the longest runs in the Espace Killy the challenge can go on and on and cause your legs to burn.
Fast Facts
Elevation Drop – Start Elevation of 2,908m End Elevation of 1, 848m.
Altitude Change – 959m
Slope Gradient – 71% Max
Distance Covered – 2.998km
La Face Events – Le Criterium, World Cup Championships 2009 & Olympics 1992
Val d'Isere is part of the Espace Killy ski area which offers 300kms of a full range of pistes. With 26 black runs and two snow parks there is some great skiing for the advanced skier.
If you fancy giving Le face a go and you're looking for a luxury chalet in Val d'Isere, you should definitely think about staying in the unique Chalet Montana which is located at the bottom of the Face de Bellevarde itself. Picture yourself finishing Le Face, skiing practically to the front door of your chalet and within minutes easing your aching muscles in the chalets very own swimming pool with massage jets!
There we are- 5 of the best ski runs in 5 of the best ski resorts! Have you completed any of these runs already? Are you keen to add them to you bucket list? We will happily help you find a ski chalet to make sure you give them a go this winter. Give us call on +44 1202 203 653 or send us an email as we would love to help you plan your next ultimate ski holiday.