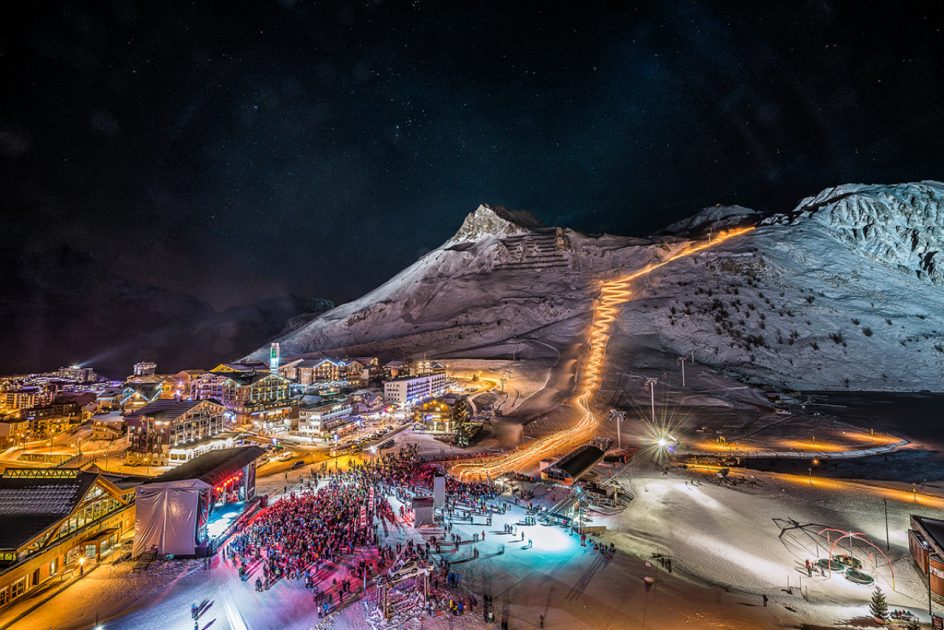 Tignes is renowned for having near year round skiing, a fantastic apres scene and for being historically a snow-sure resort. It's easy to see why so many are drawn to this amazing high altitude resort time and time again. This is both families and friend groups alike. For your next luxury winter ski holiday it would be daft to ignore the fantastic collection of luxury ski chalets in Tignes from your options.
In this blog, I have included our top luxury Tignes chalets and have even added a few teensy Tignes tips that I found in my time here, in December, to help you decide where best to stay! Why not take a little look to find out what the buzz is all about?

If you are looking for a touch of elegance and divine cuisine, then Chalet Opale is the one for you! Chalet Opale is a wonderful blend of the modern and contemporary and with its 5 fabulous double/twin en-suite rooms it is ideal for a group of up to 10 guests.
This luxury ski chalet is found in Tignes Le Lac itself which means it benefits from being within the hub of the Tignes ski area. The chalet is tucked away in an quiet enclave just a short stroll away from the piste edge, making it a great choice for the keen skier. Its elevated position also means you get to benefit from having amazing views across the resort, valley and the lake.
My Top Tignesy Tip
If you are looking for a luxury chalet for large groups in Tignes, then look no further! This chalet has a hidden door which links it to the wonderful Chalet Ambre, to accommodate up to 21 guests!
The other great benefit is that this chalet can be offered on a self-catered basis which is ideal for anyone wants to try the amazing restaurants in Tignes.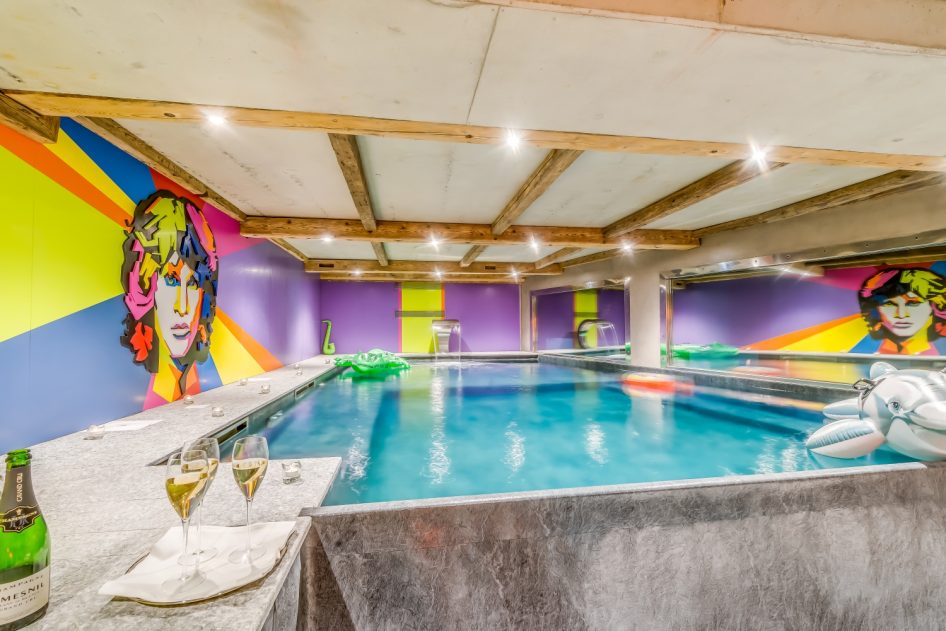 Chalet Rock n Love might just be the coolest family friendly ski chalet out there and definitely one that the kids (and teens!) will be begging to stay in! This is a Tignes luxury ski chalet with a difference!
This brilliant chalet comes with an abundance of entertainment facilities, not just a luxury chalet with a swimming pool. The chalet also has a games area, pool table (Mini Cooper converted table), outdoor hot tub and Jukebox, that we are sure the kids will love. There is also the hammam, gym and bar area that may be more to the grown up's tastes. Feel like a rock star and invite your friends and family for a one off truly unique skiing vacation!
My Top Tignesy Tip
If you can't normally get your kids to share a room while on holiday, you will have no difficulty here! The attic garage room is a fun and unique space where the children can choose to fight over sleeping in the Jeep or in one of the converted VW Camper vans.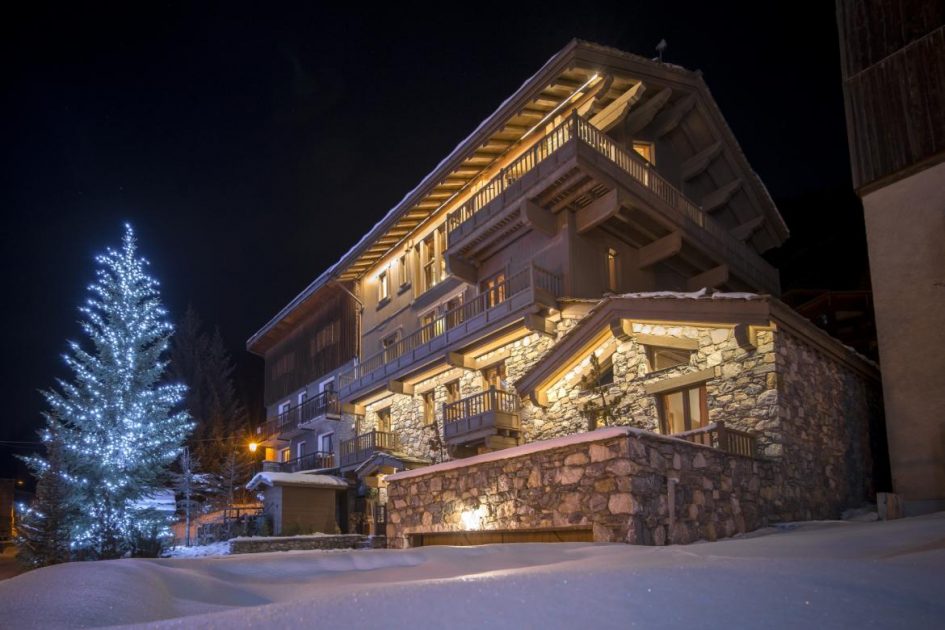 Tignes Les Brevieres is one of the oldest and most traditional of the five villages that makes up Tignes. If you are looking for a ski village with authenticity and charm, what better choice than staying in the heart of the village in Chalet de la Cloche?
Chalet de la Cloche can sleep up to 16 guests and if you are looking to be pampered and superbly well fed then this is the place for you. The chalet comes with an enviable spa area with swimming pool, steam room, sauna and hot tub, just perfect for after a long day enjoying the high altitude skiing in Tignes. Once completely thawed out and relaxed, head upstairs to your very own bar, where your wonderful chalet team can mix you your favourite cocktail whilst you wait for your gourmet dinner to be served!
My Top Tignesy Tip
If you have a member in your group with limited mobility then this disabled-friendly chalet will work a treat with its own lift running from top to bottom. The in-resort driver service makes it easy for them to meet up with the skiers during the day too!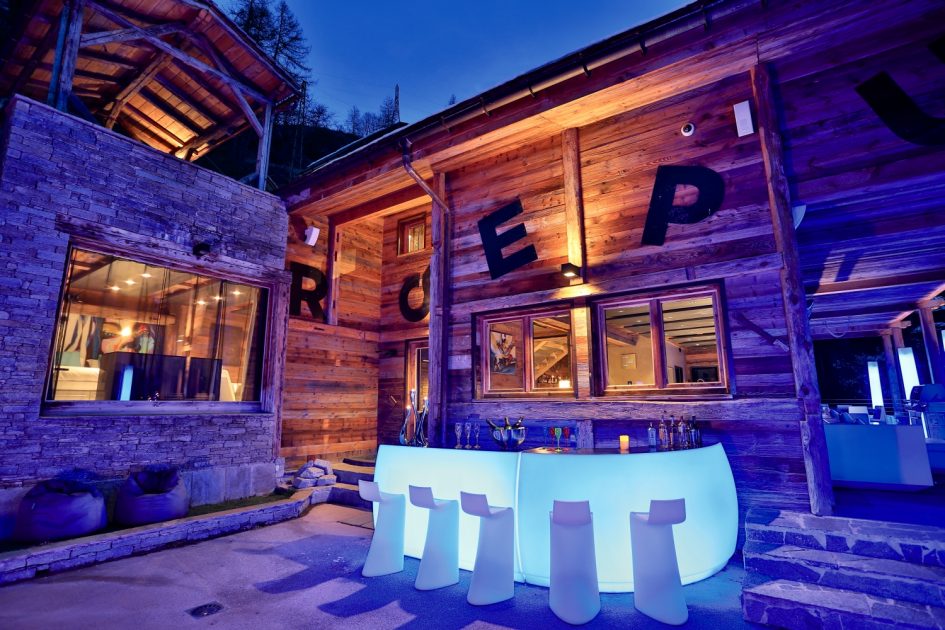 Chaet Quezac has been brilliantly designed by owner Guerlain Chicherit and comes with a lot of fun and imaginative quirks. The chalet can accommodate 12 adults and 4 children but with the vast living area in the chalet you definitely feel like you have more than your share of space. This includes a fantastic outdoor entertainment area. The heated terrace is just perfect for night in filled with fun and laughter for 'big kids'. This includes a internally lit bar, large jacuzzi, sound system and an old ski lift bubble car!
If the weather does turn for the worse, then no worries, the chalet comes with a fantastic indoor bar area, cinema screen, gym space and pool table. All of this can be enjoyed whilst your excellent team of staff prepare your delicious dinner.
My Top Tignesy Tip
It's not just a party pad at Chalet Quezac, the kids will love it too. The first challenge for them is to find the hidden kids den which has a strictly no parents allowed rule! (Hint – you need to find the entrance hidden behind one of the classic motorbikes and then crawl to enter!)
So there we have it, my top advice for luxury ski chalets in Tignes. If you would like to explore the Espace Killy ski area this winter then why not consider staying in the luxury ski resort of Tignes this time around? If you have read this blog and have a favourite chalet or if you want to enquire about a number of the best luxury chalets then get in touch. We'd love to discuss your options in more detail. You can call us on +44 (0) 1202 203 653 or alternatively send us an email.