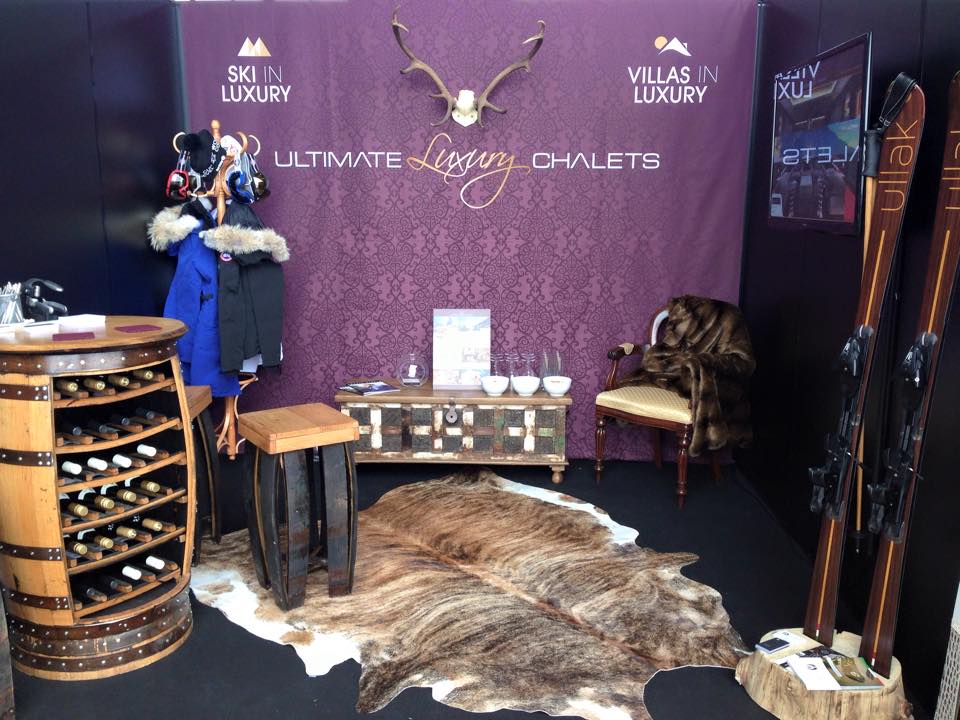 The Ultimate Luxury Chalets team have just returned from exhibiting at the exclusive 'The Elite London' event at Rizonjet UK! Owned by Formula 1s Bernie Ecclestone himself, the Rizonjet welcomed over 100 luxury lifestyle brands including Super cars and Yachts, Helicopters, fashion & jewellery lines, exclusive furniture & artwork, vintage Motorbikes and not forgetting the only luxury Ski Travel Agency of course!….
We set off from Bournemouth to Kent nice and early on the Thursday allowing plenty of time to set up our 3×3 metre stand ready for the following two days. After a little help from some contractors to get our TV mounted on the wall and feature wine barrel rolled into pride of place, we were ready for the public!
It was a proud moment for the team and our little stand looked fantastic. Unlike some of the more standard, corporate looking stands, ours was decked out in a true chalet style theme complete with fur throw, cow skin rug, ski equipment and of course plenty of red wine!
Our position meant we were able to look right out of the hanger onto the forecourt which by the time Friday arrived, was adorned with only the finest Super cars, Helicopters and private Jets on the market. A giant playground for the rich and famous!
We met some great characters across the two days including a healthy number of ski and snowboard enthusiasts who appreciated the effort that had gone into bringing the ultimate chalet experience to life at The Elite London!
The plasma TV provided a continuing show reel of our top 100 and guests were able to sit with us over a glass of red wine comparing stories on favourite Countries to ski, the best time to catch winter deals and hear all about our trips out to resort.
Our Italian custom made Ullak skis, Canada Goose Jackets and Vuarnet goggles also drew in the crowds perfectly!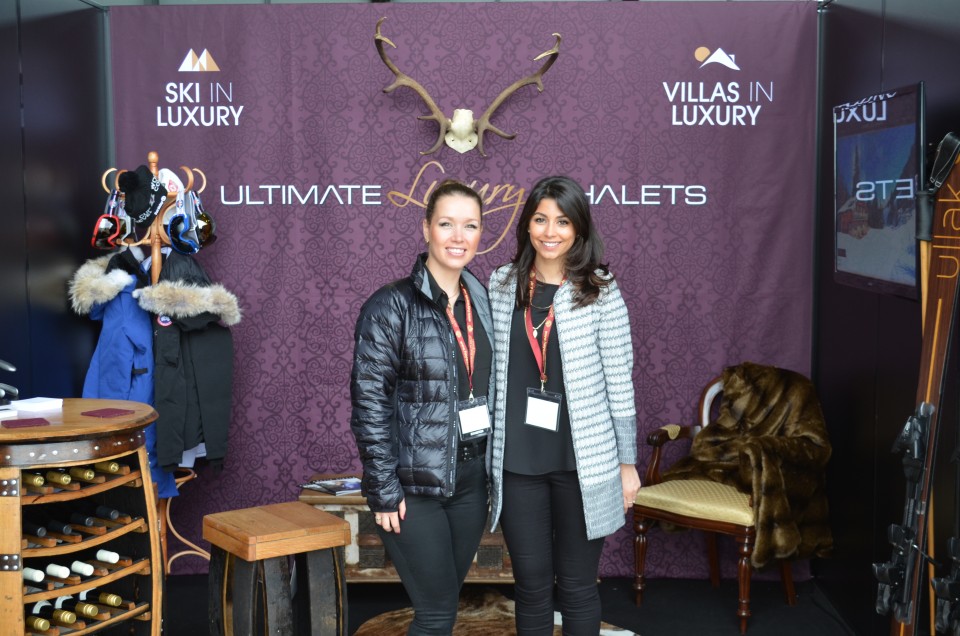 Everyone passing our stand was given the opportunity to enter our competition with the chance to win their own Ultimate Luxury Chalet experience in Chalet Le Grand Joux. This went down extremely well and we lost count of the number of times people tried to bribe us into letting them win!
All three of us enjoy our cars (who wouldn't in this environment?) and were lucky enough to sit in some absolute screams including the latest Rolls Royce, Ferrari, Maserati and Khan's pimped out Range Rovers. We were even lucky enough to test drive the Eco-friendly power house that is the Tesla, hitting 0-60mph in just 4.2 seconds – It actually felt like we were taking off in one of the private jets rather than driving a battery charged electrical car!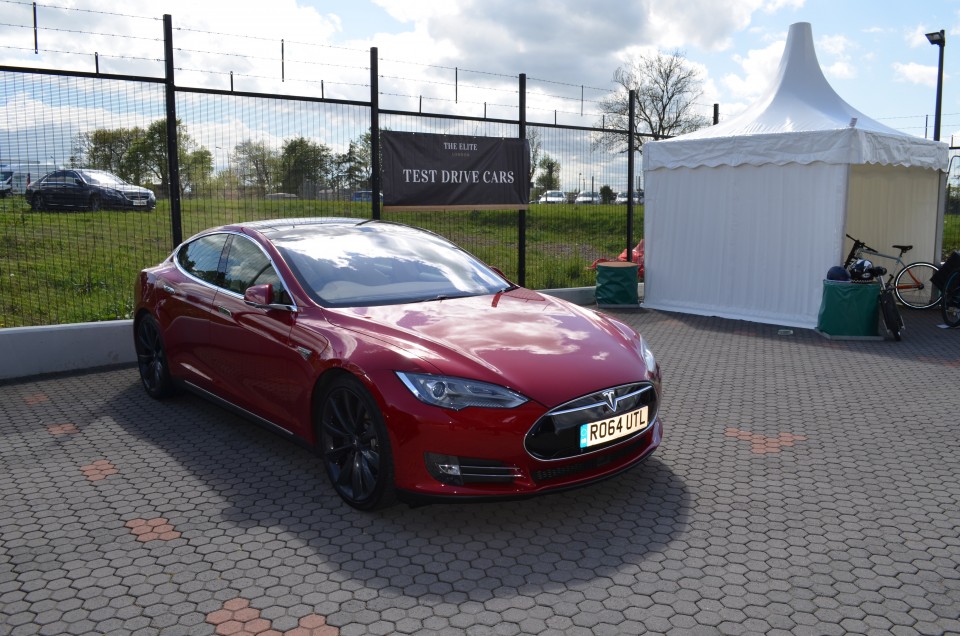 The Spitfire flew on both Friday and Saturday which was great fun and especially poignant given the 70th anniversary commemorations of VE day. To view the Spitfire in action just click here.
One exhibitor that we were keen to meet was Bodycarver, a ski and snowboard specific fitness trainer designed by Olympic skier Tim Dudgeon. At first glance it looked like a skateboard on a treadmill with a TV screen above (to put it bluntly), however Tim and the GB girls showcasing the machine were kind enough to let us have a go and it is definitely harder than it looks! Once we got the rhythm of the machine, Tim had us simulating our stance on the slopes and we were all impressed with how quickly our inner thighs were burning!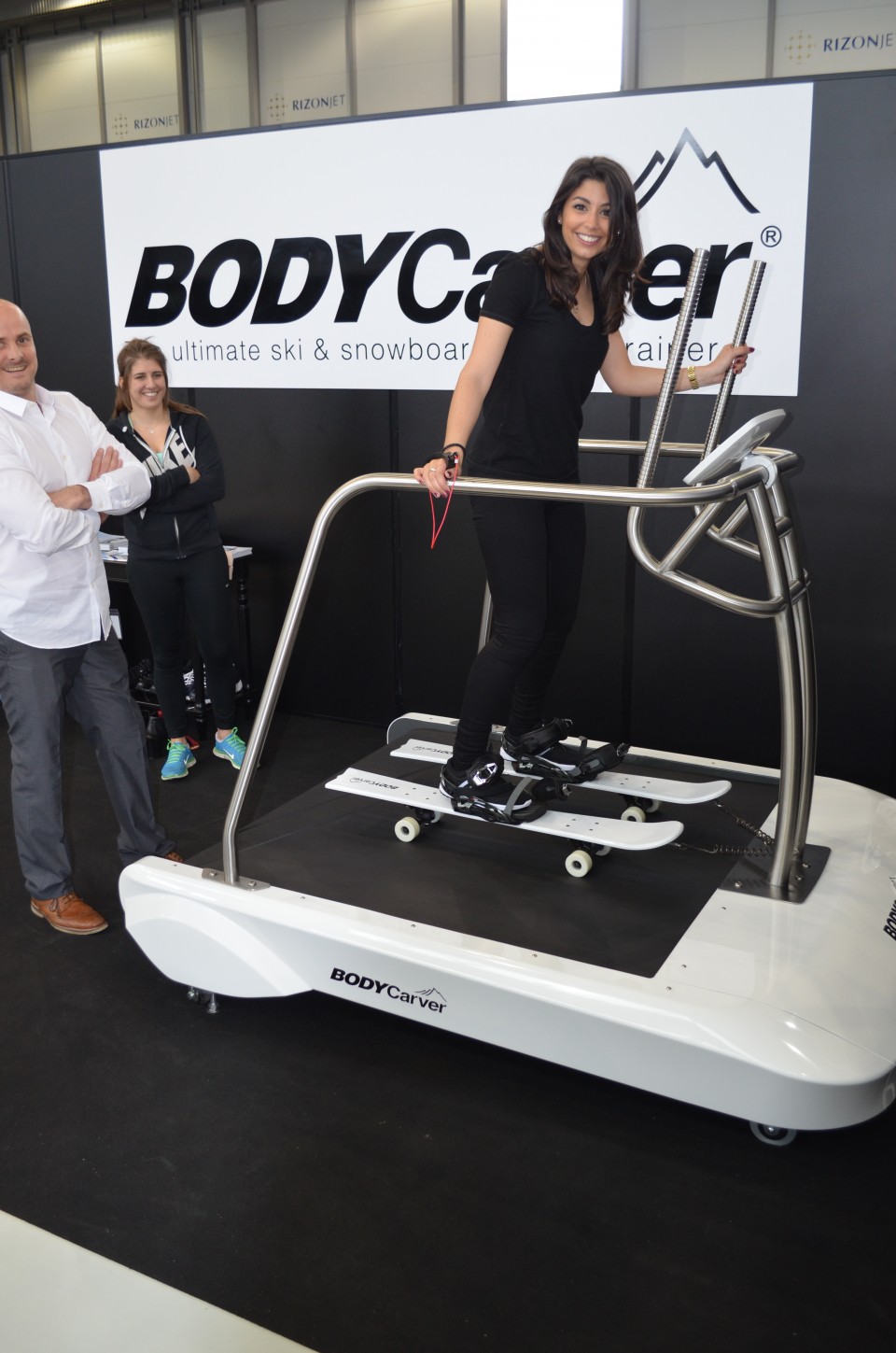 A great fitness tool for the Winter enthusiast and one that we enjoyed so much, we will be blogging about it again soon so keep an eye out.
The highlight of the weekend for us all was being able to sit in none other than Bruce Dickinson from Iron Maiden's private Jet, we couldn't believe it. A huge thanks to Eclipse Aerospace for giving us the grand tour of the World's most fuel efficient 5-seater plane!
It is safe to say we were exhausted after two days of standing on our feet and socialising, coupled with the red wine that of course we had to drink to provide guests with a true chalet experience *cough* *cough*…
We did however thoroughly enjoy ourselves and are partnering with the same event organiser later this month at the AeroExpo UK on 29th-31st May! Why not come down to meet the team and also witness 850 private aircraft's flying into Sywell Aerodrome? You will find us in the Lifestyle section!