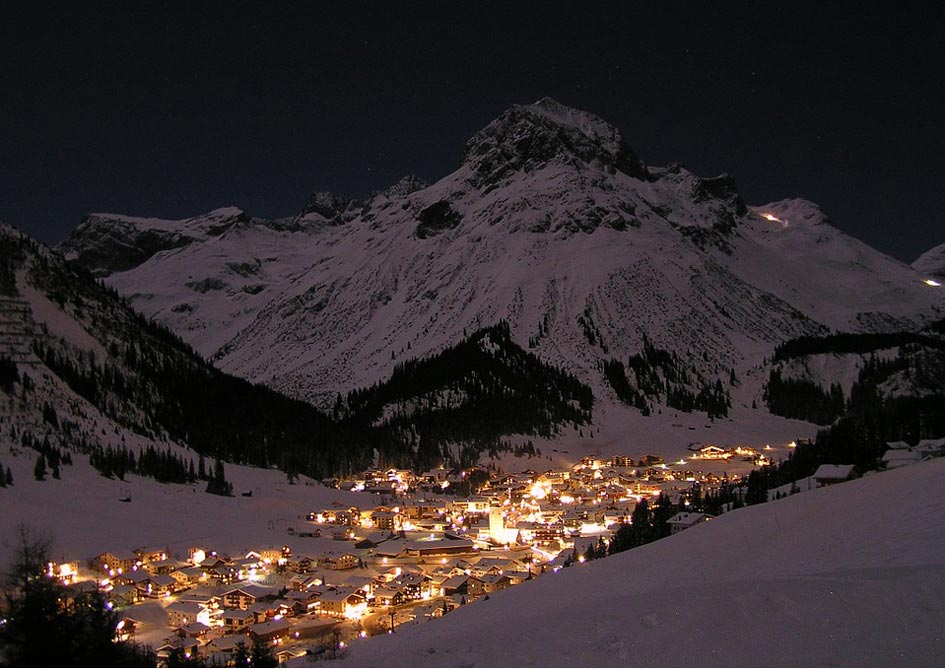 Welcome to Lech; the stylish and sophisticated sister of St. Anton. This all-round 5* ski resort has much to rival its popular and better known neighbour. In the heart of the Arlberg, now the largest connected ski area in Austria and one of the top 5 ski regions in the world, a ski holiday to Lech will satisfy even the most adventurous skiers and has runs for all abilities to enjoy… plus Lech is home to some of the most luxurious chalets in the area. This Lech resort guide takes you through it all.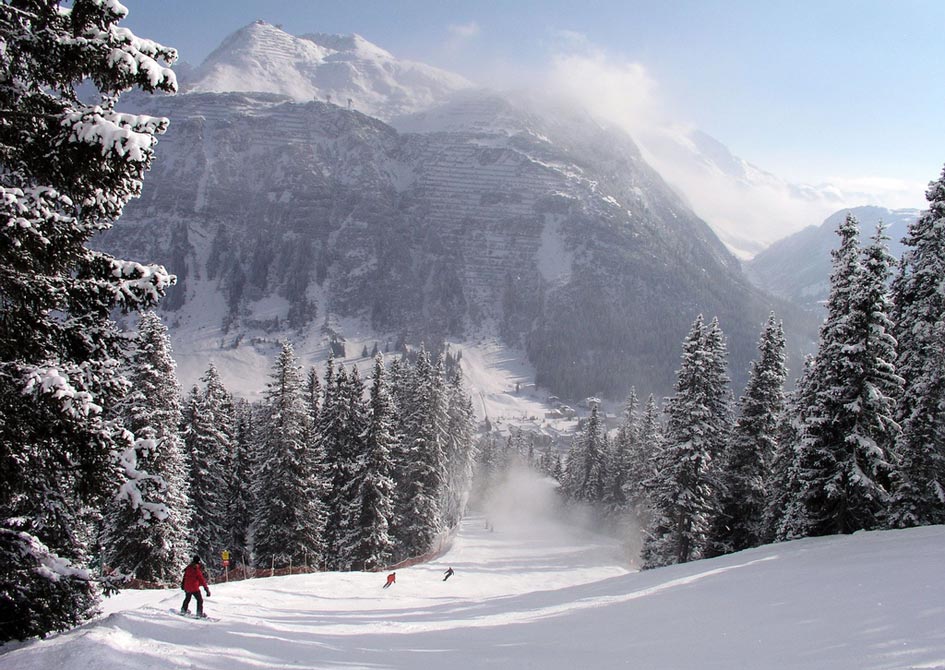 What is skiing like in Lech?
Skiing in Lech is one of the better places in the Arlberg area for mixed abilities, with a nest of blues and reds just one lift away from the centre of Lech. For beginners skiing in Lech, the Schlegelkopf can take you halfway up the mountain to wide-tree lined pistes, and if you plan your route thoughtfully you can wind back through Oberlech and enjoy a gluhwein at the Burg Ice Bar on your way. For the more adventurous, you could reach new heights at the peak of Zuger Hochlicht with blue runs leading back down the left of the mountain.
For more advanced skiers in Lech, the whole Arlberg region is your oyster! There's enough skiing to not ski the same piste twice, even after a couple of visits! With an early start, you can make your way to St. Anton, either by driving or lifts, and ski back through Stuben & Zurs, and finish with a short drive back to Lech in time for the apres. Alternatively, for the very enthusiastic skiers, you can attempt the Run of Fame, an 85km circuit running through the entire cradle of Arlberg.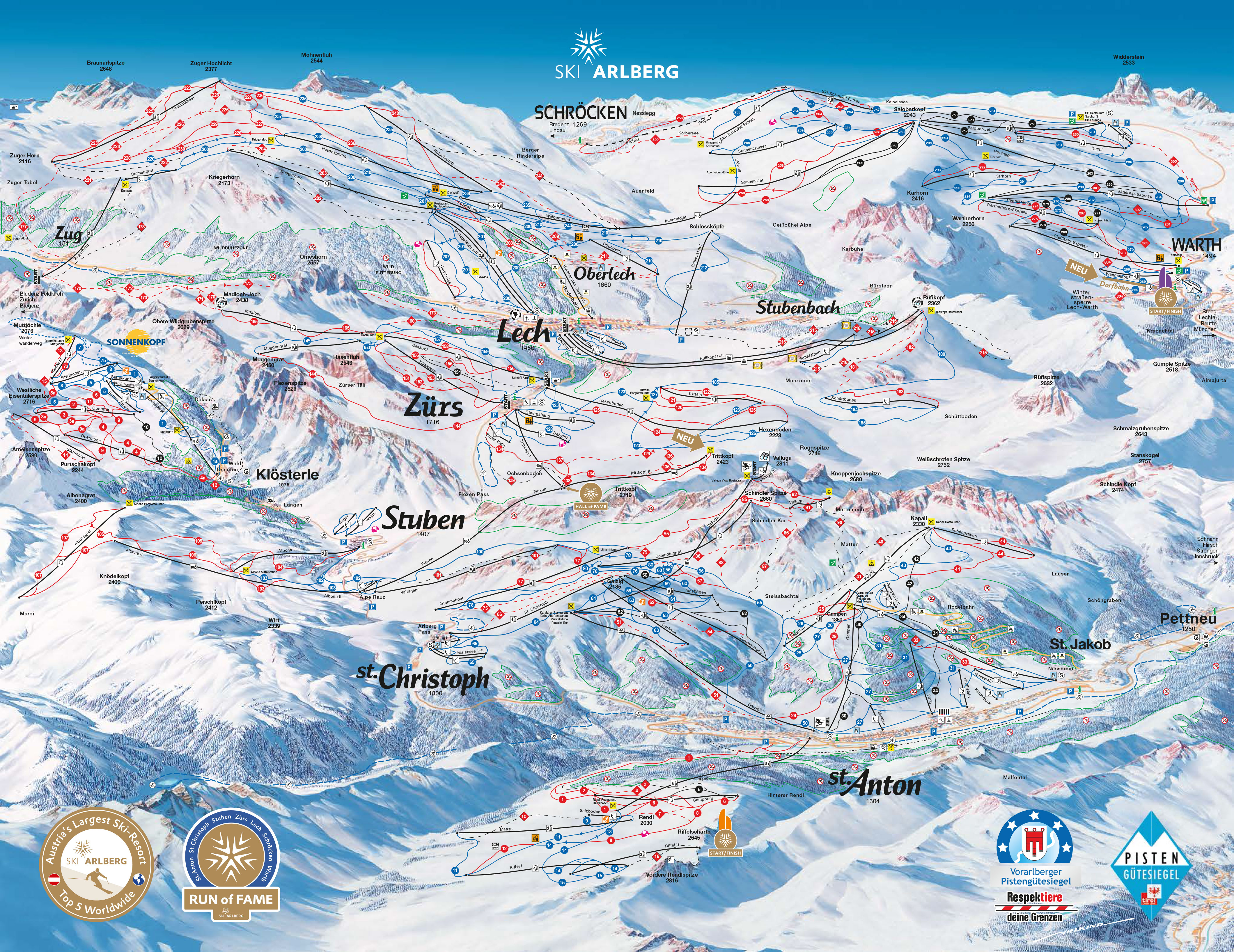 Lech's guide to eating out
With the multitude of interconnected lifts and pistes, comes an outstanding array of mountain eateries and even more award-winning gourmet restaurants in resort.
Skihütte WOLF – Begin the day with a hot chocolate and cake or soup at Skihütte WOLF. A contemporary building at the top of Petersboden serving sweet treats, coffees, and healthy lunches to fuel your day.
Balmalp – At 2,100 m Balmalp is a well-deserved pit-stop. This 360, three-story restaurant has stunning views out across the mountains. Serving wood-fired pizzas, salads and pastas, and with an outdoor bar blasting apres music, it's the perfect place to warm up.
Auenfelde Hutte – You can head across the Auenfeldjet gondola and ski over to Saloberkopf for one of the most traditional Austrian experiences you'll ever have. Picture lederhosen, apple strudel and bratwurst all under one roof at Atauenfelde Hutte.
Fux – At the bottom of the home piste, you'll find the avant-garde Fux, a Euro-Asian restaurant, jazz-bar & lounge, where the food is as exquisite as the views from the floor to ceiling windows.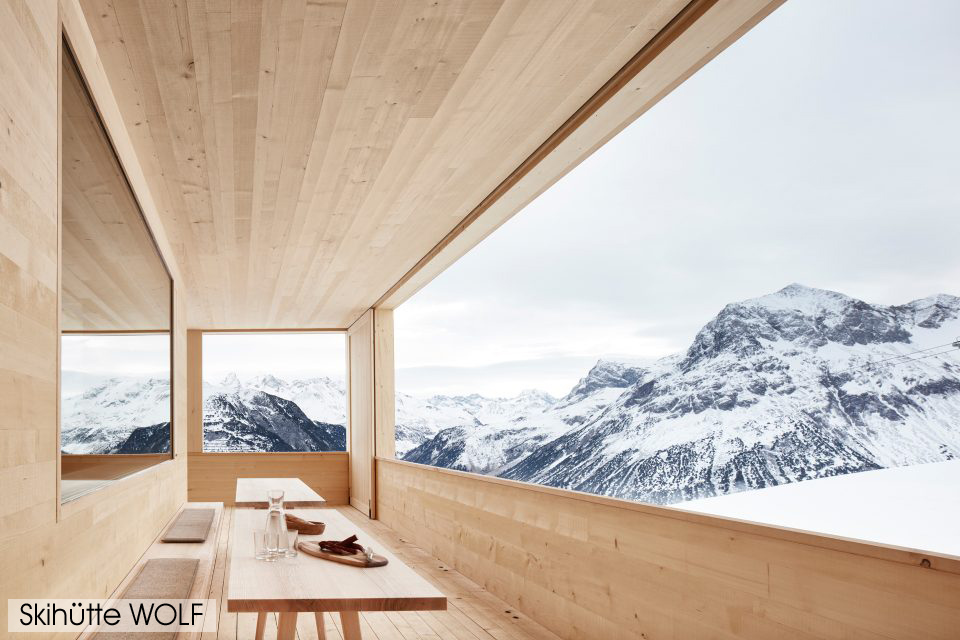 Lech apres ski
Heading back down the mountain it's time to hits the apres… if you didn't already start at lunch. If there is one thing Lech does well it's om-pah-pah discos and cigar bars!
Burg Ice Bar – First on the list is Burg Ice Bar in Oberlech. The pistes have widened up, so no need to worry about wobbly apres legs for the rest of the journey down. This is the largest outdoor bar in Oberlech, and it's the place to be for cheesy Austrian apres music.
Archiv Bar – Next to the Rüfibahn on the Rüfipassage, Archiv Bar is at the very bottom of the slope, so you can, if you're lucky, ski straight to the door with very little effort at all…It would be rude not to stop in! This funky-chic bar is perfect for a warming glass of wine.
Krone Snow Bar – Straight off the slopes and across the river, Krone's outdoor snow-bar beckons you in with its music and lively atmosphere. With an abundance of fur blankets, champagne, and Jager it will get your apres spirit flowing.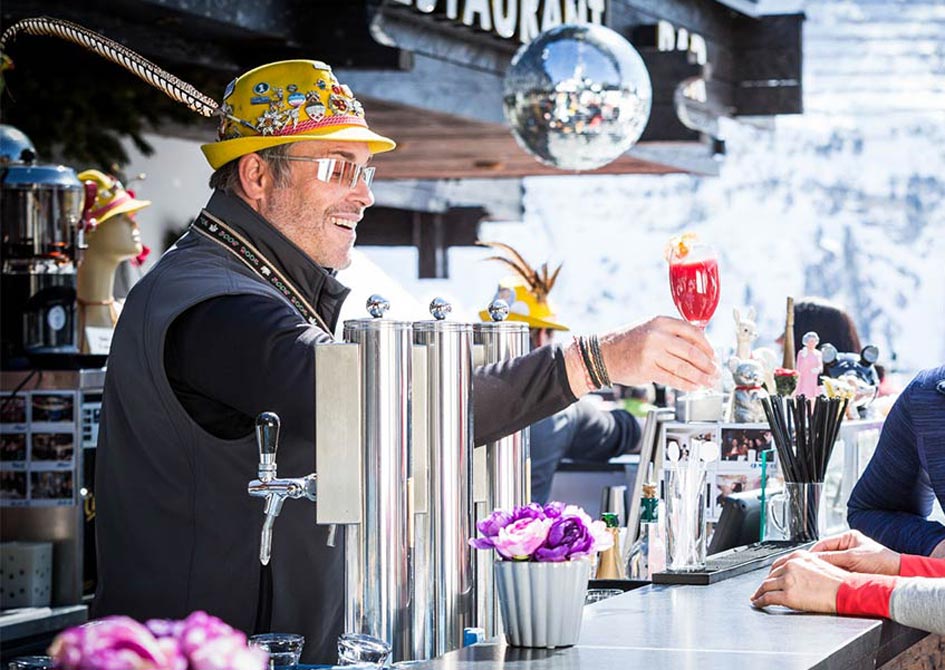 The chalets in Lech and Oberlech raise the bar on indulgent ski holiday experiences. In a resort where style is key, chalets any less than exceptional don't exist. Here's a peek into the superb luxury you can expect from a ski holiday to Lech.
New last year, Chalet 1551 is built and furnished in uncompromising luxury with a stunning central fireplace in the living room, a lavish spa and pool area and so much more.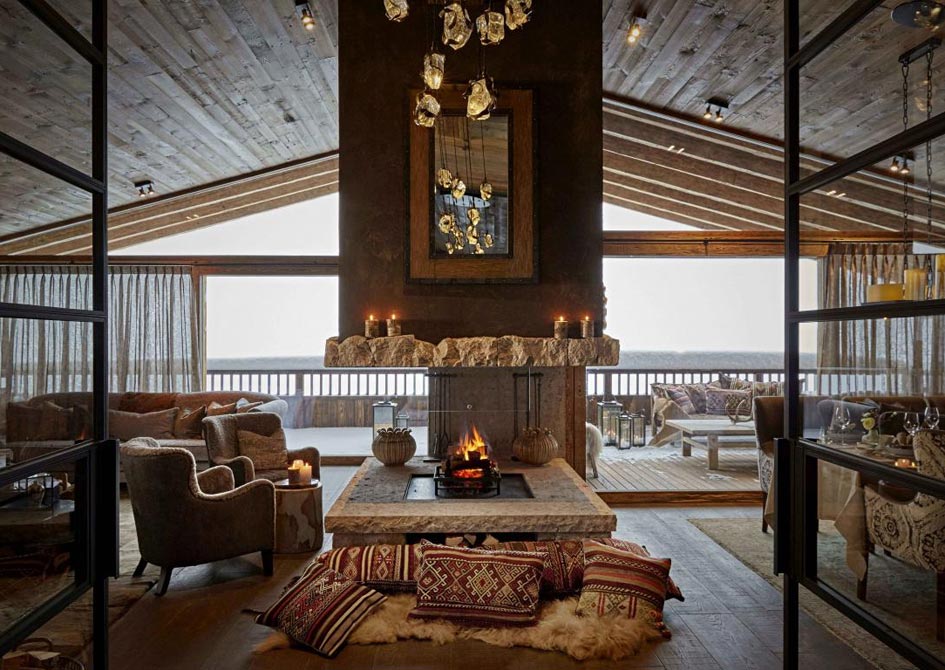 Nestled into Oberlech this chalet has stunning views from its ski-in/ ski-out location. Relax in pure alpine chic in Chalet Uberhaus with a cinema room, hot tub, and a bar/games room.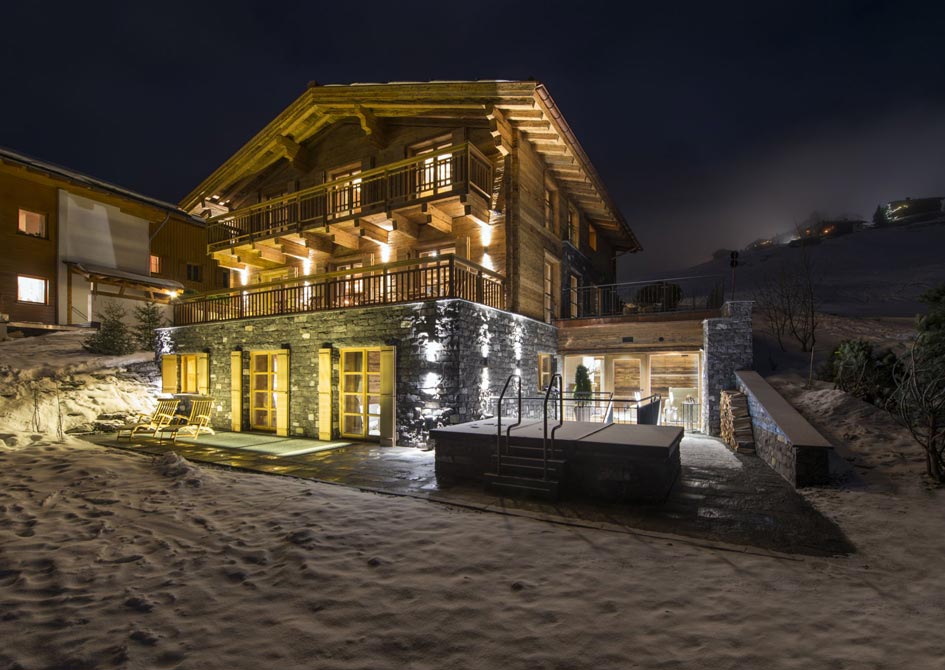 This spectacular chalet is one to show-off to your family and friends. Its plush furnishings with the right amount of glitz and glam, its extensive facilities and state-of-the-art gadgets, make Chalet N a sumptuous chalet to stay in.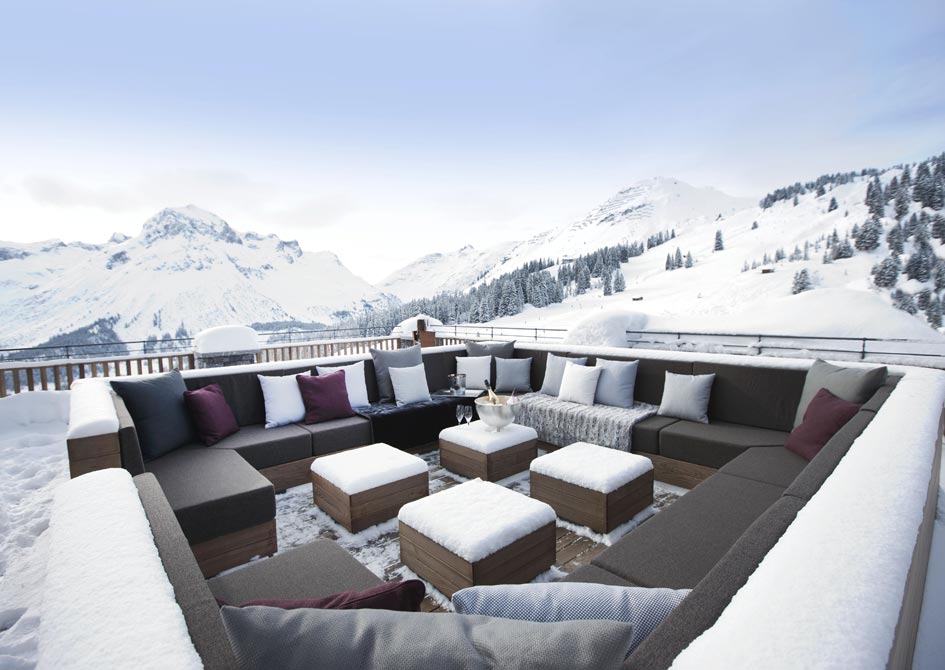 Luxury comes doubled up with this pair of chalets, available either together or separately, these are brand-new for 2018/19. The party rooms, cinema rooms and swimming pools make this the perfect choice for groups.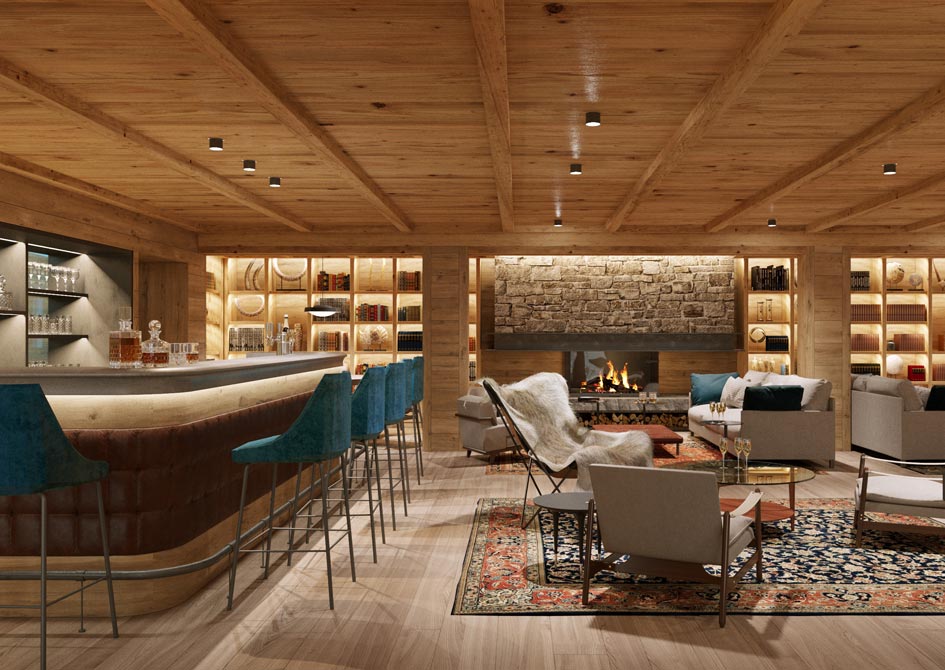 So hopefully this handy Lech resort guide has inspired your next ski holiday to Lech, and if you're in any doubt why Lech should be next on the list to visit, here it is in a nutshell… If you're after all the thrills and frills of an Austrian resort without the crowds, then Lech is the most fashionable resort to stay! For more information on Lech or if you have any questions about any of the chalets just give us a call on +44 1202 203653 or send us an email.