When planning family ski holidays, there's always plenty to think about, from accommodation, to the finer details such as transfers and childcare. We understand that being the designated party organiser is a tough job, especially when trying to please the whole family. This is the reason we are here, to help organise your family ski holiday and to take away the stress of finding the perfect luxury ski chalet, the whole family considered.
Family ski holidays offer plenty of activities for all generations to enjoy, whatever their age or skiing ability. Take a trip through the generations to find out why ski holidays for all the family should be considered…
SKI HOLIDAYS WITH TODDLERS

We all know that toddlers are one of the most challenging age groups to take away at the best of times, especially when taking them on a journey across the Alps for a family ski holiday. Whilst they are not quite at the stage of being able to ski, they do need to be occupied and entertained most of the time.
One way to keep the toddlers amused, is for them to be child-minded by a private nanny. This is a great way for the youngsters to experience different activities in the resort such as tobogganing, horse sleigh rides and various other snow games. Chalet operators and owners have their own recommendations for private nanny services. These companies have years of experience and excellent credentials for high-quality service, so we know your toddlers will be in safe hands throughout the family's ski holiday. We also have a handful of luxury family chalets which feature great children's play areas, creating endless fun. One great example is Chalet La Datcha Val Thorens, which has a great activity room for toddlers as well as an amusement arcade with football and simulation equipment, and two cinemas for the older children.
If you'd like your child to start skiing early, then some ski schools are able to provide this. For example, ESF have a toddler ski school called 'Club Piou Piou' that take care of young ones from the age of 3. Here the children will learn the wonders of skiing and adapt to mountain conditions.
SKI HOLIDAYS WITH CHILDREN
This is when the skiing fun starts! As children get older, they naturally tend to be a little more adventurous and more open to trying new activities, such as ski school. When trying to organise the perfect family ski holiday for all generations, choosing the right ski resort is a hard task. It is important to stay somewhere which offers convenient nursery slopes and plenty of easy green slopes.
Group ski lessons are the perfect way for children to extend their knowledge and is the ideal opportunity for them to make friends. Alternatively, if a child were to have private ski lessons, then they will receive the instructor's undivided attention and are likely to progress faster. However it is worth keeping in mind how much children like to be around their peers, and how once they start enjoying themselves, they love sharing their excitement. For those children who may not have skied before, our ultimate beginners guide to skiing may come in useful!
SKI HOLIDAYS WITH TEENS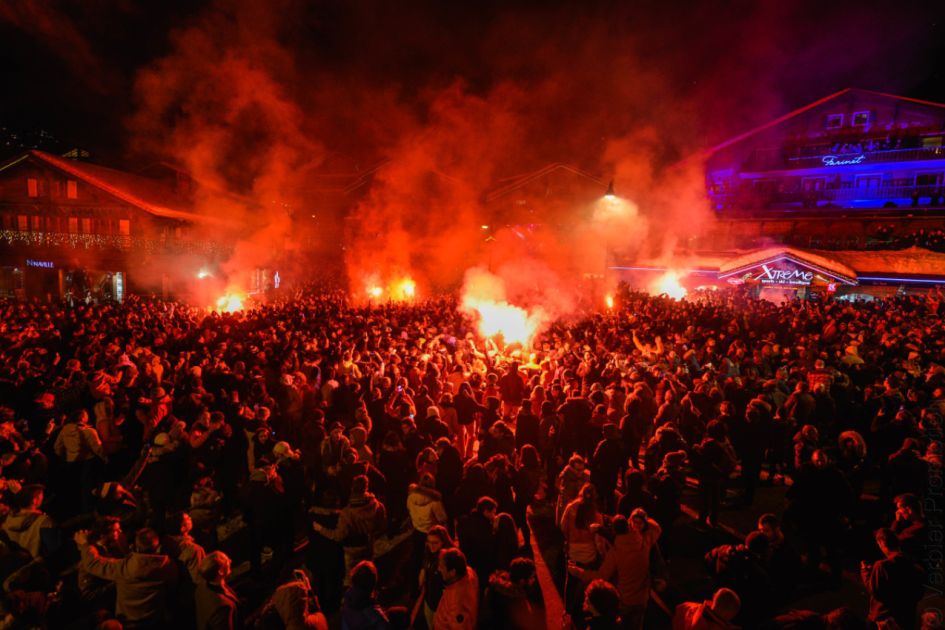 Family ski holidays encourage teenagers to forget about screens, phones or the television and instead spend the majority of their days outside on a snow-covered hill surrounded by the beauty of nature. Skiing with teenagers can be one of the most rewarding of all, as you can usually move off the training slopes and venture further afield, altogether.
Resorts with great terrain parks are perfect as these become the unofficial hangout for teenage skiers. For the late teens, family ski holidays offer them the independence and freedom they crave; if they have the confidence and ability, they will able to explore the mountain in groups and experience the more challenging runs. When not on the mountains, there is plenty for teenagers to take part in, such as ten pin bowling, spa treatments, fitness and leisure centres and of course, the après scene!
In this day and age, après is as much a part of the holiday as the skiing and snowboarding itself. It is a fantastic way to let off some steam and enjoy spending time with the people around you. We understand that for those teenagers on a family ski holiday, sometimes you'd like to take time away from the parents and let your inner après override you. If you'd like to find out about the best après bars in the Alps, take a look at another of our blogs; Ultimate Ski Bucket List – Best Après Bars In Ski Resorts.

SKI HOLIDAYS with PARENTS
There's always some apprehension about taking children on a ski holiday, especially when having to think about all the finer details, and it may be that the children also feel a little cautious about the trip. Although spending time with your children is the point of a family ski holiday, you'll probably want a day or night off to spend time by yourselves. There are ways to make the trip simpler for everyone and to take away the responsibility of being a parent (to an extent!). For example, ski schools and childcare services, which can be arranged with the concierge team at your chalet, are a great step to helping you get some time to yourselves. As well as this, staying in a luxury catered ski chalet enhances quality family time and means no-one is tied to an evening in the kitchen. Instead you can sit back and forget the ingrained daily routines from back home.
If you are looking to make your family ski holiday as simple as possible, why not consider staying in a luxury chalet with ski-in, ski-out access. The advantage of this being so that you can start and finish your day from the front door! Take a look at the best ski-in, ski-out chalets within our portfolio; these are all situated on the side of an easy blue or green run, making the chalet accessible to all abilities. If you are staying in a chalet which isn't located directly on piste, you can also have a stress-free stay by taking advantage of the in-resort driver service!
One of the most rewarding aspects of family ski holidays is seeing how the children progress in ski school. In most cases, by the end of the week, children are at the stage where they are able link snowplough turns and head up up the mountain, away from the nursery slopes. If they are, they'll be desperate to show you what they can do, and you'll probably be equally excited to see their progress. Make sure you take the opportunity to spend time together on the snow at the end of the week – they'll be better than you before you know it!
SKI HOLIDAYS WITH GRANDPARENTS
There is plenty for the grandparents in the multi-generational family to do when it comes to family ski holidays. Some grandparents take great enjoyment from wandering around the local village, collecting the children from ski school at lunchtime or heading up the mountains to meet their family during their lunch stop. Or the other kind may still be keen skiers and like to give the youngsters a run for their money!
We all know that the majority of children are only able to stay out on the mountain for a certain period of time, so whilst the parents are on the slopes most the day, it is the ideal opportunity for grandparents to bond with their grandchildren, whether that be taking them to get a hot chocolate or building snowmen in the chalet grounds.
The memories which you make on a family ski holiday last a lifetime, therefore it is important that you find the right resort and chalet for your family. A great aspect of staying in a luxury ski chalet is that more often than not, chalet-based holidays can offer more privacy and flexibility for family groups. We have picked out two different resorts and two chalets from our portfolio which we feel offer everything for a the perfect family retreat…
Chamonix is a charming and traditional town which remains fully functioning all year round. Unlike many resorts, Chamonix isn't purpose-built purely for ski holidays so this creates a brilliant family feel. As well as having access to 5 different ski areas, there are multiple beginner slopes, great for those children who have less ski experience. One beginner area to mention is Planards. At the bottom of the slope you will find a fun park with a great alpine coaster luge that will keep the children entertained for hours! Chamonix is also great for non-skiers as there are a fantastic range activities in resort, après bars, a wide variety of shops and every type of restaurant you could wish for. For quality family time, why not take a trip up to Aiguille du Midi or take a ride on the Montenvers Glacier Train? Chamonix makes the perfect destination for a family ski holiday in France.
Le Chalet Mont Blanc is located in the exclusive area of Coupeau, a short drive from Chamonix centre and Les Houches – another great area for beginner to intermediate skiers. The chalet, perfect for large multi-generational families and friends, in-line with its name has spectacular views of Mont Blanc. All rooms are south facing capturing the longest hours of sunshine that Coupeau boasts. To make family life easier, Le Chalet Mont Blanc has a private in-resort chauffeur service consisting of two VW Caravelles on demand from 8am until midnight, giving you that flexibility when it comes to where and what time you'd like to go out. As well as this, Le Chalet Mont Blanc has a lift to access 4 floors, which is ideal for younger children as well as the grandparents in the family. For white out days, stay in and spend some family time in the library and impressive wellness area.
St Anton a resort within the popular Arlberg ski area, is legendary for its off-piste skiing and vibrant après. For those parents looking to leave the grandparents in charge of the children or teenagers looking for a little evening entertainment, St Anton is the resort for you! This is not the only audience St Anton appeals to though, there is plenty for children and grandparents to do. For example, there are a great range of non-skiing activities in St Anton to take part in, such as horse sleigh riding, the local wellness centre and tobogganing. You can even take a trip up to the top of Valluga Mountain, where on a clear day, you can see the mountain peaks of 5 countries: from the surrounding mountains in Austria, to Italy in the South, Switzerland and Liechtenstein to the West and Germany to the North. When it comes to family ski holidays to Austria, St Anton is the answer.
Chalet Lena, one of the most exclusive chalets we offer in St Anton, can sleep up to 22 guests across 9 spacious bedrooms. Featuring large open plan living spaces oozing with character and a range of incredible wellness facilities, this beautiful chalet offers everything you could possibly desire for a ski retreat with the extended family. Chalet Lena has astounding wellness facilities which rival some of the most luxurious spas It includes an indoor/outdoor swimming pool, hot tub, Finnish and Bio saunas, steam room and massage treatment room. For any fitness fanatics looking to maintain peak physical condition for the slopes, Chalet Lena's modern gym facilities will cater to all your fitness needs. Included in the fully catered package is a private in-resort chauffeur service between 8 am and midnight, meaning the whole family has easy access around the resort. Whether this is for transporting the children to ski school in the morning, or for the adults to experience the best après spots in resort.

At Ultimate Luxury Chalets, we understand the importance of bringing generations together and are happy to help by finding the most suitable chalet for the whole family. If this is something you'd like to discuss with the team, please do get in touch and we'd be happy to discuss your requirements. You can give us a call on +44 1202 203653 or you can send us an email.