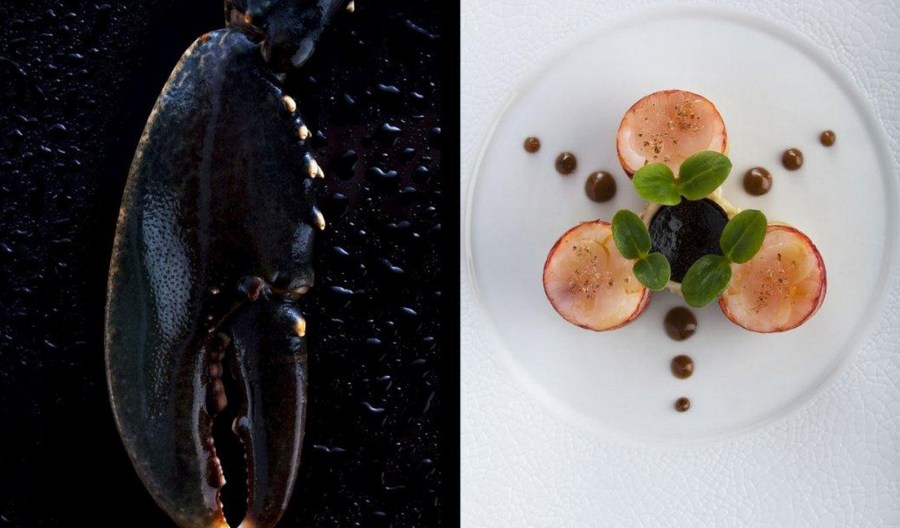 The infamous Courchevel 1850, a resort I have heard only too much about since joining the Ski team just 6 months ago! I was lucky enough to visit back in December and although the snow left a lot to be desired with the season kicking off later than usual, it was immediately clear that this resort does not mess about when it comes to our favourite word…yes you've guessed it – luxury….
It was also immediately clear that I wouldn't be able to afford a posh sandwich, let alone confidently dine in one of these exclusive restaurants, competing alongside the finest in the World!
Luckily I was able to experience much of what the resort has to offer through Courchevel Live. If you are only looking for the best culinary experiences whilst on your travels, here are the top 5 Michelin Star Restaurants in Courchevel 1850 for your perusal…

Pierre Gagnaire pour Les Airelles
The first restaurant in Courchevel 1850 that was awarded not one but two Michelin stars can be found within Hotel Les Airelles. Somewhere more in keeping with an Austrian Palace than a hotel in the Alps, I couldn't help but feel as if I had walked straight into a Hansel and Gretel story book!
Les Airelles is a unique experience and a must for anyone wanting to try the very best of what the resort has to offer in terms of fine dining. It is one of 13 prestigious restaurants of the world run by the iconic chef Pierre Gagnaire.
Wanting to follow in his father's shoes or rather skis (he too was a chef in Val d'Isere in the 50's) Pierre Gagnaire pour Les Airelles officially opened in 2007. Although the hotel takes pride of place on the Jardin Alpin Piste and oozes grandeur, the restaurant itself has a much more intimate and exclusive feel.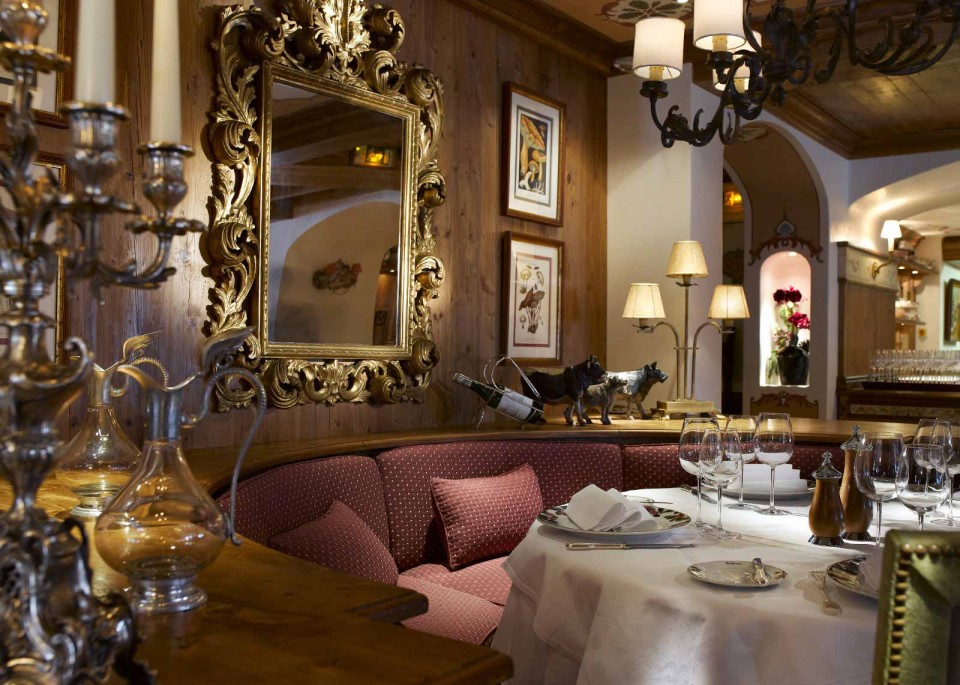 With Puiforcat silverware, Hermes tableware and 19th Century Antiques on every surface and shelf, it is hard not to feel like royalty if for one dining experience only!
The restaurant is open for evening service 6pm-10pm three months of the year, every Chef's dream as Pierre himself put it! For this reason booking well in advance is highly recommended to avoid disappointment. To sample the A La Carte menu just click here.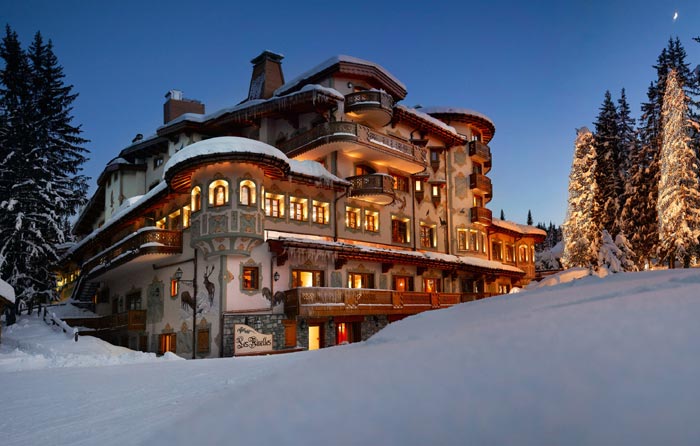 We also feature Les Airelles very own Chalet Ormello on our Ultimate website!
Winner of two Michelin stars since 2010, Le 1947 is run by the rather handsome Yannick Alleno, member of the elite circle of the World's greatest chefs and better known by some for the infamous Ladurée Champs Elysées restaurant in Paris.
Le 1947 fuses modern and contemporary décor with elegant detailing such as fur throws on dining chairs and porcelain dinnerware designed by Sylvie Coquet.
Yannick collaborates with both wine and champagne producers and describes his food as an evolution of Nouvelle Cuisine! Catering to just 25 guests in one sitting per evening, what better place to experience Yannick Alleno's gastronomic genius after a hard day on the slopes.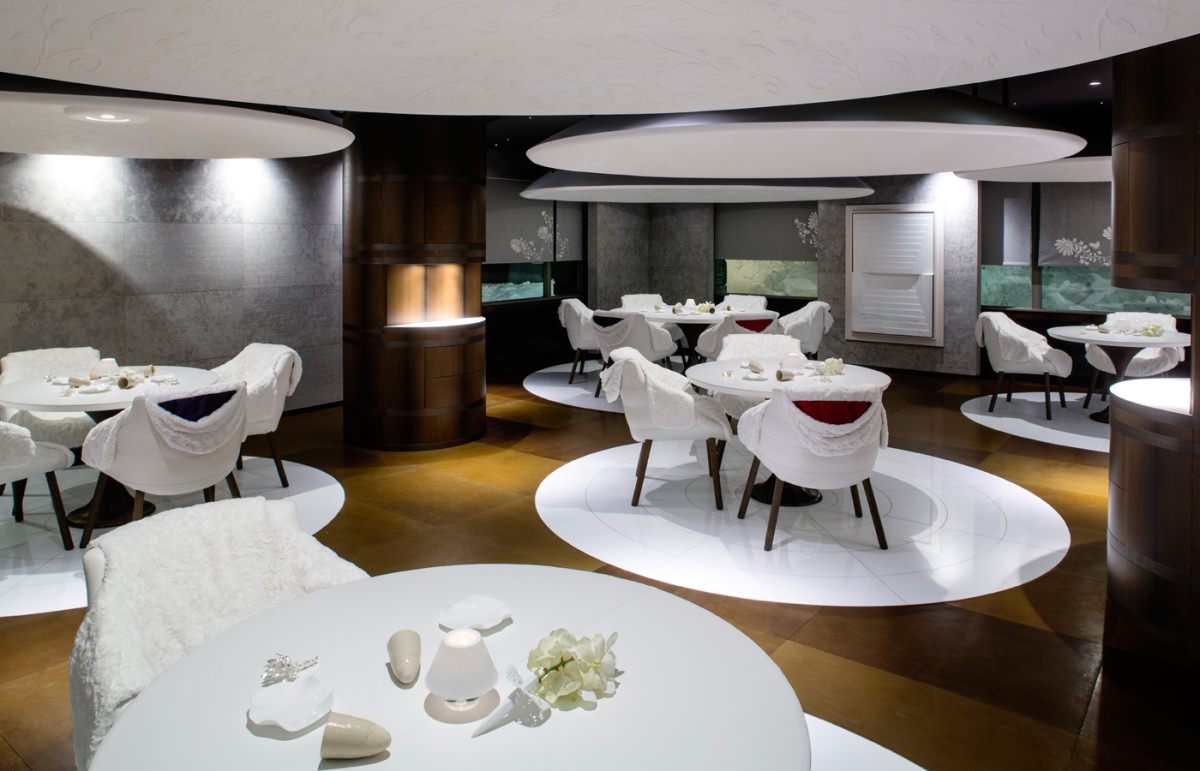 This exclusive restaurant can be found in the 5* Hotel Cheval Blanc. Named after Château Cheval Blanc's most prestigious and sought-after vintage wine, Le 1947 creates a personalised dining experience for each guest as what you order as your main dictates all your other courses. Definitely a must visit for the refined pallet.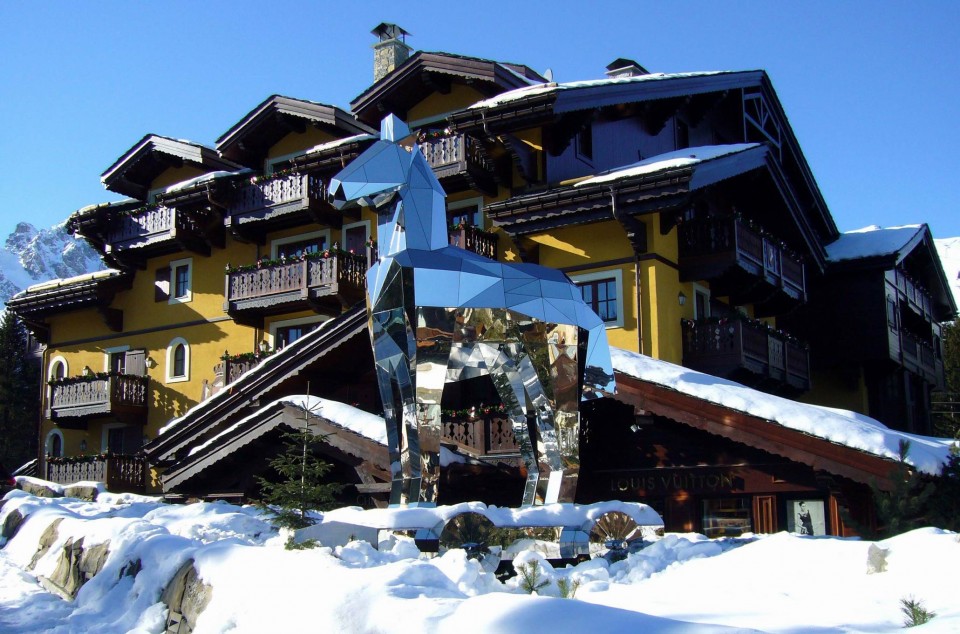 The 5* Le Kilimandjaro is a ski in/ski out luxury chalet-style hotel nestled alongside the Pralong piste and compromises of 35 rooms in 11 stylish chalets built in traditional stone and wood providing guests with the true alpine experience.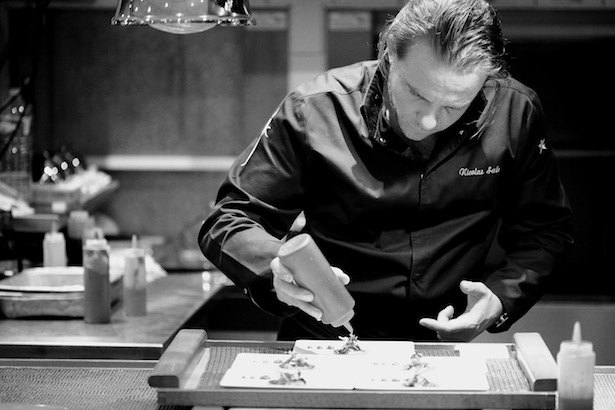 Each revolve around the main hotel building and it is here where you will find La Table du Kilimandjaro! Awarded its second Michelin star in 2013 and run by well known chef Nicolas Sale, it is culinary elegance in its finest form.
Guests dining at La Table du Kilimandjaro experience French delicacies complemented by a magnificent winery where guests can enjoy a superb collection of wines until 1990. Click here to sample the menu!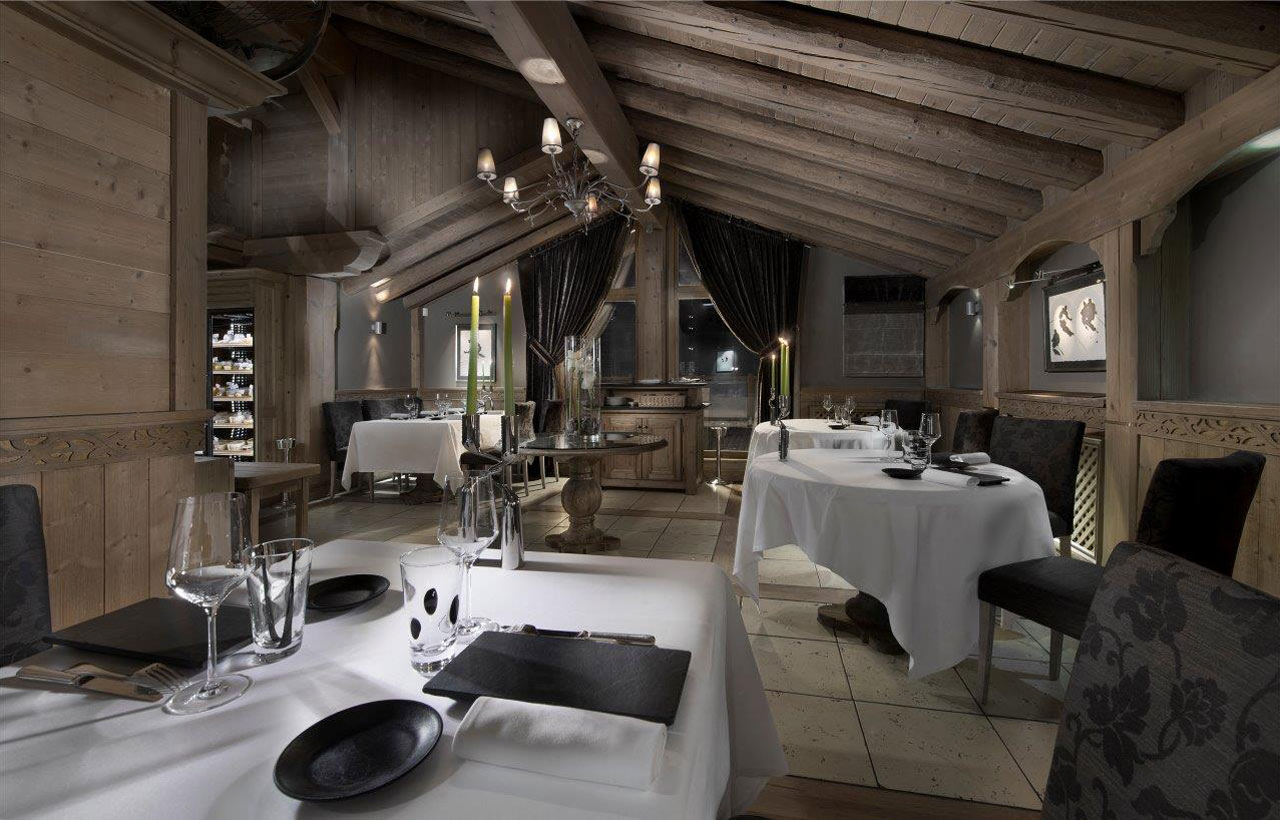 4* Le Chabichou is a beautiful white chocolate box style family run hotel featuring the largest Spa in the French Alps at an impressive 1100m²! One of the few Hotels to open during the Summer Months in Courchevel, you are able to dine at the gourmet restaurant of Le Chabichou in July and August as well as through the ski season. A great excuse to visit the alps and experience what they have to offer in warmer months!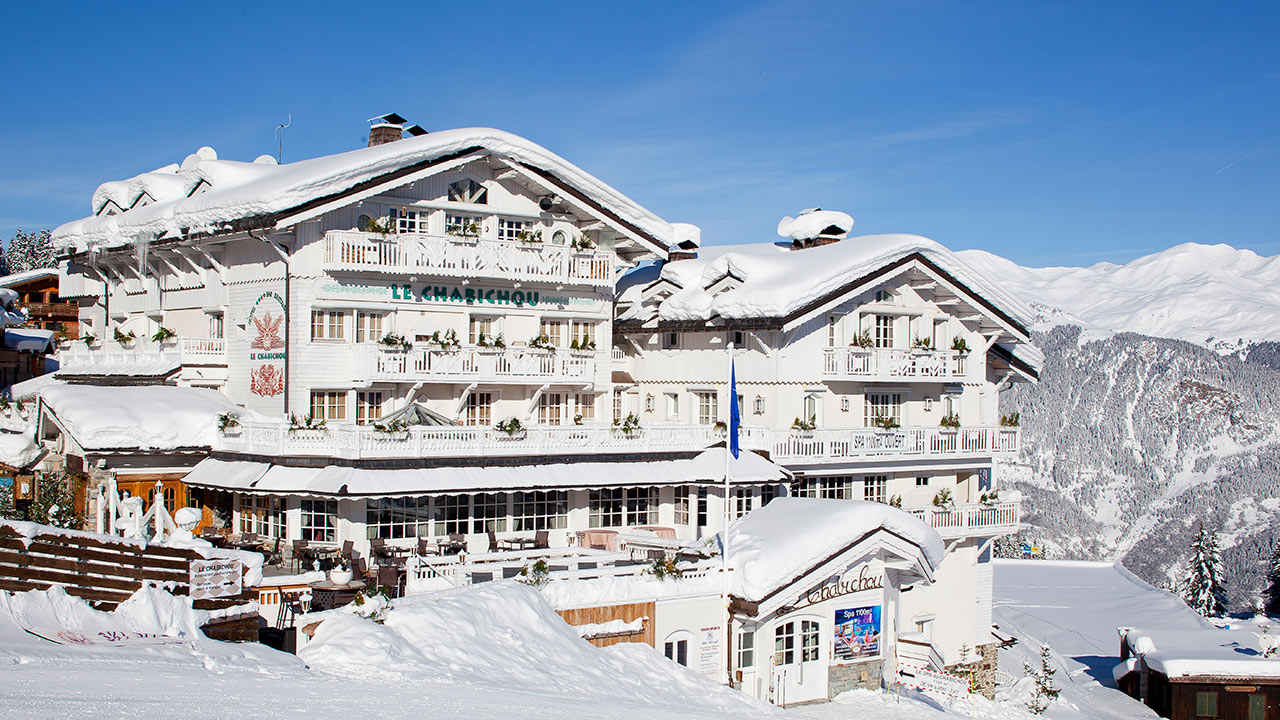 It boasts two Michelin stars and honours in the Gault Millau and Bottin Gourmand guides and is run by Stéphane Buron & Michel Rochedy. The Rochedy family originally from Ardèche, settled in Courchevel over 40 years ago and are famous within France simply for their love of food!
Each dish combines flavour sensations from across the globe with local produce actually picked from Michel Rochedy's own garden and all complimented perfectly by a fantastic wine list! The restaurant boast an open kitchen for a glimpse at the chef's in their finest hour or if guests prefer, there is an extensive sun terrace boasting stunning mountain views.
Bistro Le Chabotté is the smaller restaurant to Le Chabichou combining great food but at slightly more affordable prices. Sample the different menus here.
With 29 stunning hotel rooms and suites and five exceptional chalets, Hotel Le K2 is arguably the most exclusive luxury 5* hotel in all of Courchevel. It boasts two gourmet restaurants, Le Kintessence receiving two Michelin stars in February 2014 and also run by Nicolas Sale. We imagine he is in his element chef hosting such prestigious establishments!
Guests are encouraged to indulge themselves in the Asian infused gastronomic menu that can be sampled here but one evening will set you back between
€145 – €200 Euro and that's if you aren't enticed by the impressive Vintage wines
in the Le K2 Cellar!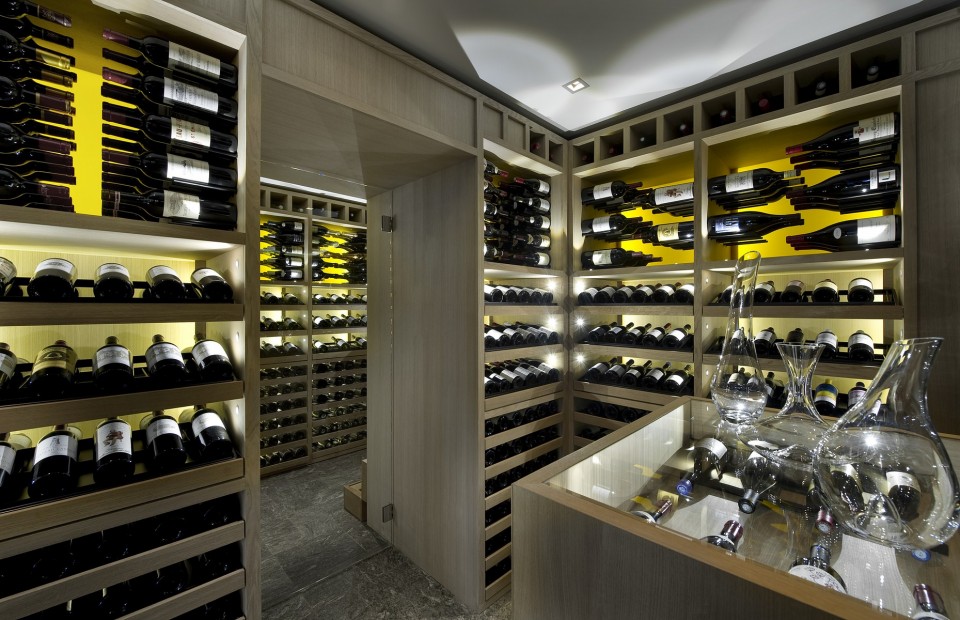 We feature 5 of K2's suite chalets on our website which are available to rent during the ski season and combine the intimacy of a private residence with the highest standard of service provided by staff of K2. The hotel and chalets spread along the slope, although still very private, with breathtaking panoramic views over the valley!
Just click Chalet names to take a look at the Abbruzes, Baltoro, Karakoram, Muztagh and Panmah.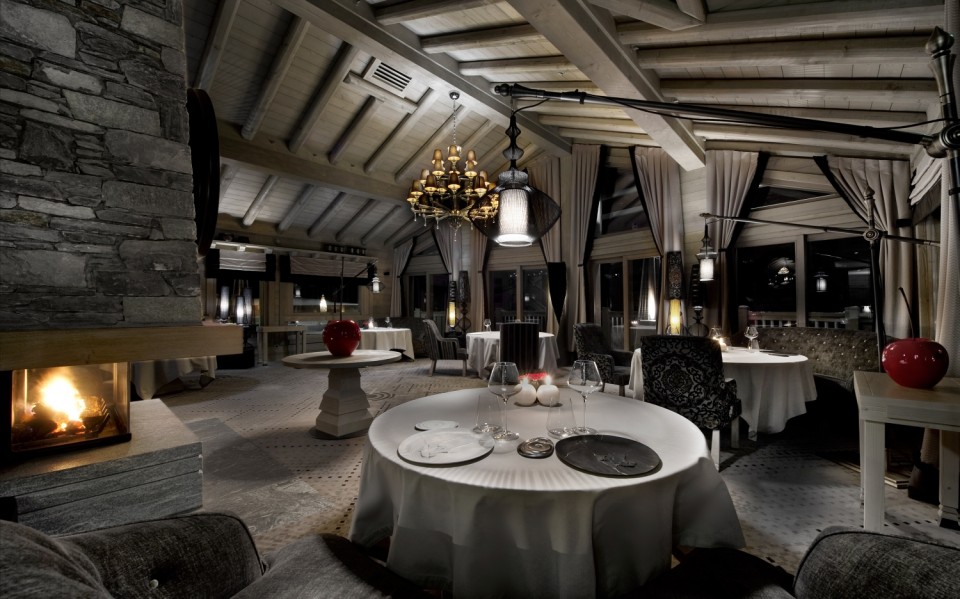 And so there we have five of the best Michelin star restaurants in resort. This blog has made me extremely hungry and in need of a vino, but alas my lunch today is a measly omelette. Roll on the weekend or better still take me back to Courchevel!
View our selection of Ultimate Luxury Chalets in Courchevel 1850

Why not browse our Pinterest or Instagram account for holiday inspiration?
'Like' our Facebook Page for Chalet of the Day and special offers on beautiful chalets!