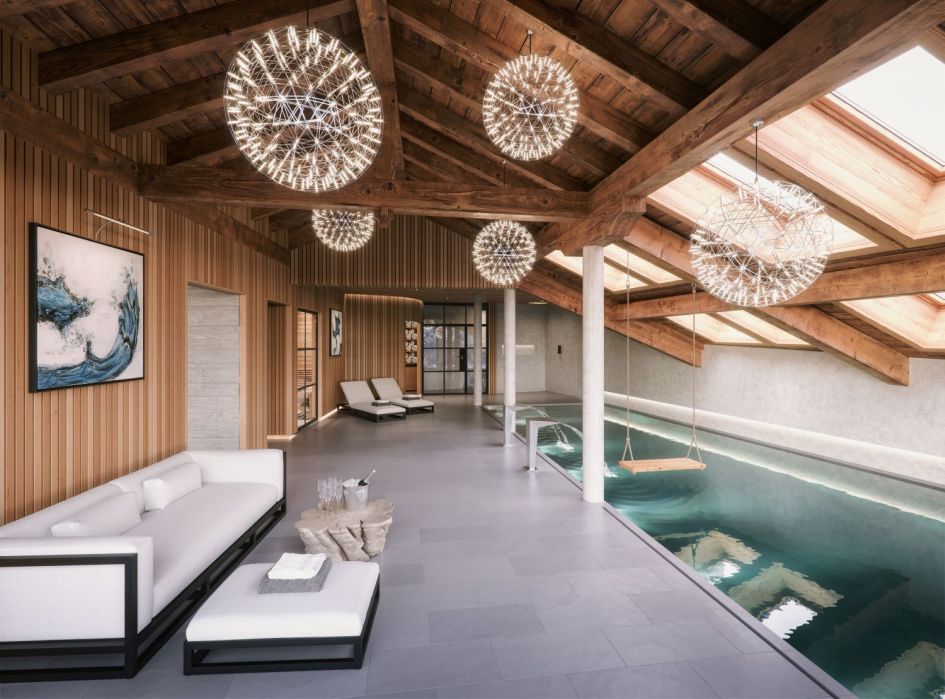 For Chalet Tataali, Morzine, the idea was clear, design the Ultimate Luxury Chalet that would bring family and friends together. That was the concept of the husband and wife team who set out in 2012 to find the perfect piece of land to create their stunning masterpiece luxury chalet in Morzine. It took them five years to find the plot and a further two years to see their dreams come to life.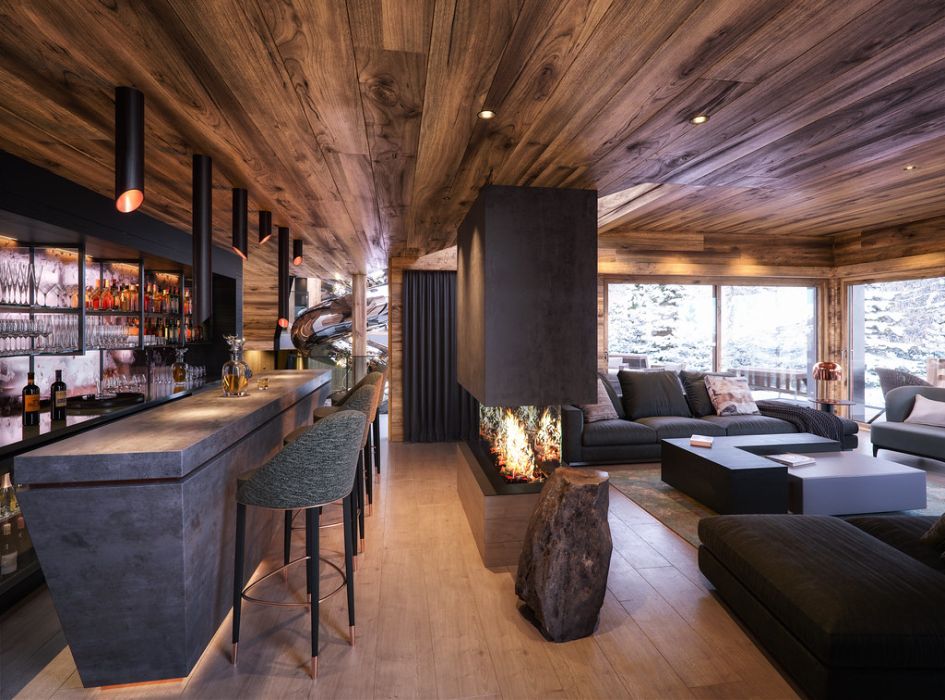 Why is Chalet Tataali so special?
From the day its initial floorplans were released this year, it was clear that a new benchmark had been set for exciting, industry leading, luxury chalets in Morzine. The flow of the rooms and attention to detail along with the superior standard of the finishings have really elevated this property to become one of the top chalets in the Alps.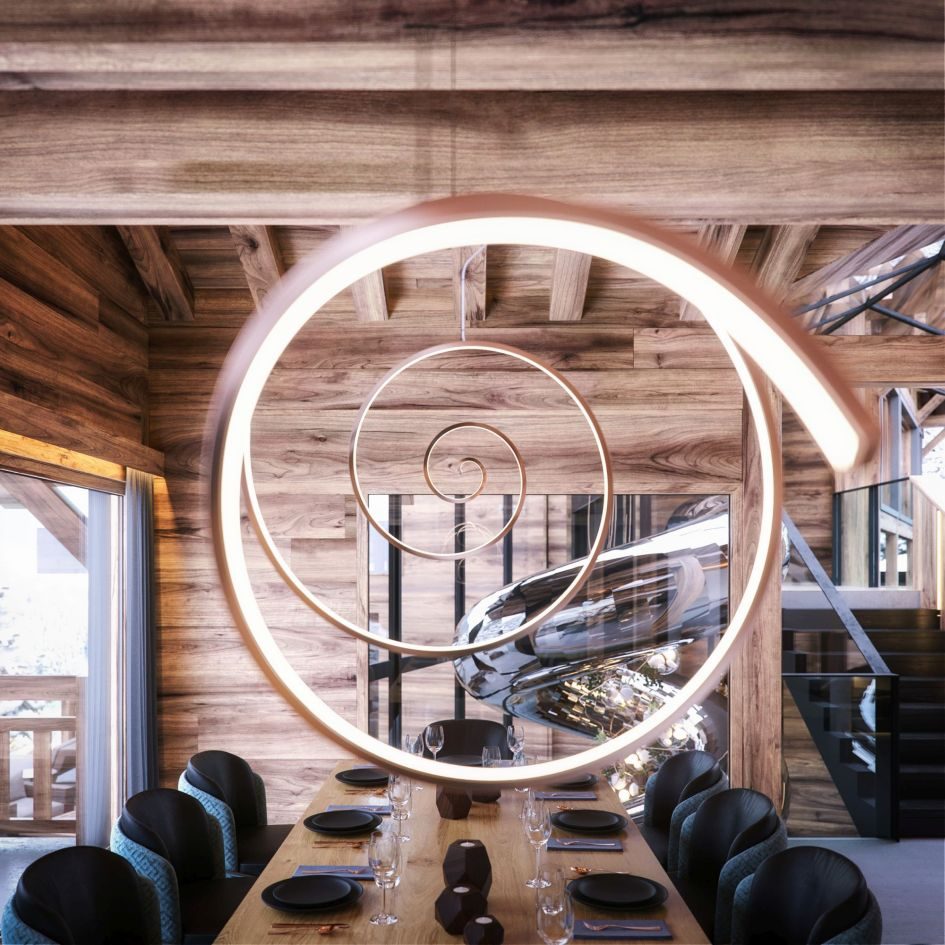 WHAT DOES TATAALI MEAN?
Tataali, is derived from the Arabic word for Cascade, this reflects both the Dranse river that runs just a few metres below the chalet and can be heard from most of the rooms, and also the fact the chalet cascades down the valley. In fact, the cascading theme runs throughout the entire property with luxurious waterfall jets to ease sore muscles in the chalets 10 metre swimming pool and a super fun chrome slide which cruises users down from the entrance hallway into the games room.

WHAT DID THE TATAALI Chalet DESIGNERS WANT TO ACHIEVE?
It is obvious, walking around the stunning Chalet Tataali, that the designers wanted a luxurious, sleek, ultra-modern chalet, yet they didn't want to lose that element of fun.
Fantastic features such as the pool swing, monkey bars on the games room ceiling and even a climbing wall in one of the bedrooms, make you realise that this really has been considered with the whole family's enjoyment in mind.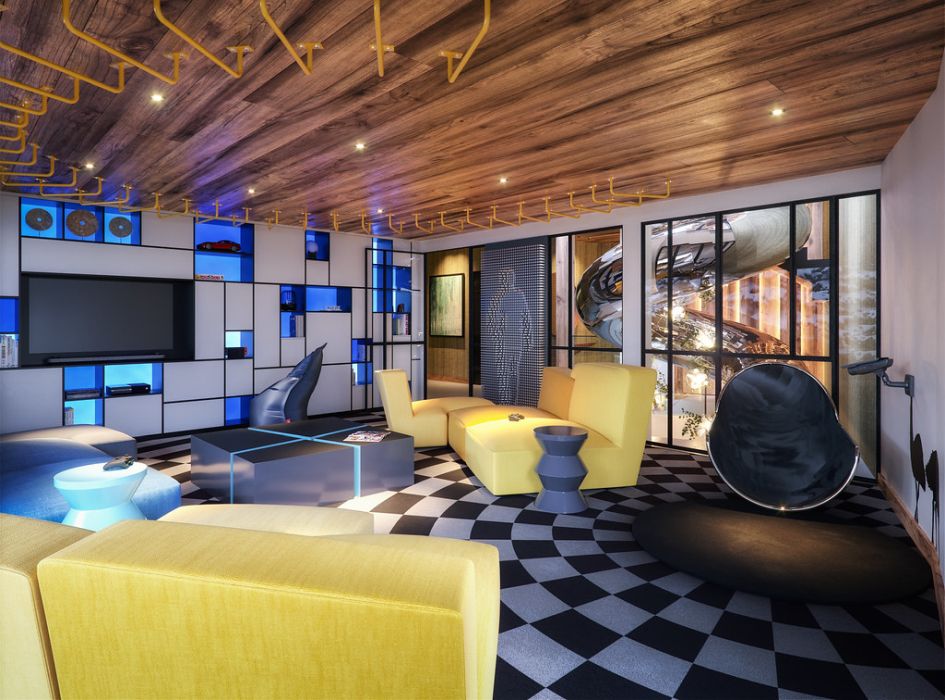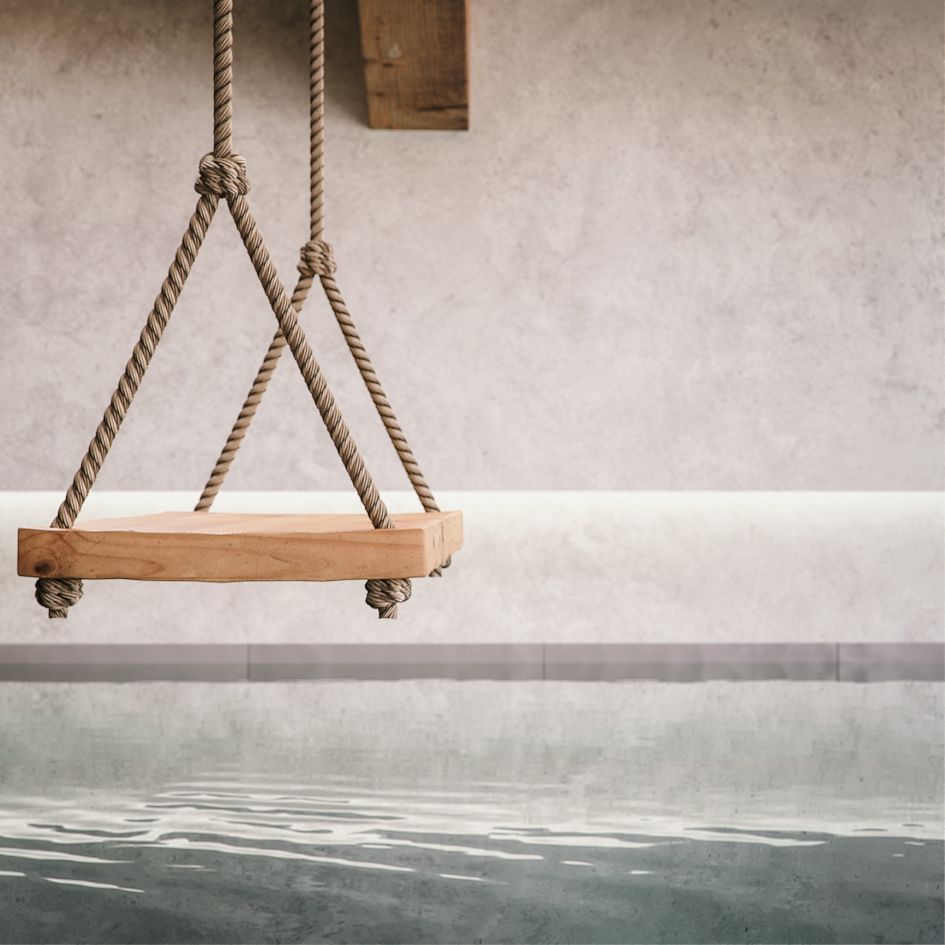 Relax in ultimate style
With Chalet Tataali Morzine having approximately 1000 sq/m in total over 4 floors, there is a huge amount of space to relax and unwind after an energetic day on the pistes of the world famous Portes du Soleil Ski area. Speaking of unwinding, as you'd expect, no expense has been spared when it comes to the spa facilities. Along with the spectacular swimming pool you'll find a Hammam, outdoor hot tub, sauna and a massage treatment room.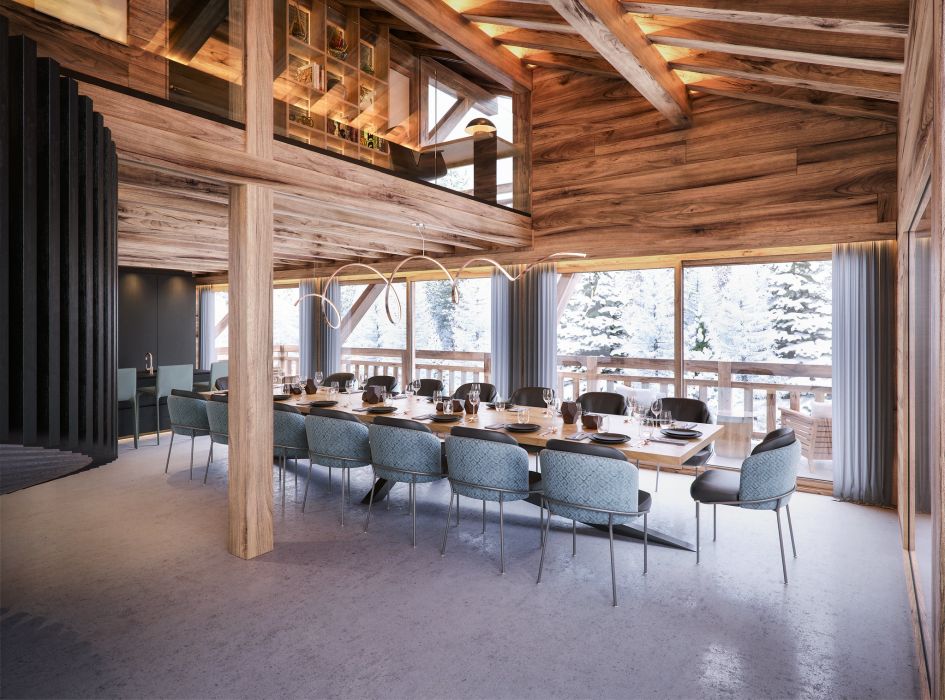 Fine Dining and cuisine at Chalet Tataali
Focused on being one of the best fully catered chalets in Morzine, the gorgeous dining area in Chalet Tataali has been designed to be a wonderful area to bring the family together to enjoy some local Savoie delicacies and gourmet cuisine, accompanied by magical views into the forest and river valley below the chalet. With the highly regarded Head Chef, Nick Lyon Dean, leading the kitchen team it is also obvious that the standard of cooking will be at the very top end of any catered chalet in the Alps.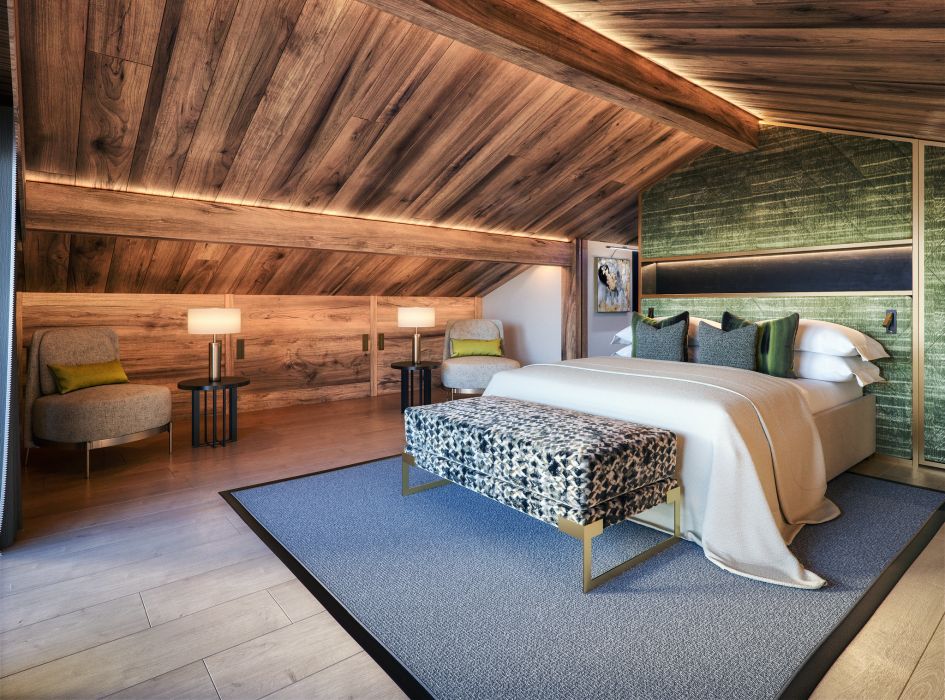 A Slumber- Full Stay at Chalet Tataali
When the time comes to turn in for the evening, Chalet Tataali Morzine once again delivers the ultimate in luxury with six uniquely decorated and totally heavenly suites, each with king sized beds that can be converted into twins on request, offering complete flexibility for your group, and a fun twin bunk room for the kids.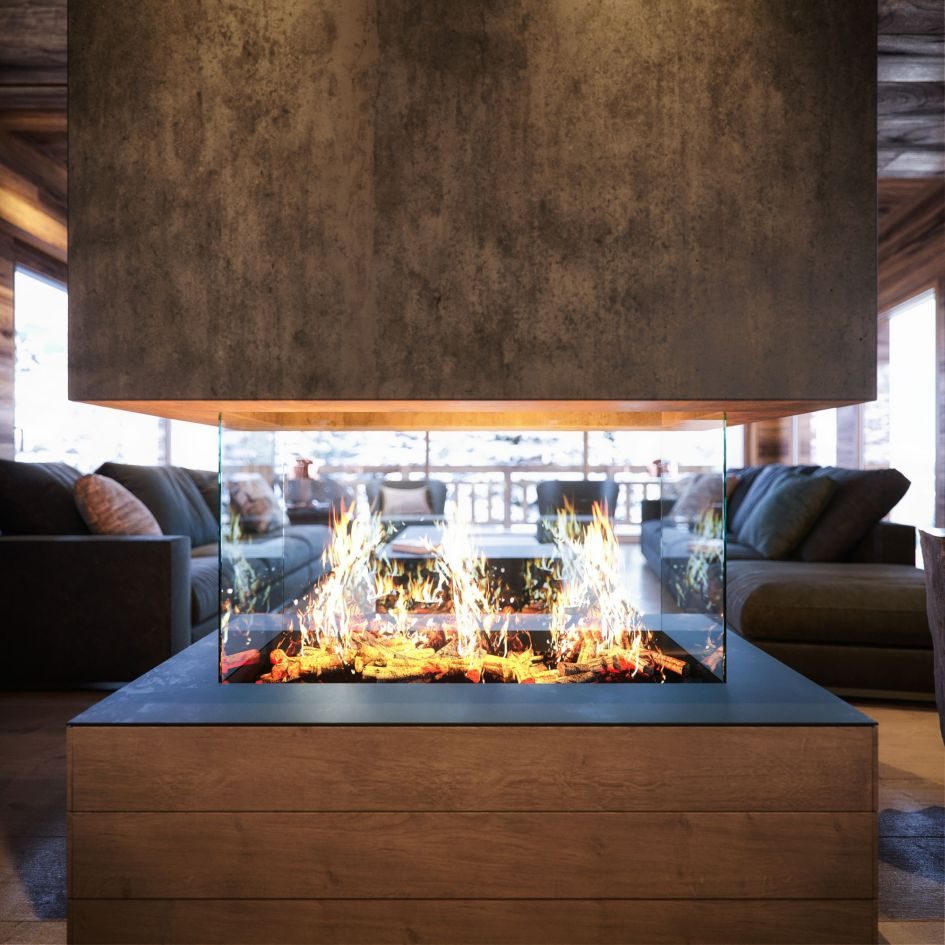 Book Tataali Morzine
Chalet Tataali is offered for exclusive use for up to 14 guests, to include full gourmet catering, an open bar and in-resort driver service. With introductory season prices starting from just € 28,700 EUR for a week's stay, this is your opportunity to stay in one of the best value-for-luxury Ultimate Luxury Chalets we have in our portfolio.
If you would like any further information on Chalet Tataali or feel like this chalet is a perfect fit for your luxury ski holiday Morzine, then please do get in touch and we will be happy to discuss your requirements. You can give us a call on +44 1202 203653 or you can send us an email. We look forward to hearing from you!