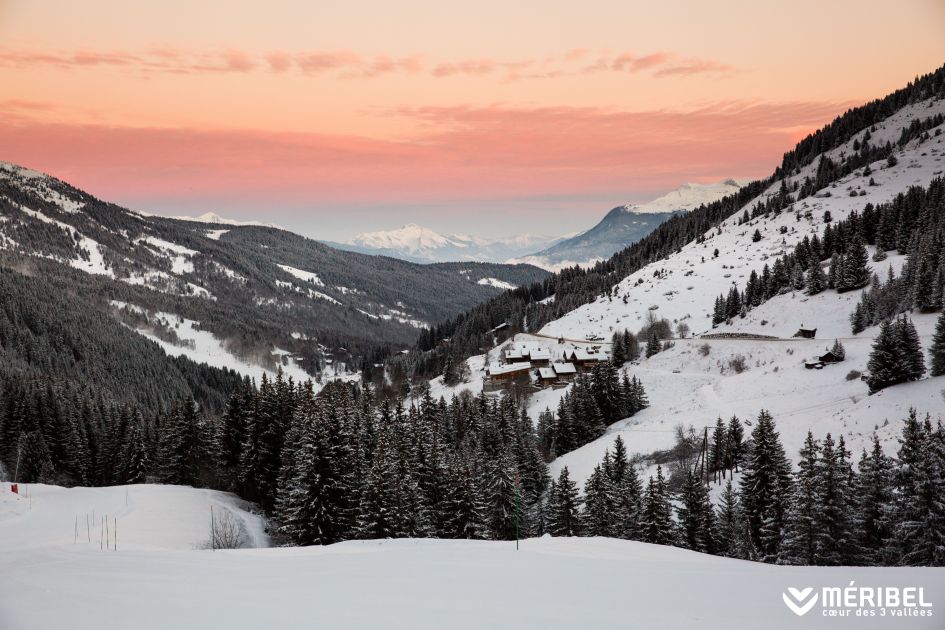 Meribel is one of the most famous resorts in the Alps, and it's reputation as one of the best luxury ski resorts in France is well-founded. Culturally the resort is more understated than Courchevel, its glamourous neighbour, but it is not left wanting in class or quality. Luxury ski chalets in Meribel are amongst the finest that can be found in the Alps, and the skiing is second to none! Here are our top reasons why a Meribel luxury ski holiday is the perfect choice this winter.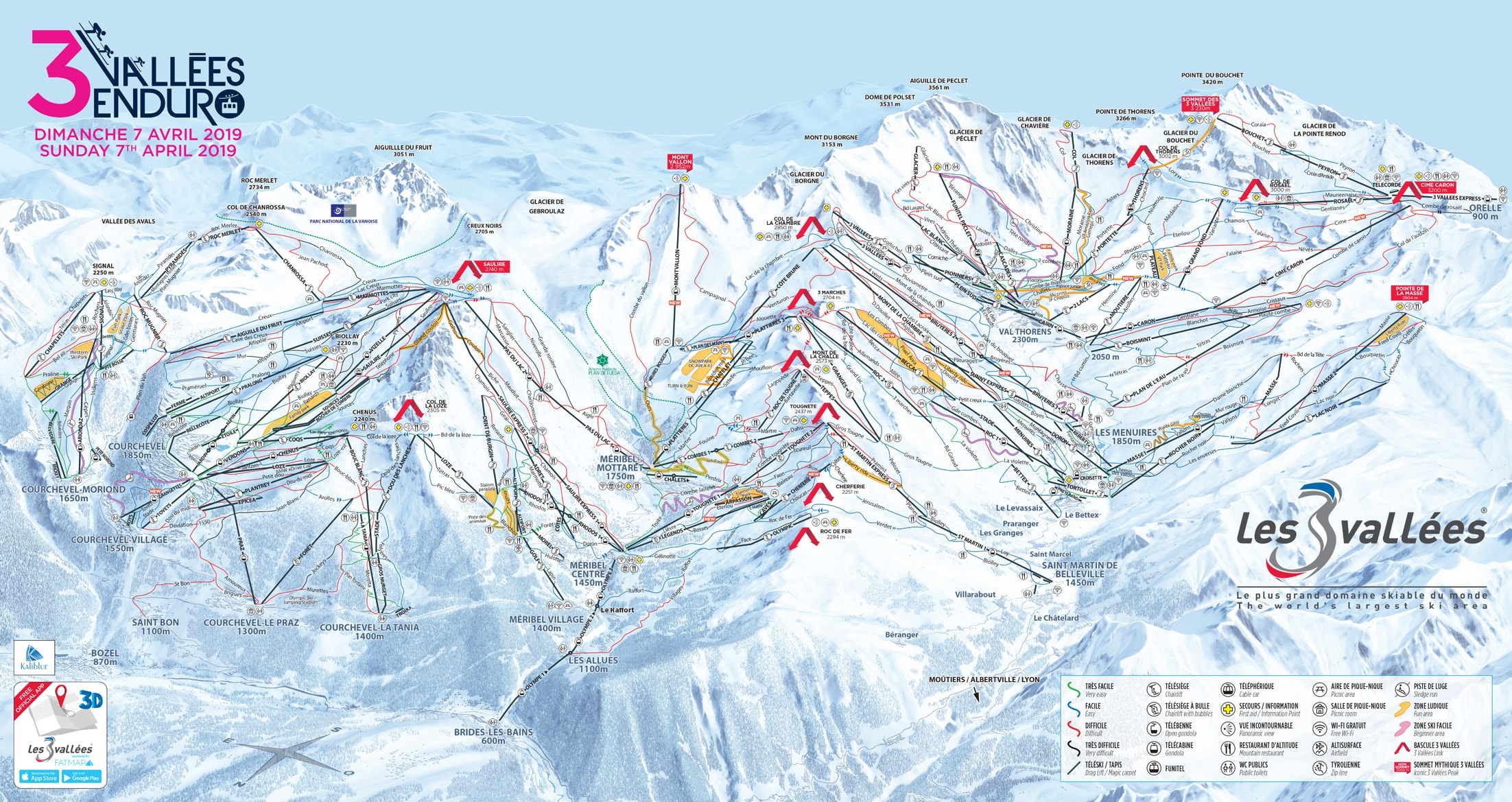 1. The world renowned skiing
Welcome to Meribel Winter 2019/20
The biggest draw to Meribel has got to be the world famous skiing. As the central resort in the Three Valleys ski area, visitors will find a huge array of easily accessible terrain. The Trois Vallees is the world's largest interlinked ski area with over 600km of pistes and four glaciers, over 2,000 snow canons and 180 lifts. Plenty for skiers of all abilities and tastes!
For off-piste adventurers, the powder fields at Mont Vallon are a dream when fresh snow has fallen; there are so many routes down into Meribel-Mottaret that you'll never need to take the same one twice.
If you're just starting out on skis or a board though, Meribel has a fantastic beginners area. The Yeti Park Meribel consists of a blue run and an accompanying green allowing visitors to gain confidence without the pressure of more advanced skiers swooshing past. A tree-lined green called Blanchot, leads back to the Altiport area and is also perfect terrain for developing technique.
2. It's not all about the skiers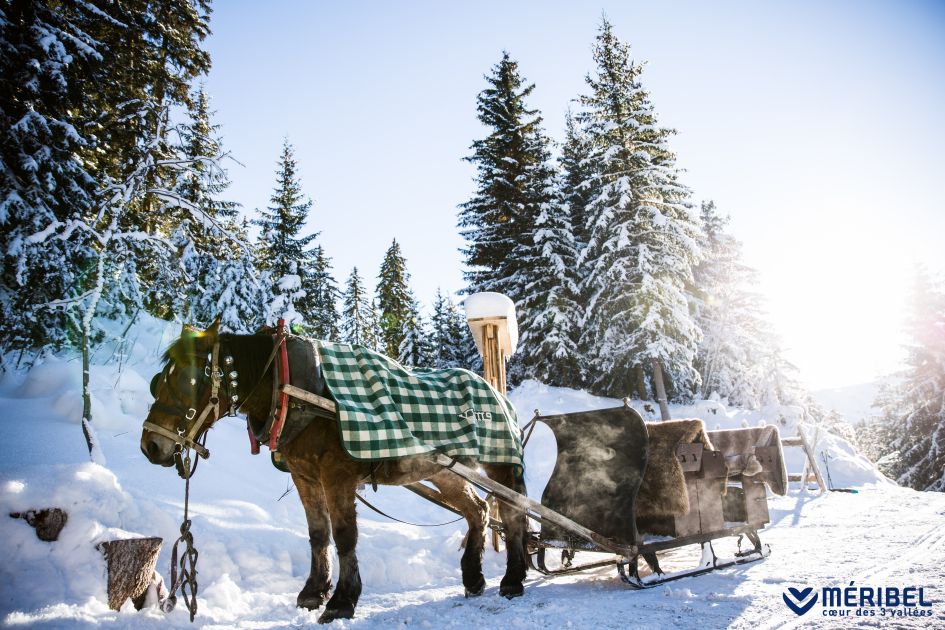 For those who fancy an afternoon off, Meribel offers an array of activities which don't involve strapping on your skis. With a winning combination of stunning scenery, a comfortable seat and centuries old tradition, a horse drawn sleigh-ride to the nature reserve of Lac Tueda offers a respite from lively resort life. Or perhaps dog sledding is more your speed? Adventuring through the trees with your pack of dogs as you guide them to your destination.
For some indulgence and relaxation, the spas of Meribel provide healing treatments for body and soul. The Spa Le Grand Coeur embodies relaxation with it's subtle lighting design and use of natural materials throughout. A full menu of treatments means guests are truly pampered, and with a wellness area boasting a large sauna, jacuzzi and hammam it's the perfect spot to immerse yourself in self-care. With a location right on the piste, plus a lovely restaurant and bar, it's also convenient to meet the other skiers in your party for a spot of lunch or an après drink.
For a bit of variety the large Parc Olympique in the heart of Meribel boasts swimming pools, bowling alley, indoor ice-rink, climbing wall and fitness centre. With a water flume and entertainment events throughout the season it's a great option for families with younger children.
3. The gastronomic delights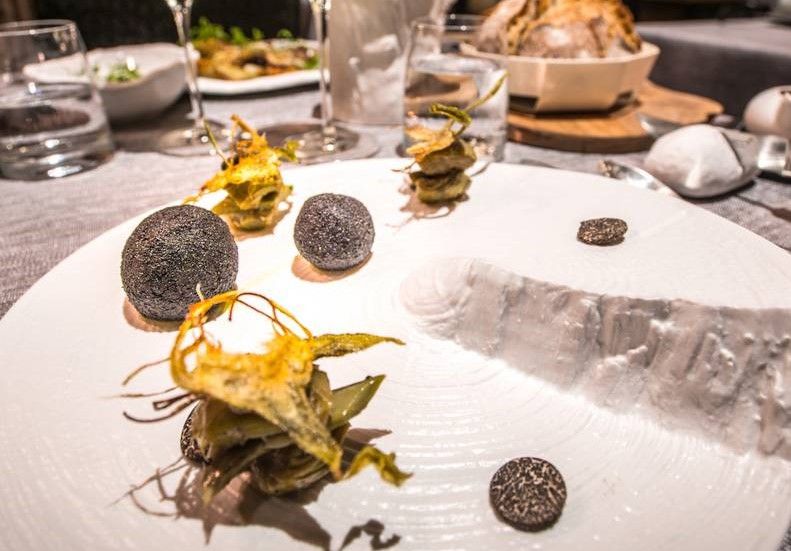 A luxury ski holiday to Meribel would not be complete without visiting some of the resort's gorgeous restaurants. Whether you are looking for traditional Savoyarde fayre or dishes with an international twist, Meribel delivers.
Located just off the exclusive Route des Chalets, Aux Petits Oignons is a staple of the Meribel restaurant scene. Offering excellent, hearty French cuisine and a robust selection of wines to match, Aux Petits Oignons will leave you warmed through and fully sated no matter the temperature outside!
The resort's first Michelin starred restaurant, L'Ekrin leads the way in culinary delights. Executive Chef, Laurent Azoulay is classically trained in the French tradition.
For anyone who loves some spice, Tsaretta Spice has brought contemporary Indian cuisine from their Twickenham restaurant to the resort of Meribel. One of the most popular restaurants in town, it offers a fresh take on the fine-dining experiences available in the mountains.
Whilst on the mountain there is no shortage of mountain restaurants to tempt you away from the downhill and towards a sit-down. Le Blanchot is beautifully located, operated with charm and full of comforting modern French cuisine. From confit lamb shank, to fresh fish, and truffle risotto, throughout the season the locally sourced menu offers tempting dishes of all descriptions.
A hidden gem located in the forest near the Meribel Altiport, Le Clos Bernard is well worth the effort it takes to find! Specialising in cooking over an open fire, their steaks are legendary and can be enjoyed in the cosy restaurant or on the sunny outdoor terrace. Lunch here is not a quick experience, but one to be languorously savoured over an afternoon.
4. Après ski for all tastes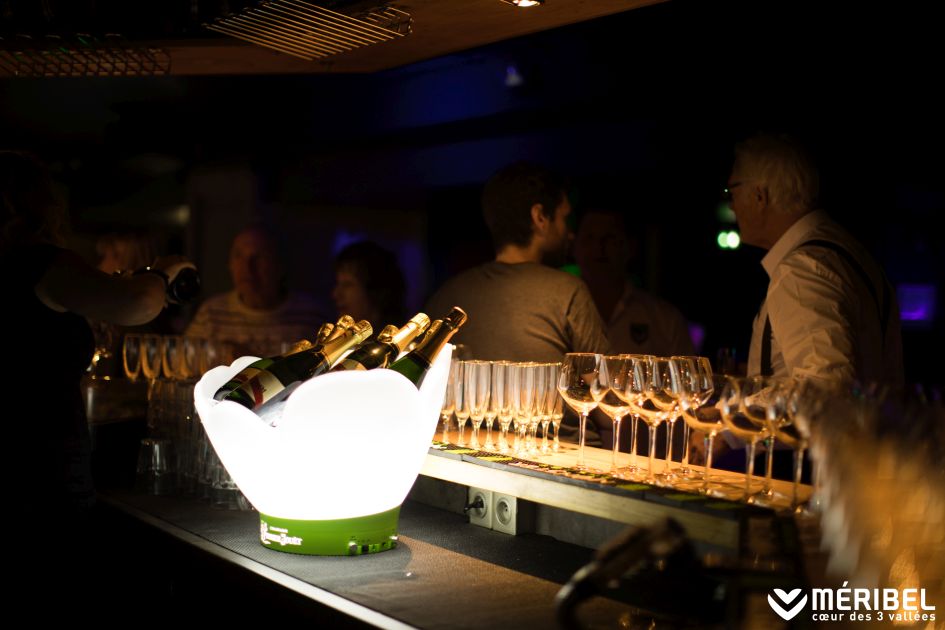 If the apres ski is a key part of your winter holiday, then you couldn't pick a better area than the Trois Vallees. Not only is it home to the infamous Folie Douce in Val Thorens, it also houses a second Folie between Meribel and Courchevel at the mid-station of the Saulire Express gondola. Mountain goers naturally flock here to dance on the tables, enjoy a spot of cabaret and unwind after a big day on the mountain.
For more live music on the mountains, a favoured spot for locals and visitors alike is Le Rond Point (also known as Ronnie's). Their famous happy hour runs through to dusk at 6.30pm, and makes for a lively end to a day of the mountains.
As you would expect from one of France's best known luxury ski resorts, the apres scene in town is almost as lively. For champagne and cocktails L'Abreuvoir in the centre of town is a chic spot to finish your day. It also offers a well-designed menu of tapas dishes to nibble on. A more relaxed vibe can be found at Saint Amour Wine Bar; an ideal spot for couples and a must visit for wine connoisseurs with more than 100 bottles to tempt the palate.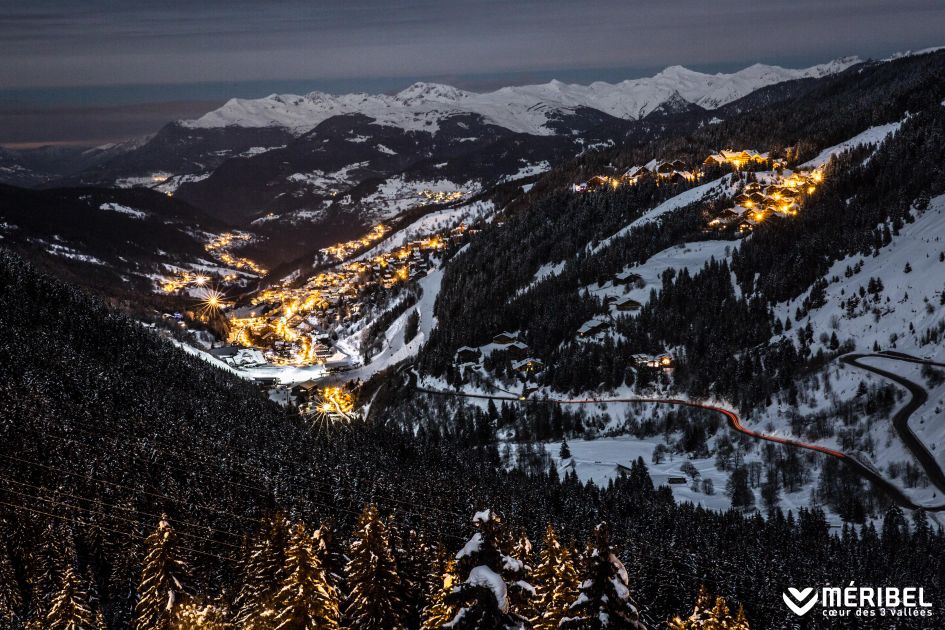 5. The luxury ski chalets in Meribel
One of the most popular resorts in the Alps, Meribel is a haven for top class luxury catered chalets. Each offers a unique proposition, but they stand united in the outstanding levels of service and facilities they offer, as well as the quality of design. Here's a selection of the best luxury chalets in Meribel.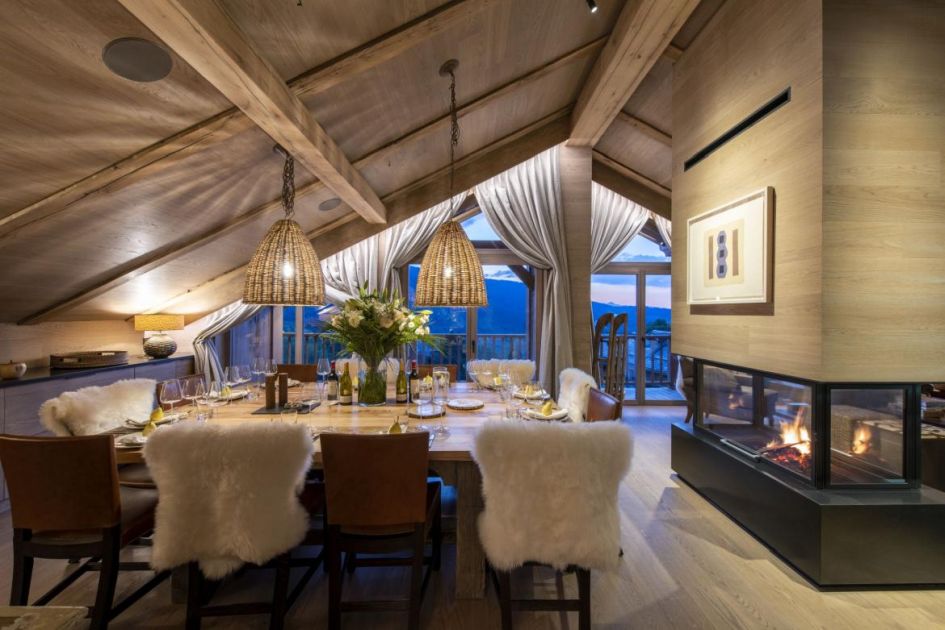 A recently completed property, this chalet is new to the market for the 2019/20 winter season. Catering for up to 16 guests, it represents the epitome of alpine sophistication in it's design, which combines contemporary features with classic materials.
With all of the wellness and entertainment facilities you would expect, guests can relax after a day of skiing, in the hammam or outdoor hot tub, or snuggle in front of a film in the state-of-the-art cinema room.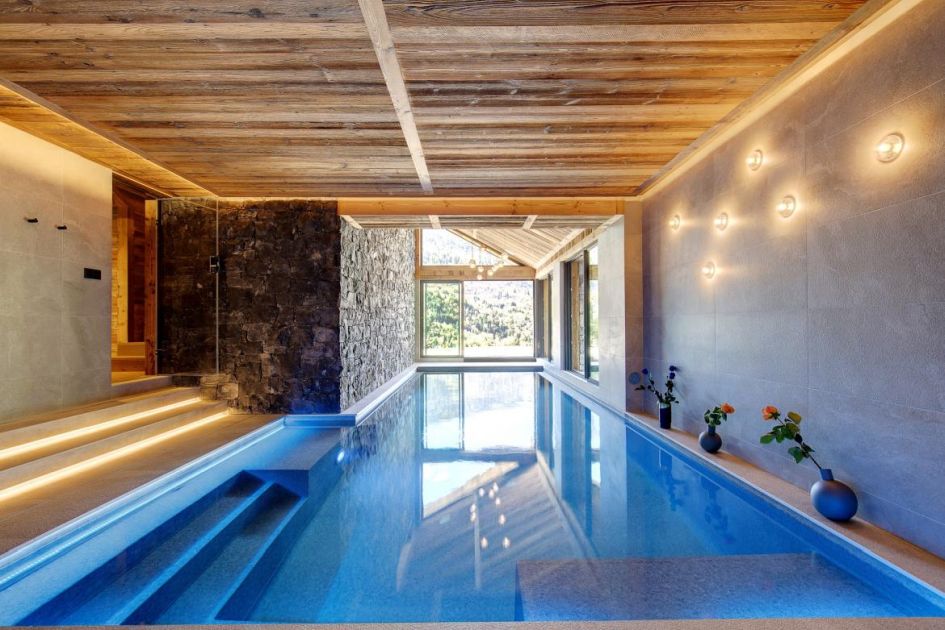 In the heart of Meribel, this luxury chalet consists of six en-suite bedrooms, and a spacious living area, with stunning views over the neighbouring peaks. If you would rather, these can also be enjoyed from the outdoor hot tub or traditional barrel sauna. If you need another spot from which to enjoy a mountain sunset, Chalet Menor boasts an indoor swimming pool encased by floor to ceiling windows.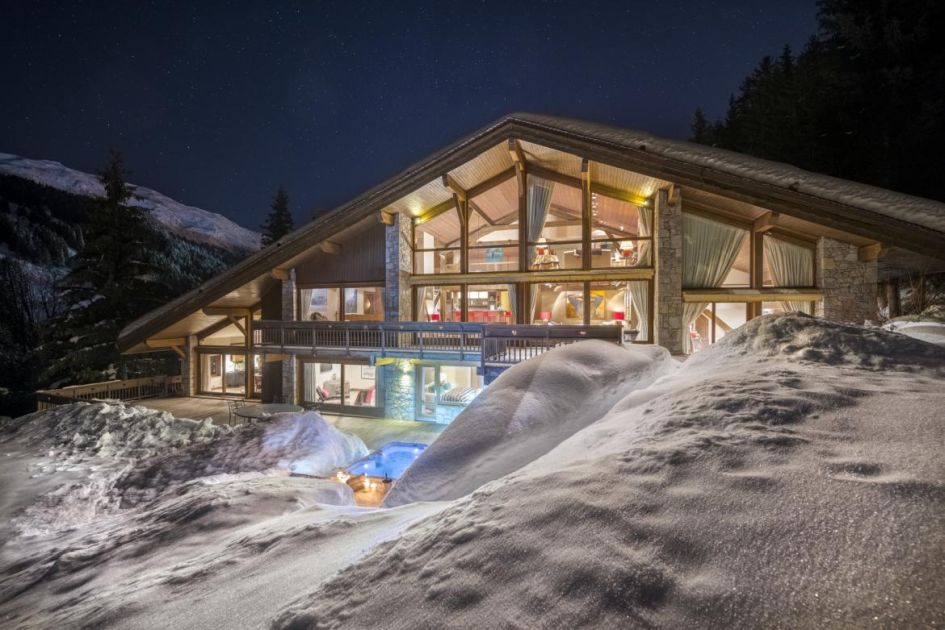 An enclave of privacy yet located just a stone's throw from the village centre, Chalet Les Brames is a jewel of a chalet. Sleeping up to 14 guests, this light-filled 600 square metre property epitomises luxury mountain life. A large living area with a bar and open fireplace encourages guests to congregate together of an evening and enjoy the extensive wine cellar.
Views of the valley can be enjoyed from the South facing terraces and through the enormous walls of windows. The concierge can organise a massage in the chalet's treatment room, or simply just rest ski-tired legs in the outdoor hot tub, sauna or hammam.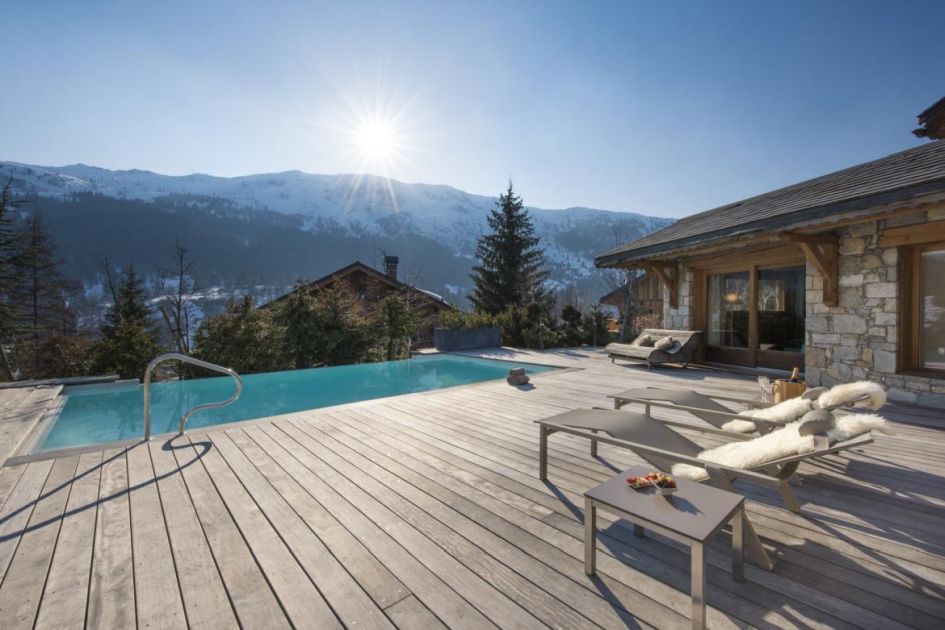 Chalet Mont Tremblant truly embraces it's mountain setting; it combines luxurious and contemporary design with local natural materials. Flooded with light it invites guests to appreciate it's beautiful alpine locale. The heated outdoor infinity pool and hot tub pull together the huge south-facing terrace, where guests can enjoy a drink whilst the sun sets over the surrounding mountains.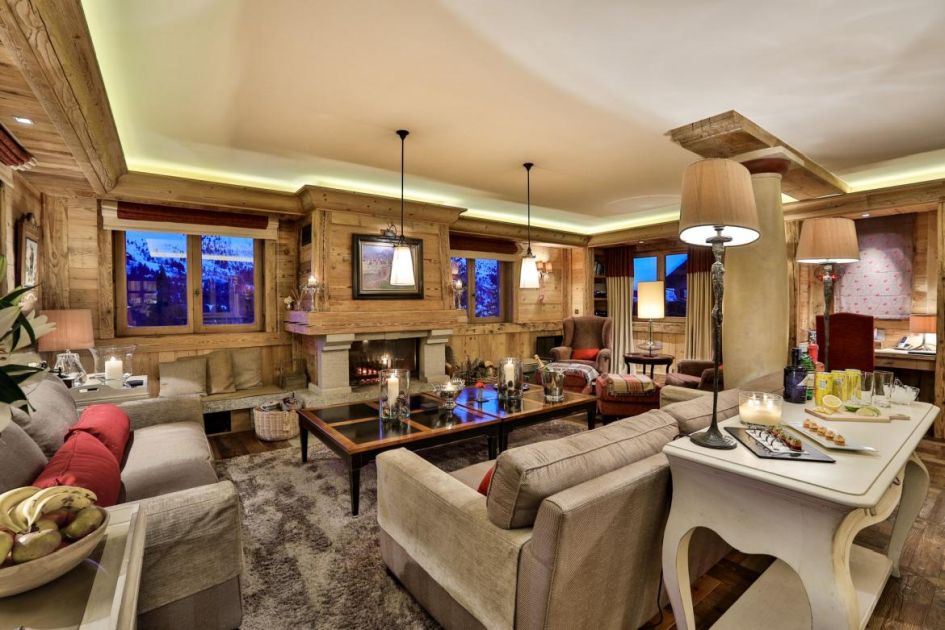 Year after year we have guests who return to Chalet Trois Ours because of its fantastic facilities, curated design and outstanding levels of service. Guests can expect every attention from the professional and discreet chalet team, so they can simply relax in luxury.
A ski in/ski out Meribel chalet, there is no delay in exploring the pistes from Chalet Trois Ours! The spacious living area leads seamlessly to a large balcony with great views of the surrounding mountains in all their glory.

If you are planning a trip this winter, then look no further than Meribel for a luxury ski holiday.If you are interested in exploring the Three Valleys further, Nicole has recently written her personal guide to skiing the Three Valleys. Across at our sister brand Ski In Luxury we have a guide to Courchevel, truly one of the most exclusive resorts in the world.
If you would like to book one of the best ski chalets in Meribel or need any further advice, then please get in touch by sending us an email or give us a call on +44 1202 203 653. We will be happy to assist in your search for the ultimate luxury ski holiday.