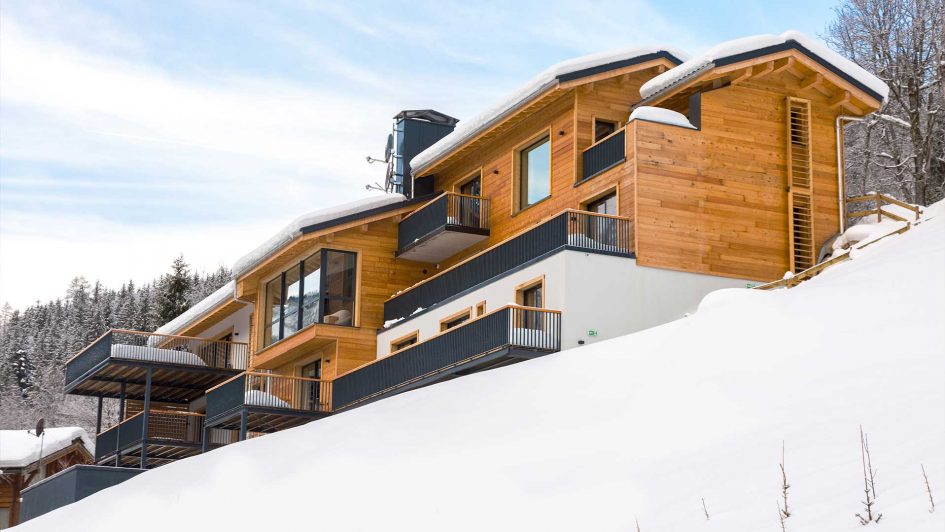 We have recently added Le Chalet Mont Blanc to our Ultimate Luxury Chalets Collection because we see it to be one the top 100 chalets in the Alps. Sleeping up to 26 guests, Le Chalet Mont Blanc is the largest luxury chalet in Chamonix with all the bells and whistles. Impressive views, luxurious spa facilities and a supreme service; it's nothing like you've ever experienced before!
Are you looking for a large luxury chalet in the Alps for your next corporate incentive? Or perhaps you have a special occasion and looking to head to the Alps with lots of friends and family? If so, you have come to the right place…
I have been lucky enough to find out about what goes on behind the scenes at this impressive luxury chalet in Chamonix through an exclusive interview with Martin Bromley who manages Le Chalet Mont Blanc.
HOW LONG DID LE CHALET MONT BLANC TAKE TO BUILD FROM START TO FINISH?
Ground works started in July 2017 and we took the keys in Dec 2018, so a year and a half. We are continually enhancing our product offering and providing even more benefits to our customers, and as such I can't say it's ever completely finished!

What service should guests staying at Le Chalet Mont Blanc expect?
We aim for very unique experiences and we believe Le Chalet Mont Blanc delivers this in a number of ways. Firstly the location. Set high above Chamonix on the sunny side facing south with direct views of Mont Blanc and all the surrounding mountains. It is in a hectare of private mountain land surrounded by forests so our clients really feel at one with nature during their stay at Le Chalet. Secondly the building itself is designed to reflect the mountain outside through its flow and clever use of materials. Thirdly our experienced team from all over Europe come together to give the very best personalised service our guests expect.
Catering is an absolute fundamental part of any holiday or corporate experience. Our extremely talented Chef is with us all year round, (except when he is head caterer at the Tour du France) and of course only sources local ingredients where available. Sustainability and recycling is at the core of Le Chalet, using local meats and cheeses, wine and honey from our on-site beehive. Every product brought into Le Chalet has to be Eco-Certified and we compost organic food onsite in our composter and grow our own vegetables.

What makes your VIP catering and service upgrade worth considering?
Sometimes people find eating on the mountain a little hectic so we are here to take the stress away. Our VIP on demand Chauffeur service is on call to pick up our guests and whisk them back to Le Chalet for a scrumptious lunch served with the warmest smiles from our hosts. It gives the chance for our clients to totally relax knowing their event is all planned out for them, after lunch we head back the slopes or they can take the complimentary massage and swim in our indoor pool.
How many members of staff do you have to operate a full chalet?
We have 10 full time staff on hand during the winter, all of which are highly trained and between them speak 7 languages, from 8 different countries. We recruit mainly from super yachts as we find these employees very familiar with the day to day workings of a high end establishment and looking after high net worth individuals.
HOW DO YOU ACCOMMODATE FOR LARGE CORPORATE GROUPS?
Le Chalet was purpose built over 1,000m2 of real estate with large corporate groups in mind. For example, every bedroom has a direct view of Mont Blanc, no back bedrooms and all similar in size yet individually decorated. Every room has a full en-suite bathroom, lots of natural light and all the latest mod cons from 2000 channel smart TV's to USB and wireless charging points to laptop safes. Le Chalet with its dedicated Board Room has welcomed some very famous blue chip companies in our opening year, and have received 100% positive feedback. We really can cater to any number by using neighbouring chalets and hotels to provide the highest corporate level of service and luxury accommodation in Chamonix today.

Could you describe what a typical corporate stay in Le Chalet Mont Blanc might be like?
There's no such thing as typical with Le Chalet. Every client is unique and we treat them so. We tailor-make every event and take the time to understand the clients objectives behind holding the event. We pull on 25 years' experience in the industry to deliver time and time again.
If you are thinking of planning an event then do speak to us, we have some amazing suppliers and partners we call on to deliver some truly awe-inspiring events, from moonlight descents on the Vallee Blanche to roasting smores and marshmallows in our fire pit, with a chocolate fountain uniquely supplied by the finest chocolatier in Switzerland as back up. My marshmallows always fall in the fire pit so I like to dip them in the fountain instead!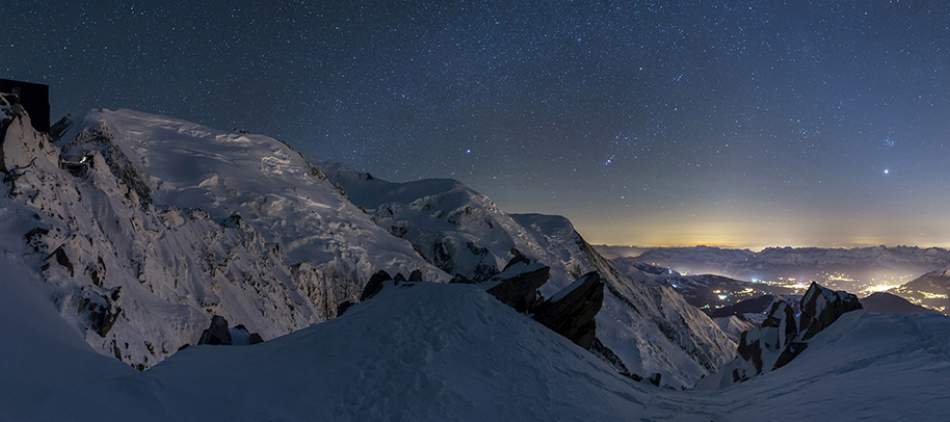 WHAT IS THE MOST SPECTACULAR ASPECT OF LE CHALET MONT BLANC?
From the building perspective the massive floor to ceiling windows, all with unparalleled views, floods the building with natural light and being so high with uninterrupted views Mont Blanc 4,810 metres high feels alive and almost right in your own garden. Secondly the staff, without them Le Chalet could not be a success, we have a very passionate dedicated team, who always go above and beyond for our clients. They are so loved our clients keep offering them jobs, so it is a daily challenge to keep them! Although, they are in love with Le Chalet as much as I am, and it shows in our product offering.
Video Tour of Le Chalet Mont Blanc
Clearly knowing Chamonix well, do you have any top tips for anyone coming to Chamonix for the first time?
It's a shame there are only 24 hours in the day as there is so much to experience in Chamonix from very young kids to the professional Alpinist. Chamonix is open all year round attracting 5 million visitors a year, so it is a hot bed of experiences and fun activities. From total well-being to Helicopter flights over Mont Blanc, Chamonix has it all.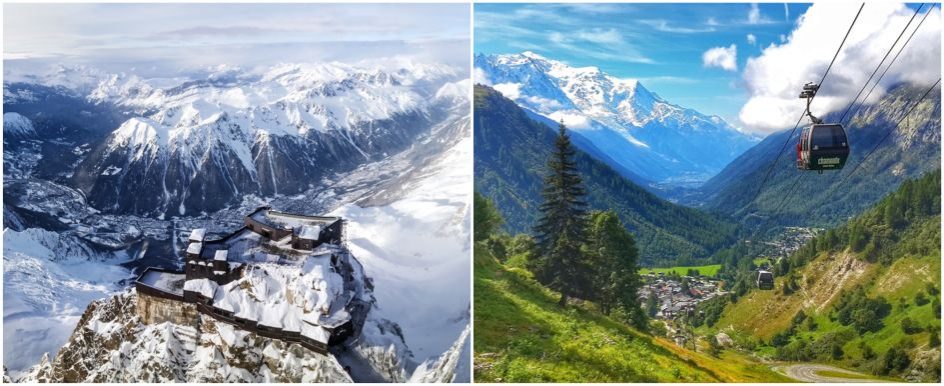 What are your favourite summer and winter Chamonix activities?
My favourite summer activities in Chamonix would be to take a tandem paraglider with Air Sports Chamonix, fly down and have lunch at La Cabane, maybe a quick 18 holes of golf or a trip on the Montenvers Train to the Mer de Glace. Ride the Alpine Luge back and have a drink in the new brewpub Big Mountain Bar. Dinner in the Cap Horn then taxi back to Le Chalet for late night whiskeys.
In the winter, I would do a Vallee Blanche ski, lunch at Moo Bar, afternoon husky ride then Apres ski drinks in Folie Douce, followed by dinner in La Caleche. The next day I would spend all day in the new Thermal Baths in Chamonix called QC Terme literally from 10am to 10pm.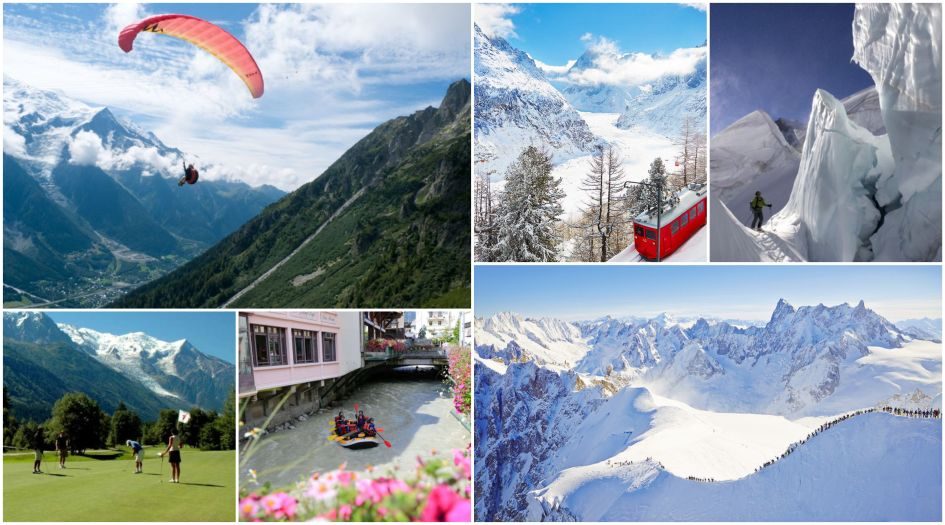 Which ski area in Chamonix is your favourite and why?
Has to be Les Grands Montets ski area. Not to be confused with the one cable car lift of the same name, which unfortunately isn't working this season. However, it is still an amazing ski area with over 60 hectares of skiable domain. The off piste and the powder are world famous – there is nothing like laps off the Bochard in knee deep fresh powder to really get the blood flowing.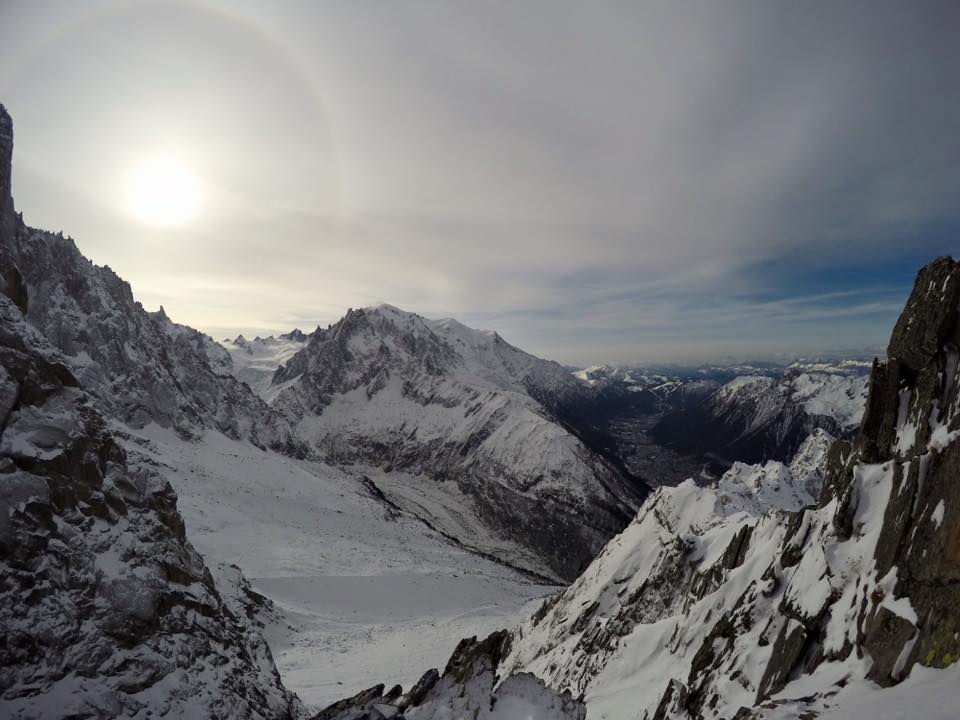 Whether you are organising a corporate trip, a large group celebration or just your annual luxury ski holiday, it is without doubt that there is something for everyone. The facilities combined with the highly experience staff will ensure you have a luxury ski holiday like never before.
If you need any further information or have any questions, please do get in touch with our Ski Specialists at Ultimate Luxury Chalets. You can send an email or give us a call on +441202 203 653 and we would love to help with finding your next luxury ski chalet.