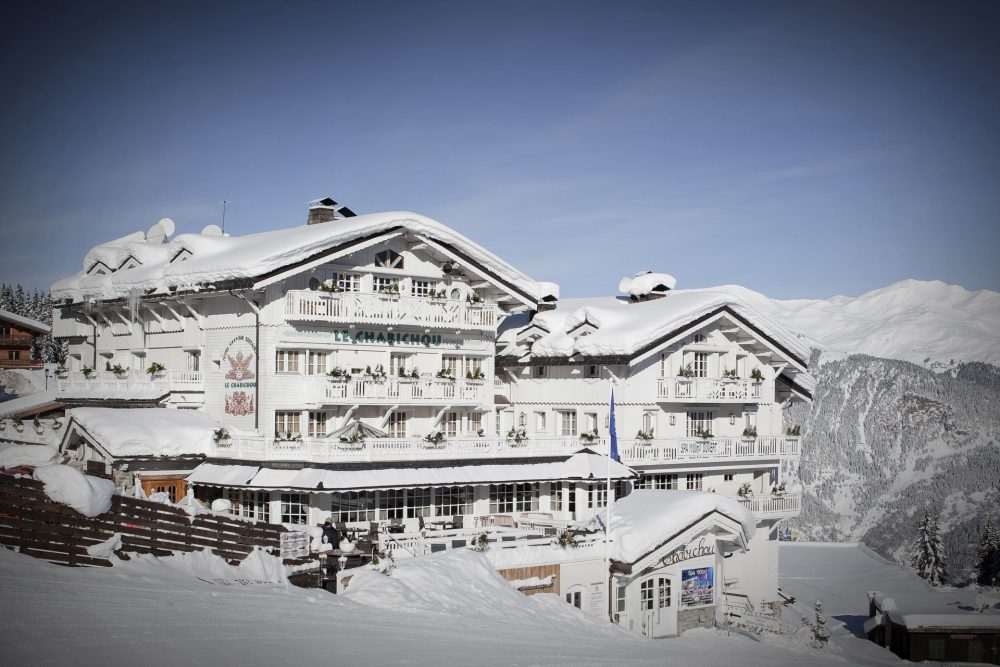 Having spent the past five winters of my life in the Alps; more specifically The Three Valleys; it gives me great pleasure to present to you my guide to some of the best restaurants in the Three Valleys. Some of these I have experienced and others are still on my list having heard so many resort visitors and friends raving about them. So, get your knives and forks ready as I take you on a tour of the area that I've called home for the past five seasons.
Given the vast amount of high quality restaurants in the Alps these days, it comes with no surprise that The Three Valleys boasts some of the best restaurants, which you simply can't afford to miss during your luxury ski holiday!

Moving down the Valley leads us to the three Michelin starred La Bouitte. A traditional Savoyard scene welcomes you to where Father and Son team René and Maxime Meilleur are creating a real buzz after recently garnering their third star. This year also marks the 20th year that Maxime joined his Father in the Kitchen. Being a former biathlete, Maxime brought with him the values of the sport; determination, endurance and an appetite for a challenge. It's no wonder with his addition they have achieved greatness.
Set in the hamlet of St. Marcel in between Les Menuires and St. Martin de Belleville, La Bouitte offers the ultimate experience of gastronomy. If there is enough snow, advanced skiers will be able to pull up by the back door. If not, a Chauffeur will come to pick you up from your chalet or the slopes (easily accessible from Les Menuires or St.Martin). Once you step inside this elegant traditional Savoyard building your eyes will be awash with ornate handcrafted wooden beams and features, not to mention the impressive cow bell collection in the welcome area.
On the night where the chalet staff have a day off this is an opportunity not to miss. A wide range of tasting menus awaits you ranging from three to eight courses! Alternatively an excellent a la carte menu offers you only the freshest and best in local ingredients, hand-picked by the chefs.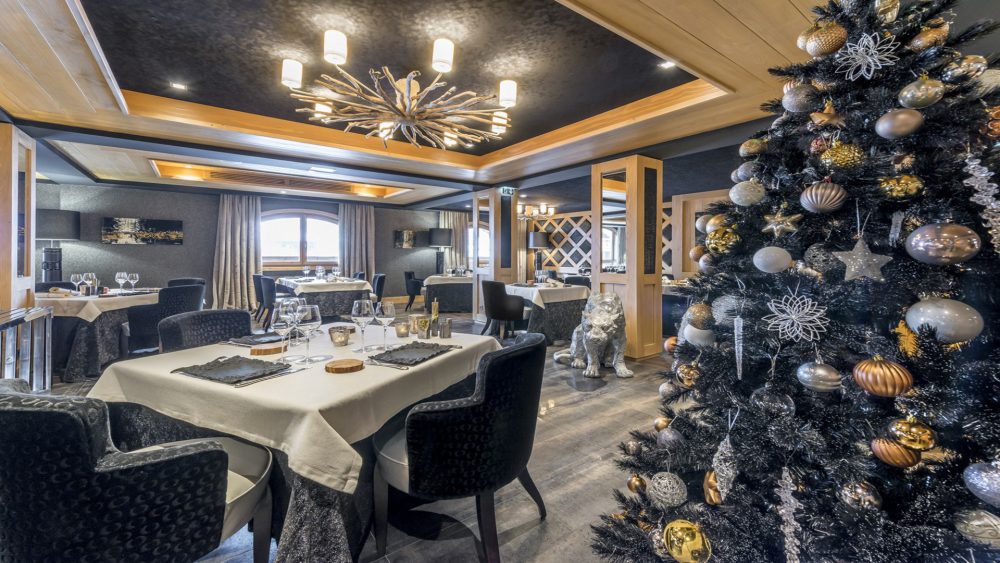 As we continue on our tour of The Three Valleys we find ourselves in Meribel Centre where we can find Restaurant L'Ekrin within Le Kalia Hotel. With a contemporary feel this restaurant oozes luxury. This is the only Michelin starred restaurant in Meribel, awarded in 2015. Chef Laurent Azoulay has trained under world renowned chef Alain Ducasse who has multiple three star establishments and plenty of others all over the world. Laurent has honed his skills with the extensive training he received and understands that the produce makes the dishes. Therefore as he only uses the freshest produce, consequently during the course of the season, certain dishes may be unavailable. Born in Le Gard in the Provencal region Laurent has adopted La Savoie as his second home. He features this prominently in his "Menu Authentik," where he invites his diners to discover the regions sun-filled produce
Another option you can explore is Laurent's signature menu in which he shares his passion for black truffles where the inspiration for the menu is taken. Four of the five dishes feature this delicate ingredient. The scallop dish in particular sounds divine. The scallops are seasoned with black truffle, served with glazed vegetables, a truffle crumb and truffle velouté. L'Ekrin operates solely in the evenings so best to make a reservation to avoid disappointment.
Now we find ourselves in La Tania and head for Le Farçon. A mazy run through the trees will lead you to the centre of resort where Le Farçon is easily located piste side from the main runs that come into La Tania, unless you've taken the challenging red "Moretta" – it's a couple of minutes walk from there.
The restaurant has a very traditional feel with all of a wealth of Savoyard features. Awarded a Michelin star in 2006, chef Julien Machet has gone from strength to strength in bringing modern cuisine to an area known for its local specialities. Being born and raised in Bourg St. Maurice, he gained his passion for cooking from his grandmother as she would bring the family together with her wonderful meals, from which he still takes inspiration. Julien's dream was to bring a star to Le Farçon in order to gain this he worked with well know Savoyard chef Jean-Pierre Jacob for four seasons. Here he learnt the self belief and techniques to achieve his dream. Upon his return in 2003 he was disappointed not to realise his dream. He went back to further his skills under Jean-Pierre. Two years later his dream was achieved!
Le Farçon offers a whole wealth of different menus but the one I would recommend is the "Entre Deux Pistes." This is an ideal lunch stop off point, and for €38 it offers outstanding value for such an experience. Being local, Julien is proud to mention all of his suppliers on each and every dish as he believes the outstanding produce deserves recognition.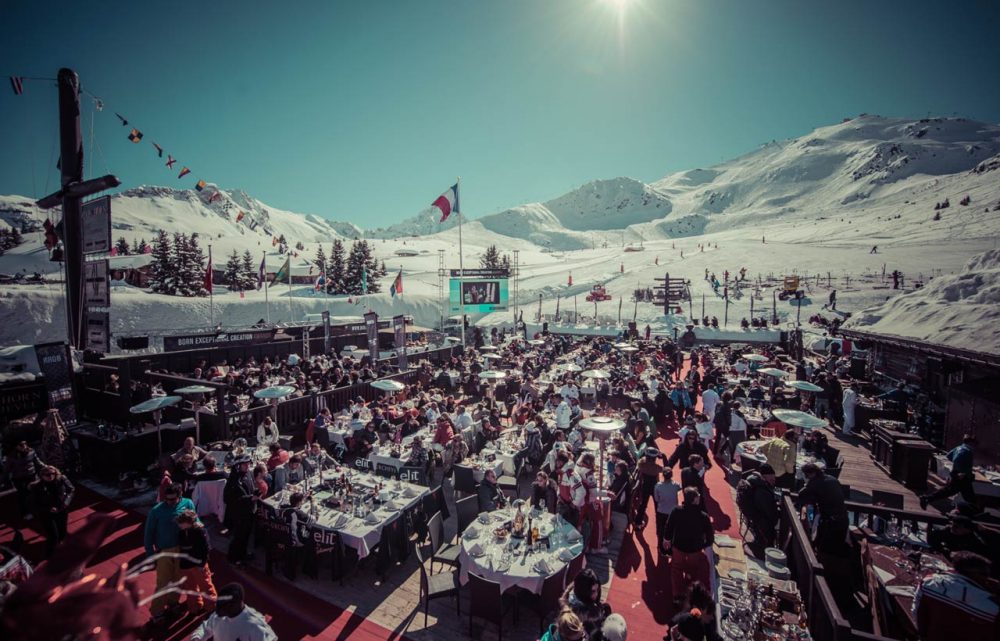 After passing through La Tania we are headed for Courchevel 1850 where there are a host of prestigious restaurants to choose from. First up is a real show stopper, Le Cap Horn. This nautically themed restaurant blows you away from the very moment you unclip your skis and hand them over to the valet to step onto the red carpet. This is just the start of the uber cool experience that awaits you. Being part of the Maison Tournier group it specialises in seafood, boasting some of the best "fruits de mer" platters around. It also offers an extensive range of handmade Japanese Sushi to go along with its well known rotisserie chicken and exceptional Camargue beef.
It's not just the food that will wow you whilst you're here. The terrace is right next to the Altiport, so you can watch the millionaires fly in on their private jets while soaking up the view and atmosphere. There is even something for the keen aprés skier in you, with a house DJ playing all sorts of tunes to get guests dancing on the tables! They also offer "Elite Burger," a gourmet burger bar where the burgers are freshly made in front of you on the terrace (weather permitting). If that doesn't tickle your fancy they also boast a stunningly authentic Italian restaurant.This unique venue is not one you'll want to miss.
The final stop on our tour is Restaurant Le Chabicou. You'll be sure to find it easily enough as it has its own piste in the Chenus sector of Courchevel 1850! This famous restaurant has held its two Michelin stars for over thirty years which is a testament to the passion and commitment from chef owner Michel Rochedy. He took over the Chabicou in 1963 at just 26 years old, now 78 he hasn't skipped a beat. Joining him in 1987 was Stéphane Buron who brought with him a wealth of talent and experience, described as having a C.V as impressive as some of his dishes! Stéphane has worked all over the world from Paris to Palm Beach. With a sun soaked terrace making you want to stay until you can eat no more, Le Chabicou delivers the ultimate experience.
From the fish filled a la carte to the set menus, Le Chabicou will stun from the first mouthful to the last. Stéphane and Michel have been bringing together flavours from all over the world to their kitchen. They have a real passion for local cheese, so much so that they select all of the different types from various local farmers, sometimes only having one cheese from each farmer. Be sure to leave enough room for the delights that await you. This will be a fitting end to any luxury ski holiday.
After covering some serious miles of sun drenched slopes and trying loads of amazing food the tour has come to and. I hope that you have enjoyed this guide I have put together, and If you're lucky enough to be in the Three Valleys this winter be sure to give a couple of these a go, You will not be disappointed! One thing is for sure, your Instagram will be the envy of your friends for time to come!
We hope we have inspired you to experience the Three Valleys ski area this coming winter. Should you wish to book a luxury ski chalet in the area then send us an email or give us a call on +44 (0) 1202 203 653.
Make sure to follow us on Facebook and Twitter for news on the Creme de La Creme of Ultimate Luxury Chalets that the Alps have to offer.