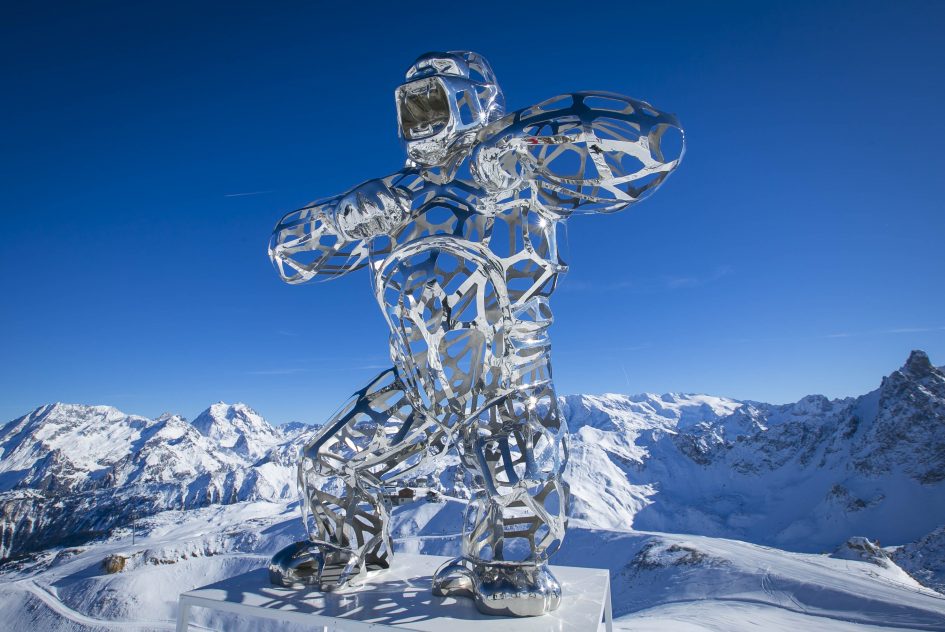 Courchevel 1850 is the "diamond" ski resort of the Alps and is an iconic ski resort for many reasons – for glitz and glam, superior shopping and for Michelin star catering to name a few! BUT…Did you know that each year the resort becomes an open art gallery with sculptures dominating the top of each summit? Richard Orlinski, the famous artist for the "Born Wild" collection features a number of his sculptures in the exposition. We caught up with him to find out why Courchevel 1850 has long been a favourite ski resort of his and why Orlinski art is showcased in Courchevel.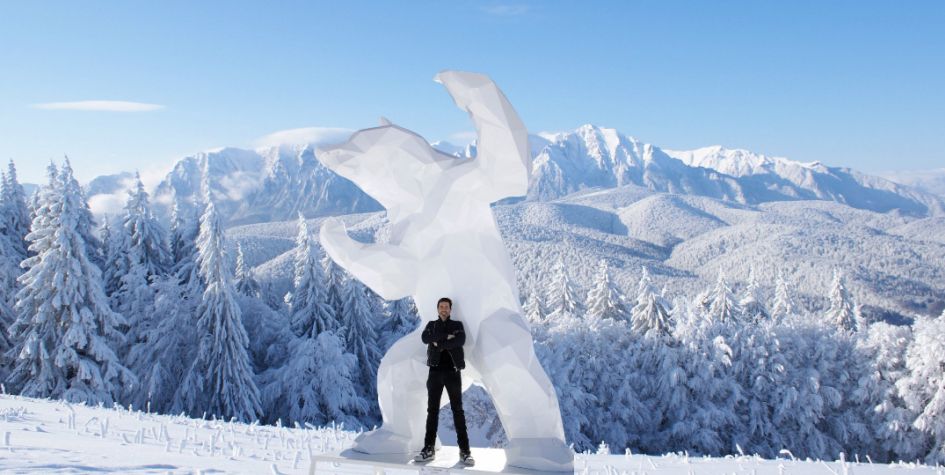 You are now one of the top 10 best selling French artists in the world! How did your career take off?
"Even at the young age of 4 years old, I was sculpturing little animals from clay! However it took me a long time to get into the world of contemporary art. I originally followed quite a normal course and was working in real estate before finally deciding to live the life of art.
I decided to concentrate my work on popular culture as an art style that is easily accessible and that has an immediate impression. I particularly enjoyed creating 360° pieces that could be enjoyed from all angles. when I was young, I was very interested in music, drama and sculpturing… these interests have stayed with me ever since as I enjoy expressing myself in many different ways. In this industry you have to know how to stay current and how to adapt to keep with the time and cultural changes."
What has been your greatest success to date?
"The biggest triumph for me is that my art is popular with children. When I see how interested they are in my work and how much they enjoy my sculptures, that is my greatest reward."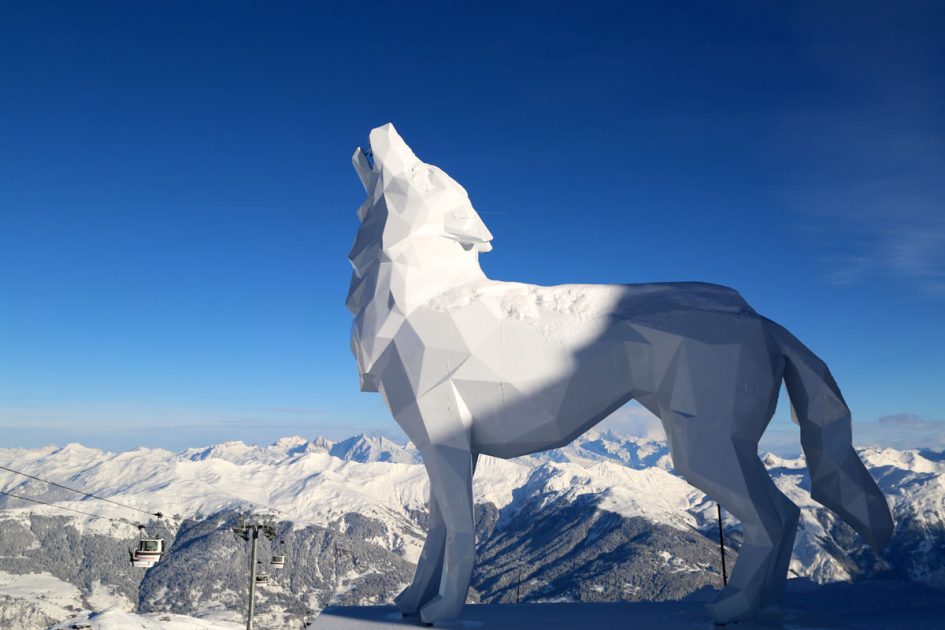 What has been the inspiration for your sculptures? Particularly the ones we can see in Courchevel 1850.
"Wild animals have always fascinated me and therefore have always been at the heart of my inspiration. I like how expressive they are of emotions.
A personal favourite of mine is one of my first sculptures "Wild Kong". This was inspired by the iconic film – "King Kong" which has touched generations and continues to fascinate both young and old."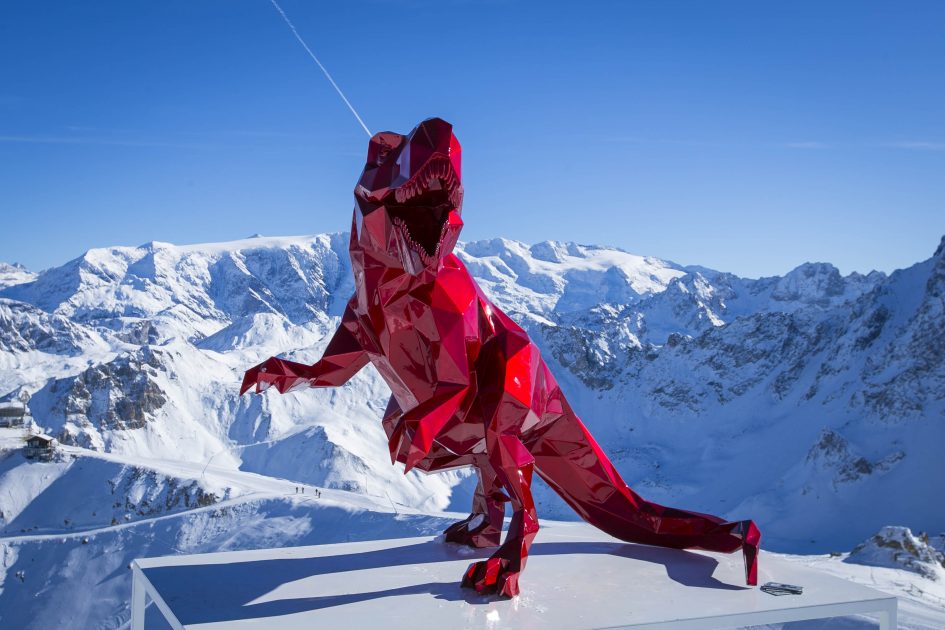 What made you decide to display your art in the Courchevel 1850 exposition?
"I was very happy to expose my art in the "L'Art Au Sommet" exposition. Skiers can enjoy discovering my art while having a brilliant time out on the Courchevel 1850 pistes. There are a number of my sculptures to spot such as the T-Rex at the Saulire summit or the King Kong and Rearing Horse at the top of the Biollay.
I've been displaying my work here for many years and also have opened my first 100% Orlinski gallery in Paris, one of the world capitals of art."
For any non-skier in Courchevel, exploring the outdoor art exhibition could be the perfect way to spend a gorgeous blue sky mountain day.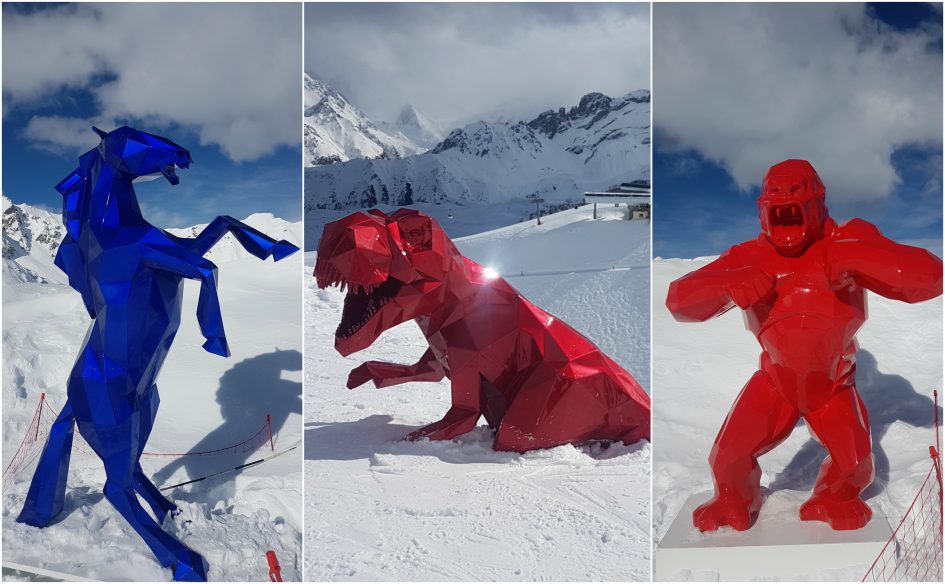 Let's talk Ski – You must be a keen skier yourself to have your art displayed in one of the world's best ski resorts. When did you learn?
"I learnt to ski at a very young age in Morzine in Les Portes du Soleil and learnt with a local ski school. Since then I try to go skiing regularly. However, these days my favourite resort is Courchevel 1850. I am a big fan of the resort and particularly like the atmosphere around town. The skiing is amazing too, for both beginners and the advanced. If it is your fist time skiing here, you have to stop for a bite to eat at Le Cap Horn, which is right next to the Courchevel Altiport. Its a great spot to enjoy the sunny terrace and watch the planes come in. Their sardines are extraordinary too."
When staying in your luxury ski chalet in Courchevel you may have enjoyed seeing his work around the resort and ski area. How many did you spot? Do you need to go back to find the ones that you missed and get that perfect selfie shot? Our team at Ultimate Luxury Chalets and Ski In Luxury have a vast knowledge of the resort and ski area. We would love to help you find the perfect place to stay for your next holiday to the Three Valleys. You can send an email or call us on +44 1202 203653 with your enquiry and one of our experts will take a look into the perfect ski chalets for your holiday. Bon ski!