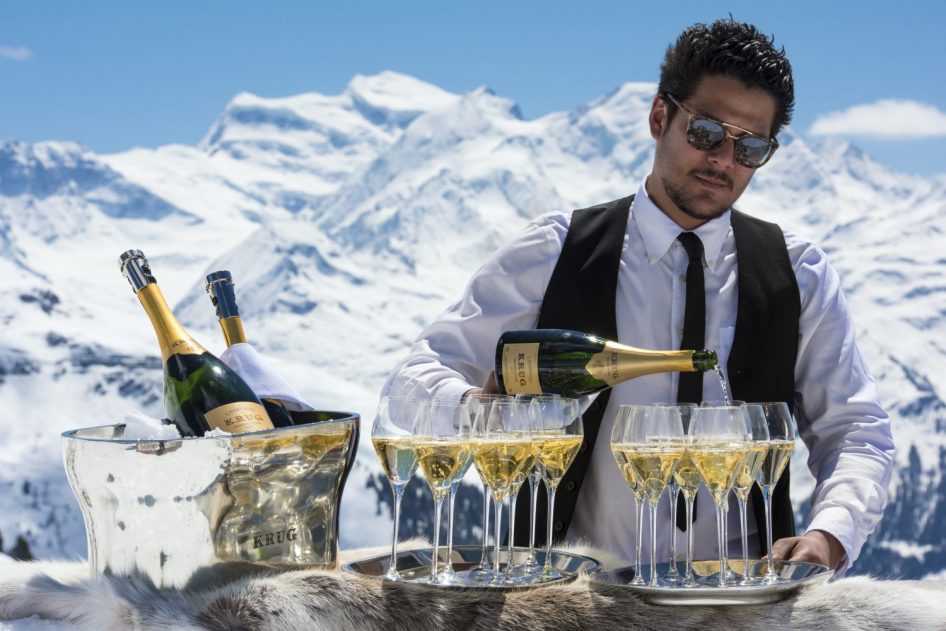 A luxury corporate ski break in Verbier offers you the chance to reward your workforce and/or impress your clients, but how do you offer them something different, something that will stay etched in their memories for years to come? That is where Kando Events come in. I caught up with Nicky Ffrench Blake, Founder and Director to find out who they are and what they offer. Here is what she had to say…
Who are Kando Events?
Since 2008, Kando has been conceptualising, creating and managing highly innovative corporate events experiences in Verbier, the Alps and beyond. We are trusted by our clients and partners to go beyond the expected, making the extraordinary happen in ways that are truly unique. We bring together alpine landscapes, luxury styling and exquisite finishing touches into seamless packages that are consciously executed with care for our environment.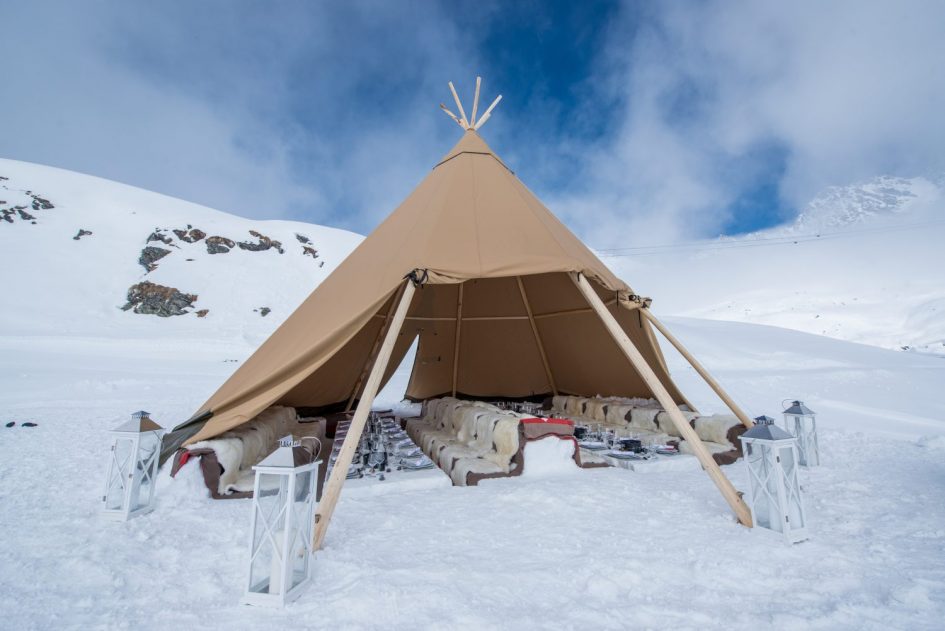 We know how to make every event not just special, but personal to our clients. Drawing on our creativity and impeccable attention to every detail, we execute events to the highest of standards, as a result many of our clients come back to us year-after-year for their next incredible event.
What kind of corporate group events do you organise?
Our corporate events range from exclusive short-breaks for a few individuals which are often the senior team, partners or a select group of clients, through to huge 'conference' style events for up to 250 people like we organise every year for a private law firm. The format of the event is determined by the experience our clients want to have, as every event we organise is tailor-made. However, our focus is always on combining nature and luxury, so that our guests get to enjoy the wonders of the mountains, but feel that every detail has been taken care so the overall experience is beyond anything they could have imagined.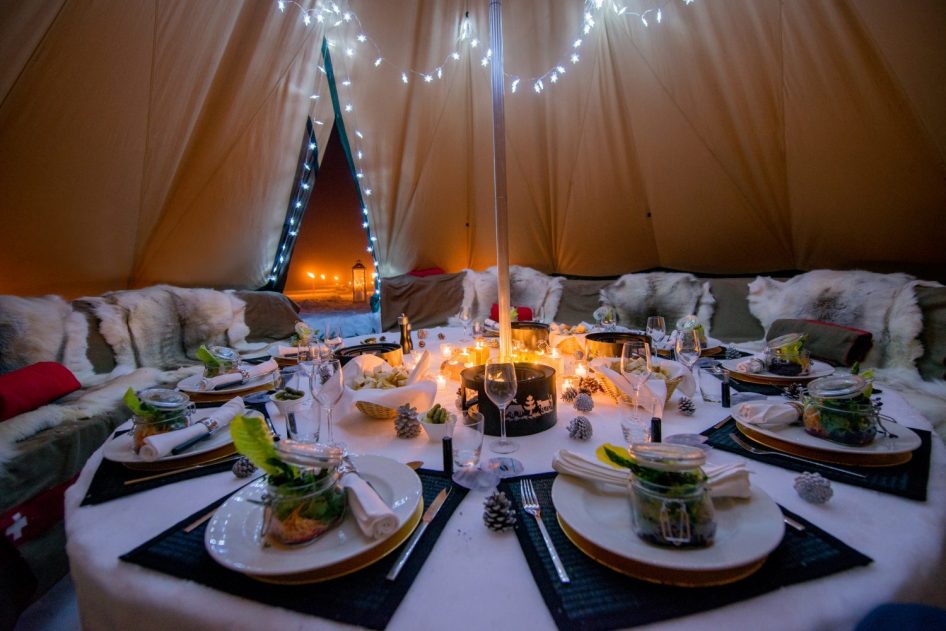 If they are with us as part of an incentive travel package, for example, to reward sales teams from around the world, the agenda is usually packed with a variety of fun activities to do, day and night. These could range from a high-octane day off-piste skiing through to heli-picnics on glaciers, paragliding or sledge rides with huskies to name a few options. Our day time activities are usually accompanied with on-mountain dining or exclusively booked restaurants with panoramic terraces. Night-times are just as much fun whether our team of chefs is catering for the group in the chalet, or if we host a private event at an exclusive in-town venue with local speciality cuisine to match.
Whatever our client's aspirations are for their event, we pride ourselves on being creative and flexible enough to make it happen.
If money were no object, what would the perfect day and night look like for a corporate group in Verbier?
There are so many options, but let's imagine we are hosting a small to medium-sized group that are flying into Geneva in winter. We would meet them early morning with everything they need for a day of off-piste skiing, including the helicopter. They would be flown directly to the chosen glacier, based on the advice of our mountain guide who will be accompanying them for the day, so that they get the best experience in a location that suits their abilities.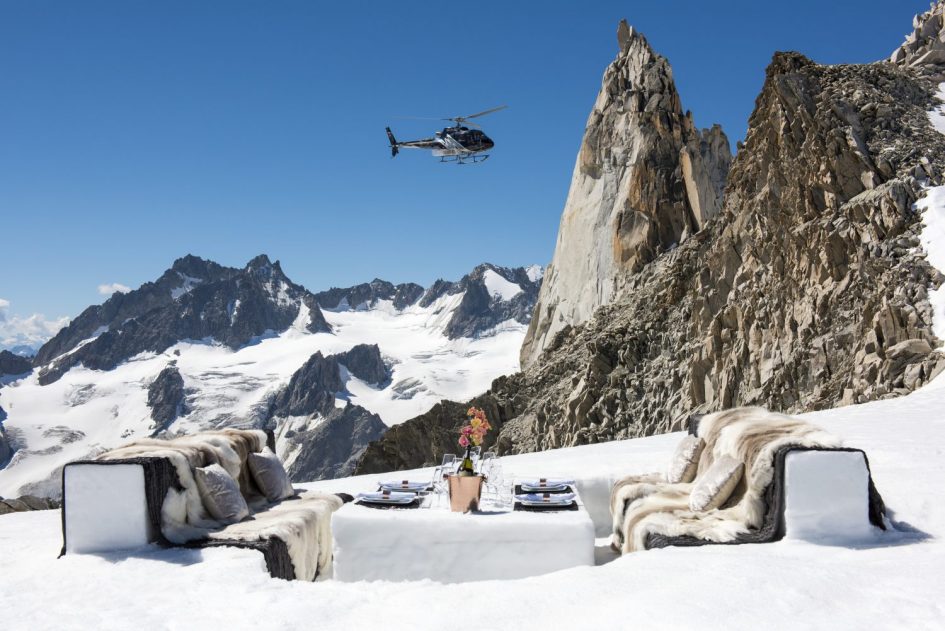 Once we arrive on the glacier, the Kando Events team will serve breakfast in a carefully chosen, beautiful, panoramic location. As they step out of the helicopter hot beverages will await, as well as a delicious feast that will keep them energised until lunchtime.
And so, the adventure begins. With any luck the sun will be shining and the sky a brilliant blue meaning they can enjoy the light, fluffy and untouched snow to the maximum with a sense of euphoria as they glide effortless through the powder, run after run. Of course, our helicopter will be on hand to pick them up at the bottom each time, and drop them directly back to the top of the mountain for a different route the next time round.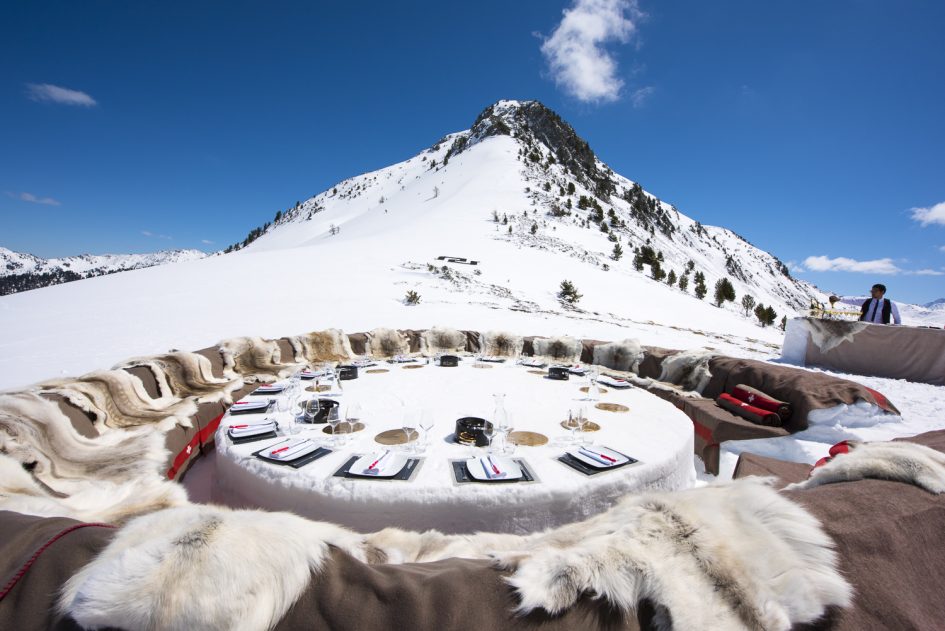 For lunch, our team will carve a snow table and seats, covering it in an exquisite alpine style, and with a table setting that would be more fitting to a high-end restaurant with a mountain twist. Lunch will be prepared by a celebrity chef alongside the Kando catering team and arrive by helicopter in perfect timing, along with the chef himself to welcome the guests and talk them through the menu.
Helicopters will then fly our guests swiftly to Verbier, where they can join the slopes for a final run down of the day to the famous après-ski bar: Le Rouge. With local and international DJ's gracing its outdoor terrace until sundown, this is the place to be. Especially when you have the VIP corporate treatment that Kando will be laying on.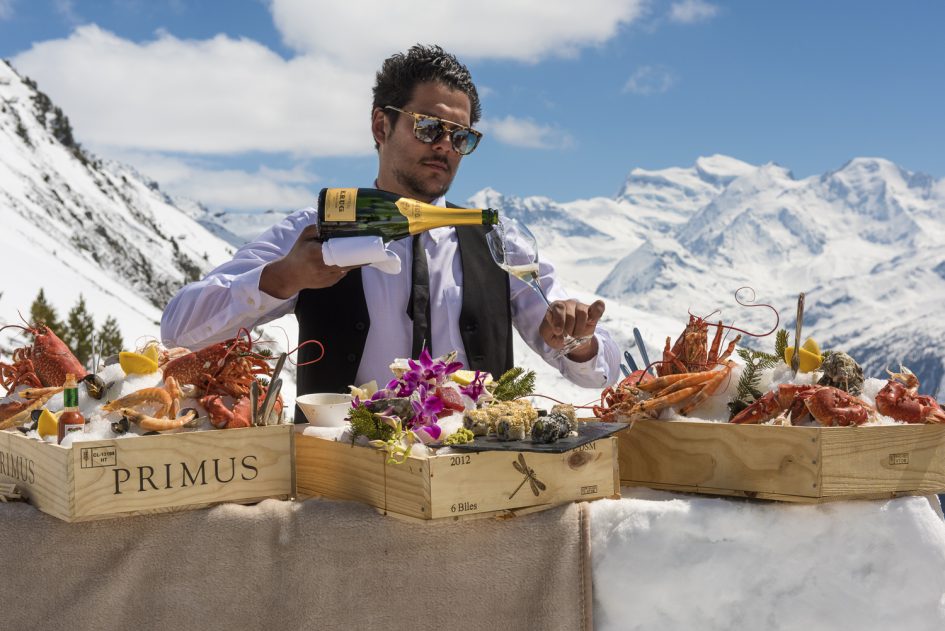 Our guests will no doubt need a little rest by now, so what better time to whisk them to their luxury accommodation where they can relax in the sauna, hot tub and spa facilities, and rejuvenate a little before the evening's activities begin.
Dinner will be a traditional Swiss experience, fondue or raclette being the top choices, especially in winter, at an exclusively booked restaurant. Once the digestifs have been consumed, our drivers will be ready to take those that still have the energy for a night out at the renowned Farm Club, part of Verbier's heritage, and a must-see for all guests wanting the end-to-end ultimate Verbier corporate day experience.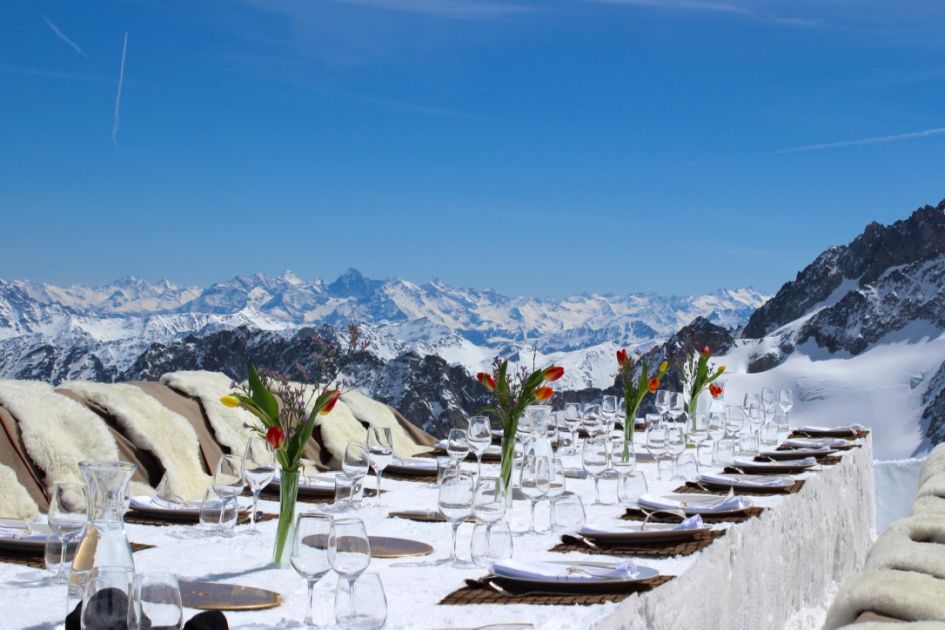 ARE THERE PARTICULAR RESTAURANTS THAT YOU WOULD RECOMMEND FOR LARGE CORPORATE GROUPS?
Most of our corporate groups come back to us year-after-year for the on-mountain snow table dining we offer, which is perfect for corporate groups who want something really special. We pick secluded locations, and our chefs develop the perfect menus for dining on the mountain.
However, if they do want a change or are with us for a longer period of time, the only thing that compares is an exclusively booked sunny terrace with an incredible mountain landscape view and a DJ on-hand to create the ideal ambience. Some of the best options in town for this include Le Dahu in Le Chaux and Mouton Noir at the top of the Medran bubble.

What is the most unusual event that you have organised for a corporate group?
Every event we do is different, but there is a common theme, we bring together an experience of the natural alpine environment with luxury, high-end polish. We give a personal service and think about every detail to make each event unusual and special for the client in question. Often the bigger the group we have as guests, the more unusual the event becomes. Sometimes this is due to the extravagant décor, which could be as varied as ice sculptures, snow tables and party themes, and other times this is due to the specially developed menus and appetising creations our chefs prepare – our celebration cakes are out of this world, our head chef is truly an artist.
One of the most favourite unique events is to take our established snow-table dining into a night-time event set on the mountain side under the stars. Instead of a snow table, we created a snow bar, and served vin chaud surrounded by lanterns and cozy fire braziers. The guests enjoyed the fresh mountain air, canapés created by our in-house chefs and soaked in the twinkling lights of the valley below while being entertained by a fire juggler. We then led a torch lit sledge down the mountain and back into Verbier. It's magical.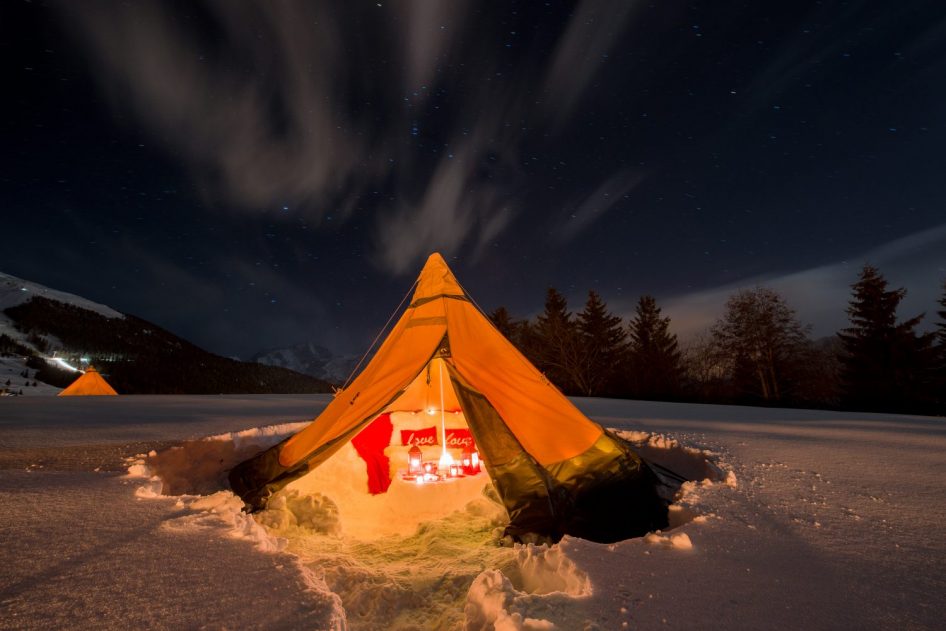 So we have shown you the amazing things that Kando Events can organise for you. But where can you stay. Here is a small pick of some of the best chalets for a corporate ski break in Verbier.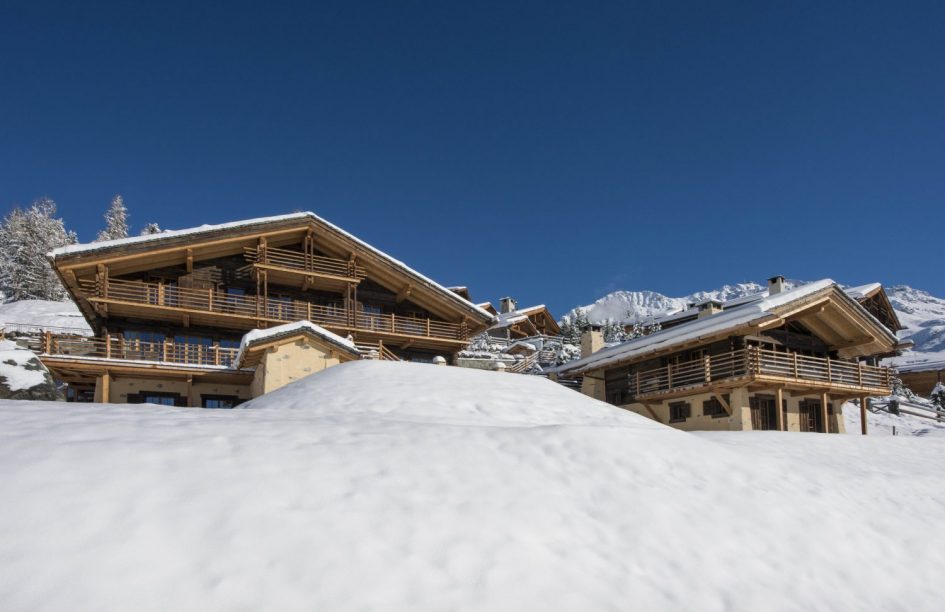 Sleeps up to: 20 people
Board Basis: Fully catered to include full gourmet catering, an open bar and a 24 hour in resort driver service.
Key Facilities: 15m Indoor Swimming pool, Cinema Room, Hot Tub, Hammam, Large Terrace, Amazing Views, Games room with table tennis and table football, Fireplaces.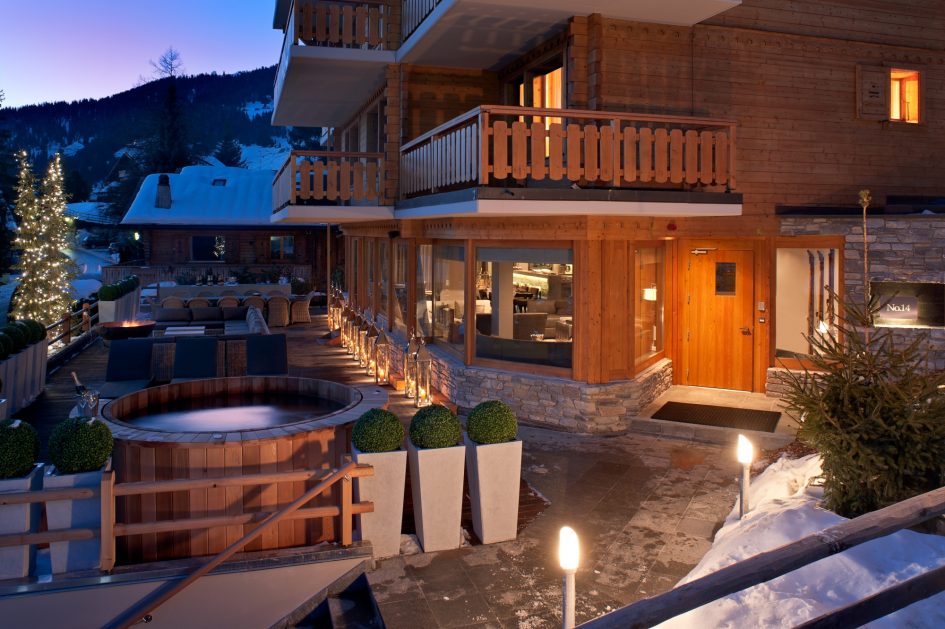 Sleeps up to: 26 people
Board Basis: Fully catered to include full gourmet catering, an open bar and a 24 hour in resort driver service.
Key Facilities: 10m Indoor Swimming pool, Cinema Room, Hot Tub, Indoor Stone Jacuzzi, Hammam, Cold Plunge Pool, Treatment Rooms, Large Terrace, Fireplaces.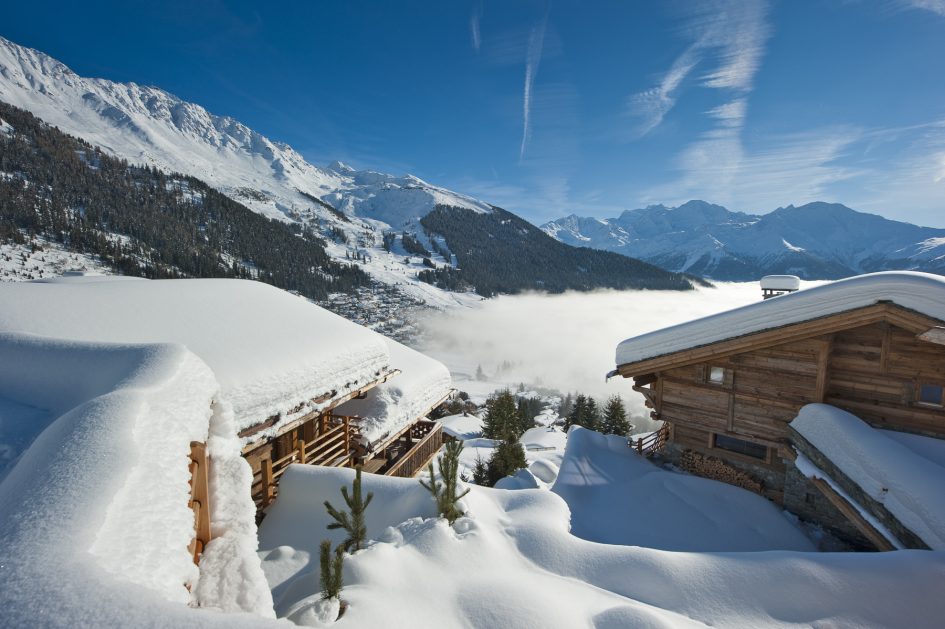 Sleeps up to: 20 people
Board Basis: Fully staffed to include a chef, hosting team and 24 hour in resort driver service. Food and drink consumed is charged in addition locally.
Key Facilities: Consists of two chalets, Chalet Norte and Chalet Sirocco, 2 x indoor swimming pools, 2 x saunas, 2 x hammams, 3 x treatment rooms, 2 x cinema rooms, fitness area, bar and lounge area, fireplaces, balconies with amazing views
So, the next time you are looking to book a Corporate ski holiday in Verbier, make sure it is one to remember. Let us take care of finding you the best large luxury ski chalet in Verbier whilst Kando Events put together a programme of amazing activities that will stay at the forefront of your mind until the following year when you come back, wanting to experience it all over again. You can give us a call on +44 (0) 1202 203653 or send us an email. We look forward to putting together some options for you.