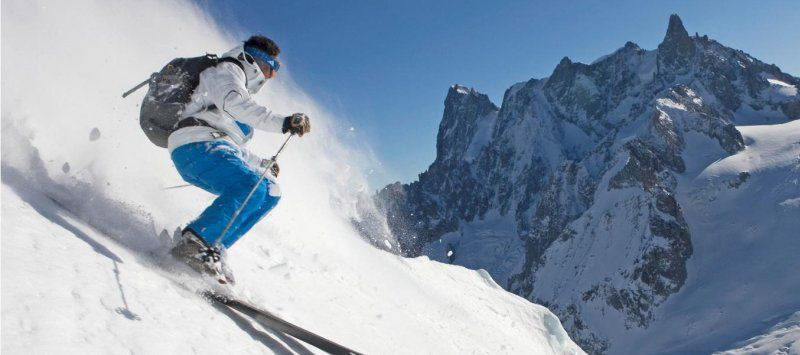 We all have that friend who loves to shoot down the slope without a care in the world, throwing all caution to the wind. But what is more annoying is when they actually are good enough to pull it off. Well this week we are looking into the top 5 ski resorts for experts in Europe for your luxury ski holiday.
There really is so much on offer for those who like to test their steal and raise the heartbeat by a few BPM. Lucky for you readers we feature over 750 properties in a large array of expert ski resorts in the Alps, and having been fortunate enough to test them first hand, we know which are the best ski resorts for advanced skiers.
Our first stop takes us to Switzerland and the well known alpine hot spot of Verbier. Personally one of my favourite resorts all round, having a fantastic atmosphere, a wealth of bars and restaurants to sink your teeth into, and above all else, a wide portfolio of luxury ski chalets in Verbier to pick from for your winter holidays. This is a must for those looking to push themselves and test their metal.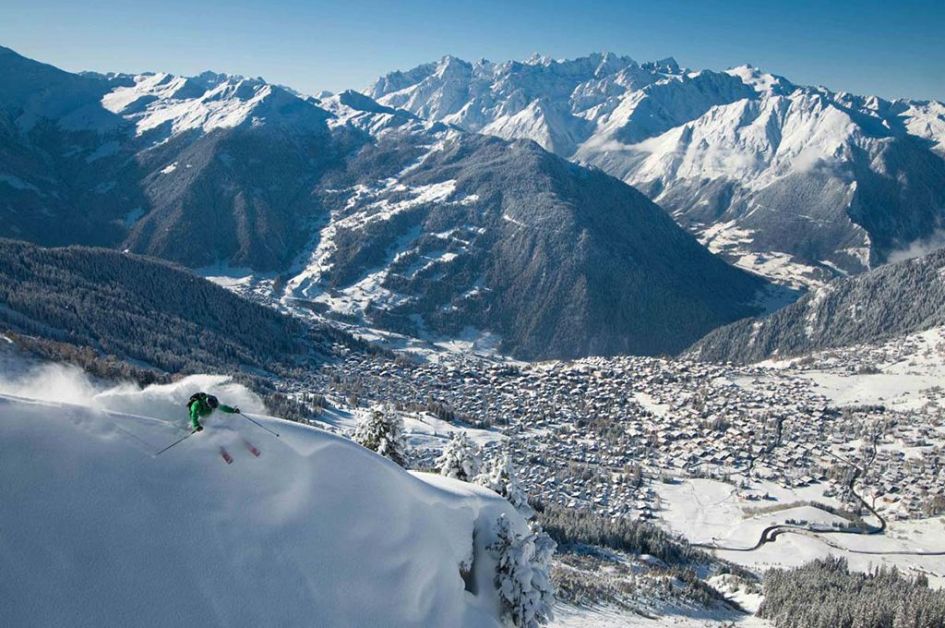 Verbier is part of the Four Valleys ski area in Switzerland, having over 400 kilometres of piste, this beautiful Swiss resort sits on a mountain plateau with quick access to some of the best advanced skiing in the Alps.
This has become one of the huge draws for advanced skiers (like the one pictured above) coming to the resort and pushing themselves to the limit. Big events have now been drawn to this area including the Freeride World Tour that has become an annual event on the Verbier calendar, attracting some of the best off-piste skiers in the world.
The above is the winning run from the Freeride World Tour 2017, which to be honest gives me sweaty palms just looking at it! Some of the steepest terrain in the Alps lies in Verbier, and this is also reflected in some of the piste runs including the infamous Mont Fort, which I can tell you is not for the faint hearted. A steep gradient run that is right at the top of resort with incredible views across the Alps, you can even see the Matterhorn from the top. The run down is a black and is too steep to piste meaning you have two options, the mogul field or the powder bowls either side. Any route you choose, your legs are going to be sore and even the most experienced skier will be thankful when they get to the bottom. Some of the best ski days I have ever had have been around this area so make sure to take on this run to test your metal, next time you are in the area.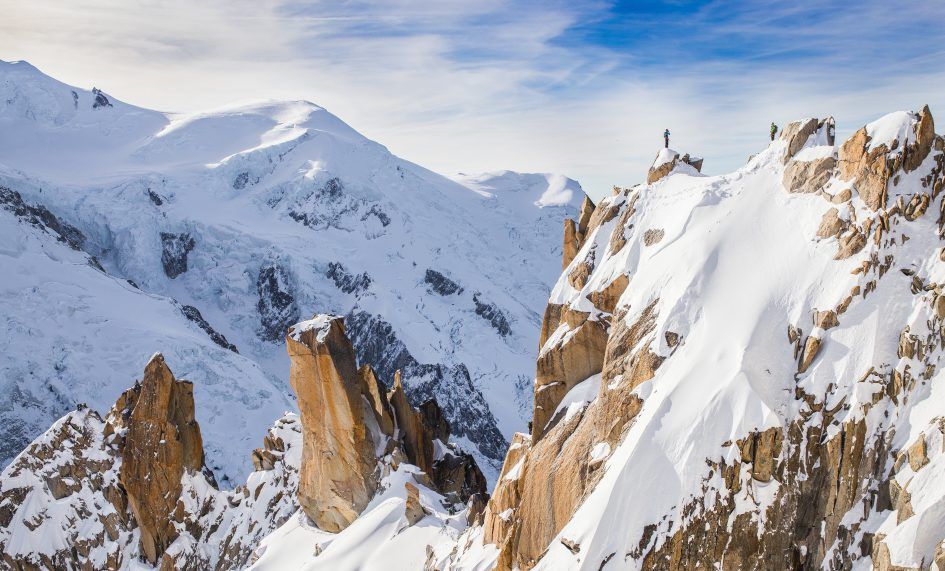 Chamonix, a long lasting trophy on the mantelpiece of mountaineering with some of the earliest climbers ascending the awe-inspiring Mont Blanc massive, the tallest mountain in Europe. The resort has always been synonymous with adrenaline junkies who laugh in the face of danger and push boundaries to new extremes. The below video Chamonix Ski Guides gives a little taster of what you can expect from this amazing valley.
Having some of the steepest piste and best off piste trails in Europe, this is an advanced ski area that is a must for your luxury chalet holiday. The heart raising La Vallee Blanche is the longest off piste run in Europe and spans up to 22 kilometres of steep off piste glacier skiing, and this is the well known run. There is so much on offer in the area of Brevent-Flegere, Grand Montets, Le Tour and Les Houches that needs to be seen to be believed.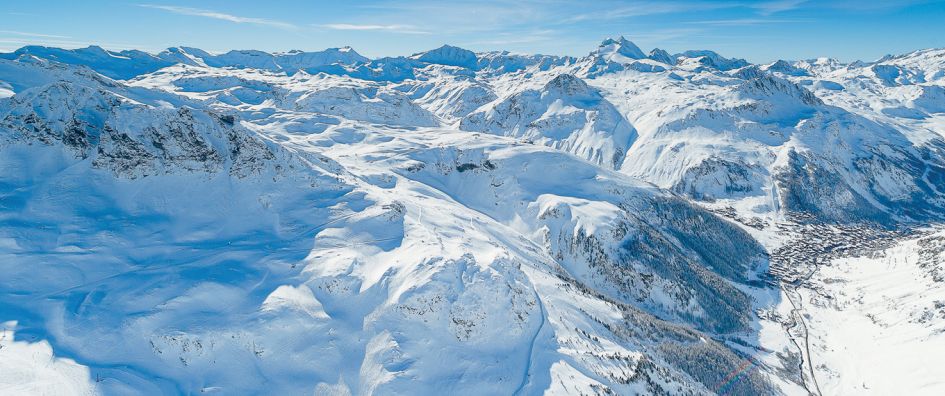 Val d'Isere linked with Tignes creating the Espace Killy area of France, 245 kilometres of varying degrees of difficulty. Having only recently started my love affair with this resort, it has quickly become a firm favourite of mine. The reason being that there are so many different facets to the ski area that you can do to mix up your day on skis. The video below shows one of my favourite runs, that I got shown by a friend who lived and worked in resort, just so that no one is confused, it is not me skiing in the video….
From the Olympic down hill run, the Face to some intricate off-piste skiing through treeline beautiful coves, this ski area has it all. On the Tignes side of the area you have the glacier skiing and similarly to Val d'Isere some lovely off-piste skiing that that leads all the way down into resort. This is an area for everyone, however those looking for advanced skiing will not be disappointed in the slightest with the amount of terrain available.

St. Anton in Austria has become a resort that is associated with great snow coverage over the years. Being located in the Arlberg area of Austria and newly linked with the surrounding resorts of Lech and Zurs, means you now have some of the largest array of piste and off piste available in Europe.
With 340 kilometres of piste, 200 kilometres of off-piste itineraries coupled up with a lift system that is always developing, this resort is perfect for those looking to improve on their technique and take on some more challenging slopes higher up the mountain.
With endless amounts of powder bowels to make legs ache and earn those turns, and with such an array of areas, there is so much to be had to challenge you on your ski holiday. This really is a powder hounds dream and if you are looking for an advanced ski area in Europe then we recommend you visit this hot spot (we also hear the apres is something to write home about as well).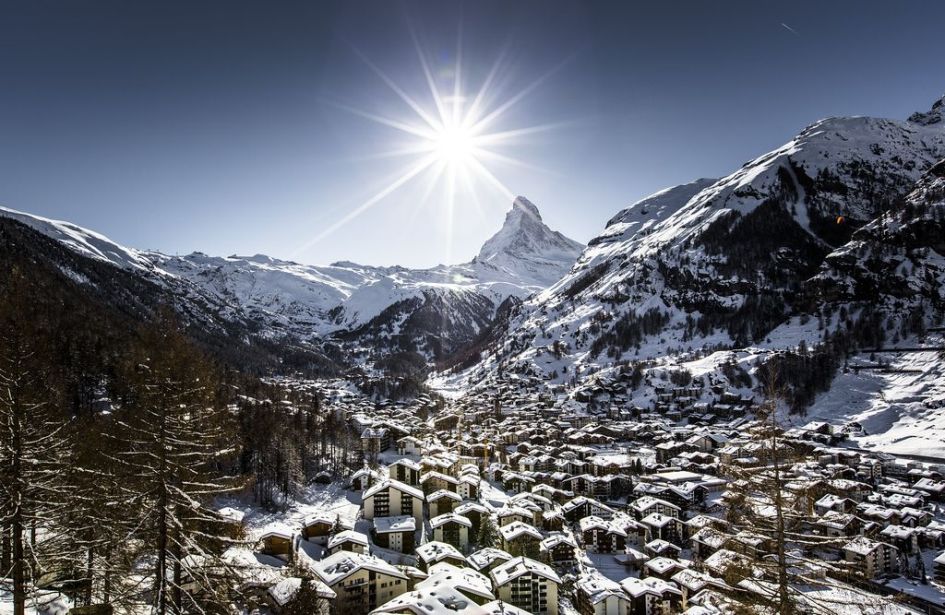 Zermatt an alpine paradise that is hard to compete with during both the Summer and Winter months. A town steeped in history being one of the first mountaineering hubs that saw climbers try to ascend the magnificent Matterhorn. Always evolving with a lift company that wants to provide the best for it's visitors, the mountains have now all been interlinked that surround the village.
Offering dual destination skiing with Italy and with a melting pot of blue, red and black runs to choose from, along with an extensive amount of off piste terrain, this is another must on your bucket list of advanced ski areas in Europe. Some of my favourite most challenging runs are located at the top of the Gornergrat mountain, along with some of the off-piste located on the Rothorn section of the resort. The below is going even further with one of the most daring descents I have ever seen caught on camera, those afraid of heights, look away now…
Those who want a steep vertical incline that provides cruisy and wide terrain, should head to the top of the Matterhorn Glacier paradise and the surrounding chairlifts below. Although at the summit it can get a bit windy, on a day with blue skies this can be an absolute delight, especially for those advanced skiers looking to get away from the crowds.
For all those skiers looking for their next challenge, I hope that I have provided you with some inspiration on which destination to choose for your next luxury alpine getaway.
As always if you have any questions regarding the above mentioned resorts or are interested in booking a luxury chalet, don't hesitate to contact us via email or give the office a ring on +44 1202 203 653.
We look forward to hearing from you.
The Ultimate Luxury Chalets Team