We are facing a growing issue in our industry with fraudulent and scam websites popping up. It all started with a few fake listings on the likes of Airbnb, but the number of fraudulent chalet listings on Airbnb is continuously growing and not being suitably acted upon. Couple this with the ever increasing number of scam ski websites going online and it is causing increasing concern that trust in websites such as ours might be compromised.
Each season it seems that we are receiving a higher number of enquiries from clients who have been quoted unrealistically low rates on chalets, with many advising that they have booked a specific chalet for a week but there is in fact no "real" record of their suggested rental. Many people have already lost vast amounts of money in scam website deals and it is our job to ensure that our readers are adequately advised and clued up to ensure that it doesn't happen to them.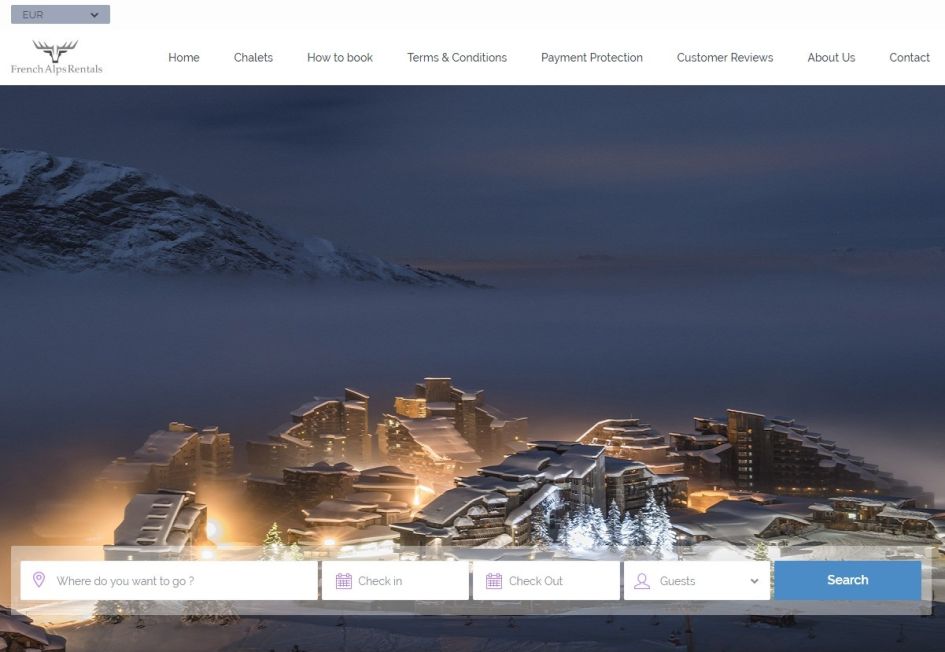 The most recent fraud ski websites that we have come across are as follows. Please note that I have removed the actual hyperlinks to the websites mentioned so as to not provide them with any incoming Google ranking that would be retrieved from a link from our site. If you wish to view the websites then please just copy and paste the link:
www.bookingskichalets.com – the latest addition live to the list of fraud sites
www.tigerchalets.com
www.lussochalet.com
www.skichaletspeak.com – no longer live
www.frenchalpsrentals.com
www.shopchalets.com – no longer live
www.chaletskirental.com – no longer live
www.premierchaletholidays.co.uk – no longer live
www.chaletspeak.com – no longer live
www.chalethunter.com – no longer live
www.luxurychaletsky.com – no longer live
www.deluxerentals.co.uk – no longer live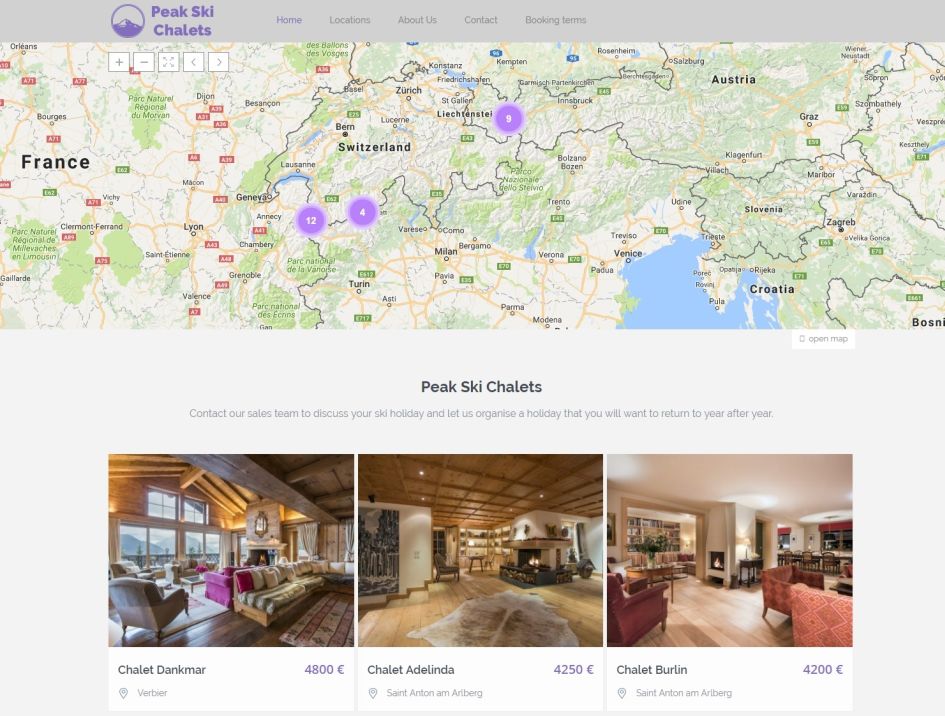 Here are my top tips for spotting a fraudulent ski holiday website:
# 1 – Search for Property Images
Right click a few property images and select "Search Google for Image" – if it comes up with many of the same photos with differently named chalets or locations, don't trust it!
Also, beware websites that do not allow you to right click and search Google for the images. There is a reason they don't want them searched for!

# 2 – Trust in Organic SEO Rankings, not in Paid Adverts
We invest a vast amount of time and effort in our websites to ensure that we remain top of the search engines for all of our key search phrases. We do not get involved in any paid Google adword campaigns and in seeing the results discussed below, I personally wouldn't have any trust in the website options provided on the paid ads.
There is a reason that we are top of the search engines for both our Ski In Luxury and Ultimate Luxury Chalets websites. Quality content and being a recognised and trustworthy company with a vast amount of website history. Newly developed scam websites will not have the time to establish themselves on Google before they are found out and removed.
Don't always trust paid adverts on Google! I recently conducted a number of searches on Google for some of the main industry experts' company names and on the results there were a number of fraudulent websites listed.
The example below is a search for our sister company Ski In Luxury and the results show the fraud website www.frenchalpsrentals.com.
Another example being a search for one of our operators, Ski Verbier Exclusive, which in fact brought up TWO fraudulent listings out of four results, www.skichaletspeak.com and www.shopchalets.com.
# 3 – Gauge the Quality and Speed of Response
If someone is all too keen to say "yes" to all availability requests without first checking, it could be that they are seeking any possibility to get you to commit straight away to the scam! Availability can change very quickly, particularly in peak booking periods, and so we would always want to double check availability before making promises!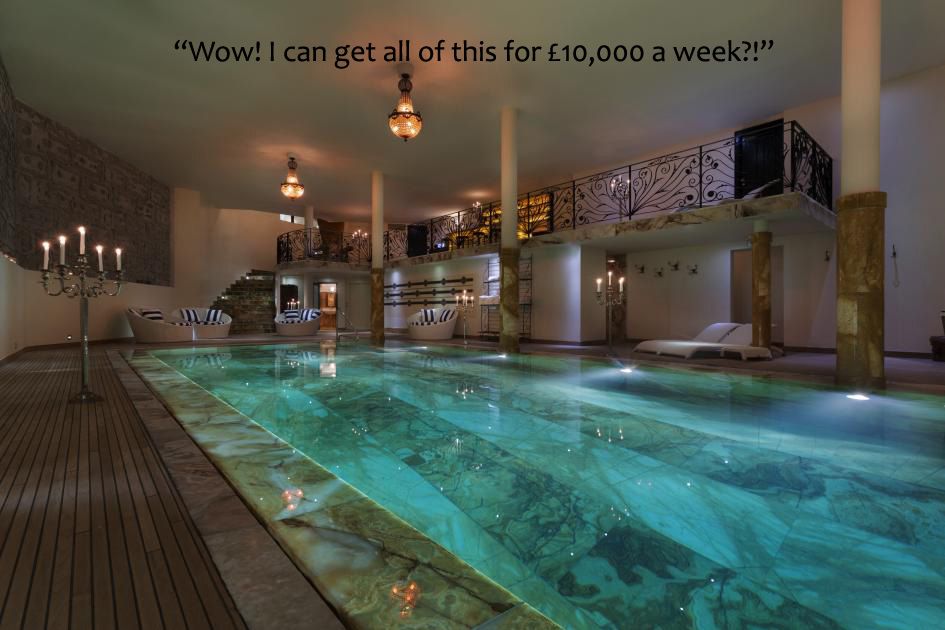 # 4 – Does it Sound too Good to be True?!
If something seems too good to be true then it quite probably is! We have heard from many clients who have been conducting enquiries and have said "I've been quoted £10,000 for an 8 bedroom luxury chalet in Verbier with a swimming pool for the New Year week".
Put delicately, these deals simply don't exist. There is a certain level of reasonable expectation of cost that should be considered. Speak with us and we will let you know what you should budget for a particular week or set of requirements. We will always secure the best possible deal for you!
In saying this, a number of scam ski websites are now trying a different tact and actually upping their prices on the properties to a similar level to the real deal, keeping just slightly underneath in an effort to tempt you to part with your cash.

# 5 – Trust in an Established Reputation
Put your trust in a reputable and established ski agency. A company with a recognised history in the industry. Our two brand names of Ski In Luxury and Ultimate Luxury Chalets are widely recognised by everyone in the world of luxury ski.
Contact the resort tourist office and ask whether they have heard of the agency/website that you are dealing with.
Ski In Luxury is heading into our 12th year of operation and Ultimate Luxury Chalets now nearly 6 years!
Anybody can write a "Testimonial from Mr A. Scammer" saying how good their service is and how great a holiday they have. How do you know this person actually exists? Therefore, do not believe all testimonials that are placed on a website.
# 6 – Trust in Reliable and Quality Press Coverage
Check press mentions of the agency – established companies should have press and media coverage. Check some of our press mentions on our "Press Coverage" page on Ski In Luxury.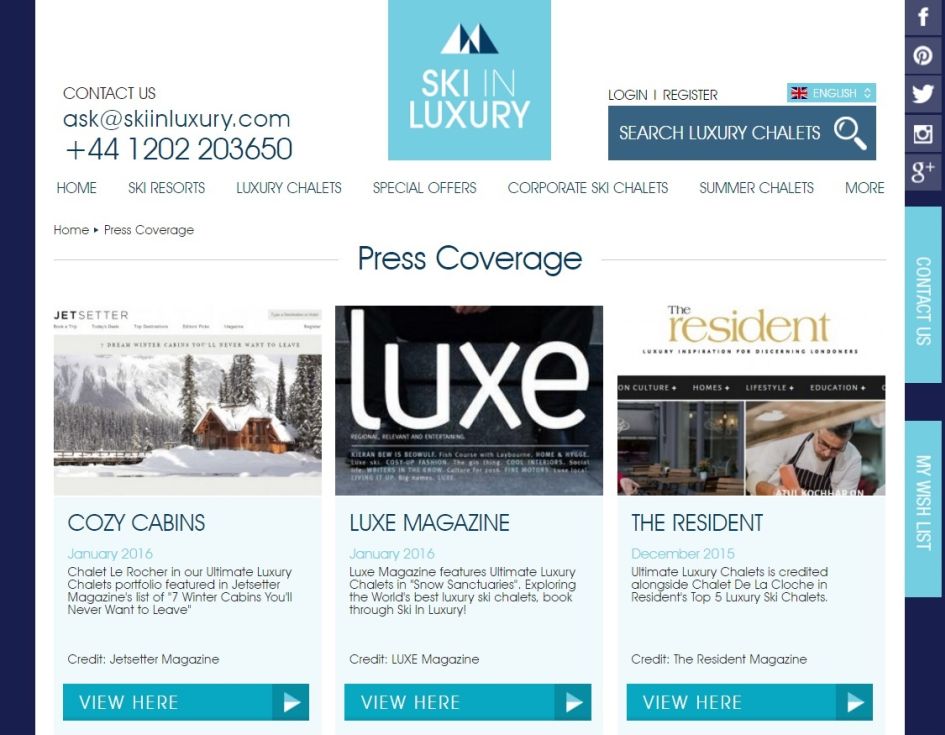 # 7 – Check for Duplicate Copied Text
Check text paragraphs by selecting and pasting into Google – Beware of websites that don't allow you to highlight and copy text – they have more than likely ripped the text from elsewhere and don't want you to paste any sections into Google to check its legitimacy. Usually the best parts to copy will be the "About Us" sections or the "Terms and Conditions".
Be cautious of websites with sloppy spelling mistakes – anyone who cares a great deal about their company will ensure their website is well proofed!
There are many cases of property names changing and them being listed in other resorts. Check the validity of a listing by copying the text descriptive on a chalet listing and pasting into Google. If the name of the property is different or there are many other listings showing the property in a different resort then be very cautious!
The shopchalets.com website screenshot shows 6 chalets that all have their names changed, but they are at least in the correct resorts!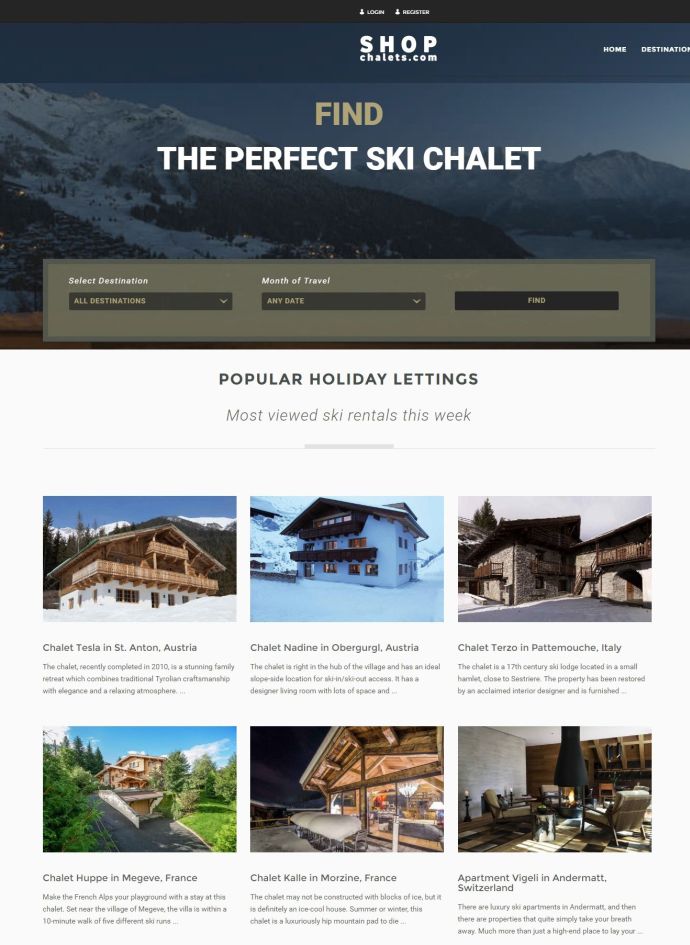 # 8 – Do Not Trust "Short Cuts" to Direct Owners
On large accommodation portals such as Airbnb, do not trust any listing that encourages you to contact the owner directly outside of the website channels. Many listings have an email address on one of the photos, encouraging the viewer to email for best rates.
Quite simply, there are absolutely hundreds and I am sure thousands of fraud chalet listings on Airbnb. I have just conducted a search for availability in Courchevel 1850 for the New Year week for 10 people. My results image displayed below and both "results" are fraud listings!
Fraud listings on Airbnb will try to encourage you to book directly with them and pay a private bank account. If you are booking a property on Airbnb then make sure you follow their payment policies in order to protect yourself.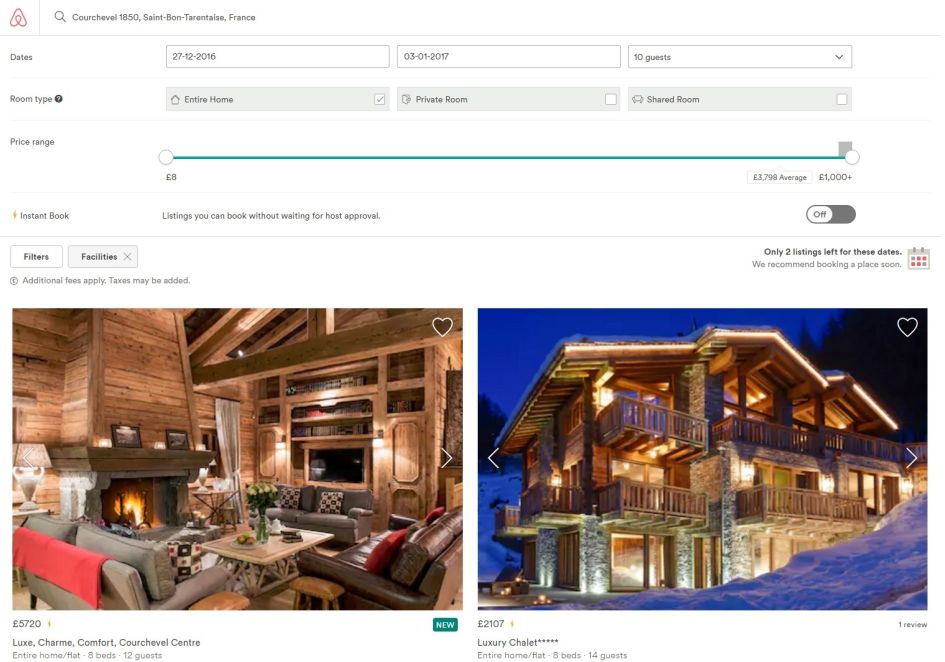 # 9 – Company Registration and Licensing
Many websites will also display an ABTA or ATOL badge to try to encourage trust. Don't simply trust this badge display but check the details on the relevant ABTA or ATOL websites to check the legitimacy. Not all of us need to have ABTA or ATOL licensing but if they do display a badge then make sure you check them out! We act as a referral agency and your booking contract will be with the operator or owner directly.
Do not trust a company simply because they put their Companies House Registration Details on their website. In fact, probably reason NOT to trust them!! http://deluxerentals.co.uk/ was apparently set up by husband and wife team Andrew and Fran Owen – not to be confused with yours truly, Andy and Fran Castle, even though they state exactly the same as our "About Us" comment on our Ski In Luxury website: "The company has become firmly established as one of the most reputable luxury ski agencies in England. Our personalized "grass roots" service being a recognized and respected way of dealing with both clients and operators alike."!
I have checked their registration details and it seems that the company was set up all the way back in May 2013 and with company accounts recorded too – more than likely the results of their fraudulent activity!
# 10 – Call and speak with the "experts"
We love having our clients on the phone discussing their requirements. We can gauge better their needs, likes and dislikes, and build a great rapport with them to carry into their very personal process of planning their holiday.
Always call the company you are dealing with. Question them about everything related to the chalet and resort that you are considering for your holidays. If they struggle to provide you with good quality, informative responses, it could be that they are not a legitimate website. Either that or they're just not very good at their job and don't deserve your business!!
Links to Report a Fraud Ski Website:
https://www.internet-signalement.gouv.fr/PortailWeb/planets/Accueil!input.action
https://www.cybercrime.admin.ch/kobik/fr/home/meldeformular/meldeformular.html
http://www.actionfraud.police.uk/report_fraud
In summary, we are here to not only find you the best luxury ski holiday to match your requirements. We are here to provide you with the safety and security of dealing with one of the leading experts in the world of luxury ski chalets.
Book your ski holiday with Ski In Luxury or Ultimate Luxury Chalets and enjoy the peace of mind that you WILL be staying in the property that you KNOW you have booked!
Call us on +44 1202 203653 or email us to discuss your holiday requirements.