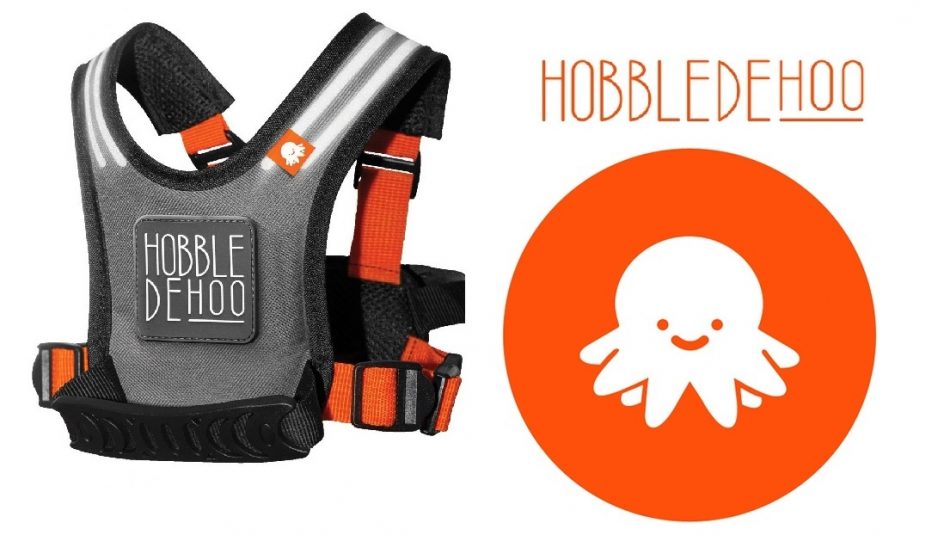 Fran and I disappeared on our first family Christmas in a luxury chalet with our two young girls, aged 2 and 4, this December just past. Having had a couple of ski experiences with them both last season, Sienna being on skis on her 2nd birthday and Beatrice seemingly mastering the art of the drag lift on the nursery slopes in Val d'Isere, we were determined to continue from where we left off last March and get the kids back on the slopes for a couple of parent-child bonding sessions with us during the Christmas ski holiday.
However, there was one thing that I remembered about last March…..the agonising back pain generated through the constant bending over while skiing and continuously heaving the girls up and back onto their skis after their legs had gone in differing directions and they had collapsed in a little bundle of ski-onesie-and-goggles cuteness on the piste. I can honestly say, I stumbled across a wonderful invention that put all this to rest…..a solution that, in my opinion, all parents need to consider if they are looking to take their little people on a ski holiday in the near future, especially for the parents who wish to ski with their children and savour the wonderful moments of their first experience of skiing.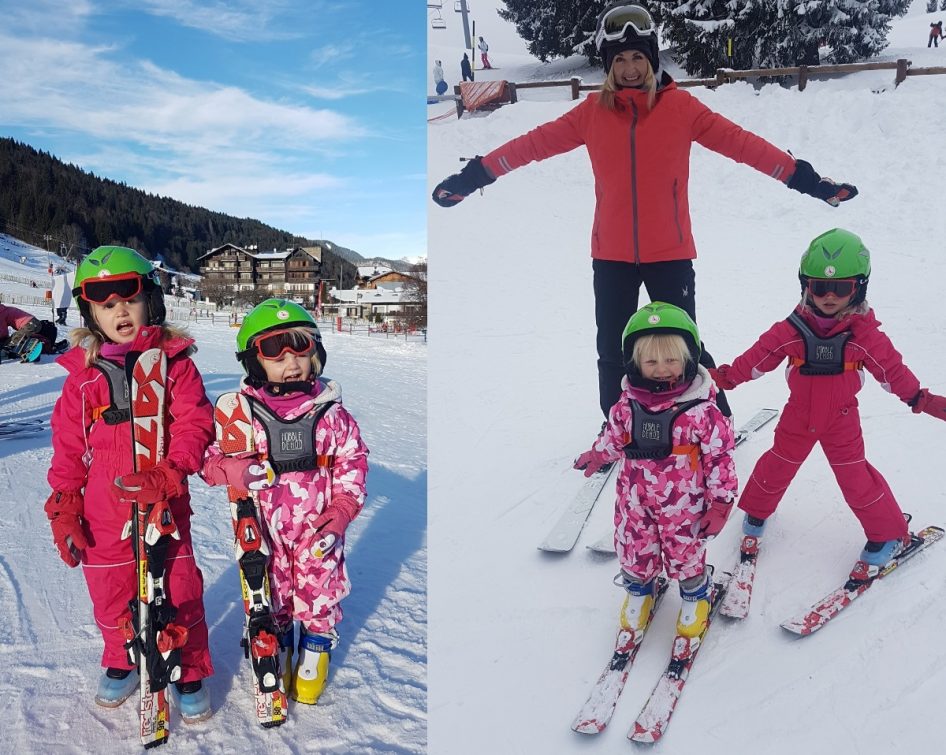 When I visited the London Ski and Snowboard Show at Battersea Park in October I found a very interesting exhibitor, one that stood out to me and very much peaked my interest. A ski harness for little people with handles?! I was drawn in to chat and find out more and was then intrigued by the idea of the very crazily named "Hobbledehoo".
I chatted with the inventor of the harness, Gemma Davison to enable us to tell you more….
How did the idea of the Hobbledehoo come about?
"We are a crazy family who decided early on that we were going to continue skiing every year even when we had our children. The first year we could actually do anything our eldest was 20 months old and on her feet (our youngest was 4 months old and just sat like a stuffed sausage in a sledge!). We got given some tiny plastic skis so I looked on the web for a reins type harness to help us. I bought the only one I could really find and it was "okay".
"Our skiing that year was basically walk up the baby slope and virtually holding her whole weight on the handle, sliding down about 30 metres. The aim of the week was for her to be able to "ski" for about 10 metres on her own from one of us to the other. I moaned about the harness when we got home and my husband turned around and almost as a dare told me to "do it better then!".
"I had the contacts so I decided I would investigate further. I made a mock up and sent it to get technical drawings and then got some samples flown over from the factory. A few tweaks later, I had something I was keen to progress with. The pricing was suitable and I believed we had a market, so from there we created the brand."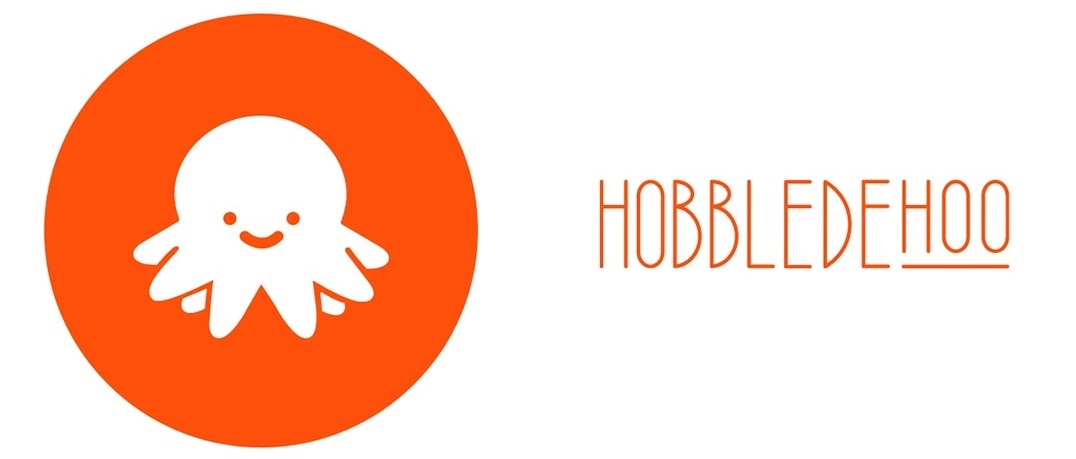 And the name?!…..
"We were sat at home and we knew the name needed to be something child friendly, something unique but that also semi-described the product. A bottle of wine later (where all great ideas are manufactured!), we googled "Hobbledehoy" from the Nursery Rhyme – "This is the way the Farmers Ride……" and found the original meaning of the word is a clumsy or awkward youth. Discussing it and saying it out loud to the children, the name got slightly tweaked and became Hobbledehoo."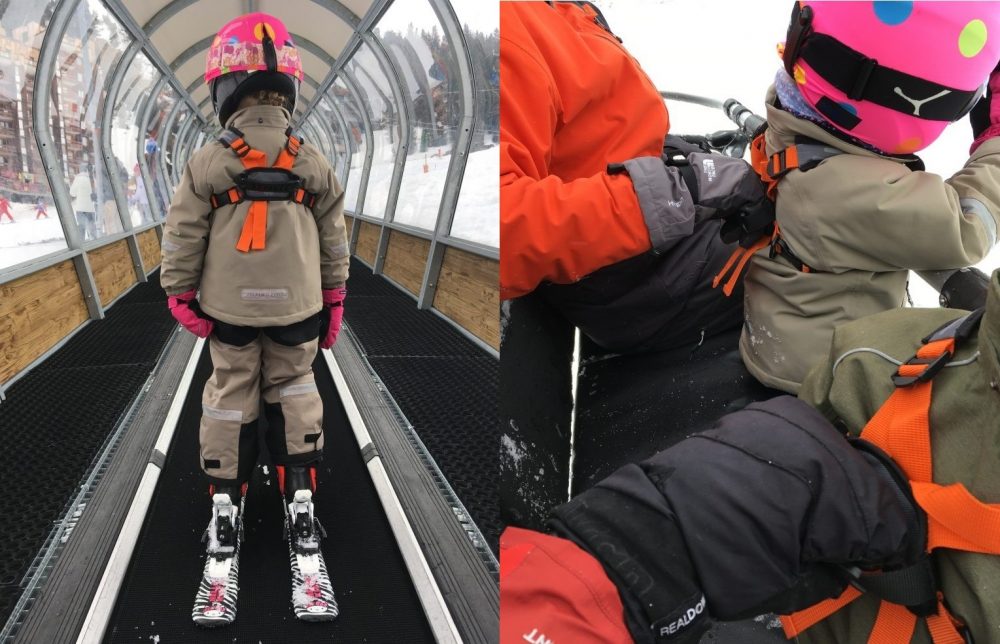 What are the key USP's of the Hobbledehoo?
"The Hobbledehoo is more of a bib harness that spreads the weight across the chest the others went with just plain webbing but these tended to a) cut in on the chest and under the arms, b) the webbing slip and loosen and c) ride up the chest. It also looks quite funky so children don't see it as restrictive reins but as something that allows them more freedom."
"It's got front and rear grab handles to catch then when they stumble or to pick them up when they fall."
"Easy adjustablility with clips around the chest. Quick release straps over shoulders that extend over helmets for ease of getting on and off."
"The Hobbledehoo has a twin clipped, detachable safety leash for using when close restraint is required. The leash extends to a single handle to hold."
"Top this all off with high visibility reflective shoulder stripes and rear logo for dusk hours and low visibility occasions."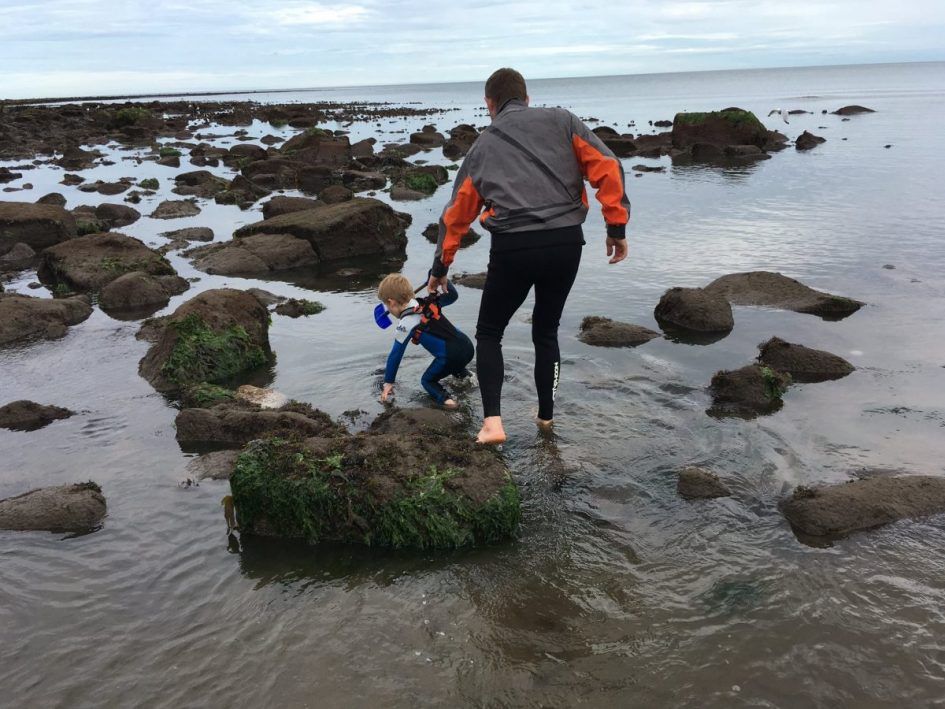 What else can the Hobbledehoo be used for?
"I have personally used mine on my little boy virtually daily as soon as he was on his feet. He is crazy, always running and jumping (and tripping), for activity days out and walking in a busy town it was a godsend. We do sell a lot for its original intended use for skiing but a huge amount are sold to families with children that have additional/special needs in particular Autism as they don't have the danger awareness that other children gain and they need to be held securely."
"Standard reins don't cater for the weight or size of a child past toddler size so they are often kept in pushchairs when outside instead of being allowed to walk. The Hobbledehoo offers them a freedom they couldn't have, while allowing the accompanying adult to be in full control."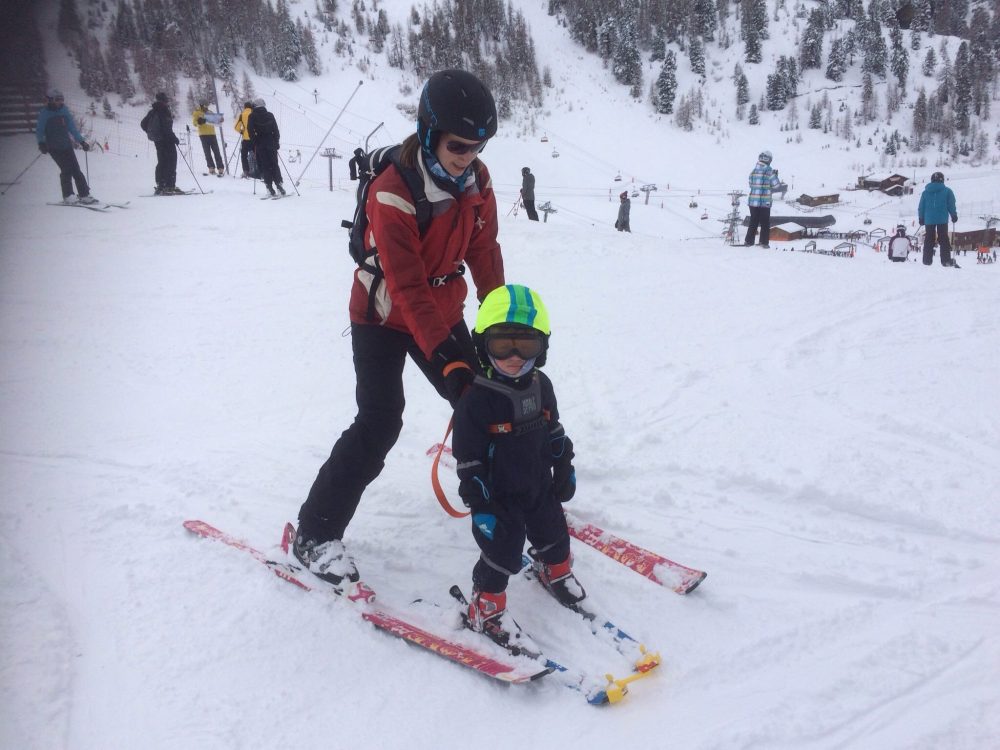 Are there any planned "mark 2" improvements?
"Yes – Mark 2 is about to start production. This was the first batch so I have now had the time to gain feedback from the users and the new batch are being made to an extremely high specification as I keep being asked for it to be used on older children."
"The price and the harness will look the same but I have made some big changes in the stitching, the corners and the finish of the product to take a greater weight. We are also working closely with a couple of Ski Schools and resorts so some of the next batch are not going to have the rubber logo on the front but swap for a clear pocket that will fit a business card inside. The Ski Schools can then use the Harness so that an instructor has something to assist taking multiple children on chair lifts without worrying the safety of a child. These will be lent out for the lesson but then the standard Harness also available for sale in resort if the parents want their own."
A huge thanks to Gemma and everyone else behind the production of the Hobbledehoo! For just £30, this will be a priceless addition to your essential ski luggage when taking young children out to the slopes. It is a great piece of kit for skiing and non ski activities where you need to keep a close hold of your precious people.
Keep up to date on their Facebook page, call Gemma on +44 1522 875255 or drop her an email to order a Hobbledehoo yourself! You will be amazed at how much easier it makes life for parents on the slopes!