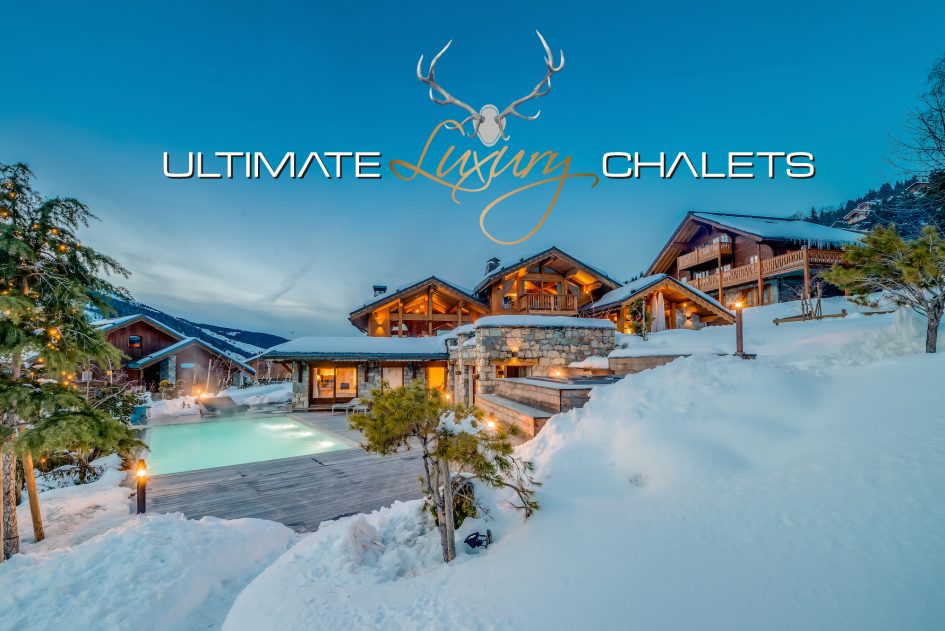 Many associate high end Luxury with even higher costs when searching for the very best luxury chalets in the Alps. However I wanted to take the chance this week to show our Ultimate Luxury Chalets blog readers that this is not always the case. I am going to run you through some of the very best properties that our portfolio has to offer and provide you with the best family ski deals that give you outstanding value for the highest standards of luxury.
These chalets are in no particular order of quality. They are simply the best January offers that will provide you with exceptional standards of service at an unbeatable price.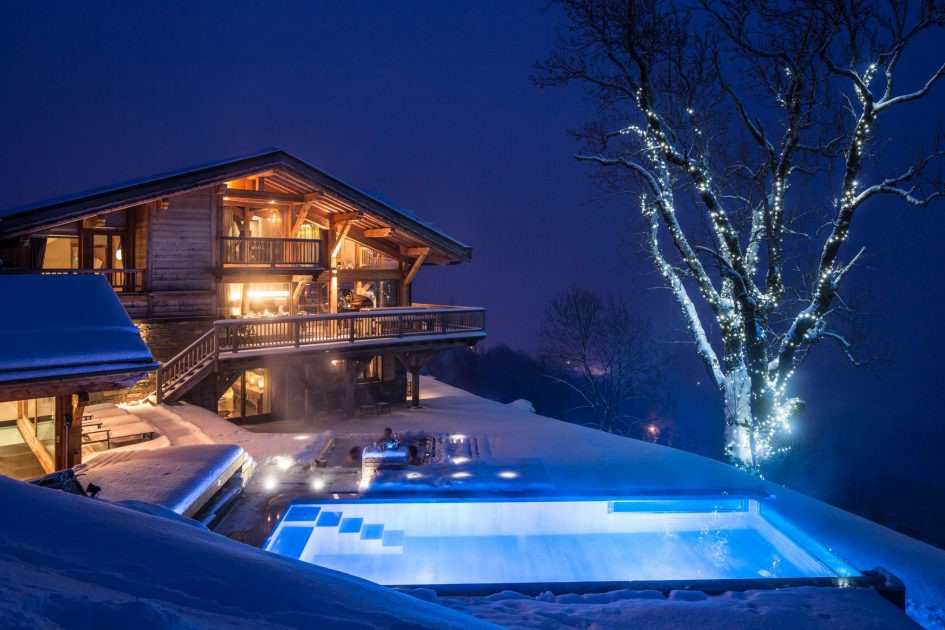 Chalet Grande Corniche is undoubtedly one of the most luxurious properties in the Alps coming with the wellness facilities of an outdoor infinity pool along with a large sunken outdoor hot tub, to name but a few attributes this property has to offer.
The property is perfect for large groups of family or friends looking to celebrate an occasion in true style being able to sleep up to 12 adults and 3 children in the main chalet with a further 4 guests being accommodated in the neighbouring Mazot.
This beautiful chalet is available for a short 4 night stay in January that delivers one of the best luxury ski chalet deals in our portfolio.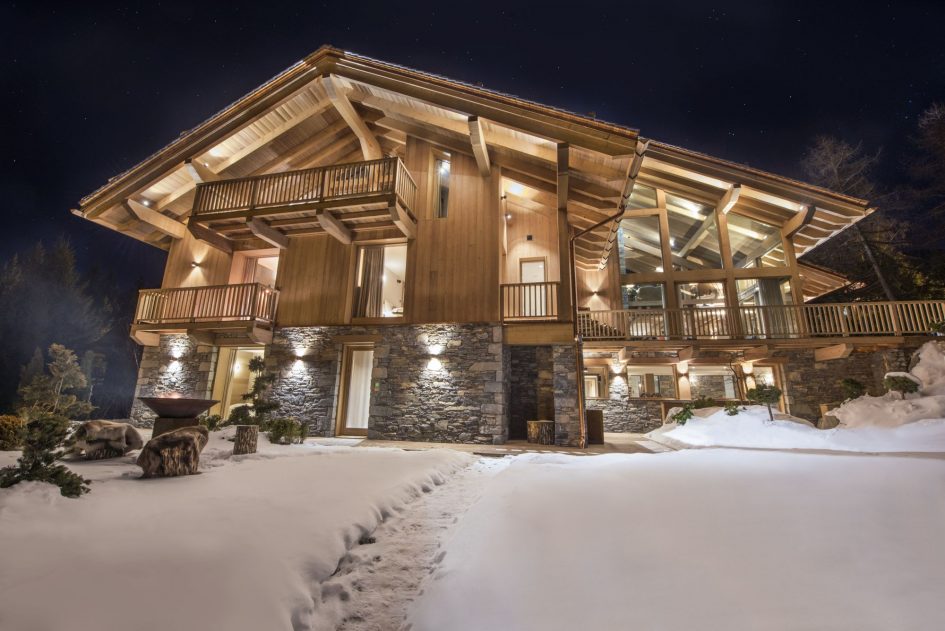 Chalet Alpaca in Meribel is the new super chalet to our portfolio. Following in the footsteps of the later mentioned Chalet Brames that was the original luxury chalet in Meribel, Chalet Alpaca is a newly built contemporary chalet that offers large open spaces and beautifully designed wellness facilities including an outdoor swimming pool and hot tub.
The interior has been cleverly put together giving the feel of a space that combines style with practicality. This is very exciting for us to have on board for the new season and we are sure it will offer you a winter holiday like no other. You could be one of the very first to stay in this ultra luxurious property and at an incredible price. If you are looking for a family ski deal then look no further or perhaps a January ski deal to get away with your friends?
10th – 14th January – €23,143 EUR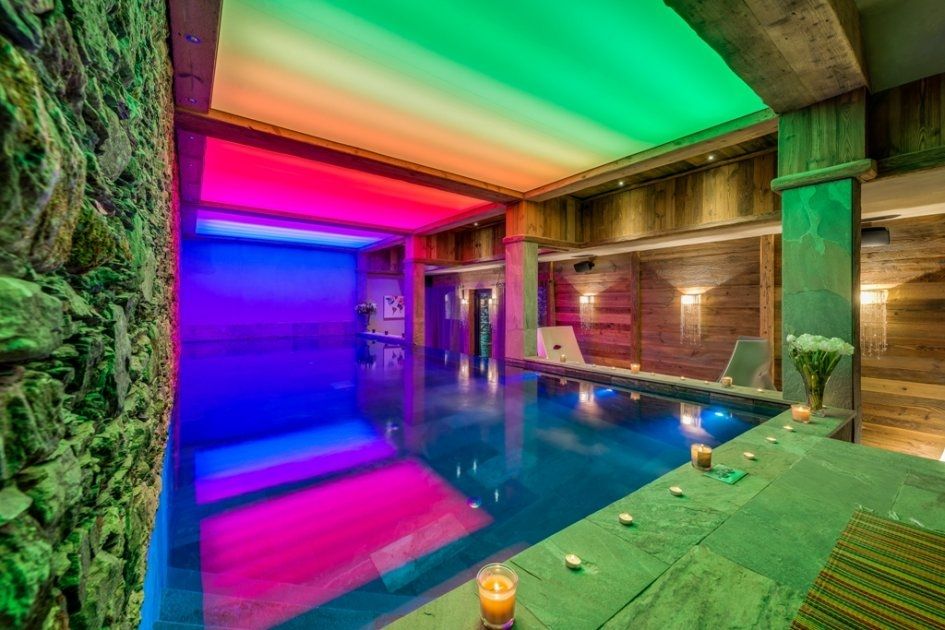 Those who are familiar with the luxury ski chalet rental market would have heard of Chalet Husky in Val d'Isere, one of the most luxurious properties in the Alps. Those looking for the best luxury ski deals will want to consider a stay at this incredible property that comes with a list of facilities that make the mind boggle.
Including features such as an archery and rifle range, climbing wall, indoor swimming pool, hot tub, sauna and hammam, this property clearly ticks all the boxes for the luxury market.
This property is one of the most sought after in Val d'Isere and the managers of the property are offering one of the best January ski deals for those looking for the highest standards of luxury but at cut prices.
3rd – 7th January – £27,600 GBP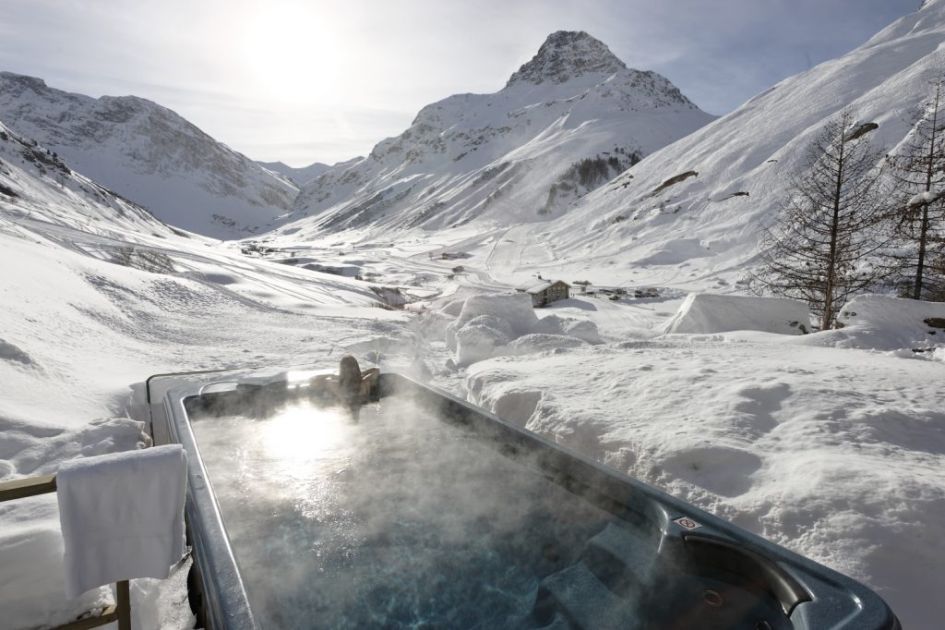 Chalet Chardon in Val d'Isere always seems to be one of the most popular in our portfolio and from the picture above, it is easy to see why. Being able to sleep up to 20 people in 10 en-suite double/king size bedrooms, this beautiful chalet offers some of the highest standards of luxury available along with some unbeatable views across the Manchet Valley.
With many weeks being priced at above £40,000, our partners are offering you and your group the chance to get away and relax in true style with one of the best luxury ski deals in January. Imagine sitting in the hot tub above with a glass of champagne surrounded by your nearest and dearest after a sunny day on the slopes, what could be better?
10th -14th January – £23,000 GBP

Chalet Brames in Meribel was the first super luxury chalet in Meribel and one that has a place in the hall of fame for the luxury ski industry. Offering a secluded yet well positioned location in Meribel, this timeless chalet offers quick and easy access to the Chaudanne lift hub whilst being completely private.
Open plan in style and furnished to the highest standards of luxury including the unique and luxurious snooker table above, it is clear to see why this has become such a popular property for families and friends alike.
10th – 14th January – £14,250 GBP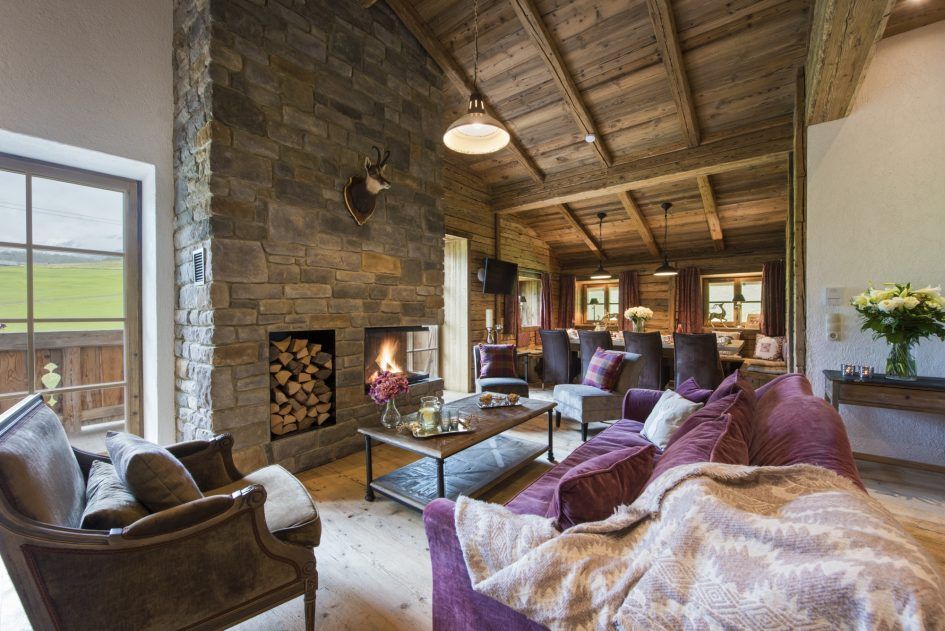 St. Anton is the well known party spot of the European Alps along with one of the most renowned for it's luxury ski chalets. Chalet Tschoder in St. Anton is a recently completed traditionally styled luxury chalet that is able to sleep up to 14 people in 7 bedrooms that are finished to the highest standard.
St. Anton has been considered one of the most prestigious resorts in Austria meaning that the prices in this magical resort can come with a premium. However, those looking for a January ski deal will need to look no further than Chalet Tschoder, offering an incredible short stay at a price that will be hard to match in this resort, especially for a property as beautiful as Chalet Tschoder. Included within this price is two days complimentary ski instruction for those looking to work on those turns or families looking to have their children tutored.
10th – 14th January – €18,143 EUR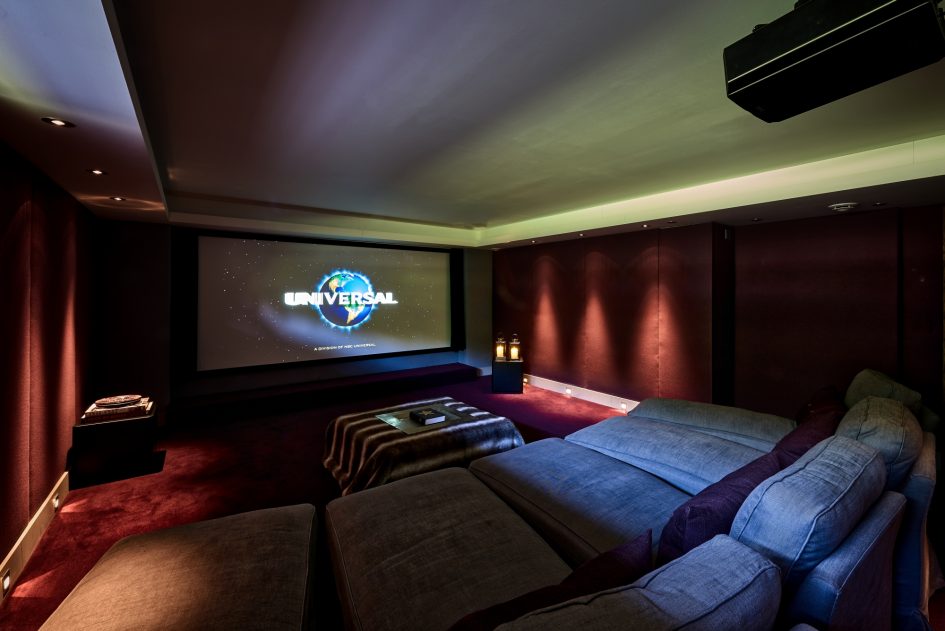 Chalet Chardon in Morzine is in one of the most enviable locations in the resort being ski in and out at the foot of the Pleney lifts and only a 5 minute walk to the centre of resort. Coming with gourmet catering along with the extras of an open bar and 24 hour in resort driver service, this chalet is one of the most luxurious we have to offer in Morzine. Who wouldn't want to come home to a cinema room like the one pictured above?
If you are looking for a family ski deal that will allow you to take the family away for a short break to the Portes du Soleil with its 650 kilometres of piste along with the short transfer time of 1 hour and 15 minutes from Geneva, then this will inevitably be a destination at the top of your wish list.
3rd – 7th January – £14,500 GBP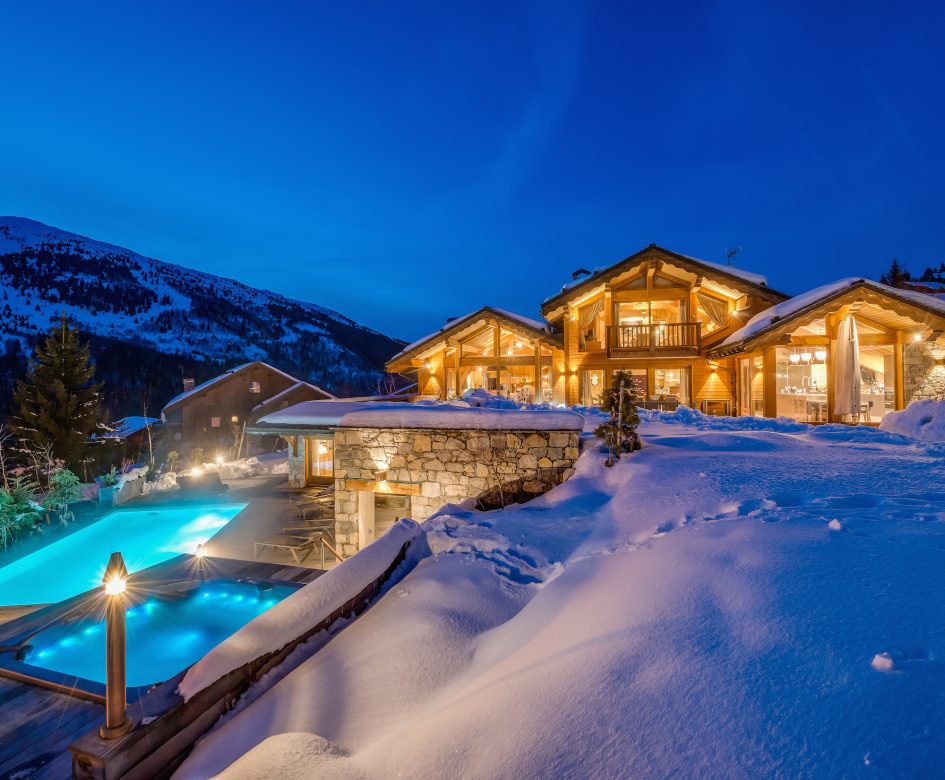 Chalet Mont Tremblant is the winner of last season's award for Best Ski Chalet in France and you can see why from the beautiful picture above. Offering elegance and sophistication with the beautiful wellness facilities of an outdoor swimming pool and hot tub along with the contemporary yet homely interior, this is a must if you are looking to stay in the Three Valleys.
Located in the heart of Meribel within its own grounds providing unrivalled views of the surrounding mountains, Chalet Mont Tremblant gives easy access to the centre of town being only a short walk away or an even quicker drive in your chauffeured vehicle.
This is truly one of the best value for luxury January ski deals available in our portfolio at the moment and we would highly recommend taking advantage before you miss out on your chance to stay in one of the best chalets in the Three Valleys at a fraction of the weekly rate.
10th – 14th January – £15,900 GBP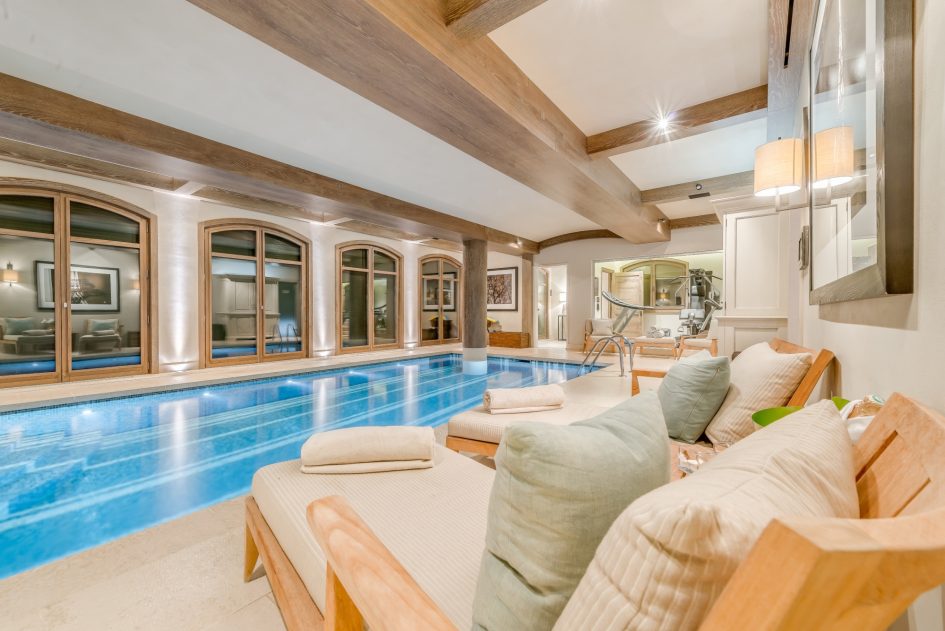 Shemshak Lodge in Courchevel 1850 is a beautiful property located on the Dou Dou Midi piste, offering incredible ski in and out access to the Trois Vallees ski area. With a host of wellness facilities including the huge swimming pool photographed above, it is well placed to offer some of the most incredible views of the Courchevel Valley. Combine this with a short walk into the centre of resort and you have a chalet that provides an exceptional base for your luxury ski holiday.
A beautifully stylish and homely chalet that allows clients to enjoy one of the most glamorous resorts in true style. A stay at Shemshak Lodge will ensure you leave feeling rested and relaxed after a memorable holiday that meets all expectations. If you are thinking that prices in Courchevel 1850 are too high then we can prove you wrong. We can offer one of the best luxury ski deals in January with a 4 night stay at a price that offers true value for luxury.
10th – 14th January – £20,750 GBP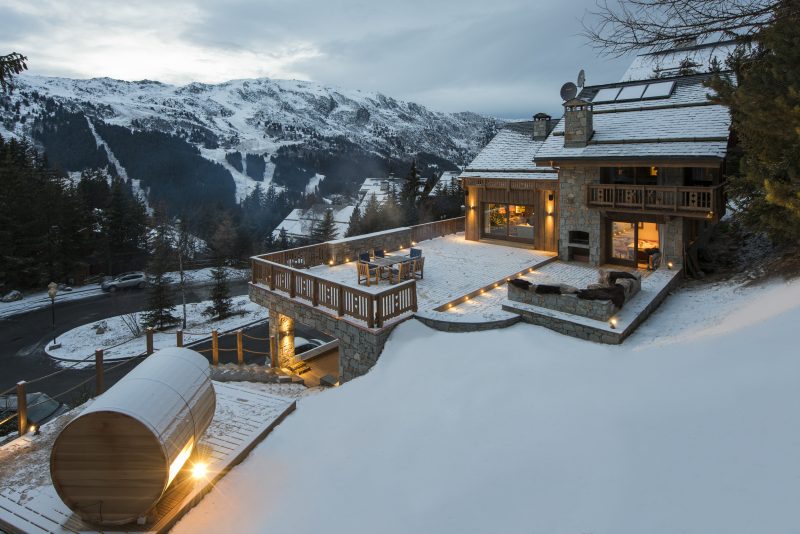 Chalet Valentine in Meribel is another new property to the portfolio and one that ticks all the right boxes for the Ultimate Luxury ski market. Coming with the wellness facilities of a large outdoor hot tub and barrel sauna photographed above, this is another chalet that we know will be a massive success with our clients.
With large floor to ceiling windows this property comes with some of the best views in resort out towards the surrounding peaks. We are very excited to have this to the portfolio for the new season. Make sure you are one of the first to stay at this newly refurbished luxury chalet with a January ski deal to ensure you get the most value for luxury possible.
10th -14th January – €21,429 euR
We are the leading specialists in the ultra luxury ski market and we know that combined with our unrivalled portfolio and knowledge of luxury chalets, we can match your requirements with a luxury ski chalet that is going to tick all of your boxes.
If you would like any further information on the above properties then don't hesitate to get in contact with the office on +44 (0) 1202 203 653 or send us an email. Keep up to date on our social media channels including Facebook, Twitter and Instagram.
We look forward to hearing from you and matching you up with a chalet that will make your dream holiday a reality.